Is Montana the most beautiful state in America? With two of the country's greatest national parks, a sparse population, and untouched natural beauty, Montana is a fantastic destination for travelers from all over the world.
The state can be broken up into six distinct regions:
All areas under Big Sky Country have their own appeal and unique elements that can make it difficult to determine where to stay in Montana. We will take an in-depth look at areas, accommodations, and culture to help you decide what is the best fit for you.
Where to Stay In Montana – A Complete Guide
The Best Hotels To Stay In Montana
BEST HOTEL OVERALL
Excellent Location
Ski-to-door access
Outdoor Swimming Pool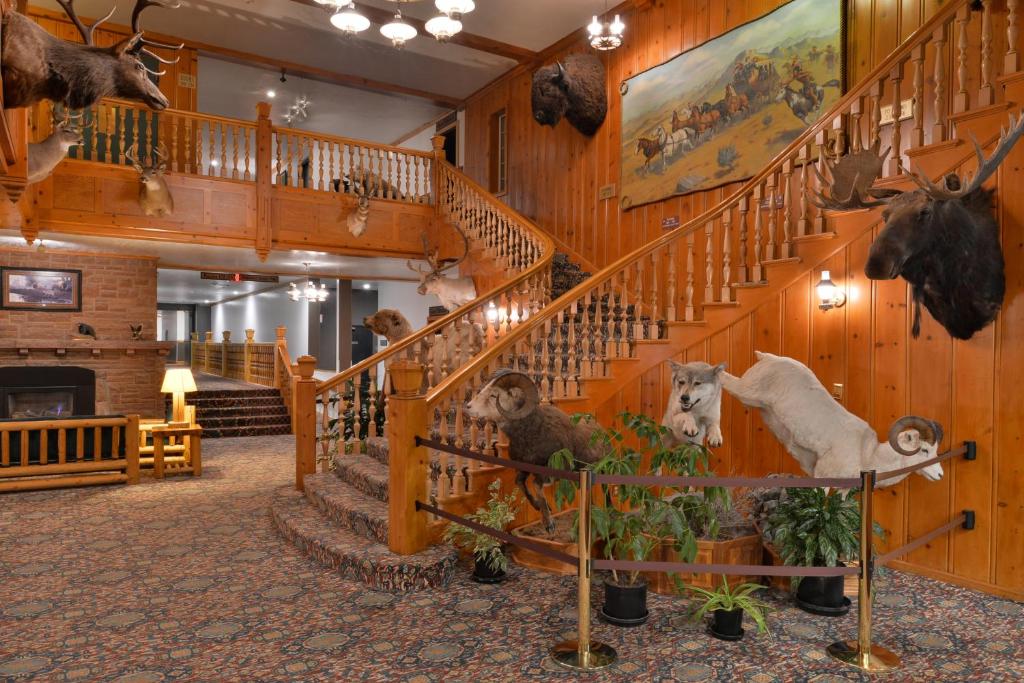 BEST BUDGET HOTEL
Sauna
Indoor Swimming Pool
Pets Allowed
BEST FOR FAMILIES
River Views
Swimming Pool
Free Airport Transfer
Best Area to Stay in Montana – Quick Tips
The best base to explore Yellowstone National Park: Is obviously in Yellowstone Country! Booking accommodation within the park itself is extremely competitive, but West Yellowstone is a gateway to the west entrance and an excellent alternative.
Best city in Montana: City is a bit generous when it comes to Montana; large towns seem more appropriate, as the largest city, Billings, has a population of only 109,595. They all have that large but small-town charm, but Bozeman has become particularly popular thanks to its art galleries, breweries, and generally young and creative vibe.
Staying in Montana on a budget: Anywhere except the areas close to the two national parks are reasonably budget-friendly! The general rule of thumb is that the more remote regions will usually be less expensive, so Central Montana, Missouri River Country, and the Southeast have plenty of cheaper options. Be careful though, as transport costs will start to ramp up in these parts.
The best area to experience the Wild West: Southeast Montana is incredibly connected to its Old West history. You'll find plenty of museums dedicated to the Wild West in the area, and you can still see elements of it in the culture. Cowboys, saloons, rodeos, powwows: there's nowhere quite like it in North America.
Where to Stay In Montana By Region
1. Glacier Country
For many people, when they think of Montana it is the great parks and astonishing natural beauty that are immediately brought to mind; visions of towering peaks, pristine lakes, and alpine forests are almost synonymous with the state.
The Montana of your imagination resides largely in Glacier Country, home to the Glacier National Park. It's one of the true natural treasures of the United States.
Weaving between the Rocky Mountains on the Going-to-the-Sun Road, driving past rushing torrents of water and luminous blue lakes is like getting a glimpse at the sublime. The immaculate wilderness is home to a fascinating and varied amount of wildlife, including elk, bears, and bighorn sheep.
You'll find plenty of romantic lodges and private cabins tucked away in the dramatic landscape of Glacier Country. It's the perfect trip for those who want to escape modern life and immerse themselves in the beauty of nature.
The Glacier National Park has some of the best hikes and views in the world – though unfortunately, this is no secret, and does make the more accessible parts of the park pretty busy during the peak months of July and August.
Bowman Lake in the north of Glacier National Park tends to avoid most of the crowds: the views at the lake are breathtaking, and it's a fantastic option for those who love watersports.
The north of Glacier Country is quieter, wilder, and increasingly remote. The sparsely populated region has few towns and villages, but the off-the-grid electricity-free Polebridge is one worth visiting. It's a complete step back in time. There's no internet, no cell signal, and no electricity: just a good old-fashioned community.
More importantly, there's the Polebridge Mercantile and its devastatingly delicious huckleberry bear claw.
Best Hotels in Glacier Country
($$$) • The Islander Inn • 4.5 miles from Bigfork
($$) • North Forty Resort • Less than 20 minutes drive to Glacier National Park
($) • The Pine Lodge on Whitefish River, Ascend Hotel Collection • 3 miles to Whitefish Lake
2. Yellowstone Country
Wilderness and culture exist side by side in Yellowstone Country, as the art galleries and museums of Bozeman and Billings give way to the open prairies and striking mountains of the surrounding countryside.
But for sheer natural beauty, it is hard to overlook Yellowstone National Park.
West Yellowstone acts as a gateway to one of the most dramatic geological marvels in the United States – and undoubtedly, the world. With scorching hot geysers erupting hundreds of feet into the air, the iridescent colors of the grand prismatic spring, and majestic wild bison wandering the rivers and mountains, Yellowstone has an almost unearthly beauty to it.
Away from the literal hotspot that is the national park, Yellowstone Country has a more typical Montana feel. Ranches and rolling fields flooded with cattle, trickling streams leading to rushing rivers, and tall mountains dusted with snow. It's a friendly but stark kind of wilderness.
Ski enthusiasts will want to head to Big Sky, a luxurious resort situated on Lone Mountain. With cozy lodges and some phenomenal restaurants, Big Sky is an experience that goes beyond the average ski resort.
As for towns, Yellowstone Country has the largest in Montana; Billings is the biggest city in the state, though still small in comparison to most. It has a thriving micro-brewery scene and a number of museums, but it is Bozeman who really owns Montana's creative scene.
Undeniably young, creative, and cool, Bozeman has dozens of art galleries, breweries, and bars. In all of Montana, this is the place best suited to young people and creative professionals.
Best Hotels in Yellowstone Country
($$$) • Montage Big Sky • 1.7 miles from the center of Big Sky
($$) • 1872 Inn – Adults Exclusive • 1.1 miles to the Yellowstone National Park West Entrance
($) • Stage Coach Inn • 0.7 miles to Yellowstone National Park West Entrance
3. Central Montana
Central Montana has a great blend of natural beauty, interesting history, and welcoming towns, making it a good choice for those who want to experience Montana outside of the national parks.
Fort Benton is the oldest town in Montana, as it was established as a fur-trading outpost before the gold rush of the 1860s. Its sheltered position by the Missouri River made it ideal for travelers – including Lewis and Clark – to pass through.
Fortunately, modern-day Fort Benton is a little less rustic than its 1800s counterpart. Instead of furs, you will find boutiques, cafes, and craft markets on Front Street.
Other towns in Central Montana include White Sulphur Springs and its popular natural spas, Great Falls with its museums and art galleries, and the adventure base of Lewistown.
Central Montana is a fascinating area for history buffs. Especially those interested in the epic Lewis and Clark expedition! The Lewis and Clark Interpretive Center in Great Falls follows the journey of the explorers across the Pacific Northwest, detailing the expedition in extraordinary depth, and in an entertaining and engaging fashion.
Or you can follow in their footsteps by traversing the trail through the Helena-Lewis and Clark National Forest, and enjoy the lovely scenery while you do so.
Other historical sites in Central Montana include the Bear Paw Battlefield and First Peoples Buffalo Jump State Park.
Best Hotels in Central Montana
($$$) • Hilton Garden Inn Great Falls • 1.5 miles from Great Falls International Airport
($$) • Best Western Plus Riverfront Hotel and Suites • Overlooks the Missouri River
($) • The Great Falls Inn By Riversage • 2.8 miles from the Missouri River
4. Missouri River Country
For the kind of untouched wilderness that you see on postcards, head to the northeast of Montana, in Missouri River Country.
The last vestiges of simple country life are to be found here; populations don't go over a few thousand in even the larger settlements, and communities are close-knit but welcoming. Missouri River Country has that Old West charm in abundance, with small saloons and ranches populated with locals. It's a place to slow down, relax, and rejuvenate away from the fast-paced modern lifestyle.
The history of Montana stretches far beyond the 1800s, and has a slightly surprising connection to the prehistoric world – many of the greatest fossil discoveries have occurred in the state.
The first scientifically described T-rex was excavated in Montana in 1902, and more T-rex skeletons have been found in Montana than anywhere else. It has led to a 'Dinosaur Trail' cropping up of museums around Montana. Some of these are in Missouri River Country, with two in Malta and one in Fort Peck.
Besides dinosaurs, the miles and miles of undisturbed landscapes are ideal for outdoor activities like fishing, hiking, and horseback riding. The countryside of Northeast Montana is beautiful and largely untouched.
As you might have guessed from its name, this part of Montana is dominated by the Missouri River, and small towns and villages are dotted along its banks.
Best Hotels in Missouri River Country
($) • Country Inn • 1 mile from the center of Malta
5. Southwest Montana
Wedged between Yellowstone and Glacier National Park, Southwest Montana is in close proximity to the most beautiful areas of Montana – and is no slouch itself.
Sparkling clear blue lakes, rugged mountains, and dense forests; this is a landscape begging to be explored. Hiking, horseback riding – even skiing. The trails of Southwest Montana are an adventure whatever the season.
Other outdoor activities are popular in the area – but particularly fishing. Some of the finest trout streams in the US can be found in Southwest Montana. The Big Hole River, Ruby River, and Beaverhead River are all perfect for fly fishing.
Helena, Butte, Dillon, Anaconda, and Ennis are some of the more important towns in Southwest Montana. They vary in size, but all have a few options for dining out – and some have museums and art galleries.
Visit one of the area's spooky 19th Century ghost towns, a remnant of the boom and bust era that left some towns to flourish while others were deserted.
Elkhorn and Bannack have some incredibly preserved frontier architecture and feel like a step out of time. While these are two of the best ghost towns to visit, there are dozens of others! Depending on where you're based, there could be closer options.
After a long day of adventure and hiking, head to one of the hot springs to unwind and relax. The natural geothermal pools have been used for centuries, long before European settlers arrived, but today look closer to spas than anything else.
Best Hotels in Southwest Montana
($$$) • Oddfellow Inn & Farm • 5 miles from Helena Regional Airport
($$) • Red Bear Inn • 5 miles from Ennis Lake
($) • Finlen Hotel and Motor Inn • Located in Butte, 7 minutes drive from The World Museum of Mining
6. Southeast Montana
The last frontier of the Wild West, Southeast Montana – or Custer country, as it is also known – is keeping history alive.
Cowboys run cattle drives on working ranches, rodeos are commonplace, and powwows are some of the most popular events of the year. You won't have to look too hard to find a saloon or cowboy boot store here.
One of the most famous battles in American history occurred in Southeast Montana. The Little Bighorn Battlefield is in this corner of the state and is an unmissable stop for anyone with the slightest interest in history.
For an authentic taste of the Old West, head to Miles City's Range Riders Museum and find thousands of artifacts from the era; the museum has enough exhibits to fill a whole day.
Miles City is also home to the annual Bucking Horse Sale in May, which draws in rodeo lovers from all over North America. It's a huge event that features concerts, bull riding, horse auctions in addition to the rodeo!
Like the rest of Montana, the southeast has hundreds of great hiking trails, fishing locations, and outdoor activities to try. There are a number of ranches that aim to give people an authentic experience, and usually include horseback riding tours into the countryside.
Best Hotels in Southeast Montana
($$) • Miles City Hotel & Suites • 3 miles from the Range Riders Museum
($) • OYO Hotel Glendive – Yellowstone River • 3.4 miles to Hollecker Lake
The Best Airbnbs in Montana by Area
Glacier Country
Southwest
Central Montana
Yellowstone Country
Missouri River
Southeast Montana
The Best Airbnbs in Montana by Type
If you're more invested in the individual property than where it's located, there are some excellent and unique stays in Montana that you simply can't find the likes of elsewhere. Every property has its own specific charms, though some stand out as better suiting a certain type of guest.
Whether you're looking to book a stay for your honeymoon or your spring break, here are a handful of fantastic properties to keep on your radar.
Best Places to Visit In Montana
1. Visit a National Park
Probably the biggest tourism draw in the state is the incredible – and famous – national parks that lie within. Total, there are nine national parks scattered throughout the state, and although regulations can differ slightly, they generally require you to procure a permit and possibly a reservation to visit, so make your plans well in advance.
Of them, the most visited national park in Montana is the otherworldly Glacier National Park. This million-acre park in northwest Montana extends across the border into Canada's Glacier National Park, a part of their own National Parks System.
Surrounding the remaining 113 distinct glaciers is terrain that was literally formed by ice. When the last ice age ended and the majority of the glaciers receded, caves, gorges, and canyons were left behind where they once were.
Combined with the glacial lakes, towering mountains, and a wide variety of wildlife, it's easy to see why this is one of the most visited National Parks in North America.
Something of a pilgrimage in Glacier National Park is the trek to Virginia Falls. Beginning at St. Mary's falls trailhead, this 3.5-mile round-trip hike will take you to two multi-tiered waterfalls. The hike is rated easy, so it's accessible to everyone with average mobility and fitness level.
While the majority of Yellowstone National Park lies within the state of Wyoming, the Western and Northwestern entrances to the park are actually in Montana. The latter, just south of Livingstone via Gardiner, is conveniently open year-round.
The Montana entrances to Yellowstone are also the closest one to the most famous portion of the park: home to the many geysers and hot springs that are the park's biggest draws, even in the winter.
If you've ever seen a picture of a Yellowstone hot spring, it's probably an image of the Grand Prismatic Spring. This deep-blue hot spring is ringed with mineral and organic deposits that create vibrant colors that change throughout the year. In the summer they're usually orange and red, while winter more commonly finds them green.
The Grand Prismatic Spring is just one of the 10,000 geothermal features in the park. Of them, the most popular nearby are the Excelsior Geyser Crater and Opal Pool.
South of there is Old Faithful, the famed Yellowstone geyser that has been erupting on a semi-regular schedule at least since geologists began keeping track in 1870. It erupts approximately 20 times a day, but it can get extremely crowded between noon and about 6 pm. Best to try for an early or late visit, especially in the summer.
The best way to reach Old Faithful is via the Artemisia Trail. This stretch of the continental divide trail is about two miles long and wanders right by some of the most intriguing springs and geysers in the entire park.
Beginning just past Sapphire pool, this trail will lead you past Morning Glory Pool, Grand Geyser, Chromatic Pool, and many others before arriving at Old Faithful.
While you're in the neighborhood, do check out the Grizzly and Wolf Discovery Center in West Yellowstone. After some rocky years when it was owned by a New York conglomerate, the park has been reorganized as a not-for-profit venture in partnership with the Department of Agriculture and the National Parks Service.
An educational center that doubles as a wildlife park, you can see real-life grizzly bears, grey wolves, otters, and more. The animals that live here are otherwise unable to survive in the wild, and as an AZA-accredited facility, you can be assured that they are extremely well cared for.
2. Visit a State Park
There are also several state parks in Montana, though, unlike the National Parks that are more geared toward protecting vast acreages of land, Montana's state parks are more focused on preserving a single site or individual curiosity.
If you're scared of bats, you might want to steer clear of Lewis and Clark Caverns State Park, as the vast limestone caverns host hundreds of Western Big-Eared bats that roost here from time to time. If that's not enough to deter you, then a spelunking tour should top your list of things to do in Montana.
Situated only 45 minutes west of Bozeman, the surroundings are open year-round, but the cave is only accessible in the summer by guided tour.
Another of Montana's cave complexes is also protected within a state park. Though there are three caves on the site, Pictograph Cave State Park is named after the largest of them which features several cave paintings, the oldest of which is over 2000 years old.
Flathead Lake is the largest freshwater lake in the western United States and is a favorite park among Montanans for fishing and boating. The lake and the surrounding recreation areas are divided into six sections with different attributes, some boasting campgrounds, beaches, and public docks.
If you're not so into camping but would like to do an overnight at the lake, the rustic Flathead Lake Lodge can accommodate you in Bigfork, Montana. With all the comforts of a traditional hotel wrapped within a working ranch, the lodge is the perfect compromise for those who don't want to rough it.
Their private land extends from the lakeshore to the very crest of the mountains and they use this vast acreage to host a myriad of adventures for their guests, like horseback riding, mountain biking, and hiking.
3. Enjoy a City-Break
While Montana is rightfully known for its impressive landscape and outdoorsy culture, its cities are just as worthy of a visit as its natural spaces. You're bound to find more than enough to entertain you for a weekend visit in any of Montana's cities, but here are a few that are particularly good for a getaway.
Originally founded as a mining town in Montana Territory, Helena has grown to become the bustling state capitol that we know today.
Set in the shadow of Mt. Helena, it's the perfect city for those seeking a mix of both cosmopolitan and natural attractions. In Helena, you can be hiking alone on a mountain in the morning, and enjoy a world-class meal before retiring to your four-star hotel for bed.
While you're there, take a peek inside the State Capitol Building, if only to see the ornate central rotunda beneath the building's dome. Alongside intricate detailing that dates to the original construction in 1902 are a variety of murals and paintings that are important to Montana's statehood.
Another feat of extraordinary architecture, the Cathedral of St. Helena is only about a mile away. It's styled after its sister cathedral, the Votivkirche in Vienna, Austria, it is famous for its 59 stained glass windows that depict scenes from the Old and New Testament.
The placid mountain town of Missoula is known for its commitment to locally sourced goods, the arts, and the outdoors. Tucked inside a valley at the base of five distinct mountain ranges, from within the city the entire horizon is dominated by their peaks.
If you're a fan of all things handmade and garden-fresh produce, you're going to adore Missoula's many boutiques and outdoor markets. And conveniently, the Missoula Art Museum always has free admission.
If a Downtown stroll along the Clark Fork River doesn't satisfy your itch you get outdoors, within half an hour of the city are several parks and recreation areas with hiking, swimming, or soaking in a hot spring.
Far more than just a city to fly into to visit Yellowstone, Bozeman is becoming much more than a sleepy mountain town. With developments in infrastructure and new local businesses popping up every day, it is evolving into a hub for the tech industry, innovative fine dining, and meticulously prepared third-wave coffee.
Bozeman is also home to the Museum of the Rockies, a Smithsonian Affiliate and division of Montana State University. While they showcase a variety of TK, a lot of their resources are spent preserving and exhibiting the archeological remains of dinosaurs and other prehistoric animals. There is also a living history farm and a planetarium on site.
4. Tour Another Nation
Montana, like most states in the US, has many independent indigenous nations within its borders that operate in concert with, but outside of the typical jurisdiction of the state or federal government. While what you can expect to see will vary from nation to nation, they often have cultural, arts, or historical centers for folks to learn more about the communities that live within them.
Keep in mind that while you won't need a passport to enter, these are sovereign nations with their own rules, laws, and expectations of visitors. It is always best to check in advance how you are expected to behave lest you inadvertently commit a crime.
In total, there are 9 recognized tribes in Montana and 7 Reservations.
5. Take a Dip in a Hot Springs
The natural geology in Montana, particularly in the western part of the state, has a curious way of producing an incredible number of hot springs. These waters are warmed by geothermal heat – or within the earth's interior – and carry this energy with it as it rises above the ground. In Montana, many of these hydrothermal springs have been harnessed to be utilized within man-made spas ranging from the casual to the ultra-elegant. Some of them also have attached resorts, perfect for a weekend trip.
6. Visit a Historic Bar
In the early days of Montana's statehood, bars were far more than a place to grab a drink. These bars, particularly the ones with their roots in the late 19th century, served many different purposes within the community: they received mail for residents, hosted union meetings, and even cashed folks' paychecks who didn't use traditional banks.
Many of Montana's historic bars are still around, some still bearing their original signs and other details that have lasted over 100 years. Any town you pull into may have a prime example, though there are a few that truly stand out as important pieces of the state's history.
7. Visit a Classic Independent Theater
When a region is blanketed in snow for several months out of the year, indoor activities become even more important. In this vein, Montana has many historic movie theaters that are still in operation, each one a reminder of another time.
Probably the most famous of these is the Washoe Theater in Anaconda. This was the last American movie theater built in the Nuevo Deco style, and it has been lovingly maintained since it opened in 1936.
Anaconda was formerly the home of the preeminent copper mining company in Montana, and this history is well reflected inside the theater; much of the original copper tooling can still be found accenting the theater's incredibly ornate interior.
Interestingly, there isn't just one, but two Orpheum theaters in Montana, one in Pondera and one in Plentywood.
The latter is owned by the chamber of commerce and agriculture as well as the town's residents. It is completely volunteer-run, with all the proceeds gathered from tickets going directly back into the theater to help maintain the historic building.
8. Enjoy a Local Pint at a Taproom
Like the rest of the Pacific Northwest, Montana's beer culture is vast, varied, and deadly serious to the people who live here. As revered around here as fine wine and spirits, many of the beers here are brewed with local hops or those produced in nearby Idaho or Washington State.
While there's likely at least a taproom or two in most Montanan cities, here are a few of the most popular if you're not sure where to start.
9. Tour a Ghost Town
The gold rush hit Montana like a ton of bricks, and with it brought would-be prospectors from all over the country and the world. Small towns sprang up anywhere an exploitable deposit was found, but when the mines were depleted, the towns soon followed suit.
But rather than sweep this tragic history under the rug, the communities surrounding these now-abandoned towns have rallied to preserve them, some in concert with the Parks Department or a local department of tourism or agriculture.
Many of these still exist in the state, here is our list of the best ones you should consider checking out.
10. Go Skiing
Most of the state is blanketed in snow for several months of the year, so it makes sense that skiing would be a popular pastime here.
There's a huge range of skiing facilities in Montana, so whether you prefer a ski-in, ski-out luxury resort, advanced runs with premium powder, or a scrappy local hill, there's definitely a mountain for you somewhere in the state.
The Best Free Things To Do In Montana
1. Visit the wreck of the Steamship Helena
Steamships once dominated Flathead Lake before the advent of cars and trucks. The steamship Helena, having once operated as a popular ferry of goods and passengers, became all but obsolete in the 1930s save as a burgeoning tourist attraction.
If you're interested in maritime history, the ship's hull has been preserved near the lakeshore in Bigfork, Montana if you fancy a look.
2. Hear the Ringing Rocks
This curious rock formation has a peculiar attribute: the rocks "ring" when tapped with a hammer. The sound is sometimes described as a chime, but is nonetheless almost unique in the world: only a few other known examples of ringing rocks exist on the globe.
Even more bizarrely, individual rocks, when removed and isolated away from the rest, cease to produce the sound when tapped. They are located on BLM land about 20 minutes from Butte, Montana.
3. Explore the Virgelle Mercantile and ride the river ferry
While the onsite B&B is certainly not free, browsing this authentic general store-style mercantile won't cost you a thing. In addition, there's a nearby river ferry that shuttles folks – and their cars – to and from Virgelle in an operation that dates to 1913.
4. Visit The Missoula Art Museum
The cornerstone of the fine arts community in one of the most arts-drenched towns in all of Montana, admission to the Missoula Art Museum is always free. In addition to the exhibitions of permanent and rotating collections, they hold the largest collection of indigenous art in the entire state.
If you're an artmaker yourself, check their calendar before your visit so you can catch one of their classes. They also host art-centric events onsite, like panels, talks, and even the occasional party.
5. Hike to Palisade Falls
Near the Hyalite reservoir just south of Bozeman, the Palisade Falls Trail is not only a great beginner hiking trail but has the incredible payoff of reaching the Palisade Falls. It's only about a 30-minute journey each way from the east fork of Hyalite Creek.
Related Articles