A major tourism region in Montana, Southeast Montana draws in travelers from all walks of life due to its diverse selection of experiences and attractions.
Famous for its slow and steady pace, the destination is ideal for visitors looking for a relaxing getaway surrounded by spectacular natural beauty.
Though the ambiance is peaceful, the area is also home to a variety of adventure activities that will send the adrenaline soaring, from extreme water sports to rodeos.
Southeast Montana is a gem for lovers of the great outdoors, who show up in throngs to enjoy hiking, hunting, fishing, and more.
The region is also steeped in a rich and fascinating history. The friendly towns are a gateway to the Old West, and visitors might still catch a cowboy or two roving on the horizon.
But the local history also goes further back to the time of Lewis and Clark and beyond, with prehistoric fossils and artifacts waiting to be explored.
Guests are welcomed with iconic Western hospitality and invited to join in the assortment of enriching activities and events. Throughout the year, shows, fairs, ethnic celebrations, concerts, and historical re-enactments are held, all contributing to the unique culture of the area.
Native American communities continue to thrive in Southeast Montana, the traditional home of peoples from the Crow and Northern Cayenne cultures.
Visitors can learn more about these cultural customs and ways of life by visiting a native site or event.
Southeast Montana is also home to a handful of flourishing and busy cities, including Billings, the largest city in the state.
Originally established as a railroad town in the late 19th century, Billings is nicknamed the Magic City because of its wondrous growth over the years. Today, the city is a hub of tourism, retail, and economic prosperity.
Whether you're looking for an authentic Old West experience, want to explore millennia of captivating history, or seek wide open spaces of unrivaled natural beauty, Southeast Montana has something for everyone.
The Best Hotels in Southeast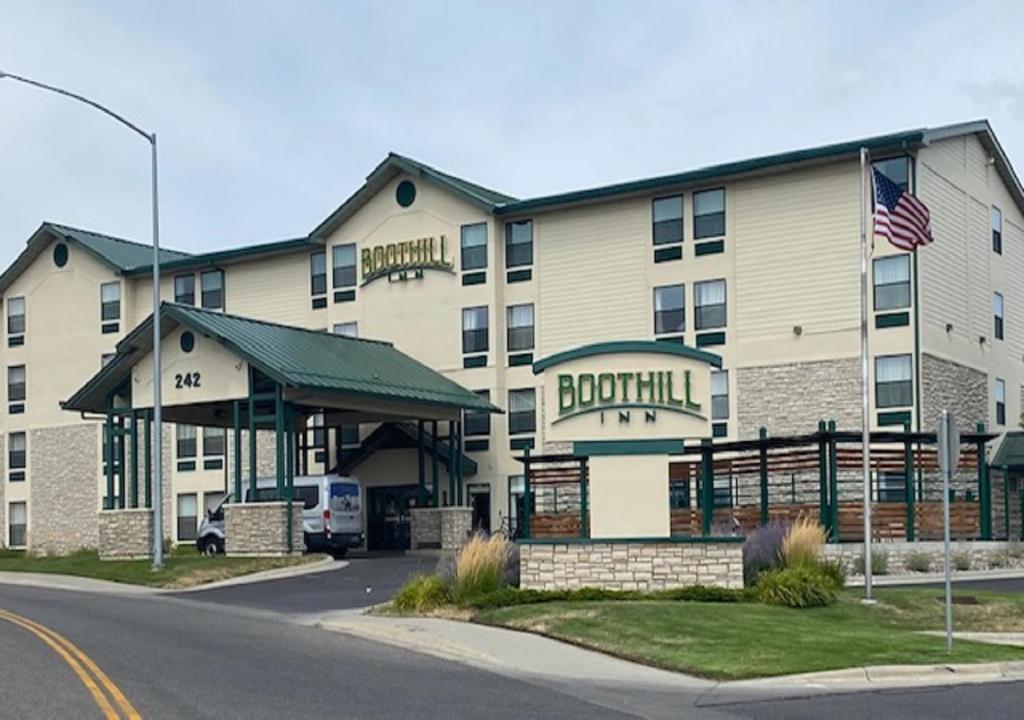 BEST FOR FAMILIES
Free Airport Shuttle
Indoor Play Area
Kid-friendly Buffet
BEST FOR COUPLES
Bar
Free WiFi
Fitness Center
Southeast Montana Special Events
Main Attractions
The Great Outdoors
The natural environment is one of the most attractive drawing points of Southeast Montana. Spacious, rugged, and dotted with native flora and fauna, the local landscape can make visitors feel as though they've traveled to another, more peaceful, world.
There are more than 400 species of birds to be found in the region, along with roaming wildlife. Visitors often spot soaring bald eagles, leaping antelope, and herds of bison on the move.
Wildlife-watchers may also witness grizzly and black bears, elk, gray wolves, mountain lions, moose, and white-tailed deer. Some of the smaller creatures that roam the area include badgers, raccoons, skunks, red foxes, minks, and bobcats.
Animal-lovers can also visit ZooMontana in Billings, a zoological and botanical garden that is home to a variety of animals and plants. The garden allows visitors the chance to see animals in their natural habitat and can also walk through several immersive gardens, including a Montana Garden full of native flower species and a Sensory Garden with a collection of plants to engage the senses.
The beauty and tranquility of the landscape is such that many visitors are content with driving or hiking across the plains. But there's no shortage of outdoor activities on offer in the region.
Among the most popular outdoor attractions are golf, fishing and hunting, biking, boating, and horseback riding.
The Makoshika State Park boasts sublime scenery and several facilities that the whole family can enjoy, including archery, nature trails, a 15-site campground, an outdoor amphitheater, and scenic drives.
Along with camping, bike riding, and wildlife watching, the park also contains the fossil remains of dinosaurs that once resided in the area, including tyrannosaurus and triceratops.
Visitors have the chance to truly immerse themselves in Southeast Montana's great outdoors through a unique outfitting experience. These guided tours are run by local expert guides and take participants on educational and culturally enriching journeys.
Available through outfitting tours are cowboy cookouts, cultural excursions through Indian reservations, jeep tours, battlefield tours, horseback rides, and nature trips.
For a full list of the outfitting experiences on offer in Southeast Montana, please visit the official website.
Cultural Attractions
The region has a sea of attractions, activities, and events available for those who'd like to learn more about the local culture and lose themselves in the society of Southeast Montana.
The history of the region is complex and intriguing, dating all the way back to the dinosaur age. Local museums display exhibitions documenting all parts of Southeast Montana history, including the prehistoric era, the time of Lewis and Clark, and the Old West.
The Big Horn County Historical Museum is the largest of its kind in Montana. Located in Hardin, the museum features a network of historical buildings that serve as pieces of living history. The complex is home to Crow teepees, historic farmhouses, a blacksmith shop, and other structures that will transport visitors back in time.
The Canyon Creek Battlefield Monument is another popular attraction that pays tribute to the battle between the Nez Perce and the US Calvary on September 13, 1877. The 800 Nez Perce were able to seek asylum in Canada after just 125 of their brave warriors held off the thundering US Cavalry.
Prehistoric artifacts make up a bit part of the local cultural legacy and there are multiple facilities operating tours and exhibiting fossils. One of the most notable is the Glendive Dinosaur and Fossil Museum which spans over 20,000 square feet.
For aspiring paleontologists, the museum also runs digs that allow participants to excavate for new fossils in the area.
Art buffs can visit a range of local art galleries, including the famous Water Works Art Museum in Miles City. Formerly known as Custer County Art and Heritage Center, the establishment features both regional and national exhibits showcased through a variety of styles and mediums.
The city of Billings hosts an art walk on the first Friday of every month. The free events highlight the community of artists and art galleries in downtown Billings.
They often include live music, food and drinks, and artists in attendance. Plus, many art walks sell artworks and fine crafts and offer many family-friendly opportunities to make art.
For a full list of the museums and historic attractions in Southeast Montana, please visit the official website.
Travelers also have a chance to appreciate and learn more about Native American history and culture in Southeast Montana by following historic routes and visiting sites of significance to the Crow and Northern Cheyenne tribes.
The Warrior Trail Highway begins in Billings and journeys across the open terrain of Southeast Montana, highlighting several points of Native American warrior history along the way.
On the trail, participants will hear stories passed down by tribal war chiefs, witness battlefields where some of the most significant battles were fought, and absorb ancient art crafted by the indigenous people.
The Crow Reservation runs Apsaalooké Tours, which take visitors on a one-hour guided tour covering key places and events leading up to the Battle of Little Bighorn.
Visitors are also welcome to attend powwows held at the reservation, however, flash photography is not permitted during contests.
Dining and Accommodation
Dining
Southeast Montana is a gem for foodies, boasting an array of eateries offering diverse menus to satisfy every kind of patron.
Billings tends to be the top spot in the region for fine-dining establishments, while many of the smaller towns house friendly coffee shops and diners. No matter what cuisine or type of fare is up for grabs, the meals in the region are all served with a side of Western hospitality.
Many of the dining outlets in the region have been standing for decades (if not longer!), offering menus inspired by their rich history. The famous Jersey Lilly Bar and Café in Ingomar first began as a bank in 1914 and is fully decked with antique furniture. It is renowned across the state for its hearty grub, including beans and steaks.
Montana's Rib and Chop House in Miles City is another great option for carnivores, boasting "the best steak and seafood in the West". There are several locations around Montana, including in Billings, which also offers curbside takeout.
Those looking for a casual and friendly outlet will love CC'S Family Café in Glendive. The generous country kitchen serves a menu of wholesome goodies including all-day breakfast and homemade pies. The café is also located within walking distance of the Glendive Dinosaur and Fossil Museum.
For a full list of the dining options in Southeast Montana, please visit the official website.
The area also boasts a wide range of breweries, distilleries, and wineries. One of the most popular is Canyon Creek Brewing in Billings, one of the few taprooms located in the city's west. The establishment has been running for nearly 10 years and offers a wide variety of delicious beers.
In Miles City, visitors will find the Tongue River Vineyard and Winery. The winery crafts wine from grapes, cherries, apples, raspberries, plums, and sells it by bottle, glass, or case. Guests can access tours of the property and enjoy the scenic views from the tasting room.
For a full list of the breweries and distilleries in Southeast Montana, please visit the official website.
Accommodation
Southeast Montana has endless attractions to offer, and luckily, there are plenty of accommodation options to suit every kind of traveler. Whether visitors plan on staying one night, one week, or longer, there is a range of lodging choices from which they can base themselves as they explore this amazing region.
Choose from convenient hotels and motels, spacious vacation rentals, cozy bed and breakfasts, equipped camping grounds and RV parks, quaint cabins, and all-inclusive guest ranches.
The hotels in Southeast Montana range from nationally recognized luxury establishments to family-owned inns. Meanwhile, the campgrounds are found in the region's stunning state parks and other rural locations, offering unrivaled views of Montana's famous night sky.
The ranches in the region are the best option for those visitors seeking an authentic cowboy experience. Guests at the ranches will have the opportunity to enjoy traditional activities like horseback riding and running the ranch, plus other recreational activities like snowshoeing, hiking, and Nordic skiing.
Similarly, cabin accommodation is an ideal choice for travelers craving a tranquil and rustic lodging experience. The cabins in the region typically offer working fireplaces and unbeatable mountain views.
If you are planning on staying in the Billing area, there are plenty of great hotels to accommodate your stay. Boothill Inn and Suites is located conveniently near the airport and offers a swimming pool, gym, and all the modern amenities.
If you are looking for something in the heart of the city, close to both the Western Heritage Center and Yellowstone Art Museum, consider checking out the Northern Hotel.
For a full list of the accommodation options in Southeast Montana, please visit the official website.
Related Articles