Anaconda, Montana is one of the most historically significant towns in Montana. This community located in southwestern Montana was once home to the state's largest copper smelter.
Today it is a gathering place for tourists eager to enjoy some of the best recreational areas in Montana.
Founded in 1883 by Marcus Daly, one of the "Copper Kings "of Butte, Anaconda was initially to be called Copperopolis. However, another town in the state already had been named Copperopolis, so Daly named the town after his own successful copper mine, the Anaconda Mine.
While Daly got his start as a mine owner, the copper smelter that he built in Anaconda became the largest smelter and refining complex for a non-iron metal in the world. The smelter was operational until 1980 when it was closed.
Following environmental clean-up efforts, the area that was once home to the smelter was turned into a world-class golf course, attracting visitors from all over North America.
When the smelter closed, the town switched its focus from mining operations to tourism. Today, this quaint community is a history buff's dream filled with plenty of historical sights.
For the visitor that loves the outdoors and wants to enjoy the recreational opportunities in and around Anaconda, there are plenty of activities to keep you busy.
We will take a closer look at everything that Anaconda and the surrounding area have to offer for visitors.
Guide to Anaconda, Montana
The Best Hotes For Anaconda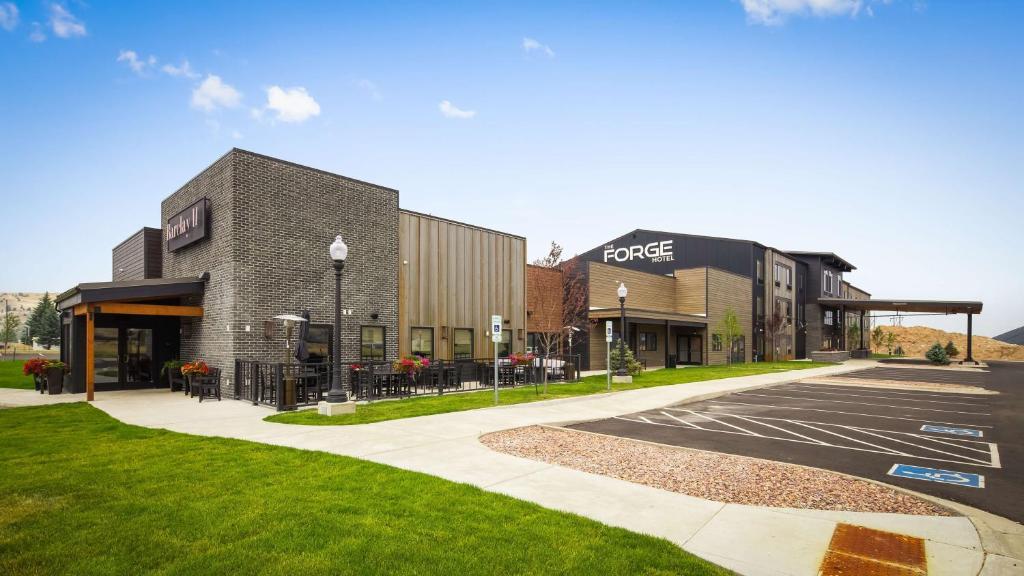 BEST OVERALL
Cycling
Outdoor Fireplace
Bar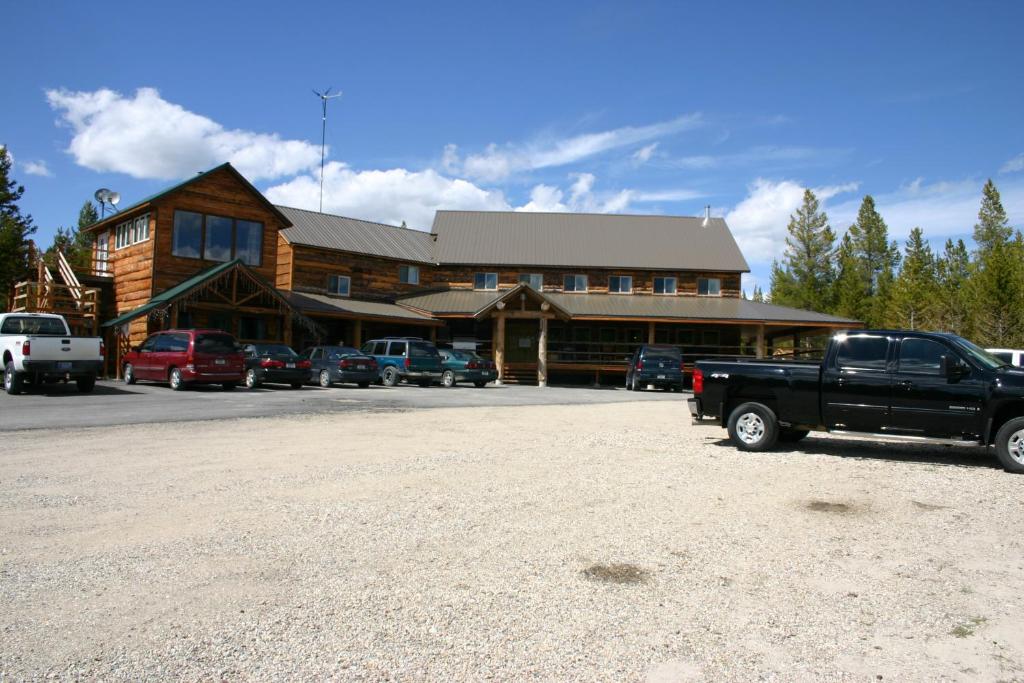 BEST FOR FAMILIES
Picnic Area
Pets Allowed
Game Room
Main Attractions
Anaconda isn't a large community, but with its rich mining history and its location tucked at the base of the Anaconda Range, there are plenty of things to see and do. When you visit Anaconda there are, however, a few must-see attractions.
Anaconda Smoke Stack State Park
Probably the most distinctive feature in the Anaconda area is the large smokestack that rises above the town. This stack is all that remains of the Anaconda Smelter-Refining Complex.
At one time, the stack was the tallest free-standing masonry structure in the world. While that distinction has come and gone, the stack still remains one of the tallest in the world and is a reminder of the town's history.
The Anaconda Smoke Stack State Park is the only way to visit the stack, and you can only view it from the viewing platform in the state park.
The ground that the stack sits on is heavily contaminated with heavy metals and is an EPA Superfund Site. The state park offers plenty of information on the mining history of Anaconda and Butte.
Washoe Theater
The Washoe Theater first opened its doors in 1936 at the peak of the copper processing operations of the town. The single-screen theater was the last theater in the United States constructed in the Nuevo Art or Art Deco style, and much of the lavish décor from the 1930s, including copper ornaments and murals that still adorn the theater.
While a beautiful and unique site in Anaconda, the Washoe Theater is still a functional movie theater, showing one film at a time, with one showing Monday thru Thursday and two showings on Friday, Saturday, and Sunday.
Pintler Veterans Memorial Scenic Highway
A 64-mile drive connecting Anaconda to Philipsburg, MT, this route offers an alternative route between Butte and Missoula, for those that want to skip the interstate. Along this route, you'll have amazing views of the Anaconda Pintler mountains.
The highway passes by Georgetown Lake, a popular destination for hiking, camping, water sports, and fishing. If you like to ski, this route in the winter takes you directly to Discovery Ski Area, one of the most popular ski resorts in Montana.
Recreation Activities
Anaconda may not be home to lots of fancy tourist attractions. However, it does play host to some of the best outdoor recreations in Montana. The Anaconda Range offers plenty of recreational activities for the adventurous at heart.
Hiking
There are ample opportunities for hiking in and around Anaconda. Great hiking trails can be found in Lost Creek State Park, including a nice hike to Lost Creek Falls. Georgetown Lake has plenty of places to hike as well.
However, if you're looking to get away from the crowds try one of the many hiking trails within the Anaconda-Pintler Wilderness Area or Beaverhead-Deer Lodge National Forest.
Skiing
Discovery Ski Area is just a short drive from Anaconda, for those that enjoy the thrill of downhill skiing. If you are looking for something a little slower paced there are plenty of cross-country ski trails to be explored at Mount Haggin Nordic Center.
Fishing and Hunting
Surrounding Anaconda are hundreds of square miles of public lands that can be accessed for hunting. Popular game species in the Anaconda area include deer, elk, bear, mountain lion, moose, and game birds.
A hunting license is required to hunt on public lands surrounding Anaconda, so check the Montana Department of Fish Wildlife and Parks for information on how to acquire a hunting license.
Fishing is also very popular in the Anaconda area, with many really nice fishing areas. Popular fishing spots include Georgetown Lake, Silver Lake, Racetrack Lake, Storm Lake, Warm Springs Creek, and the Big Hole River.
As with hunting, a fishing license is required for any individual that wants to fish in Montana. Information on fishing regulations and how to acquire a fishing license can be found on the Montana Department of Fish Wildlife and Parks website.
Golf
Surprisingly, Anaconda is home to world-class golf. Following the closure and cleanup of the Anaconda Smelter, the brownfield designated lands were turned into the Old Works Golf Course, a Jack Nicklaus-designed golf course.
If that course is not your style, check out the 18-hole championship course at the Fairmont Hot Springs.
What Is The Cost of Living in Anaconda?
Compared to the rest of the country, Anaconda's cost of living is 22.6% lower than average in the United States.
Based on the national average of 100, a lower index score like Anaconda's 77.4% means the town is cheaper to live in than those closer to the national average.
Even better, the average house cost is approximately 25% less than the national average.
Is Anaconda Safe to Live in?
As far as crime rates go, Anaconda weighs in with a comparatively decent score of 25 (100 is the safest). This makes it a much safer place than many other Montana towns and cities statistically speaking.
With just over 200 recorded annual crimes, the majority of those are related to property. This leaves less than 20 reported violent crimes, putting your chances of being involved at less than 2 per 1000 people.
Warm Springs is considered one of the best areas in the town and the city center is the opposite statistically.
What is Anaconda Known for?
Anaconda is one of the most historic towns in the state when it comes to mining. The Anaconda Smokestack State Park with its 1919 smelter stack is a testament to this and is one of the main attractions in the area.
The surrounding landscapes are incredibly scenic and popular for all kinds of outdoor recreation. Some areas near to the town are within the Beaverhead-Deerlodge National Forest. The town is also at the tail end of the Pintler Veteran's Memorial Scenic Highway which connects it to Philipsburg.
Accommodations
You'll not find a wealth of lodging options in Anaconda. There are a number of Airbnb, Bed and Breakfast, and vacation rental options in addition to a few hotel options.
Best Time to Visit Anaconda
We believe that thanks to the town's rich history, Anaconda can be enjoyed any time of the year. However, to get the most out of the town, we recommend visiting in the winter or summer, depending on your interests.
If you're looking to ski or perhaps relax in the hot springs nearby, we'd recommend visiting in the winter.
If you'd prefer to enjoy activities best enjoyed in warmer weather, such as exploring the historic districts or hiking, we'd recommend a summer visit.
A Trip During the Summer Season
Anaconda is a great place to enjoy during the warmer weather, with a good variety of activities both in town and nearby.
You can find a variety of activities to do including hiking, fishing, shopping, and exploring the town. For those planning to visit during the summer, we'd recommend visiting during July or August.
Tourism and Prices
With summer being a popular tourist season, you can, unfortunately, expect the town to be a bit more crowded and for hotel prices to be higher.
We definitely recommend booking in advance if you want to ensure you'll have a place to stay and also to save a bit of money. The good news is the crowds likely won't be as bad as bigger towns in Montana like Missoula and Bozeman.
You can check out accommodations in Anaconda here. If you plan on visiting Anaconda by way of Missoula or Bozeman you can check accommodations here and here.
Weather and What to Pack
Anaconda has shorter and dry summers, with an average daily summer temperature of 69ºF.  It gets the hottest in July with a high of 78ºF and a low of 46ºF.
It also tends to be quite sunny with less cloudy days. Since it'll be somewhat warm, we recommend packing comfortable light clothes that you won't get overheated in.
You'll also want to pack sunscreen of course and some chapstick since it can get quite dry.
What To Do in the Summer
Anaconda has plenty to do during the summer months. You'll find that there are a lot of things to do whether you'd prefer to simply stay in town or explore the outdoors.
The town has a rich history, making it a fun place to walk around and learn about. It's also close to several outdoor getaways so you won't have to drive far to enjoy nature.
Visit the Washoe Theater
Anaconda is home to the famous Washoe theater, a historic building with Art Deco design. The theater has been open 85 years and has a fascinating history. Built in 1897 and remodeled in 1929, the theater didn't officially open until 1936 due to the Great Depression.
The theater is beautifully designed, with exterior doors made of etched glass and silver and gold accents inside. There are also gorgeous murals inside done by the artist Colville Symthe that are quite a sight to look at.
The theater is also home to a silk curtain that hangs on the stage with painted deer stags. This curtain has never been taken down, due to fears doing so would damage it.
Today visitors can go inside and not only enjoy the Art Deco design the theater has to offer, but also see a variety of films. The theater still shows movies today and actually offers showings of new films.
Tickets are quite affordable, with regular showing prices at $5 for adults and $4 for children twelve and under.
Explore the Butte-Anaconda Historic District
Anaconda has four historic districts: the Anaconda Commercial Historic District, the Butte-Anaconda and Pacific Railway Historic District, the Goosetown Historic District, and the Westside Historic District.
Each district is unique in its history and exciting to explore, however, the Butte-Anaconda district is perhaps the most interesting.
The Butte-Anaconda district is in Butte, Anaconda, and Walkerville. Once a prosperous part of town, this district once had a Chinatown thanks to an influx of immigrants coming after 1868. There were a variety of businesses here including noodle shops and mercantile in this area as well as a nearby "red light" district.
The city later tore many of the buildings in Chinatown and the nearby "red light" district down in the 20th century, citing safety and health concerns.
This along with many Chinese immigrants later moving out of the area led to ultimately the decline of Anaconda's Chinatown.
Today a few of the buildings once home to businesses and shops in the district are preserved including The Mai Wah Noodle Parlor and Wah Chung Tai buildings.
Visitors can also eat at The Pekin Noodle Parlor, a shop that opened in 1911 that still operates to this day. It is considered to be one of the longest-running Chinese restaurants in the United States.
Visit Georgetown Lake
Georgetown Lake is close to Anaconda, Montana, and has a variety of outdoor activities that visitors can do including fishing, hiking, and boating. The lake has four boat ramps and camping nearby.
Visitors can enjoy exploring the lake either by fishing or boating. There are shops nearby that offer kayak and boat rentals available nearby as well as fishing supplies. Feeling adventurous? You can also windsurf at the lake.
For those who are more interested in hiking the surrounding area, there are a variety of great trails. Denton's Point trail is a popular longer trail hikers can take.
For those looking for an easier hike, there is also Echo Lake Picnic which takes you around the shore of the lake.
A Trip During the Winter Season
Anaconda is a great place to enjoy in the winter and not just the summer, as there are plenty of fun activities that you can enjoy in the cold.
Located near great skiing as well as hot springs, Anaconda can be a lot of fun in the winter. We recommend visiting during January or March.
Tourism and Prices
Anaconda is generally less crowded in the winter as there are fewer tourists visiting. However, prices may not go down too much as many people still do visit the area for skiing.
Still, you can expect to save a lot of money if you stay here as opposed to if you stay in one of the larger towns for a winter trip.
Weather and What to Pack
Daily temperatures are around 14ºF so definitely expect some cold if you visit Anaconda during the winter!
It's also quite common for the area to get snow, so be prepared to potentially drive in snowy weather. We'd recommend packing warm clothes and having plenty of layers to put on.
What To Do in the Winter
You can do a variety of things at Anaconda in the winter, including enjoying some of the fun activities the season has to offer. With many ski resorts nearby, it is a great place to ski. Visitors can also relax at the hot springs close by.
Hit the Slopes at Discovery Ski Area
Discovery Ski Area is a great place for skiers to visit. With 67 trails and three faces, the mountain is sure to offer plenty of exciting terrain for skiers of all levels.
Intermediate skiers can enjoy the front face of the mountain where there are a variety of groomed trails including some steeper ones.
Expert skiers will certainly enjoy the backside where there are many challenging trails, including some steep moguls and chutes.
Relax at Fairmont Hot Springs
Visitors can relax at Fairmont Hot Springs where there is both an indoor and outdoor pool. There is even an outdoor waterslide that children can enjoy depending on the weather.
The indoor geothermal pool allows it to be open regardless of the weather outside, making it perfect to visit in the winter. With temperatures around 88° to 94°, you can warm up and relax after a long day.
Special Events
Many of the special events and festivals in Butte pay homage to the cultural groups that came to the area in search of a bit of mining wealth. Of course, the town does have festivals that are just for fun and celebrate some of our favorite holidays.
Activities Near Anaconda
Recreation Activities
National Parks and Forests
State Parks
Driving/Guided Tours
Museums
Performing Arts
Related Articles
Latest in Anaconda
When you consider the landscape and terrain it's no wonder that Montana is a popular destination…