Relive the Old West era by paying homage to Bannack Ghost Town, the former gold rush Mecca.
Bannack is a Montana ghost town located in Beaverhead County, located on Grasshopper Creek, and close to the town of Dillon. Bannack holds the history and mysteries of the wild west. The town's name was a tribute to the nearby Bannock Indians.
This remote mining town came into being in 1862 when John White discovered gold near Grasshopper Creek. Gold prospectors flocked to the area quickly, making Bannack a flourishing mining town. In 1864, it briefly served as Montana's territorial capital.
At the height of the gold boom, Bannack was home to approximately 10000 residents. During this period, several businesses sprouted, including four saloons, two stables, three bakeries, two meat markets, and three blacksmith stores. Others were a brewery, a restaurant, a grocery store, and a billiard hall.
Legendary characters graced Bannack, the most famous being Sheriff Henry Plummer.
Plummer was a lawman and even built gallows to convict criminals. However, he secretly led a ruthless gang that attributed to several deaths. Bannack vigilantes soon learned about this and hanged Plummer and his two deputies without trial.
Bannack Montana Ghost Town, What You Need to Know
Bannack went from gold to ghost town in the mid-20th century when gold reserves in the area petered out. By 1960, the town had been completely abandoned. Today, this empty mining town is a national historic landmark run as Bannack State Park.
Unlike other ghost towns, Bannack has plenty of original buildings still standing strong. The park spans 1,529 acres with an elevation of 5,837 feet.
The Best Hotels For Bannack Ghost Town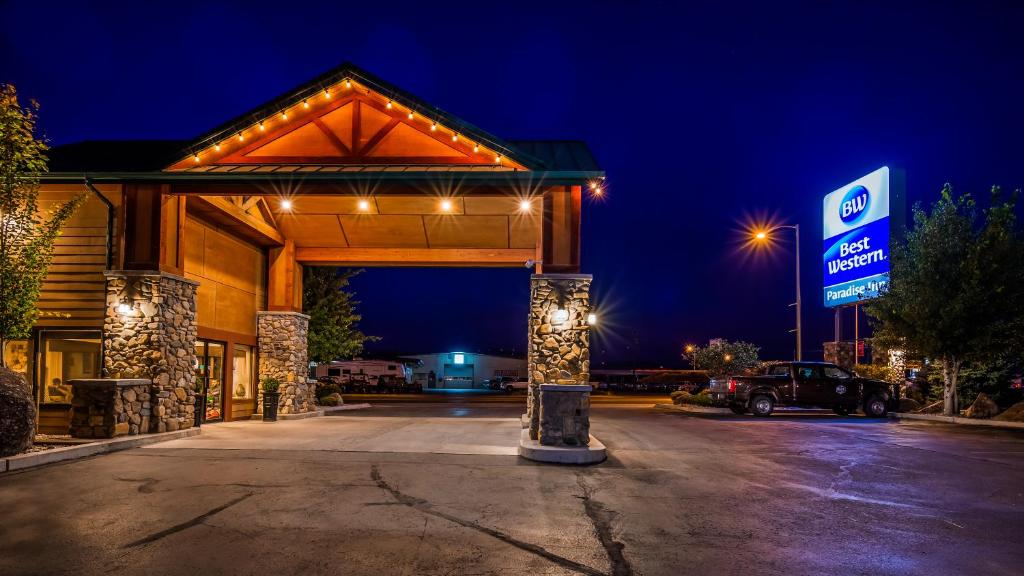 BEST FOR FAMILIES
Pets Allowed
Heated Pool
Spa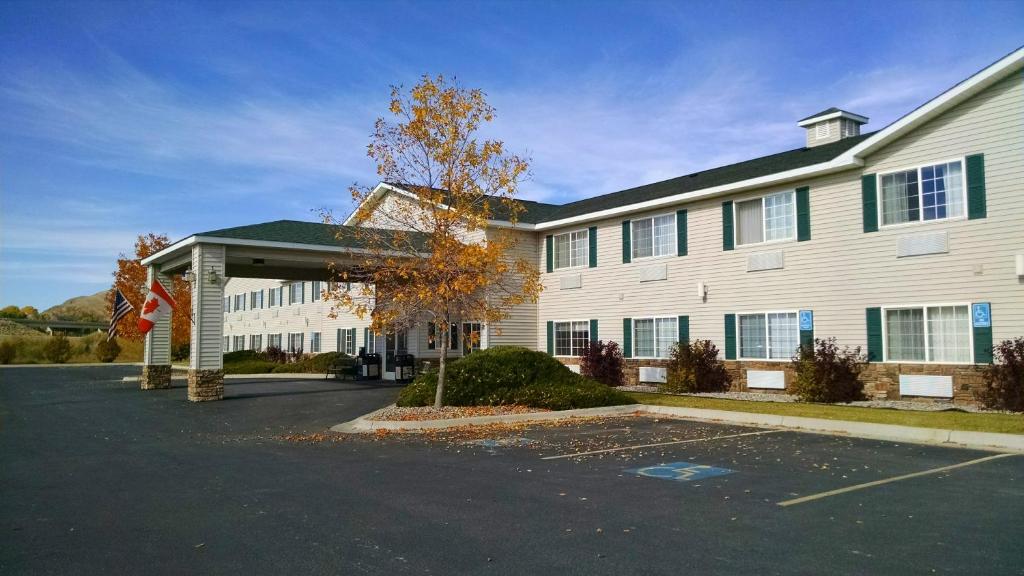 BEST FOR COUPLES
Bar
Fitness Center
Pets Allowed
BEST OVERALL
Free WiFi
Cycling
Soundproof Rooms
Main Attractions Bannack Ghost Town
Over 60 well-maintained venerable structures are open for exploration in Bannack. Most of the buildings have a false-front style.
Such a richness of attractions comes with a problem. How do you explore all buildings? Below are the picks of the bunch.
Methodist Church
Built in 1877, the Methodist Church was the first building to serve as a place of worship in Bannack. It was erected as an appreciation to God for saving the residents against an Indian skirmish. The Nez Perce attack was only a scare, and it never occurred.
Visit this church and experience how early Montanans worshiped.
Hotel Meade
Erected in 1875, Hotel Meade originally served as Beaverhead County Courthouse. It ceased being a courthouse in 1881 when the county seat relocated to Dillon.
It wasn't until 1891 that occupancy was established. Dr. John Singleton remodeled and transformed the two-story building into an elegant hotel. The hotel operated as a community social hub until 1940, when it permanently shut down.
Masonic Lodge and School
The building housing the Masonic lodge and school is perhaps the most photogenic structure in Bannack. Commissioned in 1874, this two-story, white-framed building featured a Masonic Lodge upstairs and a school downstairs.
Classes were in session until 1950 when the school closed its doors. You can still spot antique desks on the upper floor. Unbelievably, Bannack Masonic Lodge No. 16 is still active.
Skinner's Saloon
A visit to Bannack is incomplete without stepping into the famous Skinner's Saloon. The saloon is similar to other Old West pubs but with more history. Any old-timer from Bannack is sure to have tales of this establishment, whether positive or negative.
This saloon was owned by bad boy Cyrus Skinner, a friend of Sheriff Henry Plummer. Cy Skinner was a notorious bandit known to steal mules/gold and rob stagecoaches.
Legend has it that Skinner's Saloon was the epicenter of criminal activity. Here, Cyrus hosted criminal gangs and planned robberies. If only the saloon walls could talk.
Cemetery
Bannack's old western cemetery is located uphill. The area holds the remains of former miners, convicted criminals, and other Bannack residents. A picket fence surrounds each grave.
Bannack Jails
Find out how it felt being a wild west prisoner by visiting Bannack Jails. The original jail was built around 1863 and is believed to be Montana's first jail.
The second jail was built later in the 1860s and sat next to the original prison. Both prisons feature hand-hewn logs and sod roofs.
Bessette House
Rumor has it that Bessette House is the spookiest building in this ghost town. This house acted as a quarantine center for patients with contagious diseases, and most of them died.
Due to its location, Bannack experienced bitter winters. Such conditions brought illnesses like influenza, whooping cough, and scarlet fever, with kids most affected. Most of the patients were condemned to Bassette House, where they died.
The spirits of the dead roam freely around Bessette House. Some visitors claim they can hear children crying when they visit this house.
Recreation Activities at Bannack Ghost Town
Make no mistake, Bannack is far from dead. The gold might be long gone, but not the fun activities.
Gold Panning
Fancy yourself as a miner? You can pan for gold at Bannack. Enjoy this activity every summer weekend during afternoon hours.
Gold panning is a supervised activity and must be undertaken on the provided water tubs. You have to find gold in these tabs.
Fishing
The winding waters of Grasshopper Creek snake across the park, availing fishing opportunities. Bring along your fishing gear and enjoy reeling in your catches. Best enjoyed with family members on sunny afternoons or evenings.
Camping
Is camping in a ghost town on your bucket list? Make your wish come true by camping in Bannack. The park has two camping grounds and about 25 sites.
Vigilante Campground
The vigilante campground has 17 sites, each capable of accommodating up to eight campers. This campground offers easy access to Grasshopper Creek, allowing campers to bird-watch, fish, and enjoy wildlife.
Picnic tables are available, while campfires and pets are allowed.
Road Agent Campground
Road Agent Campground has eight campsites, each accommodating up to eight people. It sits nearer to Bannack's city center, allowing campers to explore old-age structures.
Come along with your family/pets and enjoy late-night campfires while chuckling at ghost stories.
Hiking
The surrounding hills present ideal hiking opportunities. According to Montana legend, Sheriff Plummer's biggest loot is hidden somewhere in these hills. Keep an open eye while hiking; you can unearth treasures.
Ice Skating on Dredge Pond
During winter (January to March), you can enjoy ice skating on the frozen dredge pond. It's advisable to call ahead and inquire whether the pond is open. The pond closes when weather conditions worsen.
Other Accommodations
For a unique stay, you can choose overnight camping at Bannack. If camping isn't your thing, several lodging options near Dillon will suit you.
Nearby accommodation facilities include:
Special Events
Activities Near Bannack Ghost Town
Related Articles