In the fast-paced and hectic tech-driven era, many would jump at the chance to put away all the modern sensibilities and embrace the simple life of the cowboy. Things certainly have changed a lot since their heyday, but you can still capture the charm of the old west in the dude ranches in Montana.
These places will transport you back to a more simple time, offering a rustic adventure of traversing the wilderness on horseback and wrangling cattle.
Visit one of Montana's dude ranches and live life like a cowboy – with a few modern comforts of course.
BEST FAMILY RANCH
Kids Club
Free Wifi
Children Activities
BEST OVERALL RANCH
Free breakfast
Airport transportation
Horseback riding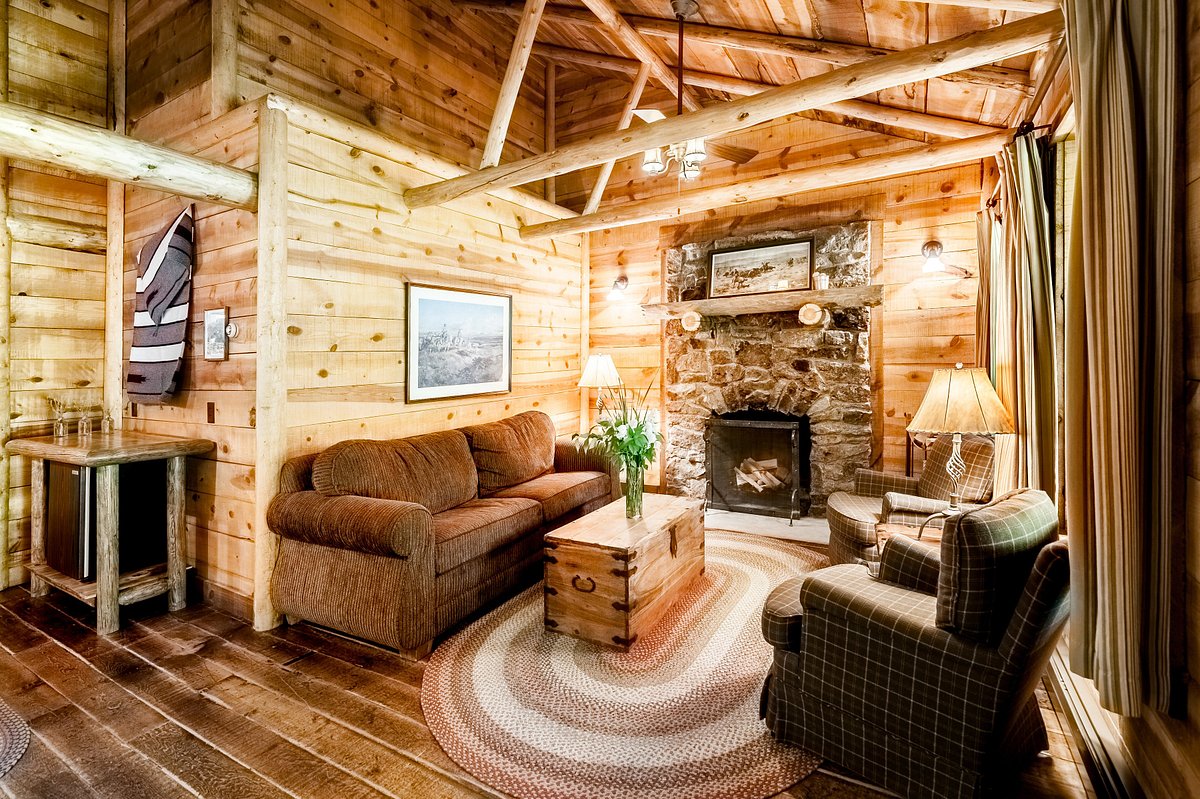 BEST FOR YELLOWSTONE
Swimming Pool
Golf course
Archery
1. Elkhorn Ranch, Gallatin Gateway
This traditional dude ranch has been run by families, for families, since 1922.
Guests of all ages are welcomed to the Elkhorn Ranch. Little has changed in the 100 years since opening – the focus is still very much on family and the great outdoors. A few of the activities available include horseback riding through the wild mountain ranges of Montana, fly-fishing on blue-ribbon fishing streams, and exploring Yellowstone itself (only a mile down the road).
On the ranch, you'll stay in a rustic log cabin. These cabins, built in the 1930s, are designed to bring you back to a time long since passed. Thankfully, they still boast many 21st century comforts, with modern amenities that ensure your stay will be both rustic and comfortable.
The cabins, which weave between the tall trees of the National Forest, are strategically placed to afford the guests the best sense of privacy, and the most scenic views. Though the lodges are private, there's a real sense of community at the ranch. People gather in the lodgepole dining hall for meals filled with fun and laughter.
Capacity – 40
Season – June – Mid September
Website – Check Availability
2. Bonanza Creek Guest Ranch, Martinsdale
Away from the dizzying lights of the city and the never-ending bustle of modern life, the working ranch of Bonanza Creek is an escape into nature.
This ranch has the smallest capacity of any listed here. The staff use the manageable number to create bespoke, personalized experiences. Every vacation at Bonanza Creek is different, according to both the desires and riding ability of the guests. There's no head-to-tail riding at the ranch – each trip out into the wilderness is an authentic adventure, wandering the rugged backcountry of Montana on a horse specifically chosen to suit your needs.
It's really the closest you can get to life as a cowboy, traversing the plains of the Old West.
Bonanza Creek offers the most authentic, hands-on ranch experience. Being a working ranch, you can help with the day-to-day chores of running the place, like cattle herding. A visit here is one of the most personalized and authentic experiences when considering dude ranches in Montana!
Capacity – 8 to 12
Season – June to September
Website – Check Availability
3. Bar W Guest Ranch, Whitefish
The picturesque backdrop of Whitefish is the setting for the Bar W Guest Ranch, which sits at the base of Spencer Mountain, framed on both sides by dense pine forest.
The spectacular Glacier National Park is only 30 miles away.
Bar W offers the full western experience. On top of riding through thousands of acres on horseback, you can try your hand at skeet shooting, fly fishing, roping, archery, cattle drives, rodeo games, wagon rides and square dancing. After a long day of activities you can look forward to closing out the day with cookouts and campfires.
Guests are quickly made to feel like family at Bar W – friendly staff and a strong community are an essential, often understated part of the dude ranch experience. Accommodation options at the ranch include the main lodge, cabins, and glamping.
Capacity – 40
Season – Open all year round
Website – Check Availability
4. Mountain Sky Guest Ranch, Emigrant
For those looking to combine the dude ranch experience with a little more luxury, the upscale Mountain Sky Guest Ranch is a perfect choice. The ranch, close to Yellowstone, was opened as a dude ranch in 1929.
Fine dining and gourmet chefs, a wellness center, and a world-class golf course are just a few examples of the extra amenities available. It's a luxurious resort that blends the elegance of high-end accommodation with the rugged backcountry of Montana.
A visit to the ranch is an adventure for a lifetime. Go white-water rafting, cattle wrangling, and tour the unmissable Yellowstone National Park during your stay. Whether you want a cowboy adventure or a stay of relaxing recuperation, the Mountain Sky Guest Ranch will suit your every need.
Capacity – 85
Season – May to October
Website – Check Availability
5. Lone Mountain Ranch, Big Sky
Only 18 miles northwest of Yellowstone National Park and adjacent to the Big Sky ski resort, the Lone Mountain Ranch was made for adventure.
In winter, you can take to the slopes on 80 miles of world-class Nordic trails. Summer offers activities like horseback riding, canoeing, and ax-throwing. The long summer evenings are made memorable with farm-to-table cuisine and live western music. It is one of the few dude ranches in Montana that offer activities year round!
The ranch is also known for its cuisine, with the Horn & Cantle restaurant one of the finest dining experiences in Big Sky.
The cabins are made to feel rustic, but chic; there's a touch of luxury to the Lone Mountain Ranch. It's the perfect ranch for families – proven with its win of 'Best Family Ranch' by Top 50 Ranches.
Capacity – 105
Season – Open all year round
Visit Website – Check Availability
6. Triple Creek Ranch, Darby
The adults-only Triple Creek Ranch is a proud member of the prestigious Relais & Châteaux and an example of 'refined rustic elegance'.
The award-winning alpine resort is located on the southern side of Trapper Peak, in the Bitterroot Mountain Range of western Montana. All of the usual western adventures are available, but what really sets Triple Creek Ranch apart is its emphasis on being the pinnacle of luxury. A world-class restaurant serving gourmet cuisine and award-winning wine, 5-star service all over the ranch, and cabins where even the smallest attention to detail is not missed.
It's the complete package – when partnered with the lush scenery of alpine forest and rugged peaks, it makes one of the best hotels in the world.
Thanks in no small part to being adult-only, the Triple Creek Ranch is the most romantic getaway on this list; enjoy a relaxing stay with your loved one in the serene countryside away from it all.
Capacity – 46
Season – Open all year round
Website – Check Availability
7. Triple J Wilderness Ranch, Augusta
Triple J Wilderness is an authentic, family-run dude ranch in Montana's Rocky Mountain Front, between the Glacier National Park and Yellowstone. The ranch has an excellent kids program, wilderness packs and the option to stay during adults-only weeks.
It's an ideal choice for those hoping for a vacation tailored to their tastes. The smaller number of guests makes for a more intimate experience; you can create your own personal western adventure at the ranch.
If you prefer to keep your feet on the ground, you can go hiking, fly-fishing or try one of the numerous other outdoor activities on offer. For the epic horse riding adventures, the staff cater to all abilities – from the most experienced equestrian to a complete novice – and venture deep into the untouched wilderness of Montana.
To add to the special experience, you are assigned the same horse for your entire stay, allowing you to bond with the animal, creating unforgettable memories together throughout your stay.
End your busy day with cookouts and campfires, complete with cowboy poetry, tall tales, singing & marshmallow roasting
Capacity – 24
Season – June to September
Website – Check Availability
8. Circle Bar Guest Ranch, Hobson
Follow in the steps of Old West painter Charlie Russell at the historic Circle Bar Guest Ranch.
The ranch dates back to the 1800s and sits alongside the scenic Judith River in central Montana. Horse riding is a way of life here – guests of all abilities are encouraged to explore the picturesque surroundings on horseback, including the Little Belt Mountains and Helena-Lewis and Clark National Forest. The UTV guided tours and fat-tire E-bikes offer an alternative to riding.
The historic red barn is the center of entertainment on the ranch, hosting everything from square dancing to basketball games.
Circle Bar offers all the activities you might expect of a dude ranch, including shooting and archery. The ranch has nine historic cabins and the Ranch House for larger groups of guests.
Capacity – 40
Season – Late May to September
Website – Check Availability
9. Hawley Mountain Guest Ranch
Enjoy an outdoor Montana guest ranch vacation. Fun in a million-acre pristine wilderness north of Yellowstone Park away from the distractions of your busy life.
"All-inclusive" reasonable rates. Small guest numbers provide a family atmosphere and a stress-free relaxing week with many unique memory-making activities. Horseback riding is a mainstay. Blue ribbon fly fishing, a 6×6 jeep adventure, scenic river rafting, and many other activities can also be enjoyed while experiencing the warm western hospitality of a small dude ranch.
If you like the outdoors, you will appreciate life at Hawley Mountain Guest Ranch. It's wild and remote! We are the last dude ranch at the end of a gravel road. Take part in activities with us and then you, whether single or with your family, will eat meals together with our family of staff and owners.
Spend a week of memory-making at Hawley Mountain. You'll take away new experiences and long-lasting friendships. Contact us now and join us for a fun refreshing vacation.
Capacity – TBC
Season – Late May to September
Website – Check Availability
Related Articles