Unique Places to Stay in Montana – Tips and Advice
Which places in Montana are unique?

Glacier National Park has some great options when it comes to finding somewhere unique, historic, or off the beaten track.
St. Regis on the Clark Fork River has some interesting spots, as do some of the old mining towns like Butte. A backroad surrounded by mountains in Hall offers something unique, as does a forest cabin in Columbia Falls close to the Rockies.
Tourist Areas – Glacier National Park has a tourist season but is expansive enough to avoid the crowds at certain times.
Unique Areas – Deep in the forest, overlooking the river, surrounded by the Rockies, panoramic skydomes for stargazing out in the wilds, and a railroad lodge in a mining town.
Montana is a great place for finding impressive hotels, perfect camping sites, and all kinds of other run-of-the-mill types of accommodation that you might associate with the state. But have you considered what else an expansive, natural environment like Montana may be able to offer accommodation-wise in terms of something a little different?
With all of those mountains, glaciers, lakes, and hiking trails that make any trip here something of an adventure, maybe it would be fitting to find somewhere to stay that also embodies something of that spirit.
How about staying next to an expansive, open lake, or overlooking a winding, fast-flowing river. Maybe you could find lodging on a slope or in the middle of a dense forest.
So even though Montana itself is…well, Montana – the accommodation that you are able to find, as well as some of the spots, can be fairly unique, to say the least. And most people agree that a trip to Montana is always a memorable experience – so why not make it even more memorable by opting for a unique place to stay?
Top 3 Hotes to Stay in Montana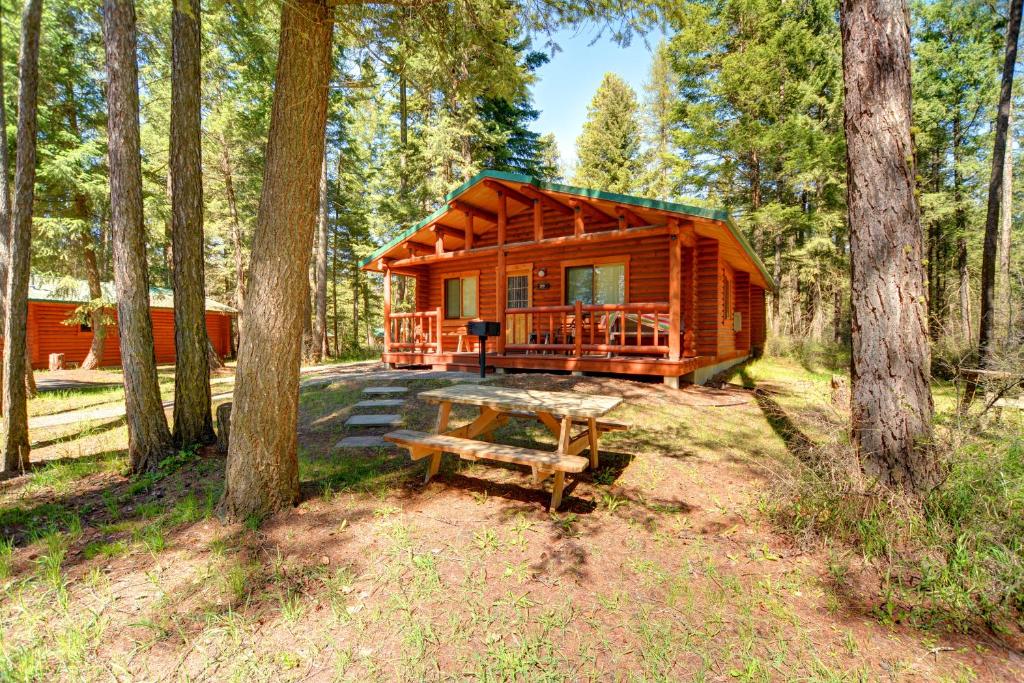 BEST FOR FAMILIES
Pets Allowed
Sun Deck
Tea/Coffee Maker in All Rooms
BEST FOR COUPLES
Themed Dinners
Bar
ATM On Site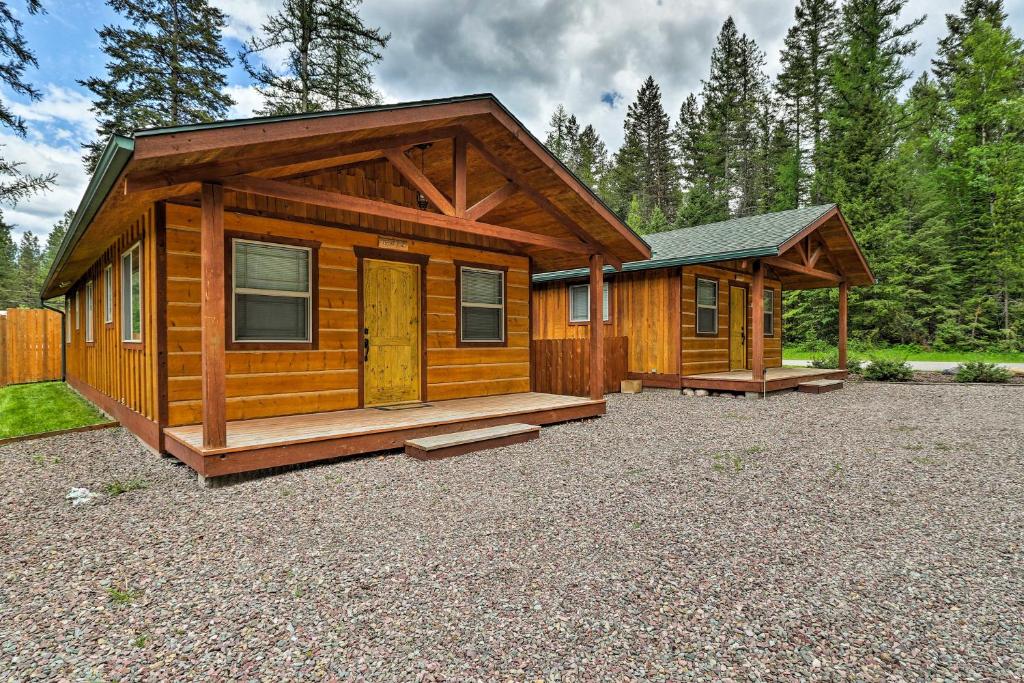 BEST OVERALL
Free WiFi
Outdoor Dining Area
Patio
Unique Places in Montana Guide
Fifteen minutes from Glacier National Park is the Clear Sky Resort, which has its name for a good reason. You can find the resort between the west and east entrances of the park in the midst of natural wildlife terrain which is home to bears, deer, and elk among others.
When you arrive at the resort one of the first things you will see is the amazing trademark, Welcome Dome, with its 1000-square-feet-wide panoramic window. This is the main draw of the resort where you can relax in a chair swinging from the 26-ft high ceiling. The accommodation in the dome is climate-controlled and comprises some pretty unique furniture and deck hammocks, with panoramic windows, and a skylight for stargazing. There are individual modern bathrooms including rain showers, with eco-friendly fireplaces.
The resort is ideal for families, adventurers, or couples on romantic getaways. It is situated right next to Stanton Lake Trailhead, where you can take a short hike, and fishing is available within a few hundred yards of the lodge. So whether spending your time indoors or out when staying at Clear Sky Resort, you will get both classic and unique angles on Montana.
For a unique and authentic Montana experience, check out the Clark Fork River Lodge. This place is actually overlooking the Clark Fork River, just northeast of St. Regis. The lodge has a rustic vibe to it with its log beds and wooden floors, although it does feature all the necessary modern amenities such as a fully-equipped kitchen along with 3 bedrooms – one of which is a loft — and three bathrooms.
Obviously, a top choice for river fishing enthusiasts, this spot provides more than a few trout fishing opportunities during the daytime, while the evening is perfect for enjoying the outdoor night sky with a barbecue and a campfire. The kitchen and dining area actually stretches out to the patio overlooking the river.
Although the lodge has something of a remote feel to it, you can find Hot Springs, shops, and restaurants just a short drive away from this ideal and unique location.
3. Izaak Walton Inn, Essex, Glacier National Park
Just south of Glacier National Park is the town of Essex, which has its own historic and fun hotel by way of the Izaak Walton Inn, a unique 4-star resort. This place is less than 50 km from Glacier Park International Airport and around 40 km from the town of Bigfork.
This place is right on the railroad and is linked to it by both its history and its design. The lodge actually comprises train cars that you can stay in if the idea of sleeping in a converted railcar takes you. These units have been converted into individual accommodations, and some (not all) even have kitchens. The cabooses have sleeping 'cupboards' that can accommodate 2 kids.
The Izaak Walton Inn itself has family rooms with bathrooms and the facilities include a restaurant and bar, a lounge and garden, and a hot tub and terrace. This area of Essex is popular for hiking and skiing, and you can even hire skiing equipment from the hotel if you are visiting in the winter season.
The Montana town of Butte is one of the historic old mining towns. As you approach you'll see relics of the old mining equipment and the huge Anaconda Smelter Stack, so although the mining days are long gone, you can still see elements of the past. You'll also see the evident riches that came with the historic past when Butte was known as the 'Richest Hill on Earth' because of the amount of money coming in from its supplies of iron and copper.
You may notice the old Victorian-style of the homes and buildings in the area, and guess what? You can even stay in one! There are actually a few options in this town like the Copper King Mansion, which is a museum that doubles as a guesthouse. Tall Hall Manor is probably a better option though and is a highly-rated bed and breakfast. It is located just out of town opposite the Butte Country Club, and features impressive, panoramic views of the Rocky Mountains.
The rooms at Toad Hall feature a private bathroom, and old-style clock radio and telephone are included, as is a gourmet breakfast, which follows the rather nice touch of freshly made scones, organic coffee, and a daily newspaper is delivered to the rooms every morning. There is a patio for dining on in the warmer weather, and there is a lounge area where you can watch TV in front of a fireplace in the colder months.
Facilities include Wi-Fi and free access to local gym facilities, and not too far away from the vicinity you can find Berkeley Pit, Charles Clark's Mansion, and Bulldog Memorial Stadium.
5. Tomahawk Lodge, Flint Creek Valley, Hall
The name is a giveaway as to what to expect here, which is a unique Montana escape in Hall, with impressively picturesque wide open spaces. Located on a private 40-acre area in the lower Flint Creek Valley facing the Pintlar Mountain Range, where you'll get panoramic views of Montana country land at its best. Located on a backcountry road, you'll find yourself in a great spot from this lodge for plenty of outdoor activities, and all the wide-open space you could hope for.
The lodge is quiet and remote but is just 30 minutes from Philipsburg and an hour from Missoula.  The lodge itself is homely and welcoming and comprises 5 bedrooms and 2 bathrooms. There are some amazing views to be had from the open, wrap-around deck area, and there are 2 floors, which all have great views. One of the rooms is in a large loft area with 4 twin beds. It is ideal for relaxing on the covered patio which includes a hot tub, grill, and fire pit.
The place is also dog-friendly if you didn't want to leave your pet at home, and if you want to head out you'll find nearby fly fishing, hiking, horseback riding, and skiing opportunities within the immediate vicinity.
Located in Columbia Falls, North Forty Resort features private cabins in an exclusive forest hideaway location less half an hour away from Glacier National Park. It may look remote but it is actually just 7 km from the airport, less than 10 km from Whitefish, and about the same distance from Big Sky Waterpark.
Each cabin comes complete with a fully equipped kitchen, a large flat-screen TV with cable channels, and all rooms have en suite bathrooms. There is a lounging area to relax in after a busy day exploring, and the amenities include a hot tub and sauna. Free Wi-Fi is available throughout the whole property, and there is a gift shop selling a few local products.
You can also find lots of outdoor activities to engage in within the vicinity including skiing, horse riding, and even golfing.
In Bad Rock Canyon just down the road from the west entrance to Glacier National Park, you can find the Historic Tamarack Lodge & Cabins in Hungry Horse, Montana. This authentic-looking place is 25 km from Glacier Park International Airport and is also quite close to Flathead National Forest and Flathead Lake, as well as being in fairly close proximity to Bigfork, Kalispell, and Whitefish.
The Main Lodge dates back to 1907, although it has undergone various restorations, and it provides an authentic ambiance and 3,400 square feet of rustic-style charm. We are talking original, natural stone fireplaces here with pine architecture.
What you get with this historic and unique lodge, which is a 10-minute drive from Columbia Falls, is scenic, sunset mountain views in an amazing valley of Montana's Rocky Mountains. What you'll find in terms of accommodation is comfortable and private wooden cabins and lodge rooms complete with all mod-cons like a refrigerator, equipped kitchen, bathroom, and dining area.
There are 22 cabins in total and four lodge rooms, and the amenities include barbecue facilities and a fire pit. There is also a seasonal on-site restaurant and saloon, an espresso bar, and a gift shop.
With the backdrop of the Montana Rocky Mountains and accommodation in the form of the historic Tamarack Lodge & Cabins, you can find a perfect setting and unique experience that is ideal for family vacations, couples, explorers, or even corporate team-building retreats.
Final Thoughts
So there you have a few unique and historic twists on accommodation in the state of Montana. When you are ready to try something a bit different from the standard 4-star hotel with continental breakfast, maybe some of these suggestions will help to enliven and broaden your next trip to Montana.
Whether you like forests and the great outdoors, rivers and lakes, or a bit of history from a slightly different perspective, you'll find that there are many rich opportunities for finding a unique place to stay in Montana!
Best Hotels by Type
Related Articles