In ancient times the region that is now Bigfork would have been the domain of the Pend d'Oreille Tribe, although it had started to become populated with other settlers by the end of the 19th century.
No-one knows for sure if it is fact, but apparently, the name to what is today a town with a population fast approaching the 5,000 mark is based on its location at the 'big fork', where the Swan River merges with the vastness of Flathead Lake.
When Everit Sliter arrived on the scene towards the end of the 19th-century, things gradually began to develop after he had established both the first general store and a hotel in the town. He also implemented orchards and served as the postmaster in the place that he had discovered on a fishing trip.
The construction of the dam, the power plant, and roads followed soon after, and as this was the steamer era Bigfork Bay became something of a harbor for large lake steamers.
To say that Bigfork has developed since those days of the steamer is putting it mildly. The population has quadrupled in the last two decades alone.
Many visitors to the place fall for its charm and decide to move once they have had a taste of a town that is lively and cultured yet close to nature and some amazing recreation and other outdoor opportunities.
It is no small wonder that people come from all over just to experience the forests and waters of the Flathead Valley region considering just how vast and scenic it is.
With the continuous increase of people so there has followed an increase in local developments in terms of restaurants, bars, hotels, and other accommodation options.
Bearing in mind this area would have just been a small, eastern farming town on the banks of one of the largest natural bodies of water in the state not too long back, that's some achievement.
And yet the real charm of the place is the small-town vibe that has somehow been retained for the most part. These days though, amenities in Bigfork include galleries, theater, and fine dining, although the splendor of nature is never more than a walk or a short drive away.
All this is reason enough to come to Bigfork, along with the fact that the town hugs the sparkling and picturesque blue bay of Flathead Lake.
In this article, we will take a closer look at Bigfork, Montana, including activities, accommodations, and culture, to help you get the most out of your next visit.
Your Guide to Bigfork, Montana
The Top 3 Hotels in Bigfork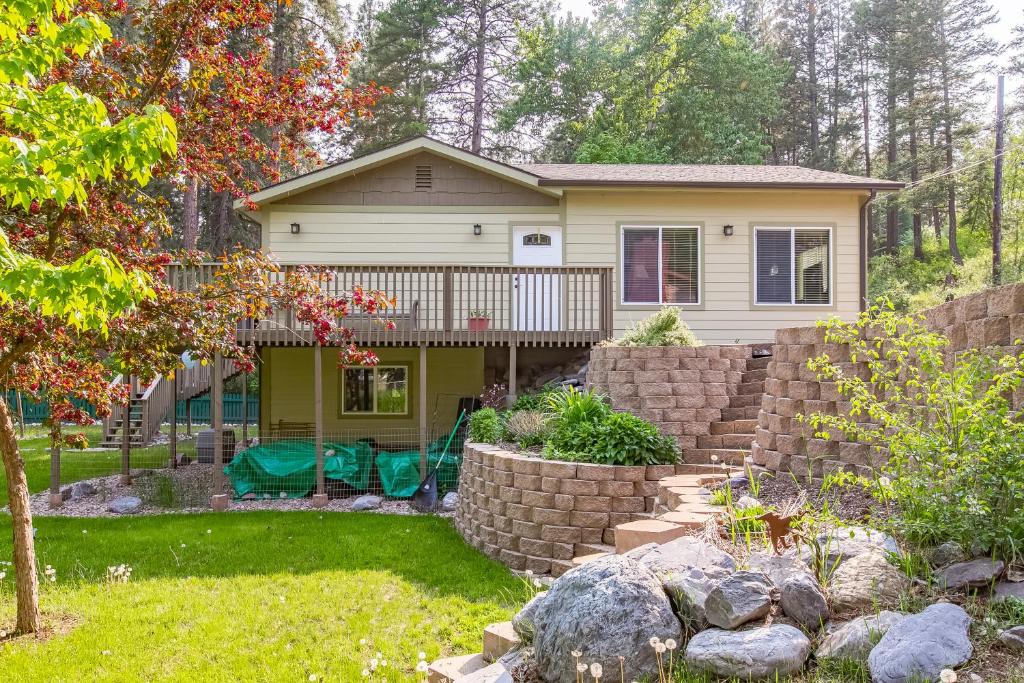 BEST FOR FAMILIES
Pets Allowed
ATM On Site
Babysitting/Child Services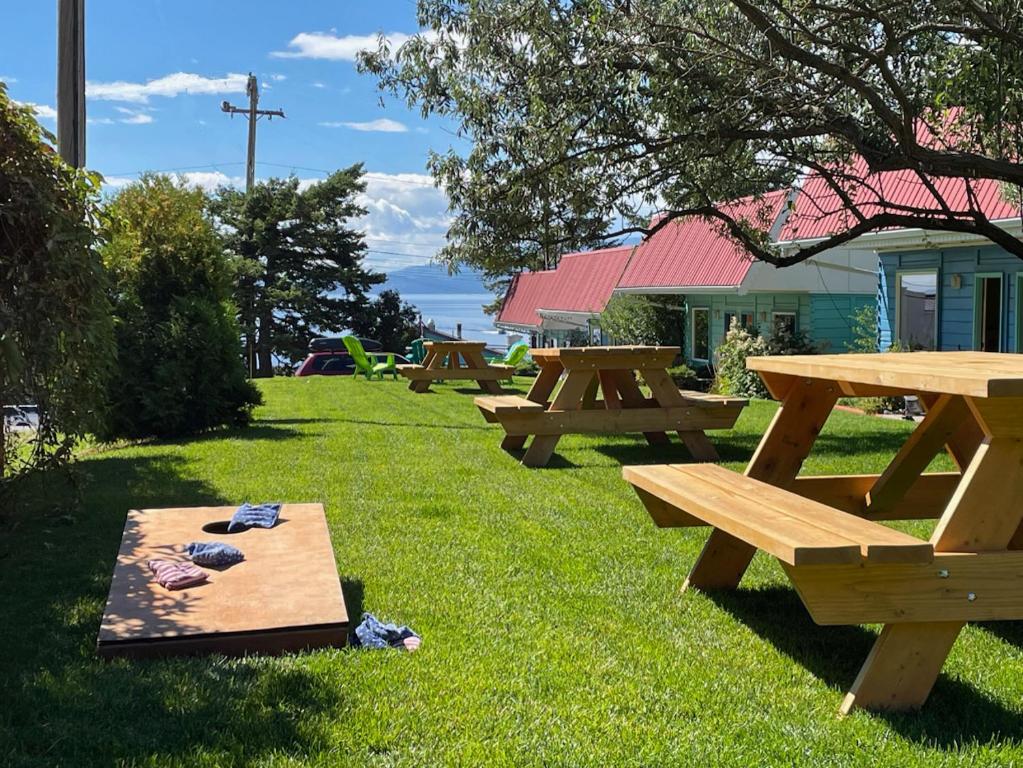 BEST OVERALL
Tea/Coffee Maker in All Rooms
Private Beach Area
Yoga Classes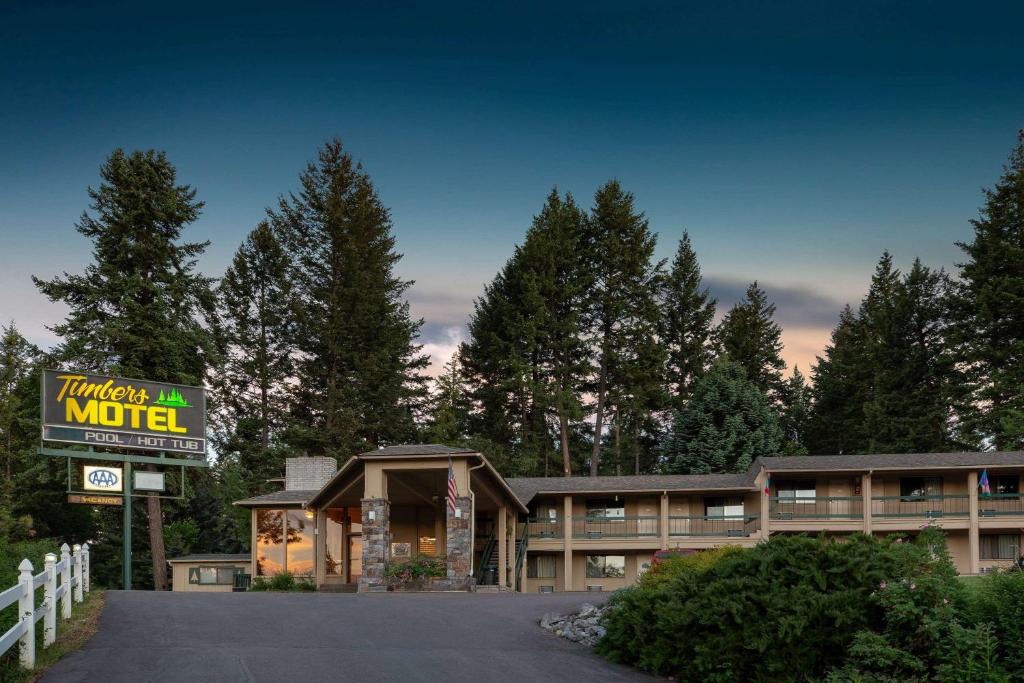 Main Cultural, Historic, and Outdoor Attractions in Bigfork
Even though Bigfork is a comparatively small town in Montana terms it does offer a delightfully wide range of eating and dining options.
Some of these places are established and have been around for a while like the local favorite breakfast spot Echo Lake Café which has operated for more than 50 years. On top of that, you can find wine shops, Mexican restaurants—you name it, it's here.
Bigfork is big on community spirit and thus you'll find regular activities, events, festivals, and such like the half-century-old Bigfork Festival of Arts which showcases the work of local artists, craftsmen, and other vendors along with entertainment and cuisine.
The many galleries in this Montana town are world-class, as are the theater performances as Broadway-caliber displays come to the Bigfork Summer Playhouse.
Bigfork is a thriving community with plenty of shops, fine dining, and even a 27-hole championship golf course—not to mention the fact that Bigfork is also a great launch point for Flathead Lake recreation or a welcome return to civilization after a few days in a tent campground.
Every season–which in the case of the 'Theatre by the Bay' is from mid-May to late August–recruits Broadway-caliber acting talent from across the country to bring impressively-professional live theater to the Northwest.
The Playhouse is known for bringing the best of Broadway to the Rockies and usually operates Monday-Saturday noon-5 p.m.
The Bigfork Art & Cultural Center (BACC) has been the focal point for fostering local arts and providing a community center for the town.
The Facility is located in a renovated gas station on Electric Avenue and operates as a non-profit organization with the mission to celebrate and preserve local history and provide avenues for artists to thrive in.
The center serves as a creative and educational hub for all who visit and allows both artists and visitors to explore new ideas in art and culture.
The upper galleries in the center are also where you'll find the museum featuring various Bigfork History Projects, including interactive workstations and our historical collection.
There are usually various exhibits in the lower gallery throughout the year The Art, etc., gift shop sells the works of local artists and authors.
Bigfork is big on local craft brewing and Flathead Lake Brewing Co. is a prime example of a producer of quality handcrafted and award-winning beers, brewed using local ingredients and glacial water.
After checking out the process involved in the production of the beer you can indulge yourself in the FLBC Pubhouse with its bar and 16 taps to choose from.
The Bigfork Museum of Art & History is yet another local venue devoted to raising the awareness and appreciation of visual arts in Montana, particularly from the historical aspects of the Bigfork region.
The museum features various inspiring exhibitions, programs, collections, and offers to the local community.
Recreation Activities
Hiking and mountain biking trails in and around Bigfork can take you to places most people are never aware of such as old logging trails, country roads, and deep forest routes. If you don't have your own mountain bike, you can easily rent one for the day at many places around Bigfork.
Hiking
Swan River Nature Trail: Trailhead for the 4.2-mile trail starts at the east end of Grand Avenue in downtown Bigfork.
The Aeneas Loop is a moderate 2.8-mile trail that can be nice and quiet during certain periods of the year, and it is accessible year-round according to weather conditions.
The Hall Lake Trail is another moderate route although this time an 8-mile wander through the Bigfork surrounds.
Skiing
Blacktail Mountain is excellent for skiing and is 30 minutes from Bigfork to the west of Lakeside.
Jewel Basin Bigfork and the Flathead National Forest feature some impressive cross-country ski trails.
Whitefish Mountain is located nearby Whitefish and is a world-class ski resort and possibly Montana's finest.
Fishing
Jewel Basin in Flathead National Forest is also a region with over 20 lakes that provide more than reasonable fishing opportunities for cutthroat and rainbow trout. This is also a popular area for hiking with some decent trails.
Boating
Flathead Lake is the largest natural freshwater lake in the Western U.S. and one of the most popular ways to experience the lake is from the water.
Bigfork is literally on the shore of one bay of the super-large lake, so you can imagine the opportunities for water activities in the area are vast whether by way of boating, swimming, water-skiing, kayaking or otherwise.
Camping
The Flathead Lake State Park System contains six different shoreline units, a couple well within the range of Bigfork. Two of the sites are on the west shore of the lake and three are on the east.
Big Arm is the largest, with a 40-site campground with a nice long pebble beach along the shore. Wayfarers State Park is a 7-site campground located on the northeast shore of the lake that accommodates RVs up to 50 feet. It has flush toilets, water, and bear-resistant storage.
The other state park units including Yellowbay, and West Shore, all have small campgrounds as well, each with a public boat ramp. The sixth state park unit is the day-use Wild Horse Island.
Aside from the lakeside options, you can find other campgrounds in and around the town such as Outback Montana RV Park & Campground located in Lakeshore, in Bigfork; Timbers RV Park is located at Highway 35 South and Woods Bay Marina & RV Park located at 624 Yenne Point Road.
What Is The Cost of Living in Bigfork?
Bigfork is one of Montana's more expensive places to live. On the cost of living index based on the national average of 100, Bigfork comes in at 116. Housing is one of the main issues cost-wise and weighs in at 174 versus the national average of 100.
Bigfork housing prices are consistently among the most expensive in both Montana and the U.S. Bigfork East is considered one of the most expensive neighborhoods to live in, and Swan Lake is slightly less expensive—but still expensive.
Is Bigfork Safe to Live in?
On the crime index rating of 1-100 based on the U.S. average of 100, Bigfork scores a very respectable 62. This is quite high when considering that towns like Butte in Montana can score between 1 and 4.
Property crime is unsurprisingly the main issue with approximately 7 residents per 1000 being victims. Violent crime, however, is much more on the scarce side in Whitefish and affects less than 2 people per 1000.
Swan Lake and Bigfork East have some of the lowest reported crime incidents while areas closer to the town center and also the Holt region have more reported crime.
What is Bigfork Known for?
The town is located right on the edge of the northeastern stretch of the massive Flathead Lake. This means picturesque scenery and abundant recreation pursuits in the area.
Visitors will also find lots of local arts and culture by way of the many galleries and theaters within the town. The Bigfork Summer Playhouse is one of the main attractions throughout the warmer months, and there is more theater at the Bigfork Center for Performing Arts.
Accommodation–Hotels and Lodging
Best Time To Visit Bigfork
If you're unsure what's the best time of year to visit Bigfork, here's a brief rundown of the various tourist seasons, monthly weather, and a calendar of major events.
Best Time To Visit Bigfork For…
Best Time to Book Hotels – While the least expensive time to book a hotel or a lodge is definitely January and February, many travelers are dissuaded by the cold, often snowy weather. If you're looking for a time of year without the high season prices but with weather that allows you to still spend time outside, aim for late September or early October.
Best Time for Sightseeing – Thousands of tourists visit Bigfork and the nearby Flathead Valley and Glacier National Park in the summer, and you can avoid the bulk of them by visiting in June. While you may encounter a bit of rain, packing some rain gear will keep you comfortable if you get caught in an unexpected shower, and activities and tours are far less likely to be booked to capacity.
Best Time for Shopping – In and around Memorial Day is when you'll see pop-ups like farmers, artists, and craft markets return for the season. Combined with the steep discounts you can find at national retailers over Memorial Day Weekend, it's an ideal time to shop in Bigfork.
Best Time for Festivals & Events – Summer reigns for festivals in Bigfork, and when the weather allows, they love to throw them outdoors. Read on for a few picks for some of Bigfork's best summer festivals.
Bigfork Travel Seasons
Unsurprisingly, Bigfork's high season is during the summer. The warm weather attracts thousands of tourists to the adjacent Flathead Lake for boating, swimming, and fishing, and prices for rental cars, tours, and accommodations can skyrocket.
But you may find that the charms of summering lakeside outweigh the expense and the crowds, especially if you're not a fan of weather over 90º, which is extremely rare in Bigfork (most summer days hover around 80º.) You'll find the warmest, clearest weather between the beginning of July and the middle of August.
The low season is the winter when a lot of the lakeside recreation facilities close and locals tuck in for the season. Though outdoor pursuits are somewhat curbed by the weather, this is one of the most beautiful times of the year: the snowcapped mountains ringing the valley and the gentle, white snow cover can look magical.
You'll also likely find some steep discounts on accommodation in the winter, with prices sometimes half of what they are in July or August.
If you're looking for the best mix of high vacancies, low prices, and fewer crowds, shoulder season is the perfect time to come to Bigfork.
While the spring can be extremely rainy, the end of September and early October still boasts some warm days punctuated by crisp nights, and you'll be spoiled for choice when picking a place to stay as the bulk of the summer tourists will be gone.
Bigfork Weather by Month
January
Average High: 37º | Average Low: 28º
While Montana's winters are notoriously brutal, January in Bigfork can feel practically balmy compared to some of its high-altitude neighbors.
You can still expect the occasional snow – especially in the first half of the month – but it's more likely to be overnight when temperatures drop below freezing.
Driving is usually fine in the valley, but if you're headed up to any of the nearby passes, you'll want to at least stow a set of tire chains.
February
Average High: 38º | Average Low: 28º
February in Bigfork though cold can be far less snowy than December or January. In fact, there's a  good chance you'll encounter rain this time of year; it can rain as much as a third of the time.
Nights can still get well below freezing, so be sure to pack appropriate winter gear, a bonus if it's waterproof. Watch out for icy roads first thing in the morning, as the wet pavement can freeze overnight.
March
Average High: 46º | Average Low: 33º
While March still falls within what you could call Bigfork's winter, you can definitely start to feel spring around the corner.
Temperatures at night, particularly toward the end of the month, begin to climb out of the freezing range to make driving much less risky. Though some days can reach well into the 50s, it still gets cold enough to warrant packing plenty of layers.
April
Average High: 54º | Average Low: 38º
Through April in Bigfork usually means a break from below-freezing temperatures until October, there can still be the occasional snow flurry, especially at the beginning of the month.
Packing plenty of layers can help shield you against the erratic weather, and some rain gear will keep you comfortable in Bigfork's spring rains. Driving usually proposes no considerable risk, though trips into the nearby mountains could meet with fresh snowfall.
May
Average High: 63º | Average Low: 45º
May in Bigfork starts to get legitimately warm; most days are around 60º, though it can occasionally reach as high as 80º. Nights are cold but not freezing, so you'll still likely need to pack a proper coat if you plan on going out in the evening.
June
Average High: 68º | Average Low: 51º
June marks the beginning of summer in Bigfork. Days are balmy and long, and nights are usually chilly but easily managed with a jacket.
It can still be quite rainy this time of year, especially at the beginning of the month, so packing some rain gear would be a wise choice. Passes across the nearby mountains are generally clear by this time of year, so driving requires no special preparedness.
July
Average High: 79º | Average Low: 58º
July in Bigfork is when it starts to get quite warm. The spring rains have mostly cleared and the long days can get as hot as the mid-80s.
This is when locals start spending a considerable amount of time outdoors: hiking, boating, and swimming are all popular pastimes in July, so be sure to bring a swimsuit in case you decide you'd like to join them for a dip in the lake.
August
Average High: 77º | Average Low: 58º
The hottest month of the year in Bigfork, August has the clearest skies of the entire year. While not impossible, it's very unlikely to rain, and temperatures can occasionally get as high as the low 90s.
Nights can get chilly enough to need a jacket and long pants, but be sure to pack plenty of shorts and sundresses to enjoy the long, sunny days.
September
Average High: 66º | Average Low: 51º
September in Bigfork, though still warm, can be considerably rainier than August, sometimes by twice as much. Temperatures decrease significantly as well, with some days getting down into the 50s.
Packing for a trip to Bigfork in September can be tricky as you may end up needing a coat, a rain jacket, and a swimsuit all in the span of a week. Best to be prepared than sorry, and bring plenty of layers and outfits for all possibilities.
October
Average High: 52º | Average Low: 42º
As fall descends onto Bigfork, the leaves begin to change and temperatures start to get legitimately cold. While it usually doesn't get cold enough to freeze, you may still need to pack a winter coat, especially at night.
The first few snow flurries can occur at high elevations, so be prepared to drive in sub-ideal conditions, just in case.
November
Average High: 41º | Average Low: 33º
November in Bigfork can be cold and blustery, and temperatures fall below freezing frequently, particularly at night.
You'll need to bring an adequate winter coat, as well as all the accouterments like a hat, gloves, and scarves if you want to make sure you'll be comfortable.
Though in-town roads will usually be clear this time of year, driving at high altitudes can require snow tires or chains. If you're also visiting Glacier National Park, note that the Going-to-the-Sun road has annual partial closures beginning in November.
December
Average High: 35º | Average Low: 27º
As winter begins in earnest, Bigfork may get its first few in-town snowfalls. December in Bigfork is usually the coldest month of the year, and often it's the snowiest too: as many as 25 inches of snow can fall in December, spread over about 30% of the month.
Major roads in town, as well as nearby highways and interstates, are generally plowed, but if you're veering onto service roads you may encounter closures, as well as on the Going-to-the-Sun Road.
Annual Bigfork Events and Festivals
Summer

Fall
Winter
Spring
Activities and other Points of Interest near Bigfork
Forests/State/National Parks/Wilderness Areas:
Museums/Historic Items
Nearby Towns/Cities
Related Articles
Latest in
Bigfork
With over 30 countries participating worldwide, the Spartan Race is the perfect outdoor challenge for runners,…