Dillon is an old-west lover's dream town located in southwestern Montana's Beaverhead County. The town sits along the Beaverhead River, and it came into being around the time of the arrival of the Utah and Northern Railroad in 1880.
It was later incorporated as Dillon in 1885 and initially started out in commercial terms as a wool-shipping location.
Dillon also happened to be the spot where Montana's first school was built in 1893, and this developed into Western Montana College. The county museum reflects the region's historic mining past, as does the nearby former mining capital of Bannack.
These days the prime economic activities in Dillon are related to ranching and farming, as well as some mining, and of course, tourism, which all make this charming town a great exploration hub, especially as it lies within the vicinity of the Beaverhead-Deerlodge National Forest.
Despite having a population of not much more than 4000, the modern downtown area of Dillon actually seems surprisingly large to many visitors.
The shopping area stretches well outside of the central area, particularly at the Interstate 15 interchange, and Dillon receives many visitors throughout the year because of its location along I-15–the road from Yellowstone to Glacier National Park–which is often surrounded by snow-capped mountains.
Dillon is interesting in that it has a decent range of eclectic shops, art galleries, restaurants, and saloons, and its proximity to various mountain ranges and rivers has made it something of a hub for outdoor recreation.
To many, the town is perhaps best-known for the event billed as Montana's Biggest Weekend, held every September and including a rodeo, a concert, carnival attractions, and various presentations.
The Best Hotels For Dillon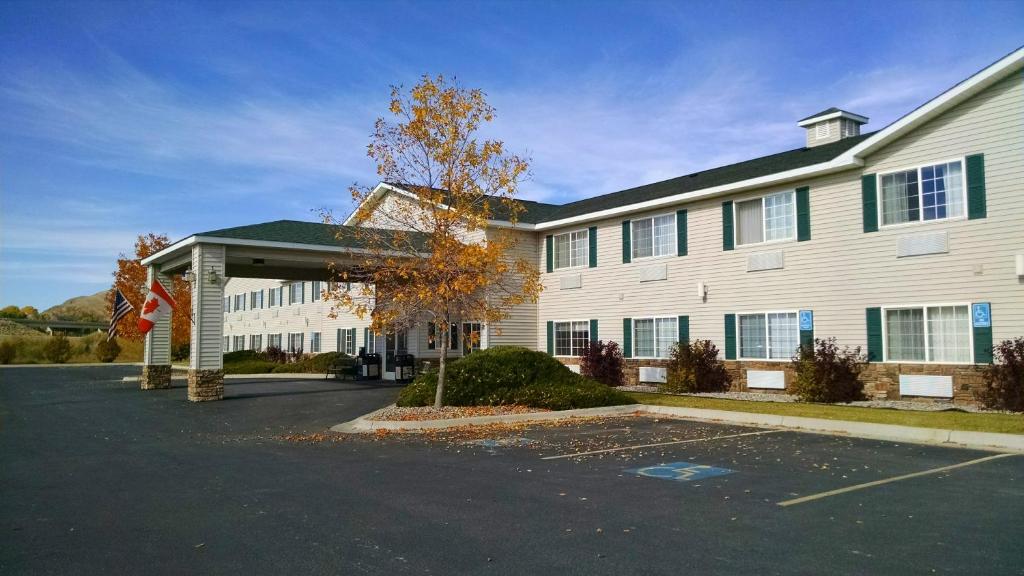 BEST BUDGET HOTEL
Pets Allowed
Swimming Pool
Spa
BEST OVERALL LODGE
Horseback Riding
Cycling
Hiking
Main Cultural, Historic, and Outdoor Attractions in Dillon
Dillon keeps one foot in its vibrant and colorful past, with its many historic buildings and monuments, including its public library.
People come here to experience the well-preserved Old West sites along with the monuments to the Corps of Discovery.  For more than half a century, the old railroad depot has been home to Beaverhead County Museum.
The chronicling of Dillon's important history and its role as the county seat and railroad hub has allowed this Southwest Montana community to grow after its dedication to the museum and keeping the history relevant.
The restored Dillon Depot where the museum can be found features displays inside and outside the building and some of the outdoor exhibits include an old sheepherder's wagon and an old log cabin.
A short way out of Dillon to the west, Bannack is worth a visit if you are in the area. Here is Montana's first territorial capital which burst into life back in the Gold Dust days.
Although virtually deserted and uninhabitable these days, the Bannack State Park holds the remnants of what is the best example of a preserved Ghost town in Montana.
Many of the other Montana ghost towns have long since rotted, decayed, and fallen to pieces. But the Bannack ghost town is still pretty much frozen in its Old West heyday–to the point where the entire acreage of the surrounding area is a designated state park.
Dillon's population swells on Labor Day Weekend, when what is known locally as "Montana's Biggest Weekend," comes to town.
Here you get to see various western-tinged events and activities such as wild horse racing, barrel racing, saddle bronc riding, steer wrestling, bull riding, and much more.
This is the major event but isn't Dillon's only rodeo, which is usually also featured in other events throughout the summer.
In late July you'll find the Dillon Territorial Rodeo Days which has a rodeo, along with living history, cooking, cowboy poetry, concerts, and a few other delights.
Recreation Activities
Dillon receives a fair proportion of visitors due to its excellent location for outdoor pursuits. This southwest corner of Montana is a realm of lofty mountains, wide sagebrush, and bunchgrass-filled valleys.
Clark's Lookout State Park is an 8-acre park with some historical value located one mile north of Dillon. The park overlooks the Beaverhead River and offers some great recreation as well as history.
Hiking
There's no shortage of impressive trails in the Dillon part of the country, so starting with a local favorite or two like the "M" and "B" hikes overlooking the town isn't a bad idea. Apparently, it is possible to hike anywhere from 30 minutes to three hours on all the trails.
The "M" is for Montana and the "B" for Beaverhead County and the trails run across the small mountains surrounding Dillon. The main trailhead starts out on Ten Mile Road.
Skiing
Maverick Mountain Ski Area is a little off the beaten path, but the area is a favorite with locals and a few others. Maverick Mountain is a resort that fits nicely into the communal small-town vibe of this corner of Southwest Montana.
Fishing
There are some decent trout fishing rivers within quick and easy access of the town, including along the Beaverhead River, at Clark Canyon Reservoir, and around the lower and middle sections of the Big Hole River and the Jefferson River.
The Beaverhead River attracts fly fishermen for its trophy-sized brown trout, and along with the Big Hole River, some of the few remaining native populations of fluvial Arctic Grayling are found here.
Above the Beaverhead River, Clark Canyon Reservoir is prime rainbow trout habitat and contains flows from Horse Prairie Creek and Red Rock River.
Fishing enthusiasts, boaters, and campers populate the areas around these deep blue waters born from the waters coming out of the dam's outlet.
The rivers and creeks like Ruby and Big Hole carry the "blue-ribbon" standard, which obviously makes the area a fly-fishing hot spot.
Biking
The Beaverhead Trails Coalition has been responsible for various projects that have connected Dillon through a network of paths and trails leading to surrounding public lands.
In conjunction with Bike Walk Southwest Montana, they inform on the best routes for biking or walking, and this has made Dillon something of an attraction point for cyclists, especially in terms of their bicycle camp featuring a pavilion, camping areas, showers, and a repair shop.
Camping
There are three RV parks in town that can accommodate RVs with full hookups: Beaverhead River RV Park & Campground, Southside RV Park, and Dillon Motorcoach & RV Park. The latter can even handle rigs as long as 100 feet.
The Beaverhead-Deerlodge National Forest has 50 established campgrounds, and there are plenty of areas for slightly more off-the-grid, dispersed, or undeveloped camping near Dillon. The Dillon Visitor Center at West.
Reeder St. has more information on how to safely travel and camp off-road in the area.
Accommodation–Hotels and Lodging
Special Events in Dillon
Activities and other Points of Interest near Dillon
Forests/State/National Parks/Wilderness Areas:
Museums/Historic Items
Nearby Towns/Cities
Related Articles
Latest in Dillon
Montana is a proudly historic state with much to exhibit by way of national heritage. You'll…