Bigfork is a scenic little Montana town with a number of things that make it worth visiting. Like anywhere in Montana it is ideal for outdoor types and nature lovers, and as well as being a scenic lakeside resort, it is also a rather quaint and somewhat arty western stop-off.
Local accommodation options are not that vast compared to some of the larger towns, but they do cater to different tastes and budgets. You won't find much by way of huge 4 or 5-star affairs, but there are a few reasonable and welcoming hotels, motels, and guesthouses, as well as lodge-style accommodation near the lake.
The joy of Bigfork is that you have the option of choosing either accommodation overlooking the incredibly scenic Flathead Lake, or a hotel in the vibrant and artistic downtown region.
Downtown Bigfork is a friendly locale with all those classic Montana elements wrapped up in a small town guise, and you'll find places like Electric Avenue have a plethora of interesting galleries, museums, and outdoor art exhibitions. You'll most probably appreciate the array of coffee shops and eating options in Bigfork too – wherever you decide to stay.
Staying in Bigfork – Travel Tips and Advice
Which areas in Bigfork are best: Downtown Bigfork for its vibrant art scene, music, and restaurants, and the surrounding Flathead Valley areas which include the scenic Flathead Lake.
Getting Around: The best way to get around downtown Bigfork is definitely on foot, which gives you the best opportunity to peruse the galleries and boutiques, maybe catch a show at the famous Summer Playhouse, or explore some of the parks. Car rentals are available from Glacier National Park Airport and in the town if you fancy exploring a bit further afield.
Attractions: The art galleries are definitely one of the main draws, and Bigfork was actually named as one of the 'Best 100 Small Art Towns' in the whole country at one point. There are also a variety of theatre performances – notably at the Summer Playhouse. On top of that there are plenty of boutique-style shops, and there is a 27-hole golf course. A bit more out of town is the Flathead National Forest and lake which provide a multitude of scenic outdoor activities.
The Top 3 Hotels in Bigfork
BEST OVERALL
Private Beach Area
Picnic Area
Free WiFi
BEST OVERALL
Cycling
Business Centre
Fitness Centre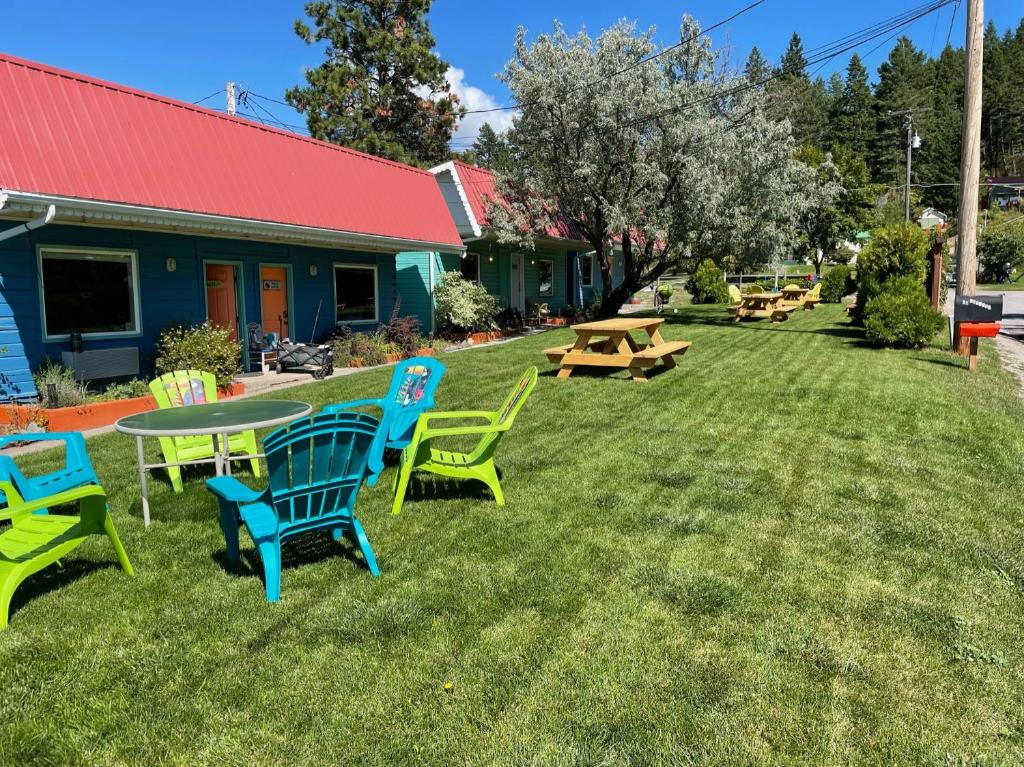 BEST FOR FAMILIES
Fishing
Yoga Classes
Casino
The Best 10 Hotels in Bigfork
Swan River is located pretty centrally to downtown Bigfork, and is around 2 miles from the range of galleries and restaurants in the center. This hotel is slightly unique in that it offers themed guest accommodation tinged along the lines of Geisha, Country French, and Arabian Nights styles.
The rooms at the inn are spacious and feature a fireplace, an attached bathroom, and cable TV. There is also an on-site restaurant with both indoor and rooftop dining options, offering a variety of American cuisine.
J H Horn Memorial Park is just 1 mile away from the Swan Inn, and Eagle Bend Golf Club is within walking distance or around a 7-minute drive away.
The Islander is situated about 4 miles out from the center on Flathead Lake.  The Inn comprises various island-theme suites, as well as bungalows. The Eagle Bend Golf Course is around 3 miles away from here, and Glacier International Airport is a half-hour drive away. It is quite close to Flathead National Forest, and local attractions like the Bigfork Summer Playhouse are just a short drive away.
The air-conditioned suites and bungalows feature island-inspired décor of various descriptions and include private bathrooms, cable TVs, free Wi-Fi, a refrigerator and coffee-making facilities, as well as a lounge area. Some units feature kitchens, and there is an outdoor picnic area provided for the use of guests.
The on-site Raven Restaurant and Bar offers lakeside dining opportunities and is open for lunch, dinner, and cocktails, with both indoor and heated outdoor seating available.
There is also a beach and docks area across the street that customers can access, and bicycles, kayaks, paddleboards, and various other items are available for rental.
Timbers Motel is a stone's throw from Flathead Lake and is located just off Highway 35. It is quite close to ski lifts and 10-minutes' walking distance from Wayfarer's State Park. It is a locally-owned establishment that is also a convenient 40-minute drive away from Glacier National park, and a couple of miles from Eagle Bend Golf Club. The motel is also close to a number of scenic local hiking trails.
The rooms are simple yet comfortable, and different sizes and grades are available. All rooms include free Wi-Fi, a refrigerator, a microwave and a coffee maker, and the motel also has an outdoor pool and an outdoor lounge area.
Situated on Electric Avenue in Bigfork, The Inn Bigfork Bay features accommodation with a bar and its own private beach area. The rooms have private bathrooms, free Wi-Fi, and flat-screen TVs, and some rooms have fully-equipped kitchens.
A stay at the Inn on Bigfork Bay puts you in the heart of Bigfork but is not too far away from attractions like Flathead Lake and Bigfork Summer Playhouse. Guests at the accommodation can take advantage of a hot tub, or relax in the garden, or the shared lounge area. Laundry facilities are available.
The nearest airport, Glacier Park International, is less than 20 miles from Bigfork Bay, and the inn provides a free airport shuttle service.
Bigfork's Mountain Lake Lodge is located just 5 miles south of the center of the town and overlooks Flathead Lake. It is also surrounded by impressive views of the Rockies and is just a few minutes away from Eagle Bend Golf Course. The lodge is also just over a half-hour drive from Glacier National Park.
The resort is open-year-around and comprises thirty rooms that are spacious, and include fireplaces, as well as providing some excellent views.
The lodge has two restaurants, and other amenities include a spa, an infinity pool, a fitness suite, a putting green, and a fire pit. A complimentary continental breakfast is provided, and there is a private landscaped courtyard on-site, as well as Riley's Sports Pub.
Flathead Lake Resort comprises motel rooms as well as nautical-themed cabins. The rooms are one or 2 beds to suit 2 to four guests, and the establishment has its own private beach area. Camping is also available.
The resort is less than five miles from the center of Bigfork, and just over a 30-minute drive from Glacier Park International Airport. Eagle Bend Golf Club is 6 miles away, and a bit further out at just over 15 miles away is Blacktail Mountain.
There are outdoor common areas at the property where guests can enjoy the fire pits, and if you don't want to travel too far away, there are various activities to engage in nearby like water and snow sports, and horseback riding.
Marina Cay Resort is just a short walk from the center of Bigfork and comprises fully-equipped condominium-type accommodation. There is a choice of either standard or deluxe options, and the comfortable suites have 2 and 3 bedrooms.
Marina Cay is actually on the edge of Flathead Lake, 5 minutes from the golf club and less than 30 miles from Glacier International Airport. The resort's amenities include outdoor pools and hot tubs depending on the season, and there is a poolside bar.
Bridge Street Cottages are a popular place to stay in Bigfork, right next to the Swan River. The accommodation is luxurious cottage-style and is in a great place for accessing downtown Bigfork's main attractions.
The air-conditioned cottages have a garden with grill facilities and separate sleeping and dining areas that come equipped with refrigerators and microwaves.
The accommodation is just over a 30-minute drive from Glacier Park International Airport, and the cottages' convenient location makes it an easy walk to the town's theatre, art, and restaurants scenes. And if you are looking for natural beauty the cottages are near Flathead Lake, Wayfarers State Park, and North Shore Park. Eagle Bend Golf Club is not too far away, and there are various nearby trails such as Valley View.
Base Camp Bigfork is a center of outdoor activity in the area that also provides convenient and comfortable lodging. The camp organizes and provides a wide range of outdoor pursuits including guided adventures, offering activities from a local perspective along with a comfortable and authentic place to stay in between.
The modern and secluded cabin-style accommodation has its own private views of Swan Range and is just three miles from the center of Bigfork. The lodge has two separate sides that make it ideal for families or groups, with king and queen beds and private baths. There is another level with a semi-private loft containing two additional full-size beds and a sofa.
A full kitchen and communal space is available, and each lodge has its own private porch-covered entrance. Around the accommodation, there is lots of private outdoor space close to rivers, lakes, and trails, and only a short distance from Bigfork's central attractions.
If you absolutely can't do without something like a Best Western Hotel wherever you stay, then this one is the nearest one to Bigfork, just 7 miles away. It is actually slightly closer to Kalispell, and Glacier Park International Airport is 15 miles away. This Best Western is under a mile from Flathead Lake, and a 30-minute drive from Blacktail Mountain Ski Area.
You'll find all the usual mod cons here including a 24-hour indoor swimming pool, fitness center, and business center, as well as a deluxe, daily breakfast in the on-site restaurant. All rooms include bathrooms, cable TV, a work area, a seating area, and coffee-making facilities.
Final Thoughts
At the end of the day, with just a little careful, advanced planning, it won't be too difficult to find the best hotel to suit your requirements on a visit to Bigfork.
Whether you fancy the idea of staying within the popular downtown area or something a bit more in the heart of nature, it won't be too difficult to find a place within easy reach of some of the prime attractions in and around Bigfork
Just remember if you do plan to stay in Bigfork the peak time is around June, and prices do drop quite significantly around December when you can look for special offers. Either way, you should find that Bigfork is the kind of place you'll want to plan a return trip to.
Related Articles