Located along I-90, Lockwood, MT is a rapidly growing suburb of Billings. This community is the largest unincorporated community in Montana and is on the east side of Billings.
Originally, Lockwood was known as Hirsch and was a simple stage stop in the area. It was also the site of a US Calvary camp that was home to one of many cavalry units that were responsible for surveying the area.
The name Hirsch was eventually forgotten, and Lockwood stuck. The community is believed to have been named after Captain Lockwood a Cavalry soldier that was known for his many "victories" over the native peoples of the area.
Today the area is known as a sleepy suburb of Billings and is the fastest-growing community in Montana. It is not an official town or city at this time, however, the residents of the area are working on the process to become a fully incorporated town in the near future.
Visitors to Lockwood will enjoy many interesting sites in the area. And, its close proximity to Yellowstone National Park and other great places for recreation makes Lockwood a nice place for a base camp while you explore southern Montana.
Let's take a closer look at Lockwood, Montana, including activities, culture, and accommodations.
Your Guide to Lockwood, Montana
The Top 3 Hotels in Lockwood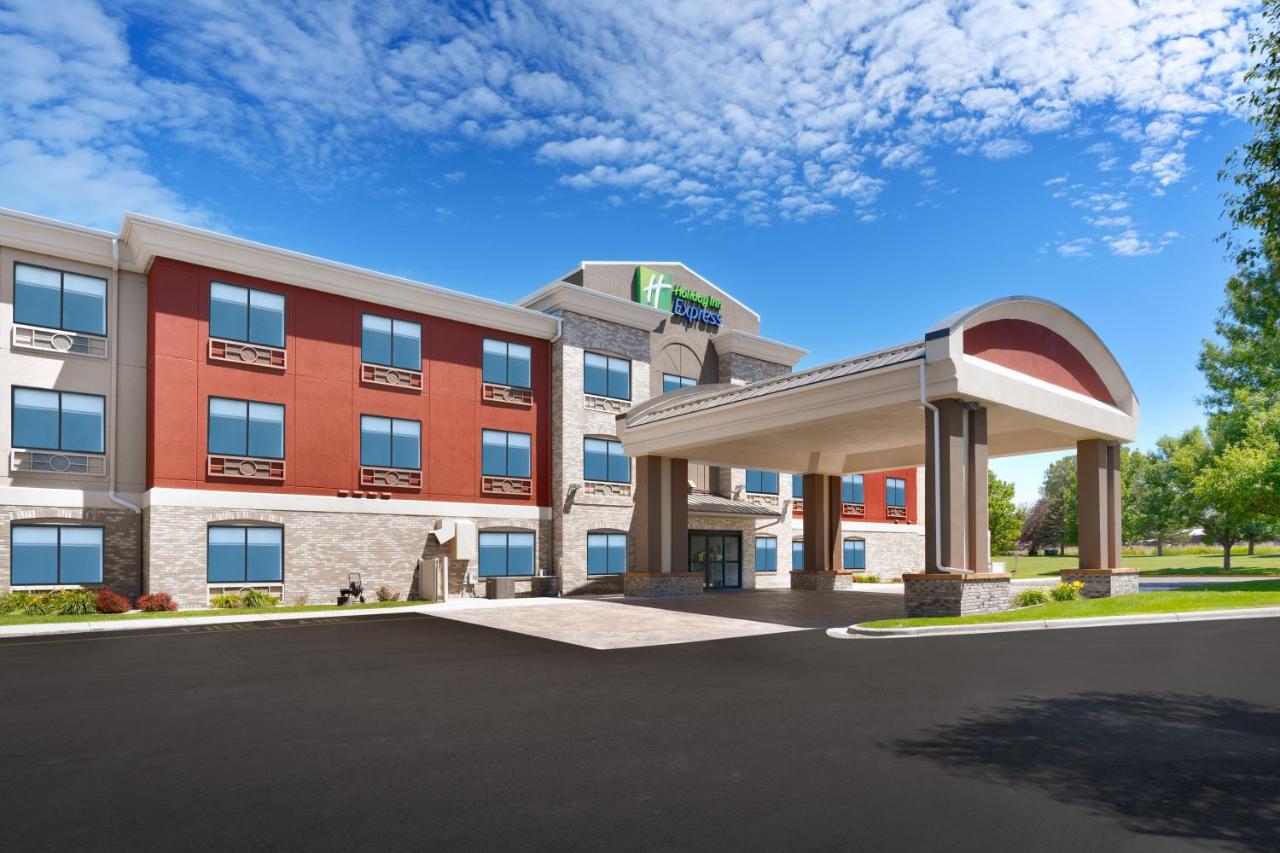 BEST FOR FAMILIES
Swimming Pool
Fitness Centre
Tea/Coffee Maker
BEST BUDGET HOTEL
Indoor Play Area
Dining Area
Golf Course
BEST OVERALL
Water Slide
ATM on Site
Picnic area
Main Attractions
Lockwood has a few interesting places to visit while you are in the area. These spots provide recreation, insight into the history of the area, and some beautiful views.
Pictograph Cave State Park
Designated as a national historic landmark in 1964, Pictograph Cave State Park was once home to prehistoric humans that lived in the area. The Park has three main caves that were first explored in 1936.
The largest of the caves, Pictograph Cave has over 100 prehistoric pictographs (rock paintings) that are around 2,000 years old.
Visitors to Pictograph Cave State Park can enjoy the ¾-mile loop trail to the caves. Along the trail are interpretive signs that explain the paintings and the geological features of the area. Other signs along the trail provide information on the plants and animals in the area.
Pompey's Pillar National Monument
Pompey's Pillar is a unique sandstone feature outside of Lockwood. The "pillar" is 2 acres wide and 120 feet tall. It is the only natural ford of the Yellowstone River and is the only sandstone feature in the area.
Visitors to Pompey's Pillar National Monument will enjoy a short walk to the pillar. The pillar has long been used to share messages with visitors to the area. Observant visitors will find prehistoric pictographs and more modern messages including the signatures of William Lewis and Meriweather Clark who set camp next to the Pillar in July of 1806.
The cost of entrance to the pillar is $7 per vehicle. The Monument also has spots for picnicking and visitors can enjoy the peaceful waters of the Yellowstone River.
Four Dances Recreation Area
Another Bureau of Land Management (BLM) area located near Lockwood, Four Dances Recreation Area is committed to protecting critical natural and cultural resources in the Lockwood area.
Visitors to Four Dances enjoy hiking opportunities close to Billings and Lockwood. The Four Dances trail is one of the most popular hiking trails in the area. The trail takes you to Sacrifice Cliff which overlooks the Yellowstone River.
The Crow tribe in the area believes this is a sacred location, and the story of the cliffs tells of two young men who rode their horses off the cliffs after learning of the deaths of their sweethearts. Today, the cliffs are a great place to enjoy amazing views of Billings and the surrounding areas.
Recreation Activities
Recreation activities near Lockwood center around the area's natural features. Hiking and fishing are the most popular recreational activities in the area thanks to local hiking trails, national forest areas, and the Yellowstone River.
Fishing
The Yellowstone River is one of the most popular rivers in the state for fly-fishing. Thanks to cold waters, slower flows, and plenty of fish habitat, the Yellowstone is a great river for trout fishing. If fly-fishing isn't your thing, Lake Elmo State Park is a great place to cast and is only a short drive from Lockwood.
Don't forget to check out the Montana Fish Wildlife and Parks website for information on fishing rules and regulations before you head out. You can also buy your Montana fishing license on their website.
Hiking
With a few great state parks, recreation areas, and parks near Lockwood, you can certainly find plenty of places to hike.
If the shorter trails found near Lockwood don't give you many challenges, a short drive will put you in Custer Gallatin National Forest where there are ample hiking trails for all levels of hikers.
River Sports
The Yellowstone River which runs along the north side of Lockwood is a great place to put in your canoe, paddleboard, or kayak. Visitors to the area will also enjoy some great white water rafting opportunities on the Yellowstone within a short drive of Lockwood.
What Is The Cost of Living in Lockwood Town?
The overall cost of living index for Lockwood shows that the town is less expensive to live in than the U.S. national average of 100. Lockwood scores 92.7 on the cost of living calculator.
Is Lockwood Town Safe to Live in?
With Crime Index Rankings on a scale of 1 -100 (with 100 being the highest), Lockwood has a score of 18.6 for violent crime—lower than the US average of 22.7. The property crime rates are much higher at 37.3, which is still under the national average figure of 35.
The annual recorded rate of crime in Lockwood is 45.93 per 1,000 residents, and local residents generally consider the north part of the city to be the safest where the odds of being affected are as low as 1 in 67. The more southern neighborhoods closer to Billings have the odds of being a victim of a crime as high as 1 in 7.
 What is Lockwood Known for?
As Lockwood is in Montana's Yellowstone County there is plenty of easy-to-reach surrounding recreational attractions like Yellowstone National Park, the Pictograph State Park, and Pompey's Pillar.
Lockwood is a slightly more peaceful and less-populated version of its bigger brother Billings and thus offers similar attractions. One of the main recreation sites for hiking, swimming, and fishing is Lake Elmo just 3 miles from the center of Lockwood.
Accommodations
Lockwood itself does not have any lodging accommodations. However, there are plenty of nice places to stay on the east side of Billings that are just a short drive from Lockwood, and allow you to enjoy both Lockwood and Billings.
Best Time to Visit Lockwood
If you are curious as to the best time to visit Lockwood Montana, it is either winter or summer depending on what you want out of the experience.
If you're a skier we recommend the winter so you can enjoy the slopes. But if you'd prefer to trek through the mountains or enjoy the outdoors in warm weather, we'd recommend a summer visit.
A Trip During the Summer Season
Summer can be a great time to visit Lockwood. Thanks to warmer weather, there are a variety of ways to explore the town and the surrounding outdoors.
You can hike nearby or explore nearby areas like Billings. Plus crowds are smaller in Lockwood than in other surrounding areas.  Overall, this is an excellent time of the year to come visit Lockwood.
Tourism and Prices
Summer brings a lot of tourism to Montana and unfortunately, that means more crowds and higher prices. We still recommend a summer visit though for folks looking to enjoy the outdoors in pleasant weather though.
This is arguably when the weather is the best in Lockwood, making outings to the mountains more fun and enjoyable this time of year than in the fall or spring. There's good news too about staying in Lockwood.
Prices tend to be a little lower here because it's less well-known. You can also expect fewer crowds!
Weather and What to Pack
Lockwood has warm weather in the summer. It can get a bit hot with temperatures around 70-85°F in the summer. This makes a trip outdoors far from cold and usually expands what outdoor activities are available.
However, it also means you are a risk of being overheated and getting sunburned. For this reason, we recommend packing light clothes and bringing sunscreen and lots of water!
What To Do in the Summer
There are a variety of fun things to do in Lockwood during its summer season. You can really enjoy the outdoors this time of year by visiting the surrounding areas or parks.
This town is great for hiking, exploring state parks, and golfing.
Visit Pictograph State Park
This attraction provides visitors with a unique look at Montana's history and previous inhabitants.
At Pictograph State Park you can view prehistoric paintings within the caves. These paintings are over 2,000 years old and can provide insight into what life was potentially like in Montana long ago.
The park has three caves and visitors can also learn more about the history of the cave at the Visitor Center and gift shop.
An interesting and educational experience, the caves have displays that describe the area and help explain the pictographs inside. Tourists can also enjoy taking a brief but pleasant hike up to the caves.
After visiting the caves, visitors can also enjoy lunch at the picnic facilities nearby. This is a great way for visitors to learn more about Montana's history as well as explore nature.
Be sure to bring binoculars so you can get an even better view of the pictographs!
Visit Pompeys Pillar
This national monument t is definitely worth a trip. This is the only remaining on-site physical evidence of Lewis and Clark's expedition, making it a place with a rich history.
This sandstone pillar is 200 feet above the Yellowstone River. William Clark carved his signature and date into the sandstone.
The place is not historically significant because of the Lewis and Clark expedition but also because of the Native American petroglyphs that can be found here.
This pillar was a popular campsite for the Crows and other Native American peoples. There are over 5,000 other etchings, petroglyphs, and pictographs.
The site also provides beautiful views of nature and many people come here to take a short hike and picnic. Overall, this is a great place to visit for those interested in the history of the Lewis and Clark expedition or Montana.
Golf at Pyror Creek
Pyror Creek Golf Club is an excellent golfing course near Lockwood. There are two 18-hole courses here, making it a great place for golfers.
The beautiful green slopes and a wide variety of golf holes that are each unique will make golfing here a fun and relaxing experience.
After a long day of golfing, visitors can also enjoy eating and drinking at the on-site bar. This bar provides sandwiches, burgers, and many more food options.
Overall, this is a great place to visit for those who love golf.
A Trip During the Winter
Lockwood is a great place to visit in the winter. The generous amount of snow the area gets opens a lot of fun winter activities for tourists to do. You can enjoy skiing and snowshoeing nearby.
Tourism and Prices
Less popular to visit in the winter, you'll find prices go down quite a bit in Lockwood's colder months. This means that you can expect to save some money as prices will be a lot lower. You can also expect fewer crowds!
Weather and What to Pack
Lockwood is chilly in the winter and typically gets some snow. In January the low is 16°F and the high is 37.1°F. This means you can expect things to be quite chilly in the winter!
We recommend packing warm clothes if you plan on coming to visit this time of year.
What To Do in the Winter
There is a lot to do in the winter at Lockwood. You can ski on the slopes or go snowshoeing. Overall, it's a great place to visit for those who love winter activities.
Ski at Red Lodge Mountain
Red Lodge Mountain is an area near Lockwood that provides excellent skiing. This area has a variety of trails for skiers to enjoy and is affordable. There are also a lot of black diamond runs, making it a great place for expert skiers.
There are six lifts and a wide variety of terrain for skiers to enjoy. Overall, this is a great place to visit as it is not too expensive. Skiers will enjoy the trails offered here regardless of their level.
Snowshoe at Two Moon Park
In the winter you can snowshoe at Two Moon Park. This park offers a peaceful retreat in nature. You'll get a great workout in and enjoy snowshoeing across the shimmering snow.
You can also cross-country ski here as well. There are a few trails made for cross-country skiers, making it a great place to do it.
Special Events
Because Lockwood is not an incorporated city, there are unfortunately no community events for visitors to this suburb to enjoy. However, visitors can enjoy some of the great community events in Billings which is just a short drive from Lockwood.
Activities Near Lockwood
Recreation Activities
National Parks and Forests
State Parks
City and County Parks
Earl Gus Park
Harris Park
Hillner Park
Lions Lair 2.0
Museums and Tours
Related Articles
Latest in Lockwood
A suburb of Billings, the area of Lockwood makes up the city's eastern border and is…