Lockwood is a small town in Montana near popular tourist attractions such as Pompeys Pillar and Pictograph Cave State Park. It's also roughly about three hours from Yellowstone National Park.
Because many people stay in Lockwood but commute to the nearby town Billings for work, the town has a distinctly suburban feel. You might choose to stay here if you want a quieter experience or to get away from the crowds in Billings.
Lockwood also is still very close to plenty of attractions and outdoor activities, much like Billings. Many people choose to stay here if they are looking to explore the outdoors in Montana or visit popular state parks such as Lake Elmo State Park.
If you love any outdoor activities such as fishing, hiking, and birdwatching Lockwood is a great place to stay.
Although rather small and limited in dining and shopping options, Lockwood is quite close to Billings. This larger town has a lot more stores and restaurants available, so you can still drive there if you want to simply spend a day shopping and/or dining.
Billings also has a few interesting attractions as well such as an art museum that may be worth visiting if you don't just to spend all your time outdoors well visiting Montana.
There are few hotels in Lockwood, however, there are some outside of Lockwood that are close by. These hotels typically offer a quieter and somewhat cheaper experience than their counterparts in downtown Billings.
Visitors also have the option of staying in Billings but still visiting Lockwood to spend some time away from the crowds, as the towns are quite close to each other.
So without further ado, here are some of the best hotels in Lockwood, Montana for you to get the most out of your visit to Big Sky Country.
The Top 3 Hotels To Stay in Lockwood
BEST FOR COUPLES
Hiking
Minimarket on Site
Laundry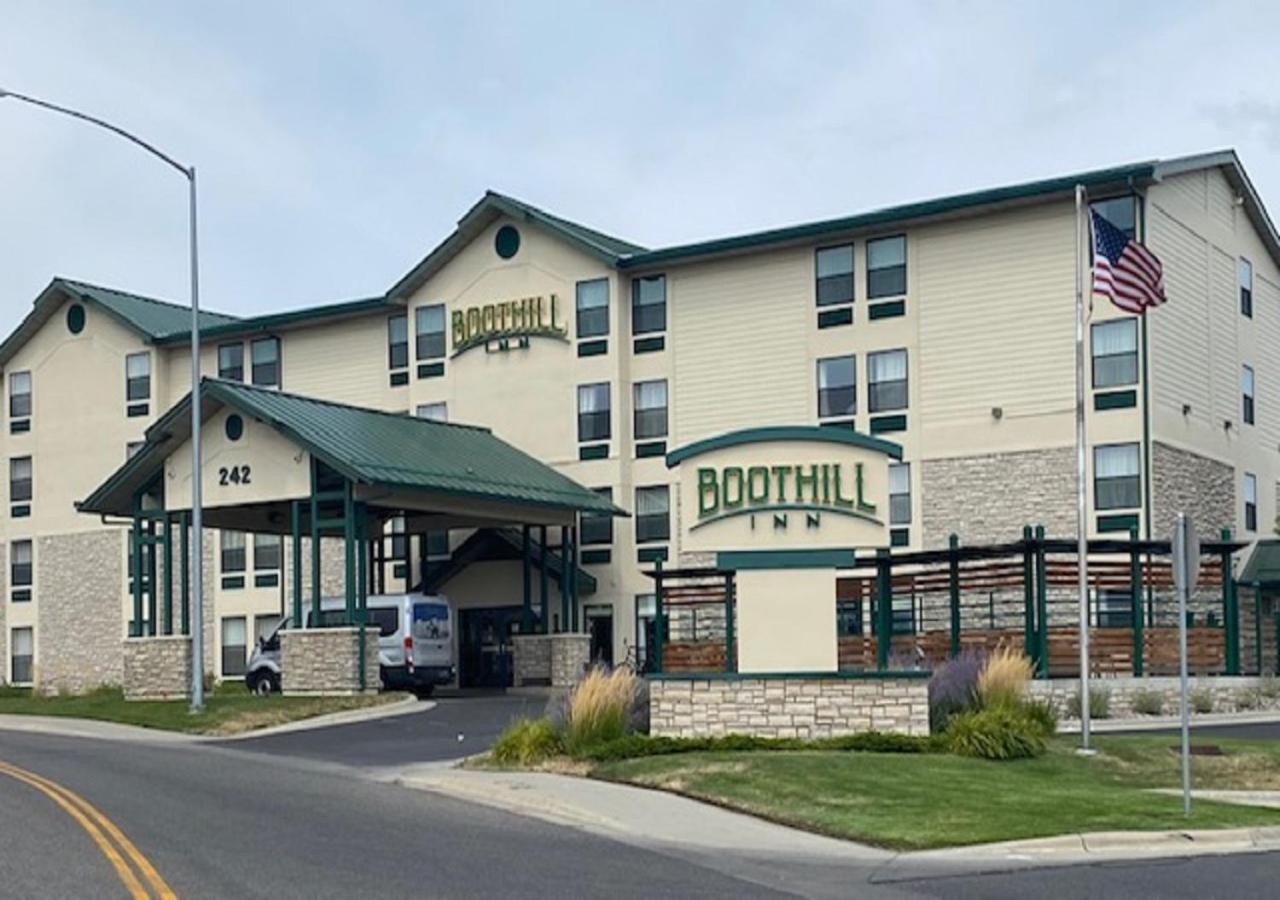 BEST FOR FAMILIES
Picnic Area
Outdoor Dining Area
Indoor Play Area
BEST OVERALL
Electric Vehicle Char. Station
Fishing
Horse Riding
The 5 Best Hotels in Lockwood, Montana
Simple, reasonably priced, and easy to find, Holiday Inn Express is actually the only hotel that is located in Lockwood proper. This hotel is about five miles from downtown Billings and eight miles from the Billings Logan International Airport.
It's around twenty minutes away from popular attractions like Pictograph State Park and Moss Mansion Museum. It's also just off Interstate 90, so you won't have to travel far through town to get to it.
Holiday Inn Express Billings East offers clean and simple rooms to guests. These rooms feature amenities such as flat-screen TVs, coffee makers, electrical outlets, and free Wi-Fi.
The rooms available are suites, one bed, two beds, and standard which is typically a smaller room.
This hotel also offers some great amenities to guests like a heated indoor pool, a regular indoor pool, and an indoor whirlpool. There is also a fitness center and daily housekeeping.
A full breakfast is included with stay as well and there is a breakfast buffet in the lobby every morning. Free coffee is also available in the morning.
This is a great hotel for those looking for a hotel that is not too expensive but also offers basic amenities you would expect from a hotel.
Off of I-90, this hotel is in Billings but close to Lockwood. A nice mid-range hotel, Country Inn and Suites is in a convenient location, near several restaurants and shops.
You won't have a hard time finding a place to dine nearby if that's a concern to you. Additionally, it is close to attractions such as the Yellowstone Art Museum and MetraPark. It's also close to Montana State University Billings.
A modest hotel, this place offers tidy rooms that are spacious and relaxing. You can choose from a single king bed, 2 queen beds, a 1 bedroom king suite bed, and a premium 1 bedroom king suite bed.
There's also even a whirlpool suite king bed, where you can soak in a small whirlpool in your room after a long day exploring Montana. All rooms offer Wi-Fi, coffee machines, flat-screen TVs, microwaves, and work desks.
Breakfast is included at the hotel and you can enjoy delicious options such as waffles in the morning.
This hotel also has a business center, pool, complimentary cookies, dry cleaning, and a fitness center. There is also a Read It & Return Lending LibrarySM, where you can get a book or two to read during your stay.
This is a good choice for families to stay and for those who want a variety of amenities at a reasonable price.
Another hotel that is in Billings but closes by Lockwood is Boothill Inn & Suites.
This small hotel is spacious and unpretentious with a decent amount of amenities. It is near popular attractions such as the MetraPark and Western Heritage Center.
The hotel also has a courtesy van that can help take you to any location that is not within walking distance. You can also use the shuttle to get from and to the airport nearby.
The rooms at Boothill Inn & Suites have plenty of space and are great for families traveling. The hotel has three options: a two queen bedroom, a king bedroom, and a family suite that includes a room for kids with bunk beds and Nintendo games.
All rooms also have a Keurig coffee machine, a small refrigerator, a microwave, and Taracco bath products. There is also a smart flat-screen TV and USB chargers in every room.
Aside from being close to several shops, restaurants, and attractions, this hotel also has several amenities. There is a hot breakfast buffet in the morning, Wi-Fi, a fitness center, and a 24-hour beverage bar. The hotel also has an indoor pool with two hot tubs.
Guests will also enjoy the fresh baked cookies that are offered every evening.
Boothill lnn & Suites is a great choice for families and those who are flying in rather than driving to Lockwood and/or Billings.
If you want somewhere a little fancier but still affordable to stay, Springhill Suites Billings is a great choice.
This hotel has large and spacious rooms and excellent amenities. Rooms here are 25 percent larger than the average hotel. It's also ten minutes away from ZooMontana and Yellowstone Art Museum.
The hotel is also very close to Rimrock Mall, a great place to get all your shopping needs done.
Each room has luxury bedding and is quite large in size. The rooms are clean and secure, with modern designs. The hotel offers queen and king bedrooms.
Every room at this hotel also has a pantry, mini-fridge, flat-screen TV, coffee machine, microwave, and free Wi-Fi. Each room also has separate areas for dining, sleeping, and working.
This hotel also has some nice amenities that many guests staying here will enjoy. The hotel has an indoor pool, fitness center, and a hot breakfast bar that is free for all guests in the morning. The lobby also has plenty of tables and seats, making it a good place not only for breakfast but also for working remotely.
Springhill Suites Billings is an excellent choice for those traveling for work or who need extra space.
C'mon Inn is a nice and unique hotel in Billings. The hotel has an interesting style that gives off a western feel. The main foyer also has several plants and decorative stones, giving the place a natural, relaxing vibe.
Off I-90, it is 4 miles from Downtown and 6 miles from Billings Logan International Airport. This hotel is also close by attractions such as ZooMontana, Yellowstone Art Museum, and Moss Mansion.
The rooms here are spacious and clean. Many rooms also include a balcony. There are a couple of rooms to choose from at this hotel. The basic rooms offered are two queen and one king bedroom.
There are also nicer king rooms that come with a jacuzzi. You can also get a two queen wet bar suite or a king suite with a fireplace. All rooms include a microwave, coffee maker, flat screen TV, Wi-Fi, and a mini-fridge.
This hotel also offers several fun amenities. The hotel has a fitness center, complimentary breakfast, 5 hot tubs, a game room, a business center, a pool, and a baby pool. This hotel also has a fish pond and waterfall which is quite nice to look at and adds to the nature theme of the hotel.
This hotel is a good choice for travelers looking for a more unique experience well staying in Montana.
Best Hotels in Lockwood – Conclusion
There may not be many places to stay in Lockwood proper, but there are plenty in Billings nearby. So even if you'd prefer to spend most of your time in Lockwood, you still won't be far away from the town if you stay at a hotel in Billings.
We'd also recommend planning on booking early regardless of which hotel you choose to stay at. This area is a popular place to stay and you don't want to book last-minute and have few or no choices left. You'll also save money this way too.
We hope this guide was helpful. There are plenty of hotels near Lockwood, but these are considered some of the best!
Related Articles