Terry, Montana, is next to the climactic Badlands and the lazy-flowing Yellowstone River. If you want to stay next to the rugged formation of sedimentary rocks and rich-clay formation with an abundance of wildlife, camp in your RV with a view of a lifetime.
This small town has local stores with essential supplies for your camping trip and many nearby parks for hiking, biking, and sightseeing. After a long day, stop by one of the bars in Terry, grab a drink, and watch the game.
The Best Hotels in Terry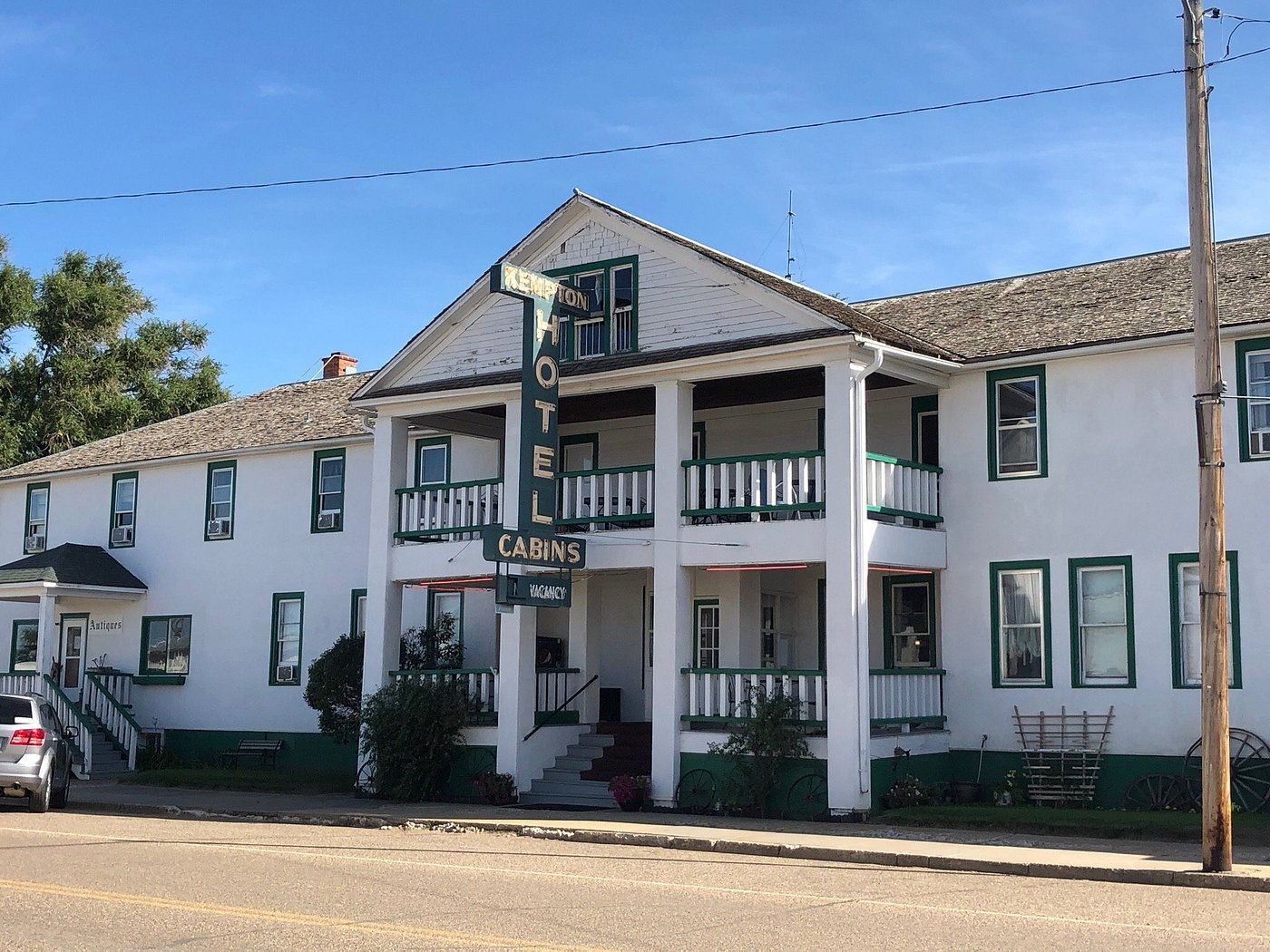 BEST FOR FAMILIES
Children Activities
Non-Smoking Rooms
Free WiFi
Main Attractions in Terry, Montana
Terry provides small-town charm with nearby recreation perfect for the whole family. Spend your trip viewing historical areas, touring a museum, or enjoying state parks.
Shopping
Prairie Unique sells made-in-Montana products, specifically products made in the plains. Stop by and pick out unique gift baskets, antler art, candles, home decor, and skin care. You can also order online and get them shipped to you.
Super Valu is a small hometown grocery store providing everything you could need for your stay. Check out their fresh produce, deli, baked goods, and other supplies for your home and camping trip.
Historical Sites & Landmarks
The Yellowstone River is the longest undammed river in the lower 48 states and originates south of Yellowstone National Park. Terry features a Yellowstone River marker explaining the history of this great river.
Ismay Jail is a small jail from 1909 still standing and in-tact in a middle of a field. Check out this structure and bring your camera to capture this over the 100-year-old cell.
Museums
Prairie County Museum And Evelyn Cameron Gallery feature items depicting life in the old west prairie land. There is also a gallery side displaying Evelyn Cameron's work.
Over fifty photos portray her homestead in the 1800s. Check out the gift shop across the street when you finish touring the museum.
Parks
Strawberry Hill Recreation Area is over 4,000 acres of grass, sage, and ponderosa pine. Hike, watch wildlife, or just take in the scenery of the Yellowstone Valley and unique rock formations. If you're feeling especially adventurous, you can participate in primitive camping.
Pirogue Island State Park is an isolated spot near the Yellowstone River, perfect for viewing waterfowl, bald eagles, fox squirrels, whitetail, and mule deer. You can also boat, fish, hike, hunt, and picnic.
Makoshika State Park is Montana's largest state park featuring interpretive nature trails through Badland formations. You will also find dinosaur fossils of T. Rex, Triceratops, and other prehistoric life. It is an excellent experience for children and adults of all ages.
Family Fun
Take the whole family to Joe & Dee's and let the kids go wild! This fun spot features bowling, a game room, and movies. You can even take part in bowling championships. It's the perfect place to spend several hours playing and socializing.
Nightlife
BD Bar is the spot for delicious food, cold drinks, and friendly service. Order a burger and chocolate cake for dessert! Stop by this bar and restaurant after a long day hiking and sightseeing.
Also, check out Gwyn's Watering Hole next door, where they're serving delicious steaks and cold beer.
Roy Rogers Bar, Grill & Casino is a locally owned and family-friendly restaurant, bar, and casino. Catch a game and order from their weekly specials list for lunch, dinner, and drinks.
Recreation Activities
Set up your RV or rent a cabin while exploring the Terry Badlands and fish in the river.
Camping
Bring your RV and stay at Small Towne RV Park. This campground features amenities like 30A/50A electricity, sewer and water hookups, WIFI, pull-through sites, and tent camping. You can even swim in the local pool and play horseshoes with the family.
Diamond Motel and Campground provides 12 clean, no-frills motel rooms, or you can pitch a tent at one of their campsites. Diamond Motel also has RV sites.
Bring your RV or rent a cabin at The Nugget RV Resort. This resort provides plenty of amenities for your stay like big-rig friendly sites, laundry facilities, showers, restrooms, a clubhouse, an indoor game room, and outdoor activity area with basketball, horseshoes, disc golf, and volleyball.
Hiking
Terry Badlands features a rolling prairie and banded cliffs with geologic features. Walk along the trails and encounter wildlife and petrified logs. There is also evidence of US Army troops from the 1800s on Sheridan Butte.
Calypso Trail is a moderately challenging trail in the badlands. This 15-mile out and back course takes around 5 hours to complete, and it's the perfect area for birding, hiking, and mountain biking.
Your dogs are welcome, but they must be on a leash. Also, this trail is usually secluded, so bring the proper resources with you.
Fishing & Hunting
Fish for bass, trout, and crappie at Silvertip Reservoir and Homestead Reservoir.
There are also many hunting opportunities in this area; ensure you are appropriately licensed and enjoy hunting for elk, deer, and more.
Accommodation
Terry only has two hotels but several places for RV and tent camping.
Special Events
Experience Christmas in the Badlands or check out the annual Independence Day Rodeo.
There are more accommodation options nearby,  you can check out booking options in both Glendive and Miles City.
Activities Near Terry, Montana
Check out these nearby cities and activities perfect for a road trip!
Cities & Towns
Casinos
Museums
Family Fun
State Parks
Related Articles
Latest in Terry
With 105 miles of adventure at your feet, the Big Sky Backcountry Byway out of Terry,…
If you love road trips, there are scores of roads to cover in Montana. On your…