Baker is a small city in Fallon County, Montana, home to over 1800 residents. The town is along the Transcontinental Railroad on Milwaukee Road. Baker gets its name from the road's engineer, A.G. Baker.
The town is next to Lake Baker, along U.S. Route 12, near the edge of the oil fields. It is also right next to the North Dakota border. Once considered a bustling city in the 1960s and 70s, a tornado ravaged the town in 2014.
The population slowly started declining after the 1980s but has recently increased by 6% over the last few years. Baker is a safe place to live and raise a family amongst beautiful landscapes.
The best time to visit Baker is in June and July when the average temperature is 73° Fahrenheit. If you come during the winter, expect snow, wind, and moderate temps around 40°.
Find out more about where to stay and what to do while in Baker!
The Best Hotels For Baker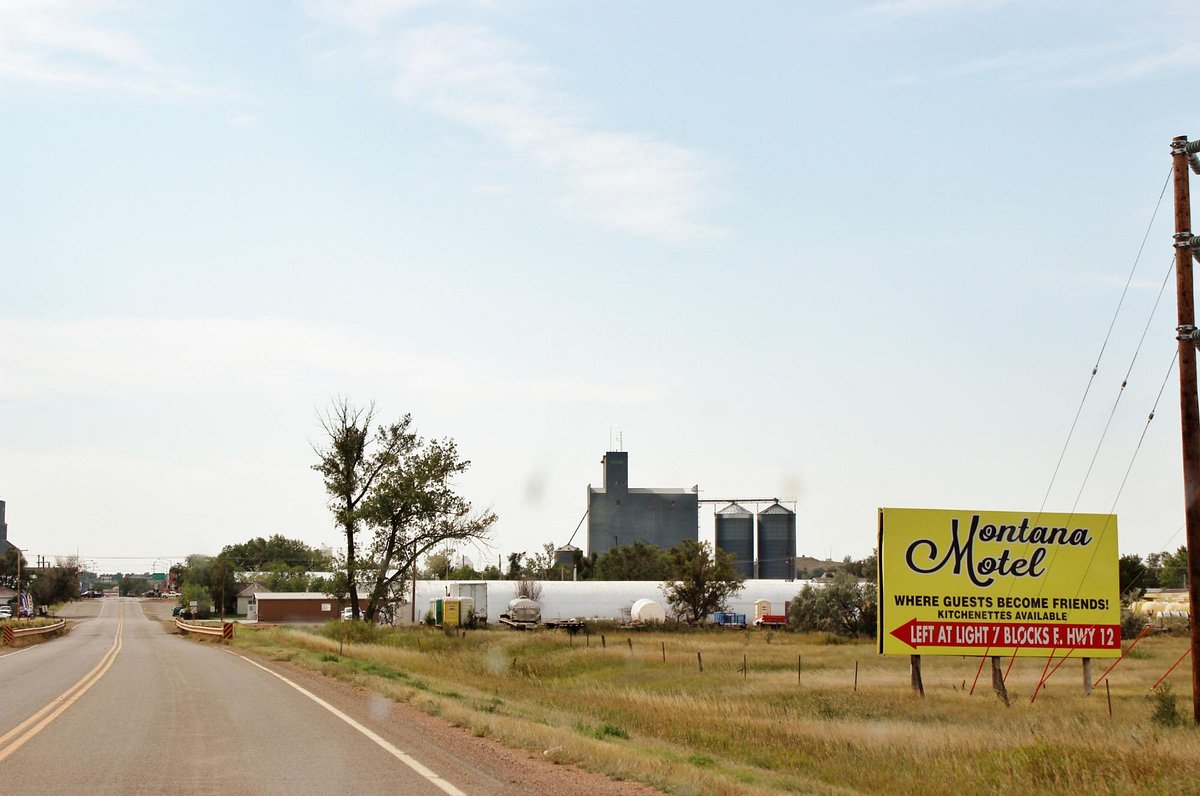 BEST FOR FAMILIES
Free WiFi
Pets Allowed
Family Rooms
Main Attractions
View this post on Instagram
Shopping
Visit these local shops, grab a souvenir, and get a feel for the town!
Reynolds Market is a small-town grocery store providing fresh produce, hot deli items, and warm baked goods. They also have all your regular staple items for your home and kitchen.
There's no need to drive 30 minutes to an hour away to get groceries or essential items.
Russell's Clothing Store sells men's, women's, and children's clothing and accessories. Their products are of good quality; you can even find name-brand items.
They change out products seasonally and offer a wide selection of home decor and gifts.
Runnings have everything you need for household supplies, outdoor equipment, and recreational sports. Check out their extensive clothing selection, outdoor grills, fishing poles, and ammo.
J & A Mini Store is a small country store you can stop at on your way through Baker, right off U.S. 12. Stop by and grab some snacks and drinks for the road!
Baker Furniture is a family-owned discount store selling furniture, appliances, and mattresses. They offer financing and in-home delivery. You can find quality name-brand products at Baker Furniture.
Sew What Custom Embroidery sells personalized promotional products. They have everything from chapstick to keychains to hats! Stop in and see the products you can get personalized.
Classy Cactus Floral offers beautiful flower arrangements and unique gifts for any occasion. Browse through their seasonal collections or find a souvenir to bring home.
This locally-owned florist provides local and worldwide delivery.
Historic Sites
Baker has a history dating back to the early 1900s. Many of the buildings in the area are still in their original condition and are worth a visit!
See what life was like in Baker in the early 1900s at the O'Fallon Historical Museum. Take a picture with the world's most giant steer, weighing almost 4,000 pounds! Walkthrough the displays of memorabilia, antiques, and fossils in buildings built-in 1916.
Then, stop by the gift shop on your way out and pick up a souvenir and some goodies. Also, the museum is free and a great way to learn about Baker.
Lake Theatre on Main Street is a classic movie theatre built in 1918 that featured one screen and over 500 seats. The theater hasn't been operational since the 1950s.
Big K Drive-In is a classic drive-in from the 1960s, and it's still operational! Come through the drive-thru or sit outside on picnic tables and eat a delicious cheeseburger and french fries.
Parks
Explore some of the best parks near Baker, Montana!
Iron Horse Park is next to Lake Baker and is the perfect place to take the kids or get out and stretch your legs if you're passing through town.
They have a playground, splash pad, and skate park. Eat lunch in their covered table area, walk on the trails around the lake, or take your boat out on the water.
Baker Recreation Center is a fun place to get away and get some exercise. They provide a large indoor swimming pool complete with a water slide.
There are also weight and cardio rooms, an outdoor track, and areas to play basketball, softball, and other sports.
Bars and Casinos
Heiser's Bar and Casino is a hidden gem in Baker. The locals rave about the pizza and burgers! Whether you're a local or just passing through, come in and play some slots, listen to music, and have a beer with your lunch.
Big Game Casino & Tavern is right next door to Heiser's, and they provide the community with a nice restaurant to hang out with friends and family. Come by and play the slot machines, drink local craft beer, and eat delicious food!
The Baker Club is serving up delicious pizza, wings, and cocktails. Swing by and drink while you play poker and listen to music. It's a small town bar with great food in a fun atmosphere.
Old Skool Brewery offers a rotating craft beer, wine, and delicious food menu. They host different events where you can listen to music or paint with friends and family as you sip on delightful micro-brews.
Recreation Activities
View this post on Instagram
Although a small town, Baker has many ways to pass the time. Find out where the locals go hiking, fishing, hunting, and camping.
Hiking
Located 25 miles west of Baker is Medicine Rocks State Park. Enjoy easy hiking trails and plenty of photo opportunities in this breathtaking landscape. Look for unique plants and spot wildlife in their natural habitat.
White Butte Trailhead is a little over an hour's drive from Baker but an excellent day trip adventure. The hike is for beginners and is just under four miles round trip. Hike to the highpoint of North Dakota and take photos of the vast Northern Plains.
If you prefer to stay local, walk the trails around Lake Baker. Enjoy the peaceful scenery of the local lake and then hang out at the park.
Bowling
Baker Bowling Center is the local bowling alley in Baker. They are active in the community, providing special events and cooking up lots of food! Play bowl with friends, have a beer and eat some great food.
Camping
Medicine Rocks Campground is home to the Sioux Native Americans. Camp out under the stars in this sacred place. Wander through the trails and observe the mysterious rock formations.
The Medicine Rocks are a short drive from Baker and a nice little camping getaway.
Ekalaka Park Campground is a very secluded campsite about an hour from Baker. Be mindful that it's hard to find the grounds, and there is not much clearance for large campers to get through.
Ekalaka Park is a great alternative when Medicine Rocks are overcrowded.
Macnab Campground is another camping option. It's close to Ekalaka and offers peaceful and quiet campsites.
Fishing
Lake Baker is the closest fishing area in Baker. You can fish on the shore and off docks throughout the lake area. Bring your fishing pole and catch some Largemouth Bass, Yellow Perch, and Northern Pike.
Less than 20 minutes away is South Sandstone Reservoir. The pond is peaceful and relaxing, perfect for fishing or walking along the water. Catch some perch, pike, and bass.
Hunting
The area around Baker is an excellent place for hunting deer and pheasant. It's also not far from elk country, some of the best hunting in the country. Use this interactive map to find approved hunting spots.
Accommodation

Special Events
Activities Near Baker, Montana
Cities & Towns
Casinos
Museums
Parks
Related Articles