Dutton, the Wheat Capital of Montana, is an agricultural community in Teton County with a population of about 300 per the US 2020 census.
This small town is located off interstate 15, approximately 35 miles north of Great Falls in the Golden Triangle region.
With the development of the Great Northern Railway, this town, plus other small towns in Montana, came into being. Dutton, MT, started as a railway station on the Canada and Great Fall line. It was later named for Charles E. Dutton, a Great Northern Railway's general agent working in Helena.
Dutton grew rapidly in the 1910s and 1920s. It had a print newspaper, bank, grain elevators, and other businesses during this period. The town's newspaper, the Dutton Wheat Center News, was later sold to Fairfield Sun-Times.
Its grain elevators are still operating in the middle of the community's wheat farms, adding to its prosperity in large part. Besides agriculture, Dutton boasts two recreational parks and a community swimming pool.
The Top 3 Hotels in Dutton
BEST OVERALL
Casino
ATM on Site
Business Center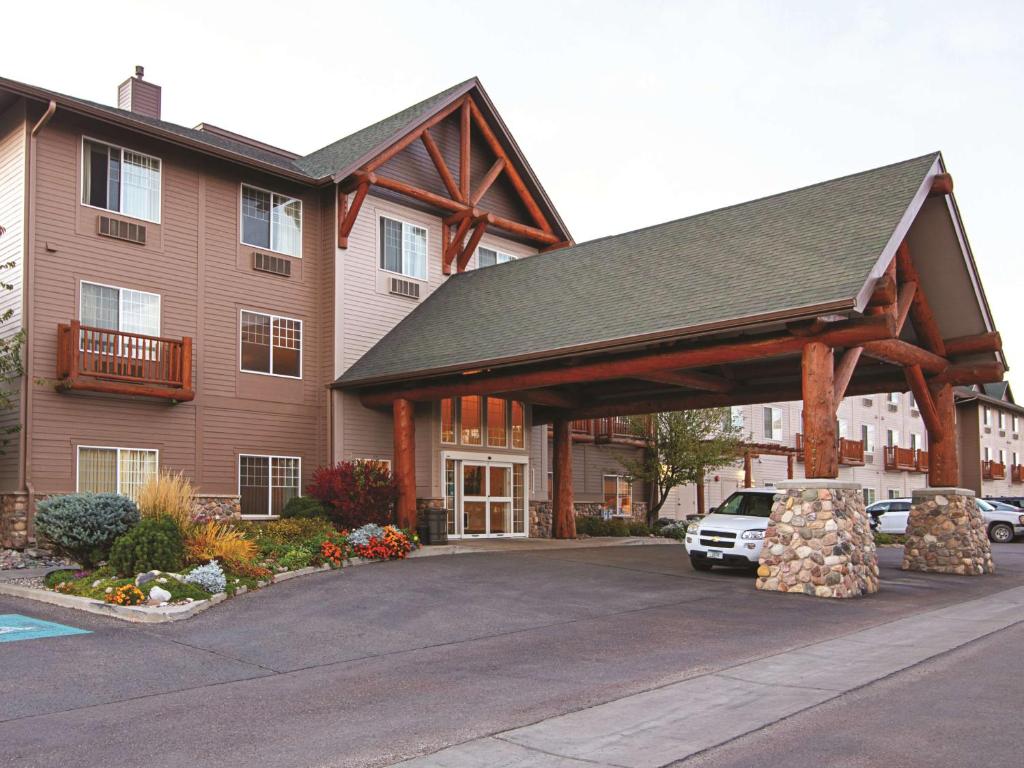 BEST HOTEL OVERALL
BBQ Facilities
Hiking
Wellness
BEST OVERALL
Bar
Fitness Centre
Swimming Pool
Main Attractions
Dutton has a lot of information to offer about agriculture and wheat farming. Here are its main attractions.
Touring Wheat Farms and Grain Elevators
Dutton is among the leading grain-producing communities in Montana.
Visitors come to this town to learn a thing or two about wheat farming. Farmers are generally welcoming and willing to share all the information you may need concerning what they do and how they do it.
Grain Elevators in this town are all in the middle of wheat farms, making it easy for one to tour them after touring the farms. Learn the crucial steps of getting the wheat grain to and from the elevator by watching and asking questions.
Popular grain elevators in Dutton, Montana, include:
Dutton Farmers Elevator Co.
Recreation Activities
Below are recreational activities in and near Dutton, MT.
Swimming
Dutton has a large swimming pool you and your kids can visit for your swimming adventures.
The Dutton swimming pool also offers swimming lessons for interested community members, either as a group or just one.
Away from town, head to the Teton River, about an hour's drive from Dutton, for your water adventures. For hot swimming, go to the Electric City Water Park, 30 miles south of Dutton.
Wildlife Viewing
Freezeout Lake Wildlife Management Area is about 25 miles away from Dutton, offering visitors an excellent opportunity for wildlife viewing.
There's year-round access to this wildlife management area, and entry is free. This place is home to waterfowl and upland game birds.
Bird watching is also possible in the Giant Springs State Park, a 42-minute drive from Dutton town.
Hunting
Freezout Lake Wildlife Management Area allows you to hunt and trap duck, geese, Gray Partridge (Hungarian Partridge), Mourning Dove, Muskrat, Ring-necked Pheasant, Sharp-tailed Grouse, and Swans.
Hiking
An ideal hiking trail near Dutton is River's Edge Trail, which is about a 60 miles stretch. Hiking along this trail provides stunning views of Great Falls.
Camping
Dutton doesn't have any campgrounds, but that doesn't mean there are no campgrounds in the surrounding areas and towns.
Choteau Mountain View RV Campground, located along Highway 287 from Augusta, is a nice campground for those living or visiting Dutton. From here, the Freezout Lake is a stone's throw away, so you can trek down the lake to view snow geese.
Pondera RV Park is in a quiet environment, sitting between two city parks in Conrad, Montana. It takes about 25 minutes to get to this RV campsite from Dutton.
Fishing
For those looking for fishing opportunities near Dutton town, Giant Springs State Park has got you covered. While in this place, you can either go fishing along the Missouri River or fish in their separate fish pond.
Biking
Giant Springs State Park has paved and dirt single-track biking trails about 30 miles long. These trails range in difficulty, from easy for beginners to complex for experts.
Accommodation
Below are accommodation options in and near Dutton, MT.
Special Events
July – Dutton Fun Day – The Dutton Fun Day involves fireworks, dances, car shows, and music. The proceeds from this fun event go towards the growth of the town.
Activities Near Dutton
Museums
Libraries
Dutton Public Library
Lewis & Clark Trl Heritage Foundation Library
Golf Courses
Harvest Hills Golf Course
Pondera Golf Course
Heaven on Earth Par 3 Ranch Golf Course
Towns/Cities
Related Articles