Deer Lodge, Montana is a blend of modern and the past, providing unmatched beauty and fun in all seasons. But where to stay in Deer Lodge?
To help you along we have a guide full of tips and advice when visiting!
Where to Stay in Deer Lodge, Montana – Tips and Advice
Deer Lodge Valley, a city with sprawling meadowland, promises several tempting selections of cheap hotels to choose from.
This old town in Montana boasts an extensive range of museums and heritage buildings.
Perhaps the town's highlight is the Old Prison Complex. The museum is home to deep historical collections that speak extensively of 19th-century life.
Unlike most Montana towns, Deer Lodge wasn't a mining town, but an agricultural area.
The population here is relatively low, meaning you can comfortably walk on the streets and check-in at any museum without experiencing long queues. July, June, and August remain the most pleasant months to visit Deer Lodge because of the warm temperatures.
Compared to the rest of Montana, Deer Lodge has a low cost of living. Hotels such as Deer Lodge Red and Budget Inn have affordable prices.
The areas around the hotels are quiet and provide the perfect view of the surrounding hills.
If your expansive wish list contains sumptuous dishes and budget-friendly attractions, Deer Lodge will provide more than you may ask for. From Grant-Kohrs Ranch National Historic Site to Old Montana Prison Complex, the choice for a better historical site can never be limited.
You can find excellent hotels with scenic views of mountain ranges in Deer Lodge. What's more, the prices are incredible, and the services exceptional. You have irresistible choices of opulent luxury hotels to pick on and a blend of natural and historical attractions to sample.
To get the maximum from your Deer Lodge visit, you must decide where to stay. Find out which hotels and neighborhoods are worthwhile.
The Top 3 Hotels in Deer Lodge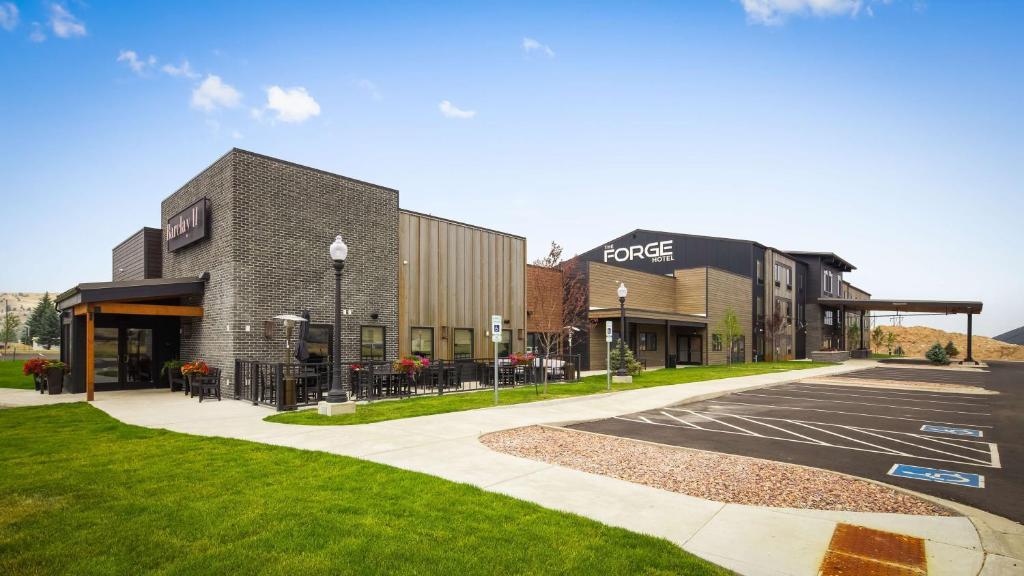 BEST BUDGET HOTEL
Mountain view
Bar
Tea/coffee Maker
Where To Stay In Deer Lodge – Neighbourhood Guide
Deer Lodge has enough for everyone, whether you prefer an area with many tourist attractions or just a quiet neighborhood with scenic mountain views.
There are areas with lots of activities to engage in, but with equally high rates for accommodation.
To help you plan your visit we have provided you with five must-visit places and where to stay during your Deer Lodge visit.
1. Central Park Center
This is perhaps one of the tiniest yet charming parks that almost everybody seems to ignore. Located next to the Central Park Center, commonly referred to as CPC Building, Central Park is a convenient place for picnics.
With well-maintained lawns, Central Park Center provides a quiet place to relax and enjoy the accompanying tranquility.
This park is two blocks off the main boulevard of Deer Lodge, close to several downtown shops and hotels.
If you love nature, a pleasant yet gentle babbling stream that runs the entire length of the square will do magic. The Central Park Center is pristinely clean and modern, with a slight touch of rustic ambiance.
The hotels around this place guarantee a pretty view of the city and provide pet-friendly accommodations. Go boating during the day, then retreat to neat, comfortable rooms.
Best Places To Stay While at Central Park Center
2. Madison River – A Fly Fishing Site
This trout-filled river tucked in between a lush ranching valley girded by steep river banks is a manifestation of the rare beauty of this part of the world.
You can hear from a distance as this magnificent river roars and tumbles, eventually squeezing through the deep rapids of the canyon.
At first, this laid-back river might appear intimidating. However, once it finds its way out of Quake Lake, the river offers a fun ride for floaters and a perfect challenge for wade anglers.
The Madison River provides one of the best blue-ribbon fly fishing between the narrow rapids in Montana.
As a visitor to this fast-paced river, you can enjoy several activities like fishing, sightseeing, and hiking. A Wade and Cliff Lakes is nearby, which provides extra fishing opportunities, swimming, and small craft boating.
Opt to pitch a tent in the middle of the wilderness or book lodging that suits your budget. Whatever your decision, be sure to find the perfect fit for your travels.
You will find resorts offering all-inclusive rates that cover the casual rooms, plus meals & fly-fishing amenities.
Best Places To Stay While Visiting the Madison River
3. Old Montana Prison & Auto Museum Complex
If you find historical facts intriguing and old buildings even more appealing, the Old Montana Prison will provide the perfect place to wind away.
Here, you will quickly discover the hidden treasures of yesteryears and hear the silently talked about stories of convicts.
This prison opened its doors to the first prisoner in 1871. Since then, it has served as the main prison for Montana for close to 100 years.
While there, you can tour the enclosed courtyard. If you have never set foot in a maximum-security cell, the austere cell blocks will act as a constant reminder of the frosty conditions of this place.
The present-day 9-acre complex, a former prison courtyard, is home to five expansive museums. The doors to the Prison Museum remain open all year round, and visitors can tour the facility on their own.
Lodging options are plenty near this area. Below are the picks of the bunch.
Best Places To Stay While Visiting the Old Montana Prison
4. Cottonwood City Park in Deer Lodge
Cottonwood City Park is ideal for relaxation and enjoying a picnic after a rigorous morning of hopping from one museum to the other. It's an oasis of relaxation and fun in a quiet town.
The environment at Cottonwood is relaxed and quiet, thus offering the best place to relax. Of course, it is just like any other park in a town. However, the magnificent greenery and great silence set it apart from the rest.
There are plenty of typical park amenities, all convenient for kids' day out. Your kids can run around in the colorful garden while you take a nap on the lush grass.
It's a perfect place to take a break from the demanding work schedule and just stretch and rest.
Best Places To Stay While Visiting Cottonwood City Park
5. Grant-Kohrs Ranch National Historic Site- The Western Cattle Industry
Long before the expansive land was sold to people for grazing and conservation purposes, Grant-Kohrs Ranch was Montana's largest cattle ranch.
The ranch, which currently sits on a 1,600 acres piece of land, is home to several operations on a working cattle ranch. The gates to the ranch are open through the year, with tour guides ready to show you around.
Spare a day or two to understand how the ranch operates and learn practical management tips. Book an affordable lodge that is in a walkable area.
Best Places To Stay While Visiting Grant-Kohrs Ranch
Best Hotels by Type
Related Articles