There is a lot of history to be explored in the large cities of Montana, but the state's fantasized country livin' lifestyle is defined by its small rural towns. And, it doesn't get much more small-town than Plevna, Mt.
Established in 1909, Plevna was built along the Milwaukee Road Transcontinental Rail Line and was initially created to service the railway workers that were constructing it.
At the time, many of these workers were of Bulgarian descent, and when it came to naming the town, they settled on calling it Plevna, after the Bulgarian city in their homeland.
The new town was a member of the nearby Custer County up until 1913, at which point the residents elected to split from the larger district and form Fallon County.
The district of Fallon County would continue to shrink in 1914 and 1915 with the establishment of both Wibaux County and Prairies County, respectively. However, Plevna remained one of the few towns to stay in Fallon County, which it continues to occupy today.
The county's small geographical size is reflected in the minute populations that inhabit its towns. With 179 full-time residents as of the 2020 census, Plevna is responsible for about 6% of the total population of Fallon County.
The main occupations at the time of Plevna's founding were railroaders, cattle ranchers, and homesteaders. Today, the region has grown into an important industrial center for agriculture, oil, and natural gas production.
While it may not be the most well-known Montana destination, the community of Plevna is the epitome of a small prairie town.
With far less tourism than other nearby cities, Plevna has managed to maintain much of its cultural identity and offers an authentic look into the daily lives of a modern Montana citizen.
The Top 3 Hotels in Plevna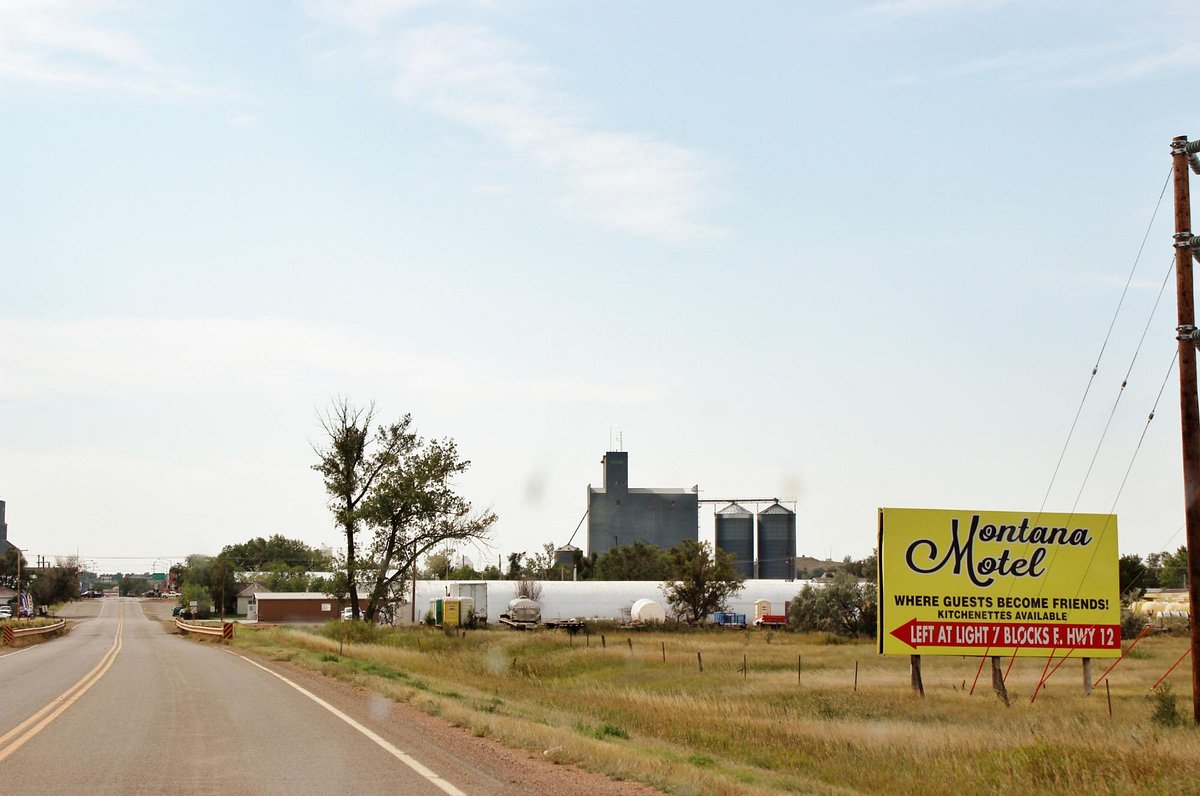 BEST FOR FAMILIES
Free WiFi
Pets Allowed
Family Rooms
BEST BUDGET HOTEL
Pet Allowed
Microwave
Free WiFi
Main Attractions in Plevna, MT
Plevna, Mt is very small, with a total land area amassing only 0.59 square miles. While the town offers an authentic look into the lifestyle of Montana's prairie communities, the destination's small size means that it relies on the many other alluring attractions of Fallon County for entertainment.
Luckily, Plevna is only 12 miles from Baker, the county's seat, and is located towards the center of Fallon.
This central location places Plevna in a fantastic position to serve as a base as visitors explore the nearby city and other great attractions throughout the district.
O'Fallon Historical Museum
When visiting Plevna, the O'Fallon Historical Museum in Baker is an absolute must-visit. Built-in 1916, the museum is housed in the original Fallon County jail and Sheriff's quarters and is listed on the National Register of Historic Places.
Today the museum is contained in six buildings and acts to preserve and display the history, culture, and stories of Fallon County and all its townships.
Exhibits at the O'Fallon Historical Museum include a traditional county school room, remnants of the region's Homestead Era, and a tribute to the machinery and automobiles used in the area.
The museum's most prized exhibit is its display of Steer Montana, the world's largest steer. Born in 1923, the Roan Polled Shorthorn Breed lived for 15 years and reached a colossal size of 10 feet and 4 inches in length, 9 feet 2 inches in circumference, and a certified weight of 3,980 pounds.
Steer was displayed in over 60 shows in his life before he became immortalized as a display in O'Fallon Historical Museum, where he still stands today.
Medicine Rocks State Park
Only a 40-minute drive from Plevna is the Medicine Rocks State Park. Once home to the spiritual conjuring rituals of Indian hunting parties, the state park features weathered rock formations and is home to mule deer, antelope, Woodhouse's toad, and sharp-tailed grouse.
One of the park's first-ever tourists was Teddy Roosevelt, before his elected term serving as president when he was nothing more than a young rancher visiting the area in the late 19th century.
Upon his visit, young Roosevelt described the park as "As fantastically beautiful a place as I have ever seen", a testament that park guests have often repeated.
The park's 330 acres feature a short .75-mile trail for hiking, biking, and animal watching and also includes about 12 camping sites fully serviced with vault toilets, water pumps, and picnic areas.
There are no park fees when visiting Medicine Rocks State Park. However, the park does operate on a pack-in/pack-out policy, so be sure to take home everything you came with.
Makoshika State Park
With a land area of 11,538 acres and an elevation of 2,415, Makoshika is the largest State Park in Montana and an essential attraction when visiting the state's southeastern corner. Among the park's top sites is its historic badlands.
Along with a variety of pine and juniper tree species dotting the landscape, visitors to the badlands will explore the many native dinosaur fossils that can still be seen in the park today.
These fossil samples come from such monumental prehistoric species as the Tyrannosaurus Rex, the Triceratops, and many other iconic reptilian giants.
Among the Makoshika State Park's other services are 18 camping sites, group picnic areas, several hiking trails, and an outdoor amphitheater that hosts a variety of shows throughout the year.
Recreation Activities
Plevna is a small town, but its convenient location in Fallon County makes it a fantastic spot for exploring the many wondrous attractions and activities of Southeastern Montana.
Hiking
Plevna is situated directly in the middle of two amazing State Parks that each offer a fantastic set of hiking trails.
Located only 37.4 miles from Plevna, Medicine Rocks State Park offers town visitors the easiest access to its hiking trails. Guests are welcomed to explore the region's breathtaking landscape along the park's easy-to-follow trails while spotting several species of local fauna.
Another great State Park for hiking near Plevna is Makoshika State Park. Despite being an hour and a half away from Plevna, Makoshika is an essential destination when visiting Southeast Montana.
Not only is Makoshika Montana's largest State Park, but it is also home to local badlands that are home to several dinosaur fossils, including the remains of a Tyrannosaurus Rex.
In addition, the park offers several hiking trails for visitors to choose from along their exploration of Southeast Montana's prehistoric landscapes.
Fishing
The nearest spot for fishing near Plevna is at the South Sandstone Reservoir. Located only 7 miles south of the town, this small body of water is perfect for a relaxing day of wrangling.
Camping is permitted at the access site, with a seven-day stay limit. Restrooms, drinking water, and a boat ramp are conveniently located on-site.
Baker Lake is another fantastic easy-access fishing spot near Plevna. Only 15 minutes drive into town, Baker Lake permits guests to cast their lines directly from shore or the docks.
Common species found in the lake include Yellow Perch, Northern Pike, and Largemouth Bass.
Golfing
Established in 1985, the Lakeview Country Club offers a well-maintained golf course only 14.2 miles from Plevna. The course features nine holes, two ponds, and several trees scattered throughout.
With several tournaments throughout the year and affordable rates for tee times, the Lakeview Golf Course offers a fun and exciting time out on the greens of the prestigious country club.
Accommodation
There are no hotels or accommodation options located in Plevna itself. Instead, visitors to the town will have to book their stay in the larger nearby town of Baker.
The following are some of the best hotels available for exploring the region.
Special Events
As a small community with a population of 179 residents, Plevna does not feature many annual events or festivals.
However, being only a 10-minute drive from Baker, the seat of Fallon County, visitors and locals to Plevna still have plenty of opportunities to celebrate county festivals.
Activities Near Plevna
State Parks
Recreational Activities
Museums
Restaurants and Hospitality Services
Related Articles