Nestled in the Flathead Valley, just a short drive from Glacier National Park, and sitting on the shores of Whitefish Lake, Whitefish Montana is the quintessential Montana town. Beautiful views, tons of outdoor recreation, and the friendly small-town feel that makes Montana great.
When you come to the town, it's a great idea to research the community and know what you want to see and do so you can pick the right area to stay in.
The downtown is full of action, but other parts of town offer a quieter, more relaxed way of being.
If you're wondering where to stay in Whitefish, Montana, we've put together this guide, with popular attractions and popular lodging areas in the central and south parts of town.
Best Places to Stay in Whitefish, Montana – Tips and Advice
The closest airport to Whitefish is Glacier Park International Airport. It's only a 15-minute drive from Whitefish.
You rent a car at the airport and drive to town or consider a free shuttle service. Many hotels in the area offer airport transportation.
Despite being a ski town, the high season in Whitefish is actually summer. Winter is also busy with skiers visiting Whitefish Mountain Resort.
Winter weather can be extreme, with freezing temperatures and plenty of snow. If you're traveling to Whitefish in the winter, travel with the right gear.
If lodging in Whitefish is full, a great alternative in the Flathead Valley is Kalispell, which is an easy 30-minute drive from Whitefish.
If you need assistance while in Whitefish, stop at the Whitefish Official Visitor's Center. It's located on 2nd Street in downtown Whitefish.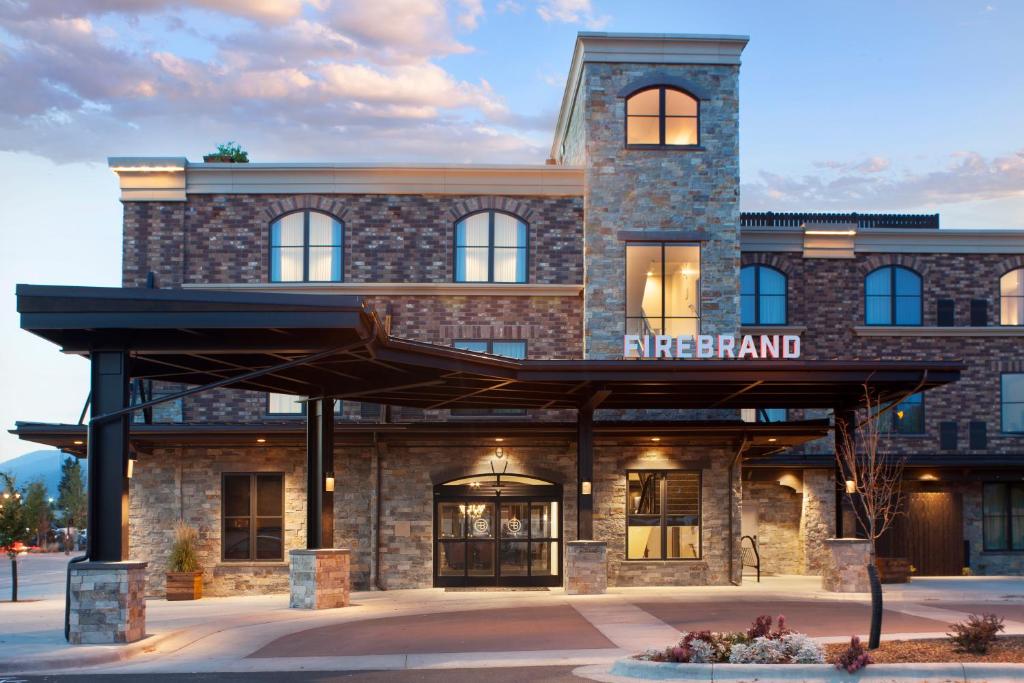 BEST BUDGET HOTEL
Spa & Wellness Centre
Bar
Sun Terrace
BEST FOR FAMILIES
Heated Swimming Pools
Pets Allowed
Tea/Coffee Maker In All Rooms
BEST OVERALL
Fireplace
Private Yard And Gardens
Free Wi-Fi
Whitefish, Montana Guide
This helpful guide will help you find where to stay in Whitefish, Montana!
Tourist Attractions
Whitefish Mountain Resort
Since 1947 Whitefish Mountain Resort has been serving up wholesome winter fun with their world class ski slopes. Frequently listed on many "Best of…" ski lists, Whitefish Mountain Resort is likely one of the most popular spots for visitors.
Only 15-minutes from downtown Whitefish, even in the winter, getting to Whitefish Mountain Resort is fairly easy. Once there, you'll enjoy a wide variety of runs, terrain parks, and mountain amenities that make it a great place for the whole family to visit.
Winter isn't the only season where great outdoor recreation happens at Whitefish Mountain Resort. Summer visitors can enjoy hiking along the grassy slopes or try their hand at mountain biking on one of the many trails that hide under snow in the winter.
Big Arm State Park
Big Arm State Park on Flathead Lake is a popular spot for summertime visitors to Whitefish and the Flathead Valley. Located in the southwest part of Flathead Lake, this is a great spot for water sports, hiking, and camping.
Flathead Lake is the largest freshwater lake in Montana. It is home to a very interesting spot called Wild Horse Island.
This large island located near Big Arm State Park is home to a small number of wild horses along with other wildlife including bighorn sheep, deer, waterfowl, and even bald eagles.
Whitefish Lake
Quite a bit smaller than Flathead Lake, Whitefish Lake is close to downtown Whitefish and is popular with the locals.
Whitefish City Beach, a swim beach on the south shore of Whitefish Lake, is operated by the City of Whitefish as a town park. From here you can head out on a kayak or paddleboard for a day on the water, or just throw out a blanket on the sand, and enjoy a little swimming, and a picnic lunch.
If you just want to relax, Whitefish Lake is a great place to just enjoy the views of this picturesque lake surrounded by forest and tall mountain peaks.
In the summer, non-motorized boat rentals are available through the City, and there is a motorized boat launch at the beach as well. For anglers, Whitefish Lake is a perfect spot to throw in your line for lake trout and other popular game fish.
For more ways to explore Whitefish Lake, head north to Whitefish Lake State Park. This park is another popular place to access the Lake. You'll also find camping accommodations in the state park, picnic areas, and a boat launch.
Golf Courses of the Flathead Valley
Though Montana is well known for its skiing and more extreme outdoor recreation, many people are surprised to learn that it's also a great place to play golf.
Flathead Valley, which includes Whitefish, is home to some of the best golf courses in the world.
Golf Digest has listed the Flathead Valley as one of their "50 Best Golf Destinations" in the world. In total, the valley has nine championship golf courses (many are public courses), three of which are more than 50 years old.
For more information on Flathead Valley golf courses, check out their official guide Golf Courses of the Flathead Valley.
Baker and Riverside Parks
Popular with locals and visitors alike, Baker Park is a beautiful natural park located within Whitefish city limits. Part of a larger network of parks, Baker Park provides a different kind of park experience for visitors.
With a playground, picnic spaces, a gazebo, and benches, this park is a great spot to stretch your legs or just enjoy a pleasant and relaxing day in Whitefish. Use the trail system that connects Baker Park to Riverside Park to access the Whitefish River.
Other activities in Baker and Riverside Parks include fishing, boating, walking, and biking. Riverside Park also has a number of tennis courts, if that is a pastime you enjoy.
Central Whitefish
Central Whitefish is essentially the main downtown area. This part of Whitefish is full of old homes, unique storefronts, and some of the best dining and nightlife in Montana.
Much of Central Whitefish is easily walkable as the bulk of the downtown area only spans approximately 10 square blocks. Though it's small, there's no lack of great spots to enjoy in central Whitefish.
You'll find a wealth of dining options in downtown Whitefish, and there is something for everyone.
Some of the local favorites include Jalisco Cantina, a Mexican-style restaurant that features locally grown produce and fresh seafood. Step off the streets of Whitefish and into a New Orleans-style café at Tupelo Grille, which features cajun-style cuisine.
If you want something a little more upscale, reserve a table at Latitude 48 Bistro where you'll enjoy delicious Mediterranean foods.
If you're not eating in downtown Whitefish, check out some of their unique stores and boutiques. The main street (2nd Street) has historic storefronts which are as fun to look at from the outside as they are to explore on the inside.
If you're looking for some of Whitefish history, walk to the Old Depot and explore the Stumptown Historical Museum located inside the train depot.
Hotels
$$ – Firebrand Hotel – Hip urban hotel located at the junction of Highway 93 and 2nd Street in downtown.
$$ – The Pine Lodge on Whitefish River  – Quiet hotel near Riverside Park, and 2 minutes from downtown Whitefish.
$ – Duck Inn Lodge – 1-mile from downtown with views of the Whitefish River.
Airbnbs
$$$ – Entire townhouse hosted by Carly – 5 minute drive to downtown.
$$$ – Cozy Condo in Heart of Downtown – Upstairs of Whitefish's only winery, 3 blocks from downtown.
$$ – Urban-Chic Loft in Downtown – Centrally located in downtown, minutes from restaurants, ski bus and Whitefish City Beach.
$$ – Hellroaring Hideaway – 1 block from downtown Central Ave, within walking distance of all of the best spots in Whitefish.
South Whitefish
If you're not interested in staying in the downtown area of Whitefish, south Whitefish offers a quieter option, with chain hotels, and family-friendly accommodations.
The best part of south Whitefish is that even though it's set away from the busy shopping and dining areas, it's not too far away.
Hotels
$$ TownePlace Suites by Marriott Whitefish – 5-minutes to downtown.
$$ Chalet Hotel Whitefish – 2-minute drive to Whitefish Golf Club
$$ Hampton Inn & Suites Whitefish – 20 minutes drive to Whitefish Mountain Resort
Airbnbs
$$ Alpenglow Meadows  – Full house just a short drive from downtown.
$$$ Old Morris in the Forest – 3.2 miles from Whitefish Lake Golf Club.
$$$ Chickadee Cabin  – Close to everything, private cabin.
Where To Stay in Whitefish Conclusion
Whether you're here to enjoy the beauty of a Montana summer or the fun of a Montana winter, Whitefish is a wonderful community to call home while you're visiting.
With plenty of things to do and see while you're in Whitefish and the Flathead Valley, you can easily fill your days with adventure.
Many of the best parts of Whitefish offer a family-friendly experience. The city has beautiful parks, a swimming beach and plenty of places to enjoy a meal with your family.
In close proximity to Whitefish Mountain Resort and Glacier National Park, you'll have plenty of places to go and explore.
When you're done exploring for the day, cozy up at one of the many great hotels and vacation rentals in town and find your way to one of the world-class restaurants to refuel your body and prepare for another day of fun in Whitefish, Montana.
Best Accommodation by Type
Related Articles