Glacier National Park, established in 1910, covers an area of 4,102 km² and is situated in north-western Montana next to the Canada-US border. The park is named after the many glaciers that make up its rugged landscape.
It is home to almost all of Montana's native wildlife and plant species. This national park has got over 700 miles of hiking trails available, making it the ideal vacation spot for the hikers out there.
The landscape is also dotted with lush forests, pristine lakes, mountains with jagged peaks, and alpine meadows. Thus, all these features attract around 3 million tourists from all over the world, annually. You will find many unique places to stay in Glacier National Park, and we are here to highlight 7 of the best.
The Best Hotels For Glacier National Park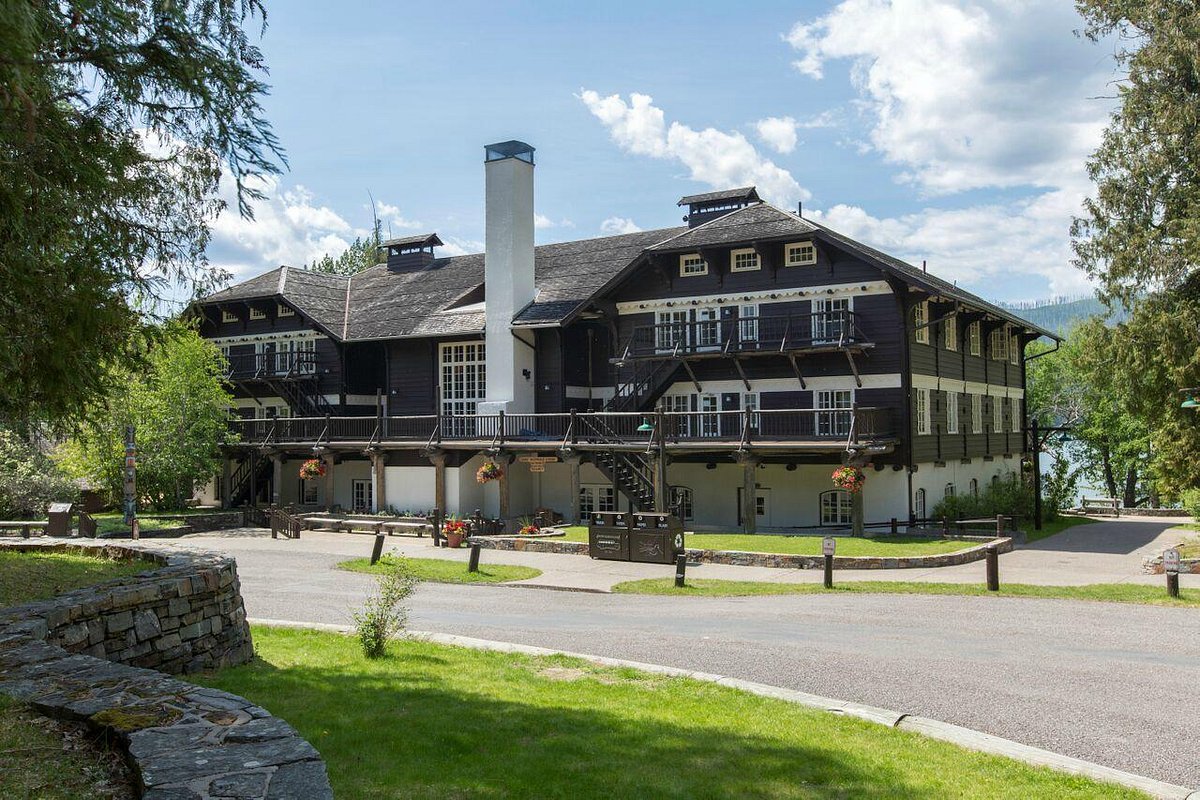 BEST LODGE
Bar / Lounge
Picturesque
Free Internet
BEST BUDGET HOTEL
Hiking
Restaurant
Picturesque
Unique Accommodation in Glacier National Park
It would be a shame if you visit such a popular tourist spot, then choose to stay at a sub-par lodging facility that doesn't fully meet your accommodation needs.
This is why we have provided you with a list of unique places to stay in Glacier National Park. These comfortable lodgings are sure to be the cherry on top of your trip to Glacier National Park in Montana.
1. Lake McDonald Lodge
Speaking of unique places to stay in Glacier National Park, the historic Lake McDonald Lodge on the eastern shore of the gorgeous Lake McDonald is a breath-taking sight. This place is host to a three-story tall building that serves as the main lodge.
At just a walking distance from the lodge, you will find Snyder Hall, a Cobb House, and a row of cabins ideal for a relaxed holiday. With all these buildings combined, the Lake McDonald Lodge has a total of 82 guest rooms available.
The guest rooms not only have a rustic vibe but they are also supremely cozy and comfortable. This place offers many activities for tourists and guests including horseback rides, boat cruises, and Red Bus tours.
There are eateries like the Russell's Fireside Dining Room providing delectable meals during your stay. There is also a general store and gift store present at the lodge, which makes it convenient for the guests to buy souvenirs and other items.
And of course, since the picturesque Lake McDonald is just a few steps away from the lodge itself, guests often make their way to the lake and enjoy the scenic view that it offers.
Because of these appealing features, it is no surprise that the Lake McDonald Lodge is a popular accommodation choice among tourists.
2. Many Glacier Hotel
This indoor lodging facility was built between 1914-1915, on a rocky ledge by the shores of Swiftcurrent Lake. However, it was partially renovated in 2016. Just across the dazzling lake is Grinnell Point, a sub-peak of Mount Grinnell.
The peak is shaped like a pyramid, a distinctive feature of Grinnell Point that attracts tourists since they want to experience that view themselves in broad daylight.
The Many Glacier Hotel is a five-story building that has 2 suites, 7 family rooms, and 205 guest rooms. The amenities offered at this hotel include telephones, eco-smart pillows, coffee makers, energy-efficient lighting, limited Wi-Fi hotspots, and various other facilities.
Interlaken Lounge, Heidi's Snack Shop, and Swiss Lounge are some noteworthy relaxing spots in the hotel, perfect for anyone who wants to grab a bite after a tiring day of hiking at the Glacier National Park.
Besides Swiftcurrent Lake and the Grinnell Point, the nearby tourist attractions include the breathtaking Redrock Falls, the captivating Lake Josephine, and the Cracker Lake Hiking Trail. Due to the ideal location of Many Glacier Hotel in the heart of the Glacier National Park, it is one of the most interesting places to stay in the region.
3. Rising Sun Motor Inn & Cabins
Rising Sun Motor Inn & Cabins is located along the most famous Going-to-the-Sun road of the Glacier National Park. This lodging facility is only 0.25 miles away from the spectacular St. Mary Lake and is 12 miles away from the Logan Pass.
It is open from mid-June to early September and has 72 guest rooms available. Rising Sun Motor Inn & Cabins offers many facilities like boat cruises, red bus tours, box lunches for when you want to eat on the go, the camp store which offers groceries as well as recreational supplies, and a Wi-Fi connection which is available in the lobby.
A service station is also present at the location, where you can fill up your tanks. The gift shop at Rising Sun Motor Inn & Cabins offers Native American jewelry and crafts. And, if you are craving a hot meal, just make your way to the Two Dog Flat Grills that serve classic Montana food.
The Cabin Rooms start at $179 and the Motor Inn Rooms start at $195, which, considering the location, is an amazing bargain. So book your stay at the earliest since the spots get filled up pretty quickly.
4. Two Medicine Campground
The Two Medicine Campground is situated on the shores of the beautiful Pray Lake and the Two Medicine Lake. This campground offers a hundred single-family campsites and is open from late May to late October.
No reservations are taken for this camping site, and guests are only accommodated on a first-come, first-served basis. The campsite allows tent campers as well as RV owners, which makes it the perfect spot for those who crave more freedom from their vacation.
Since this campground is situated away from the Going-to-the-Sun Road, it provides a serene environment to its guests. The facilities in Two Medicine Campground include well-maintained vault toilets, drinking water, tables, and grills.
The campground offers a few recreational activities like hiking and wildlife viewing. And since it is situated near two lakes, it also offers canoeing, kayaking, and fishing.
5. Village Inn at Apgar
Village Inn at Apgar is only 2 miles from the western entrance of the Glacier National Park and is located on the southern shores of Lake McDonald. This property has a total of 36 rooms, all of which provide the guests with exceptional views of the towering mountain peaks and the stunning Lake McDonald.
Because of the many facilities and views that it offers, the inn is one of the most beautiful places to stay in Glacier National Park.
The Village Inn is open from mid-May to late September; it offers one or two-bedroom units and motel rooms with a kitchenette. The kitchenette provides basic utensils, a microwave, a refrigerator, and a coffee maker.
The lobby also offers Wi-Fi service, so that while connecting with mother nature, you do not feel disconnected from the outside world. Moreover, the facility is also equipped well to provide ample facilities and services to differently-abled people.
6. Granite Park Chalet
The Granite Park Chalet is open from late June to the middle of September and is considered a National Historic Landmark. You can hike your way to this chalet through the Loop Trail, which is about 3.8 miles long. It is a popular accommodation choice among hikers and they mostly keep the lodge filled throughout the season.
This lodging facility has rooms available that can fit up to six people in a single unit. The place requires paid reservations: the overnight rate for the first person is $117 and you will have to pay $82 for every additional person in the same room.
And don't worry if you change your mind; you can easily cancel your reservation 15 days before the date it was booked for and you will get a full refund.
The property offers a kitchen, where you can cook meals of your choice so you don't feel homesick. The place charges $25 extra for linens and beddings but that is optional. The Granite Park area outdoors also serves as a campground, so if you prefer camping outside, you will still be welcome on this property.
7. Swiftcurrent Motor Inn
The Swiftcurrent Motor Inn is open from early June to the middle of September and is split between three motel-style units. The property has a total of 95 rooms and a Swiftcurrent Restaurant, called the Nell's, available on the site as well, so the guests can replenish their energy levels before leaving for another hike.
The place houses a gift shop and a camp store as well. Other than that, tourist attractions like the Iceberg Lake Trail, Swiftcurrent Falls, and Grinnell Glacier are all located within 5 miles of the motor inn.
The amenities offered at Swiftcurrent Motor Inn include sheets, towels, blankets, and pillows. A bathroom and shower facility is a short walk away from the cabins. For a small fee, a laundry facility is also available on the site and limited Wi-Fi service is also provided.
The Swiftcurrent Motor Inn promotes a non-smoking and non-vaping environment. A limited number of ADA-accessible rooms are also present at this location, which can be booked based on availability. Lastly, guide and service animals are also allowed on the property.
Final Thoughts – Unique Places to Stay in Glacier National Park
Spending time at the Glacier National Park is every hiker's dream. So, after a long day of hiking, treat yourself to one of these comfortable and relaxing lodges.
We hope that these unique places to stay in Glacier National Park caught your attention and you will keep this list in mind when planning your next visit to Glacier National Park. With such an abundance of choices available, you will surely find exactly what you are looking for!
Related Articles