Montana's Glacier National Park certainly delivers on outdoor excitement of various descriptions. But when wintertime arrives, locals and visitors alike switch from hiking boots and mountain bikes to skis and snowboards.
The Glacier Park region is ideal for anyone wanting to ski or board their way down some amazing mountain slope terrain. Many of the best skiing spots in Montana are to be found on the western side of the state, although there are plenty of other opportunities in northern and southern areas.
From huge, world-renowned resorts to family-owned operations, pretty much every level of snow enthusiast can find somewhere to go skiing in Glacier National Park. You'll find groomers, glades, chutes, and a variety of other stunning northern Rocky Mountain scenery on any ski trip to the Glacier National Park region of Montana.
Glacier country is well-known for receiving vast amounts of snowfall along with temperatures that are comparably mild. The towering, snow-covered mountain range terrain and high passes remain snowy for most of the year, and skiers and snowboarders can indulge in a spot of backcountry skiing in the park.
If that sounds a little too wild then the neighboring local resort towns offer regular downhill skiing, like at the renowned Big Mountain Resort.
Whether you are looking for untouched, off-trail powder runs or a groomed, technical approach to your skiing with various levels, the thousands of acres that Glacier County comprises will surely find some way of meeting your requirements.
The Top 3 Hotels Near Glacier National Park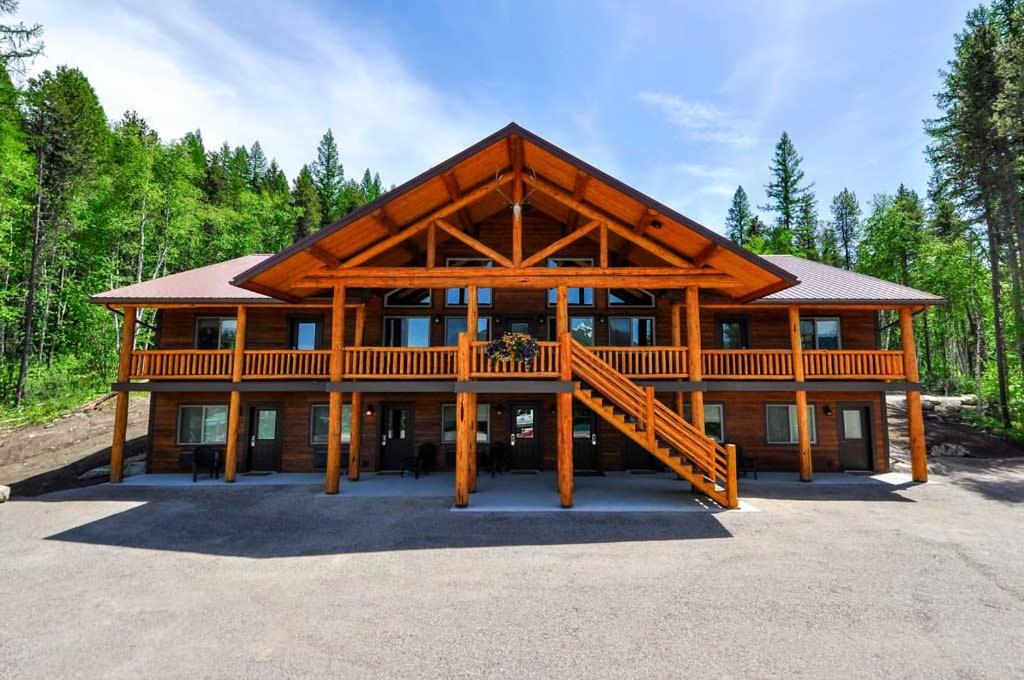 BEST FOR COUPLES
Bar
Wine/Champagne
BBQ Facilities
BEST OVERALL LODGE
Restaurant
Horse Riding
Free WiFi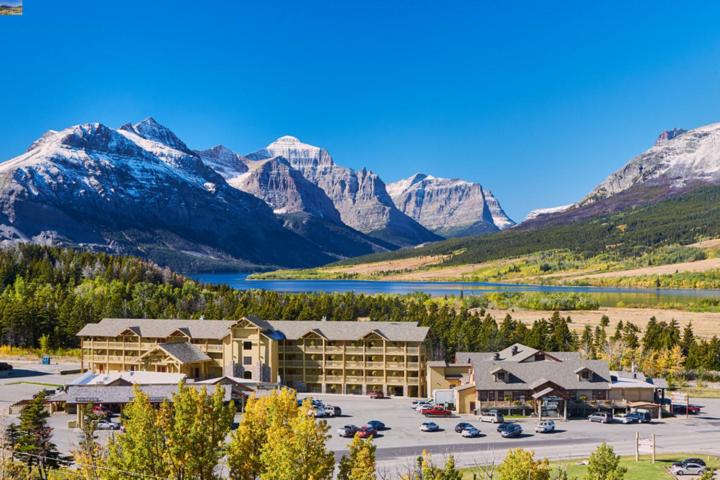 BEST FOR FAMILIES
Snack Bar
Minimarket on Site
Packed Lunches
Places to Ski in Glacier National Park – Tips and Advice
Which places in Glacier National Park are best for skiing? Glacier National Park has more than enough decent options when it comes to finding somewhere to ski, whether you want a busy, well-organized resort environment or somewhere a bit more off the beaten track. You can actually ski in the park itself in places like Apgar and Lake McDonald on the western side, or Two Medicine Valley and St. Mary on the east side. Or, you may prefer skiing outside of the park in one of the nearby resorts like the world-famous Whitefish Mountain Resort. Needless to say, the various options offer somewhat different experiences which will also be reflected in the accommodation options and prices.
Tourist Areas/Months: Glacier National Park has a tourist season which is mostly in the spring and summer months, but West Glacier is quiet in the wintertime compared to that and is expansive enough to avoid any potential crowds anyway. The park is open all year round and conducts snowshoe and skiing tours in the winter months for outdoor lovers coming to experience the snow-covered natural beauty.
Areas: There are various areas in the park designated for snow-shoeing and cross-country skiing. These usually include routes that run a loop around various points. You can find some of the main ones on both the eastern and western sides of the park, with a few dotted around in other regions. The other main popular areas tend to be the neighboring towns on the western side such as Whitefish, Kalispell, and Bigfork as well as others in the Flathead Valley region
Best Places for Skiing in Glacier National Park
If you fancy a spot of backcountry skiing across rugged and natural terrain then there are various routes to follow in this area of the park. They begin at two points, one of which is the concession horse barn. This point is just off the Going-to-the-Sun Road, near station 2 at the West Entrance station. The second location is the road closure gate just up from the McDonald Creek Bridge, and these routes are various distances and cover various loops.
The routes cover Lower McDonald Creek, which is just a short,3-mile round trip, and Rocky Point, which is double the distance at a 6-mile round trip. If you want to venture still further the Apgar Lookout loop is a 10.5-mile round trip, as is the loop around the old Flathead Ranger Station. The longest route is up and around the McGee Meadow Loop which is an 11.5-mile round trip.
Accommodation
($$) Glacier Guides Lodge • 3-star accommodation in West Glacier, less than 2 miles from Apgar Visitor Center, with bathtub and internet access
($$) Glacier Outdoor Center • Private cottage located less than a mile from the West Entrance of Glacier National Park, with a private trout pond and a fully-equipped kitchen.
($$$) Apgar Village Home Rental • Located at Apgar Village, 2 bedrooms with a kitchen and patio, featuring river and lake views.
This region of the park features slightly less challenging terrain with plenty of snow. It is easily accessible which makes it one of the most popular skiing areas in Glacier National Park.
Following Going-to-the-Sun Road from the West Glacier region along Lake McDonald brings you to Lake McDonald Lodge. Here you will find the winter road closure and parking area, from where you can head out on a 4-mile round trip featuring McDonald Falls. There is a slightly longer route in Sacred Dancing Cascade at 5.3 miles, and the longest route is round Avalanche Picnic Area, which is a total 11.6-mile round trip.
Accommodation
($$) Lake McDonald Lodge • 2-star accommodation with a waterfront location, 1-minute walk from Lake McDonald. Two restaurants, bar & lounge, and available breakfast
($$) Belton Chalet • 3-star hotel with restaurant, 3 miles from Lake McDonald and a 12-minute walk to Glacier National Park. Four minutes from Bob Marshall Wilderness Complex.
3. Polebridge, Northwest Glacier
The skiing routes in and around this area at the northwestern edge of Glacier National Park start at the Polebridge Ranger Station. You can get to this point from county road 486 (also known as the North Fork Road), which is not plowed frequently, so it's best to check on local road conditions beforehand.
From the east side of the North Fork Bridge at the Polebridge Ranger Station, you can head out on the Big Prairie Loop, which is a 4-mile round trip. Then you have the Bowman Lake Loop which is a bit longer at a 12-mile round trip.  There are 2 other routes in the area including the moderate 3-mile round trip Covey Meadow Loop, and then the Lone Pine Prairie is a 6-mile round trip.
It is somewhat challenging to find accommodation close to this area of dirt tracks that are a bit more out of the way.
Accommodation
($$) Mercantile and Cabins • The Polebridge Mercantile were built in 1914 as a general mercantile for homesteaders near Glacier's northern frontier, and these days offers accommodation by way of rustic cabins for couples or families with kitchenette and refrigerator, and there is a bar and lounge. Glacier International Airport is 30 miles from here.
The section of two medicine valleys ideal for skiing can be accessed by Two Medicine Road on the much windier east side of Glacier National Park. Hence some of the snow in the more open areas may be blown away at any time of the winter, depending on conditions.
The skiing route on Two Medicine Road varies in mileage according to conditions but usually begins at the end of the plowed road. This is somewhere in the region of 4 miles north of East Glacier close to the junction of Highway 49 and the Two Medicine Road. Some of the routes in the area include the Park Boundary 6-mile round trip, the Running Eagle Falls Loop which is a 10-mile round trip. The longest route by far is Two Medicine Lake, a reasonably challenging terrain equal to a 16-mile round trip.
Accommodation
($$) Glacier Park Lodge • Historic 3-star accommodation, around 7 miles from Two Medicine Lake in East Glacier and close to the Running Eagle Falls trailhead with restaurant, bar, lounge, and golf course.
($$) Dancing Bears Inn • Also 7 miles from Two Medicine Lake, this is a 2.5-star motel-style accommodation with a bar/lounge and easy golf course access.
5. St. Mary, East Glacier
The St. Mary skiing trails run from the area near the historic Ranger Station. You can get here from Highway 89 heading towards St. Mary. Once in the park, you will see the signs for the 1913 Ranger Station.
The Red Eagle Loop varies in distance, and the Red Eagle Lake Trail Loop is an 8-mile round trip. The Divide Creek Trail is a 7-miler, but it is worth noting beforehand that the Blackfeet Tribe area requires a permit which you can get from the tribal Fish & Game office in Browning. This is a fairly moderate trail if approaching from the highway on Hudson Bay Divide.
Accommodation
($$) Mary Village • This residence is a lodge and resort that offers a choice of options from rustic and budget-friendly motel-style rooms to upscale hotel accommodation and small home rentals. The location is an ideal base from which to explore some of the most scenic areas of the park, surrounded by well-known hiking areas like Many Glacier Valley. The residence is close to the East Entrance of the park.
($$) Circle R Motel This accommodation comprises modern, air-conditioned accommodation in East Glacier Park, just over 40 miles from Glacier Park International Airport. Rooms have mountain views and include flat-screen TVs and private bathrooms.
Also known as Big Mountain, Whitefish Mountain Resort is on the border of Glacier National Park in Montana's northwest. This is a world-renowned resort with over 3,000 acres of highly-skiable terrain, comprising a variety of downhill runs that include glades, groomers, and powder that cater to all levels of skier.
Snowfall is ample in this region and impressive views of Glacier National Park and the northern Rockies are in excess from Big Mountain, adding a highly picturesque aspect to the slopes. The nearby resort town of Whitefish is charming and is not short on either dining or accommodation options.
Accommodation
($$) Lodge at Whitefish Lake • This famous Montana lodge is situated right on the shore of Whitefish Lake. It comprises an award-winning restaurant, and amenities include a fitness suite and a full-service spa. All rooms have stunning surrounding views and include a TV, a refrigerator, microwaves, and coffee makers.
($$) TownePlace Suites By Marriot • Located in Whitefish, Glacier Park International Airport is just 6 miles from this 3-star accommodation, and the town of Kalispell is 12 miles. TownePlace Suites rooms include a bathroom, a workspace, a flat-screen TV, and amenities include an outdoor swimming pool, fitness center, a hot tub, a shared lounge, and free Wi-Fi. The accommodation also provides a continental or buffet breakfast.
($$) Grouse Mountain Lodge • Modern-style lodge accommodation with excellent mountain views, comfortable rooms, sauna and hot tub, gym, and shuttles to train station and airport.
Blacktail Mountain Ski Area is about 60 miles from Glacier National Park and is located near the western side of Flathead Lake. The area comprises more than 1,000 acres of ski terrain and overlooks Flathead Lake. It can be accessed easily from Highway 93 South and has a local vibe to it as well as less-crowded slopes than some of the bigger resorts.
You'll find some great views here on clear days along with untouched powder stashes throughout the abundant tree-lined routes along with slopes and runs to suit all levels of ski enthusiasts.
Accommodation
($$) Best Western Plus Flathead Lake • Best Western is located within 8 miles of Blacktail Mountain Ski Area. Flathead Lake is less than a mile from this hotel, and Kalispell City Airport is a 10-minute drive. You can drive to Glacier National Park in about 45 minutes from this point. The hotel features an indoor swimming pool and fitness center and serves a daily hot breakfast.
($$) Travelodge Kalispell • This residence is located in Kalispell, around 30 miles from Glacier National Park. The comfortable rooms all have cable TV and Wi-Fi, and the hotel includes a gym and a business center. The historical Conrad Mansion is also less than a mile from this hotel.
Turner Mountain has some of the best skiing conditions outside of the Glacier National Park. The wide-open slopes, amazing scenery, and distinct lack of crowds make this a highly popular place for serious skiers.
Located in the Kootenai National Forest, a couple of hours from the park itself and close to Montana's Libby, you won't be disappointed by the snow conditions here any time of the season. There are a total of 25 runs, with an approximate ratio of around 10/30/60 percent for beginner, intermediate and advanced terrain.
Accommodation
($$) Evergreen Motel • Evergreen Motel in Libby has a garden, an inner courtyard, and barbecue facilities. The air-conditioned rooms allow garden views and have a seating area, a flat-screen TV, and a private bathroom. The residence is around 50 miles from Glacier Park International Airport
($$) Country Inn Libby • Country Inn Libby is 15minutes from the entrance to Kootenai National Forest, and 5 minutes by car from the Libby Amtrak Train Station. The air-conditioned rooms include cable TV, a microwave, and a refrigerator, and there is an onsite business center.
Final Thoughts
So there you have it. The variety of skiing options in Glacier National Park is impressive, to say the least. Whether you consider yourself more in the advanced category of skier or boarder and fancy the rugged terrains of cross-country slopes inside the park, or would rather stick to resort-style slopes – here you have it all.
Many locals of the surrounding areas comprise the snow-loving skiers and boarders who hit the slopes and powder during the winter months. Yet it still pays to book well in advance accommodation-wise – especially if you do plan on staying inside the park itself.
So whether you are a serious skier looking for adrenaline-fuelled outdoor fun, or just fancy some fun on the slopes with the family, you should now have some idea of what's in store when it comes to skiing in Glacier National Park!
Best Location by Type
The best location outside of the actual park in terms of both skiing and accommodation has got to be Whitefish Mountain Resort for its consistent ranking as a top skiing destination just minutes from the excellent Grouse Mountain Lodge
The best location inside Glacier National Park itself in terms of both skiing and accommodation is probably on the west side as it is easy to access, there are more options for skiing, and it is also quite close to the neighboring towns of Whitefish, Kalispell, and Bigfork — so if you want to you can get the best of both worlds
The best location for families in terms of environment and accommodation depends on which side of the park you prefer but both The Lodge at Whitefish Lake on the west side and Glacier Park Lodge on the east are highly-rated by families because of location and available activities.
Related Articles