Unlike its much larger counterpart, Manhattan oozes the warmth and comforts of small-town Montana living.
Located just northwest of Bozeman and bordered by the Horseshoe Hills, this tiny mountain town was originally named Hamilton (1865) and Moreland (1883) before receiving its current name, Manhattan.
Why Manhattan? As close-knit Dutch families moved to the area to grow barley, Manhattan was named after a well-known malt company as an obvious manifestation of the growing barley empire.
And while Manhattan may not be a bustling city, it's surrounded by Big Sky Country, alpacas (yes, alpacas!), and – true to its origins – multiple breweries.
Read on to learn more about what to do in this beautiful central Montana community, "the heart of the Gallatin Valley."
The Best Hotels For Manhattan
BEST FOR FAMILIES
Fitness Centre
Bar
Facilities for Disabled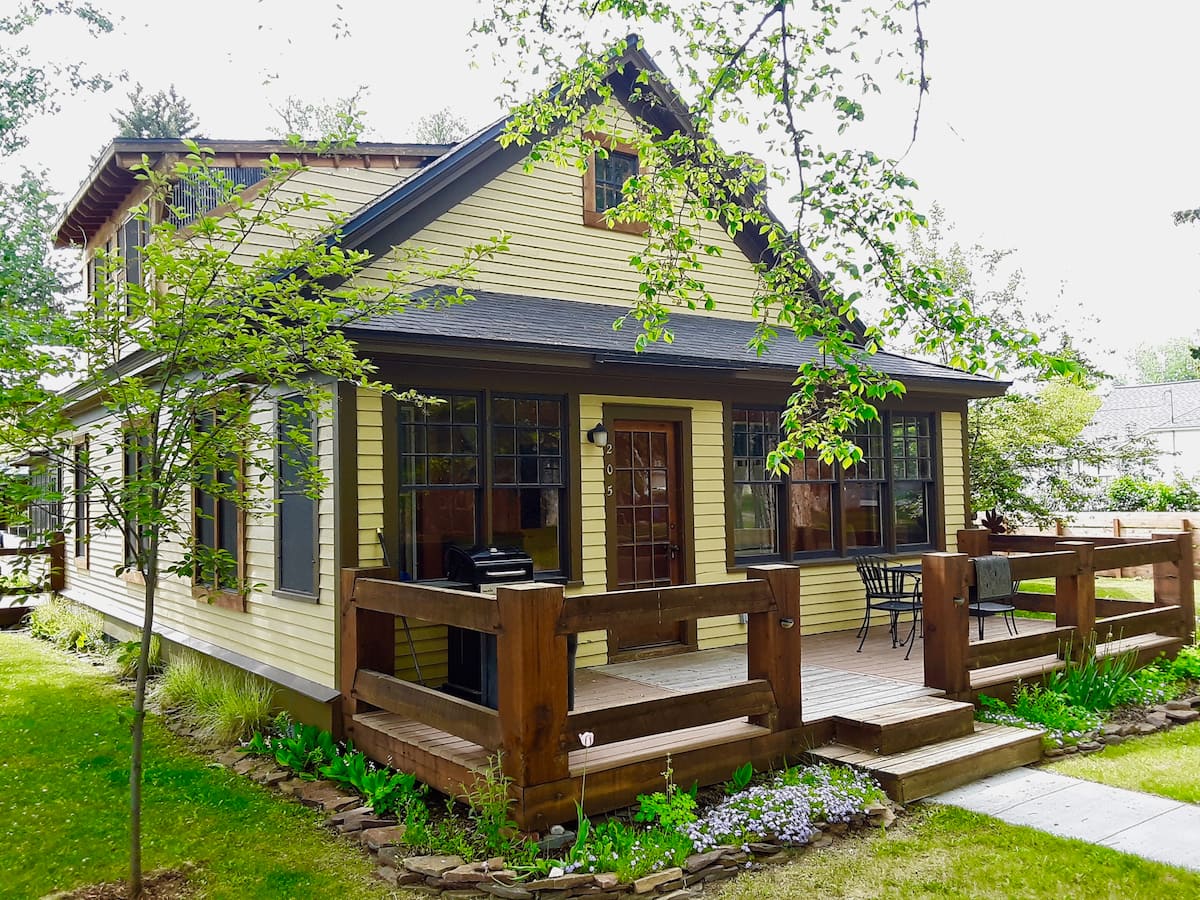 BEST FOR FAMILIES
Free WiFi
Patio
Indoor Fireplace
Main Attractions
Sentinel Ranch Alpacas
Let's start by visiting an alpaca farm! Open year-round, this ranch immerses you in a true alpaca experience – free to families and individuals.
Sentinel Ranch Alpacas hosts farm events throughout the year, including farm-to-table dinners and artistic classes. But, if you came to interact with alpacas on your trip through Manhattan, the kind folks at this ranch will have you hand-feeding and petting these quirky animals in no time.
And let's be honest: who doesn't want an alpaca selfie? Feel free to pack a lunch and enjoy the ranch all afternoon! As you leave the peaceful pasture, be sure to visit the AlpacaLand shop for alpaca fiber sweaters, scarves, gloves, home decor, alpaca meat, and more.
If you didn't pack a lunch, head over to the local mainstay Sir. Scott's Oasis Steakhouse & Lounge for an assortment of Montana steaks. And, speaking of meat and potatoes…
Potato Festival
You're probably wondering: why potatoes? Potatoes have been one of Manhattan's most important crops since the 1950's seed potato farming, so this large celebration lifts the town's agricultural icon to King status.
Every August, the Manhattan community gathers for a fireman's breakfast, parade, 5K, car show, live music, arts & crafts, and more.
There's face painting and french fries for the kids, and specialty drinks for the adults. You can join in on the spudtastic celebration in mid-August, but visit the quaint Garden Cafe for a burger and homemade hand cut fries at any other time of year for a taste of the season.
Madison Buffalo Jump State Park
Nearby Three Forks, MT is home to the gorgeous Madison Buffalo Jump State Park. What's a buffalo jump, you ask? Ancient Native Americans lured herds of buffalo to jump off the park's steep cliffs, then used the buffalo for food, clothing, shelter, and more.
Once horses entered the area in the late 1700s, this unique hunting style became obsolete, but the rugged cliffs still remain as a testament to the skill and resilience of these early hunters.
State park guests note the informative signage, trails (Buffalo Jump State Park Loop), and immersion into Native American culture.
Recreation Activities
Gallatin River Trail
This 1.8 mile hike extends from the center of beautiful Manhattan towards the eastern Gallatin River. Because the trail is paved, it's perfect for families, as well as both pedestrians and cyclists.
Dip your feet in the water at multiple river crossings – and bring your fishing pole along, because the trail leads to the Gallatin Forks fishing access site. Then, come back and have a picnic at nearby Altenbrand Park!
Four Corners & Cobblestone Fishing Sites
Manhattan locals appreciate the close proximity to nearby Belgrade and Bozeman, but like most Montanans, they also revel in outdoor recreational activities.
While Gallatin Forks is always a great option (above: Gallatin River Trail), locals also recommend Four Corners Fishing Site and Cobblestone Fishing Site. Both sites are day use only, but they can be used year-round.
Once your fishing day is complete, head to Broken Arrow Bar – or travel a bit further for pizza and beer at 406 Brewing Company in closeby Bozeman.
Accommodation
While Manhattan proper isn't known for its hotels, you can strike Old West gold in a guest house, ranch house, or luxurious nearby motel. Below are local and traveler recommended accommodations:
Pale Morning Dun Guest House – This 7 person capacity house is the perfect, quiet resting place for those coming from a long fishing day at Four Corners or Cobblestone. Property owners Joe and Alissa live behind the property, providing excellent, real-time care during your stay. Highlights: a gas grill, 3 comfortable bedrooms, and a spacious front porch. Also recommended: Gallatin Guest House.
Twin Rivers Ranch – Unpack your suitcase and prepare for a relaxing night's stay at this ranch featuring vacation rentals, a deluxe cabin, and two beautiful riverside cabins. If you'd like a private fly-fishing guide, Twin Rivers also has wonderful instructors with plentiful knowledge of the natural surroundings. Just call it a 2-for-1!
Lewis and Clark Motel – Located in nearby Belgrade, this family-owned motel boasts the luxury experience of a pool and hot tub – all in view of the beautiful Big Sky Country mountains. Guests rave about the Eucalyptus Steam Room, Old Hollywood design, and central location. Highly recommended!
If you are looking to stay in nearby Bozeman on your visit to Manhattan, you can check out all the available accommodations here.
Special Events
Whether you're a carbs enthusiast (above: Potato Festival), into classic cars, or looking for the highest quality fruits and vegetables in the area, Manhattan has something for the whole family.
One of its biggest community drivers is the well-loved Christmas Stroll, complete with carolers, hayrides, and a fireworks show.
If you're in town on a Wednesday, be sure to check out the farmers' market in the Park at West Main. Thanks for supporting local!
June – Harvest Fusion Festival
July – Classic Car Show & Farm Fun
August – Potato Festival
December – Christmas Stroll
Wednesdays – Manhattan Farmers Market
Activities Near Manhattan
Cities
Recreation Activities
Peets Hill/Burke Park (Bozeman, MT)
Hollowtop Mountain (Madison County, MT)
Lewis and Clark Caverns (Whitehall, MT)
Greer Gulch Loop Trail (Whitehall, MT)
Middle Cottonwood Trail (Bozeman, MT)
Bear Trap Canyon National Recreation Trail (Norris, MT)
City Parks & Pools
Taylor Park
Railroad Park
Altenbrand Park
National and State Parks
Local & Nearby Favorites
Broken Arrow
Garden Cafe
Land of Magic Steakhouse
Sir Scott's Oasis
406 Brewing Company (Bozeman, MT)
Related Articles