Browning, Montana, is the base for the Blackfeet Indian Reservation, a faction of the larger Blackfoot Tribe.
Nestled in the foothills of the Glacier Mountains, Browning is a bustling Native American town with plenty of places to learn about the Blackfeet culture.
Browning has been the headquarters for the Blackfeet Reservation since 1885. The town received its name after the Commissioner of Indian Affairs, Daniel Browning.
The best time to visit Browning is June through September when the weather is warm, and there are plenty of local events to attend.
While you're in the area, visit local gift shops, art galleries, and historical sites.
The Top 3 Hotels in Browning
BEST BUDGET HOTEL
Business Services
Breakfast included
Pets Allowed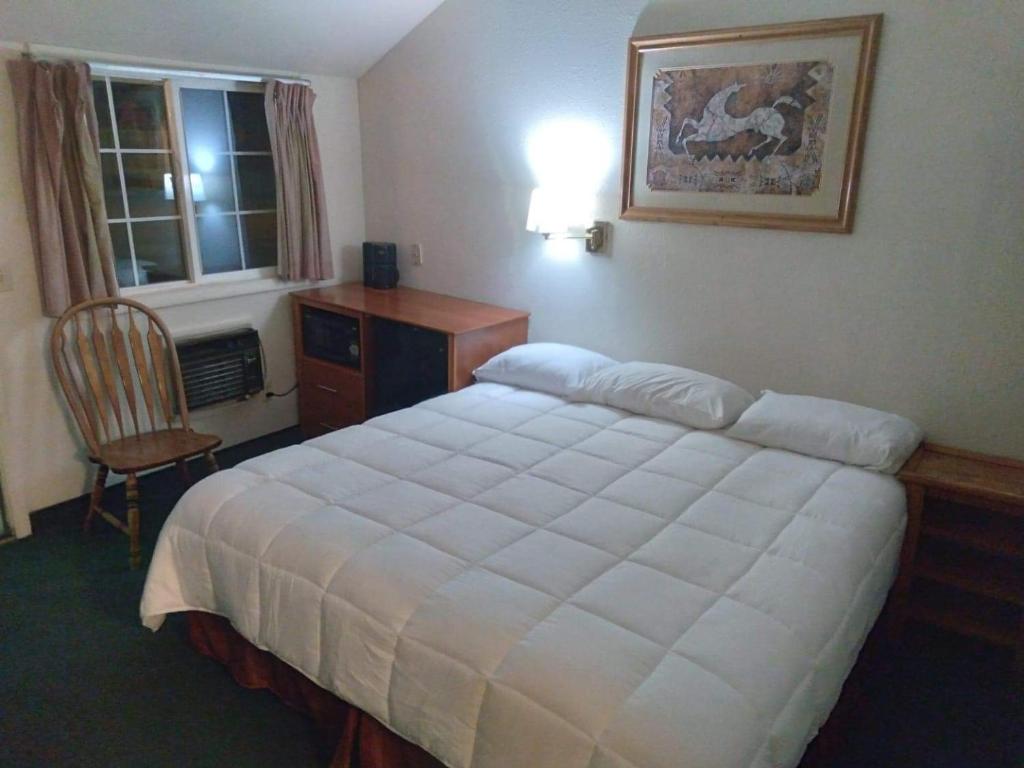 BEST FOR FAMILIES
Soundproof Rooms
Kids Club
Laundry
Main Attractions
Stop by these local spots in Browning and learn about the reservation or pick up something to commemorate your trip!
Specialty Shopping
Check out these family-owned stores on the Blackfeet reservation and pick up a souvenir!
Blackfeet Trading Post – This full-service clothing store also has Native American souvenirs, books, and crafts. Blackfeet Trading Post is a traditional souvenir and gift shop for tourists and a spot for locals to stock up on clothes and outdoor gear.
The Rockin' Outlaw – Shop at this Native American family-owned boutique that sells Western clothing and souvenirs. You can find everything from casual clothes to formal wear for proms and weddings.
Trail & Creek Outfitters – Find all your sporting goods needs at Trail & Creek. Shop for hiking shoes, bladder bags, and an assortment of grocery items. They also have a gift shop where you can pick up souvenirs for your loved ones.
Glacier Family Foods – This is a small-town grocery store with a large selection of grocery and household items. They have a delicious deli counter serving daily lunch specials. You can also find Blackfeet bison meat; pick some up to make homemade stew!
Historical Sites & Landmarks
Visit these landmarks and take some photos of the beautiful reservation.
The Blackfeet Nation Marker – Stop and park and enjoy the scenery, or get out and explore a little bit while reading about the reservation. Check out the fascinating sculptures near the marker!
East Glacier Ranger Station – Architecture enthusiasts will enjoy visiting this ranger station built in the 1920s. The site is well-maintained and a treasure in the community.
Also, check out the Blackfeet Nation Entry Post!
Museums & Galleries
Learn about Blackfeet nation at the area's museums and art galleries.
Diamond R. Brown Cowboy Museum – See the Western memorabilia, antiques, and collectibles at this cowboy museum. Diamond Brown was a model for CM Russell, a bullwhacker, trader, and rancher.
Museum of the Plains Indian – Founded in 1941, the Plains Indian Museum features exhibits of Native American clothing, weapons, and other everyday items from the past. Also, check out their contemporary Native American art promotional exhibits.
Blackfeet Heritage Center and Art Gallery – This art gallery features authentic Native American artwork and crafts. Check out the Lewis and Clark commemorative coins and the baby T.Rex fossil.
Lodgepole Gallery – Visit this art gallery that spotlights contemporary and traditional Native American artwork and handmade crafts. Once done in the gallery, book a night in one of their authentic Tipis! Sleep under the stars close to Glacier Peak and relax by an open campfire.
Parks
Explore a nature park while taking a short hike, or check out the local skatepark!
Elouise Cobell Park – Spend the afternoon taking in the sights and sounds of the deep, crystal blue lake. It's a short hike to the lake and a perfect spot to watch the sunrise.
Thunder Park – An excellent place for kids and adults alike to skate and socialize. There are also walking trails available for anyone wanting to get some exercise.
Nightlife
Kick back with friends and family at these small-town hangouts.
Kip's Beer Garden – The ultimate nightspot in Glacier County, drink, dance, and sing karaoke! They host festivals and raves for adults and have delicious food throughout the summer.
Glacier Peaks Casino – With over 300 slot and video game machines, there is no shortage of fun at this casino. Stop in their coffee shop for some joe, grab a cold drink at the lounge, or get some grub at the restaurant if you need a break.
Trailhead Saloon – Check out this old Western-style saloon serving cold drinks in a great, fun atmosphere!
Recreation Activities
Explore the beautiful landscapes around glacier county.
Horseback Riding
Glacier Gateway Trail rides offer guided horseback rides through the trails in the Glacier Mountains. This family-owned ranch is open seasonally during the summer, and they are an excellent spot for all levels of riders.
Hiking
Glacier County has excellent hiking spots. Try Midvale Creek trails for an easy hike. It's a 2-mile hike along the creek. Enjoy scenic mountains views and water.
Fishing
You can also fish in the stream along the Midvale Creek trail; just make sure to obtain a fishing license first! Check out Aubery Lake just three miles from North Browning for some excellent fly-fishing.
Camping
Sleeping Wolf Campground and RV Park provide spots to park your RV, or you can reserve a campsite. They have ten campsites under shady trees and right next to a creek. Enjoy scenic views of 53 mountain peaks, including some in Canada.
Duck Lake Campground is another great camping option. They have 16 lakeside campsites and RV parking with electricity. Swim or fish in the lake right next to your tent!
Accommodation
Are you looking for a comfortable place to stay in Browning? Try one of these hotels in the area.
Special Events
The only notable special event in Browning is the Blackfeet Nations Annual North American Indian Days.
This event takes place in July for four days of fun in the Montana sun! There are contests, dancing, games, and sporting events. Blackfeet traditions are on full display for this particular time of year!
Activities Near Browning, Montana
Cities & Towns
Trails
Parks
Family Fun
Related Articles
Latest in Browning
Are you feeling lucky? Well, if you are heading in the direction of Montana your chances…