Make no mistake: Montana loves the fact that famed explorers Meriwether Lewis and William Clark came through this beautiful state from 1804 to 1806.
It's a source of immense pride and cultural identity, playing a large role in American history and exploration – and we'll take any opportunity to celebrate it.
That's why the summertime Lewis and Clark Festival in beautiful Great Falls, the heart of north central Montana, is visited by Montanans and travelers alike.
Going back to one of the greatest expeditions Montana has seen, the folks in Great Falls love to bring multiple communities together in the name of tradition during the third weekend of June.
Between the historic reenactments (Thomas Jefferson! cannons!), presentations, and Native American drumming next to stately tipis and campgrounds, there's something for everyone at this gathering – history buff or small child.
While the Lewis and Clark Foundation has been present in the community since 1991 and opened to the public in 1998, it didn't take long for the festival to grow its own wings as another source of Great Falls pride.
Journeying back in time through the weathered 1805 journals of Lewis and Clark, along with exhibits and food, it's easy to enjoy the magic of time travel here (Just come back in time for the amazing food vendors!).
If you're visiting from outside of Great Falls, be sure to check out the city's many waterfalls, from the Ryan Dam to the freshwater Giant Springs State Park, discovered by none other than Lewis and Clark in 1805.
Great Falls is right along the Missouri River, making it an ideal location for fishing, hiking, and camping, but it's also home to a museum and former living quarters of famed cowboy artist, C.M. Russell. Simply put: Great Falls has a lot to offer.
Let's get into what makes this festival so great, from the tipis to the food vendors to the reenactments.
The Top 3 Hotels in Great Falls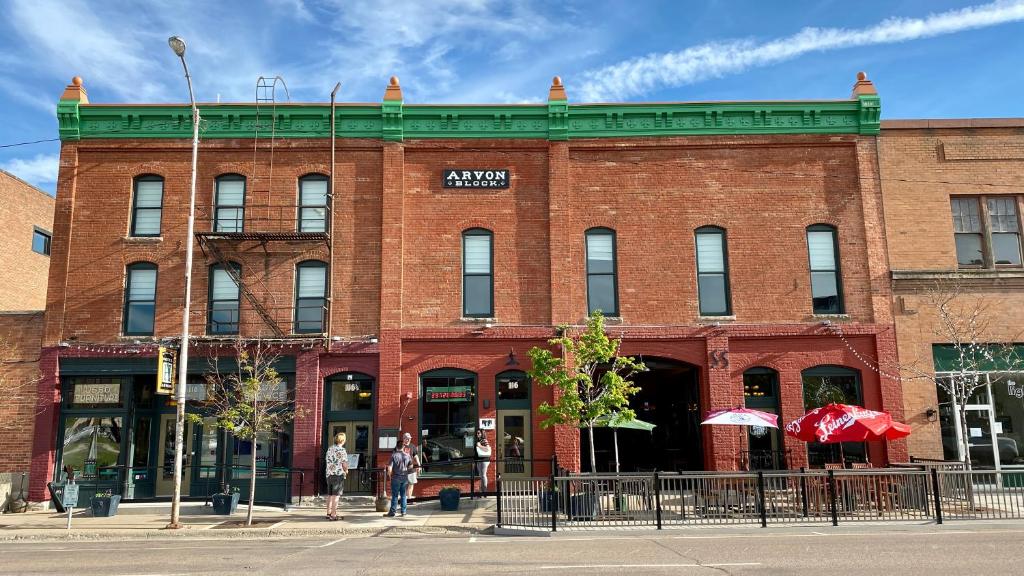 BEST FOR FAMILIES
Tea/Coffee Maker
Pets Allowed
Tea/Coffee Maker
BEST OVERALL
Tea/Coffee Maker
Free WiFi
Pets Allowed
BEST FOR FAMILIES
Free WiFi
Bar
Facilities for Disabled
Lewis and Clark Festival Event Details
You have to be something of a history buff to love Montana! There are so many unique American history – and indigeneous American history – opportunities to explore our great state, and that's why we adore the Lewis and Clark Festival.
Here are a few details about one of the best underdog fests in the state:
Dates: Third weekend in June; June 17 to June 19, 2022
Admission: Free; Bring money for vendors
Contact: Lewis and Clark Foundation
Facilities
Ah yes, we're getting to the good stuff. Interested in Native American history as it relates to Lewis and Clark's expedition? You'll find that here.
But we'll also get into the nitty-gritty details to help you feel more comfortable with this historical exploration. Let's go!
Admission, History, Music, & More
Yes, it's true – the Lewis and Clark Festival is completely free to attend, although you'll want to bring a few extra dollars to support the local food vendors, artists, and musicians.
Walk onto the festival grounds and you may smell a burning campfire, gunpowder, sumptuous snacks, or hear the undulating rhythms of Native American drummers dancing under the warm June sky. Let's jump right in!
Before the festival even begins, there's usually a high-energy music performance at the bandshell to get you excited about the upcoming days.
In recent years, Great Falls folks have seen the likes of Laney Lou and the Bird Dogs, a great Americana and bluegrass band out of Bozeman – but we like to keep it in the Montana family, no matter who's playing. And if that concert isn't enough to get you riled up, there's typically a jam session between bands after sets are completed. Don't miss out!
On the initial morning of the Lewis and Clark Festival, be prepared for a special opening ceremony to welcome in the fun – a black powder ceremony, in fact (Pro tip: cover your ears!).
After that, it's officially reenactment time: Native American camps and tipis (on what was once Salish land), dancing and celebrating, historic dress from the early 19th century, as well as a Children's Discovery Area with fun games and mesmerizing stories.
In these games, kids may reenact trading items (blankets, furs, food) to get a better understanding of life during this expedition.
Beyond the beautiful and joyous indigeneous celebrations, a clear mark of the collaboration between Lewis, Clark, Sacajawea, and multiple tribes, we also have a soft spot for the Newfoundland dogs at the event.
Why dogs? Before leaving on his strenuous adventure across America, Meriwether Lewis bought a Newfoundland dog named Seaman who would be a great companion for the crew. Because of this, you'll probably find more than a few gentle companions on site, ready for pets and snacks.
Be on the lookout for the statue of Seaman as you get closer to the banks of the Missouri River!
We also love the classy Thomas Jefferson performance – yes, that would be our third president who tasked Lewis and Clark with taking on the wild and uncharted western lands of America. Be aware that there's limited seating in the theater, so you'll want to get there in record time to enjoy the show!
Going back 200 years into our country's history isn't easy – we can't know exactly what Lewis and Clark were thinking. But we have a pretty good idea because of their prolific journal entries, which you'll have the opportunity to witness in real-time throughout the festival days. Authenticity at its best!
Last but not least, we recommend the optional guided tour on Sunday that takes you along the Portage Route throughout Great Falls, or the river boat cruise to Gates of the Mountain, which provides the opportunity to see Montana wilderness more closely to the Lewis and Clark eye.
We especially love the boat cruise as an epic way to marvel at Montana's natural beauty, but the hike follows the Lewis and Clark route with accuracy. Why not do both? Call the contact number above to sign up for either of these events.
Food, Art, & More
Moving on to one of the best topics on Earth: food! You'll find numerous food vendors at the Lewis and Clark Festival that change depending on the year.
In the past, Great Falls folks have chowed down on savory hot dogs and spicy tacos and burritos as well as scoops of delicious Kona Ice. All perfect for a midsummer June day!
You can find numerous fine arts vendors on the festival grounds, as well as talented crafts made by local artisans. From indigeneous beads to bags, you'll probably need to get your wallet out for this one
As a side note, we'd love to recommend The Crafters Lounge in Great Falls – it's a great summertime opportunity for kids, to explore their own creative side or purchase from even more local crafters.
Back to the festival, though, check the official website for up-to-date food and art vendors! They get more exciting with each passing year!
Miscellaneous
Because the Lewis and Clark Festival is free for the whole family, we expect a lot of visitors to this community celebration. While there's plenty of parking at the Heritage Foundation and Interpretive Center, we also suggest parking along Giant Springs Road.
Or, we recommend biking over towards the Missouri River – check out the Rainbow Scenic Overlook beforehand if you're on two wheels!
There's ridesharing and carpooling, another positive impact on the environment so we can continue to have this fascinating festival for seven more generations.
Because this is mostly an outdoor festival, pets are allowed on the premises, but we do recommend keeping them leashed. Newfoundlands are notoriously sleepy, gentle dogs, but you never know how your own pet will react to them. We suggest packing enough treats for both!
Accommodation for the Lewis and Clark Festival
We absolutely love this north-central area of Montana, with its numerous waterfalls and countless historic sites.
It's always a good idea to spend a few more days in a city to get a better understanding of its inner workings, and Great Falls never disappoints.
First on our list is the gorgeous Hotel Arvon, a newly remodeled historic accommodation that originally opened in June of 1890 by the first European settler in the area. It was slated for the wrecking ball in 2010, but as often happens, Montanans banded together to create a restaurant, coffee shop, and now, a hotel.
And yes, the beds are extremely comfortable! Also great? The  Holiday Inn Great Falls-Convention Center, which we love for its sleep-worthy sheets, hand-painted waterfall in the atrium, and pool with a slide for the kids.
And although not as close to the festival grounds, check out the locally owned and operated Heritage Inn, which has some incredibly personal touches that let you know it's local.
While we do love Giant Springs State Park as a day-use hiking, fishing, and picnicking spot, it doesn't offer any overnight camping, so we've provided a few suggestions to get rugged in nature. We hope you enjoy the festival – let us know how it goes!
Related Articles