America's first national park, Yellowstone stretches over more than two million acres across the states of Wyoming, Idaho, and Montana.
Home to geothermal and geological wonders like Old Faithful and the Grand Canyon of the Yellowstone, the park boasts outstanding scenery, fascinating ecosystems, and abundant wildlife roaming the terrain just as they've been doing for millennia.
With a long list of world-famous attractions to witness, the park draws in visitors from all over the planet. Guests can base themselves in the park itself at one of the many lodges. Alternatively, they can stay in one of the bustling communities surrounding the five entrances to the park.
To help you choose the perfect accommodation for your itinerary, budget, and travel style, we've listed the top-rated Cabins to Rent in Yellowstone National Park. See them below
Travel Tips for Staying in Yellowstone National Park
What to Know About Yellowstone Before You Go
Regardless of where you stay in Yellowstone National Park, you'll need an entrance pass. Seven-day passes start at $20 for individuals with no car and $35 for private non-commercial vehicles.
For a full list of entrance pass prices and options, please visit the official National Park Service website.
When thinking about cabin rental in Yellowstone National Park, it's important to consider the top attractions that you want to see, and when you want to see them. Prioritizing what's the most important to you will help you decide where in the park you'd like to say.
The more popular attractions, such as Old Faithful, tend to offer vastly different experiences depending on what time of the day you actually visit them, some attractions will get crowded.
Typically, the busiest times in the park are from 10 a.m. to 5/6 p.m. Visit during these hours and you could spend a long time lining up, only to have other guests obstruct your view in the end anyway.
The best time to avoid the crowds at the geyser is early in the morning, or late in the afternoon. So it might pay to stay somewhere nearby if you plan on being there early.
Similarly, Yellowstone Lake is best to visit during the day, when most of the crowds are at Old Faithful (Yellowstone National Park Lodges).
If observing wildlife is one of your priorities while visiting the park, it's important to get up early or stay out until dusk, as these are the times when the wildlife are most active.
One of the best vantage points for viewing bison, in particular, is Hayden Valley, which lies mostly to the west of the Yellowstone River in Wyoming.
Another popular location for viewing wildlife inside the park is Lamar Valley, in the north-eastern corner of the park. Visitors often spot wolves, bears, coyotes, and bighorn sheep here, which also tend to be more active around dawn and dusk.
Should I Stay Inside or Outside the Park?
When tossing up between staying inside or outside the park, there are a few things to keep in mind. Firstly, accommodation tends to be cheaper outside the park. While there are costlier options outside the park too, lodging, in general, is more expensive inside.
Secondly, there is limited mobile network and Wi-Fi coverage inside Yellowstone. So if a secure internet connection is important to you, it might be better to stay in nearby accommodation and make day trips to the park.
All Yellowstone cabins tend to book quickly, especially in the popular summer months. So be sure to book well in advance. If you'd like to stay inside the park, you usually have to book a year in advance, while accommodation in the communities outside the park tends not to fill up quite so quickly.
Staying in the surrounding towns also gives you access to more amenities, such as supermarkets and a wider range of restaurants. Fuel is also cheaper outside the park than it is inside.
Weather and Specific Items to Pack
The weather in Yellowstone National Park can bring conditions from all four seasons in a single day. So it's important to pack for both the cold and the heat when visiting in summer, fall, and spring.
Also be sure to pack binoculars, since it's important to keep a safe distance from any wildlife you encounter.
Even if you are staying at a crowded lodge or RV park, it's important to bring a trusty flashlight as artificial light tends to be poor in the park at night. Of course, this makes stargazing all the more spectacular.
Other important items to bring include hand sanitizer, food, a water cooler, a refillable water bottle, and an insulated mug to keep coffee warm, especially if you're staying outside the park and want to sip your drink on the drive in.
What to Do Inside the Park
Some of the most popular attractions in the park include Grand Prismatic Spring, the Lamar and Hayden Valleys, and Mammoth Hot Springs.
While some visitors choose to remain in their cars and just observe the landscape from the road, there are more than 1000 miles of trails to explore. Only a sliver of the park is accessible by the road. The rest of the 2.2 million acres can only be discovered by foot, so it's worth factoring in at least some hiking to your itinerary.
Other than avoiding the busiest times of day, you can avoid large crowds by not traveling to Yellowstone in July and August. You can also swap the most popular highlights for hidden gems.
For example, most guests flock to see Old Faithful, not realizing there are actually 500 other geysers in the park that won't attract nearly as many crowds. (Lonely Planet).
The park is dotted with visitor centers which can provide help, guidance, and advice at any time. Each region of the park has a visitor center so don't hesitate to stop in for information or a ranger talk.
Safety Inside Yellowstone
To stay safe in the park, it's important to hike in groups and avoid being alone on the trail. This will significantly reduce your chances of a negative bear encounter.
Always carry bear spray and make as much noise as you can to ward off curious bears.
Always keep your distance from wildlife, staying 100 yards away from bears and wolves and 25 yards away from smaller animals, such as squirrels.
To 3 Cabins to Rent in Yellowstone National Park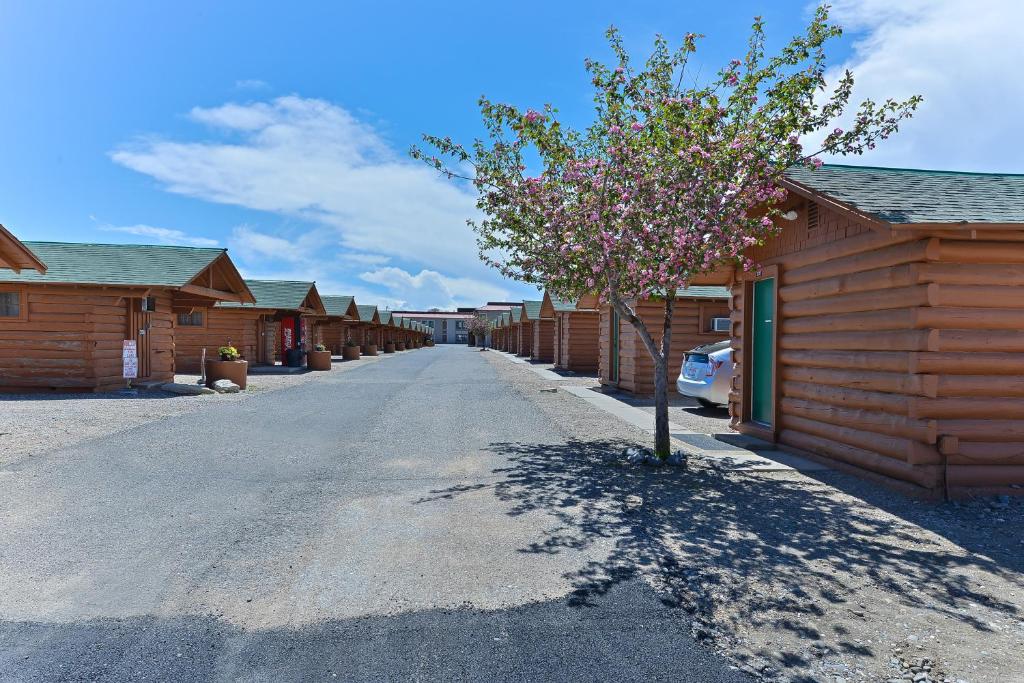 BEST OVERALL
Tea/Coffee Maker in All Rooms
Picnic Area
Bar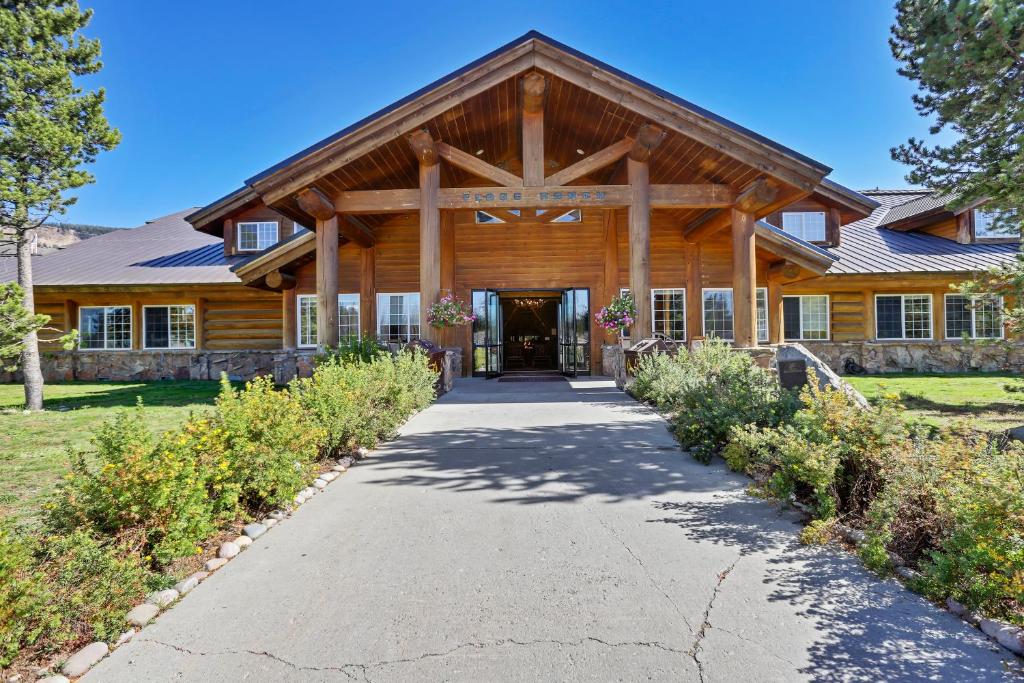 BEST FOR COUPLES
Bar
Tour Or Class About Local Culture
Pets Allowed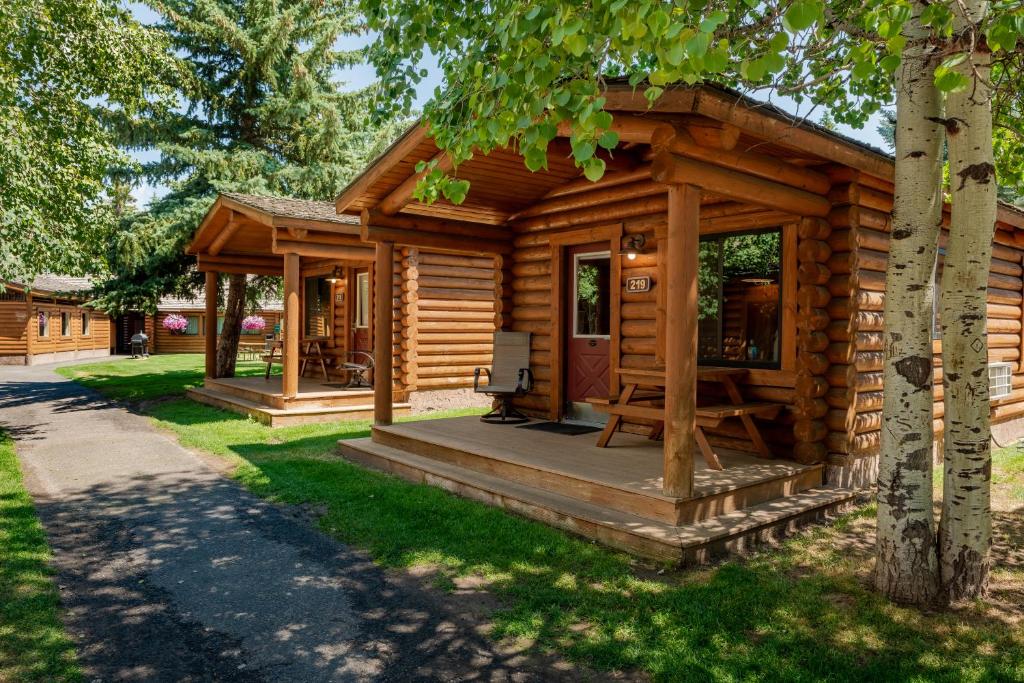 BEST FOR FAMILIES
Pets Allowed
Free Wi-Fi
Tea/Coffee Maker in All Rooms
List of the Best Cabins to Rent in Yellowstone National Park
Visitors are spoiled for choice when it comes to cabins in Yellowstone National Park. There are pros and cons of staying both in and outside of the park, and the right decision will come down to your priorities and budget.
But whatever you decide, there are plenty of choices within the park and near the five entrances.
North Entrance
Northeast Entrance
East Entrance
South Entrance
West Entrance
Inside Yellowstone
North Entrance
The North Entrance to Yellowstone is the only entrance that is open year round, so this could be a good choice for those who'd like to visit the park in winter. This entrance also brings you right to Mammoth Hot Springs.
Sage Lodge is located in Pray, Montana, on the banks of the Yellowstone River. It is only 35 minutes away from the park's entrance and also close to other outdoor recreation activities, including many rivers and streams perfect for fly fishing, the Bridger Bowl Ski Area, and Chico Hot Springs.
The cabins offer a rare combination of pure comfort with a rustic vibe. There is a handful of dining options on the premises, making this a great choice for foodies. Here you'll find The Grill at Sage Lodge and The Fireside Room, where you can enjoy high-quality meals in a casual setting.
The lodge is home to a hot tub for the ultimate relaxing experience after a long day exploring the park. There is also a terrace boasting spectacular views of the river.
Northeast Entrance
If you are determined to spot some wildlife while at Yellowstone, staying near the Northeast Entrance might be the best option for you. This will bring you to the Lamar Valley, one of the best locations in the entire park for observing wildlife.
Most animals in the park tend to be most active around dawn and dusk, so it pays to stay nearby and arrive early for your best chances of witnessing wildlife.
A quiet and relaxing little village, Silver Gate is situated less than a mile from the park's entrance. Often, guests can view wildlife directly from their cabins, but it's only a short distance to the Lamar Valley, which is sometimes called America's Serengeti.
The log cabins at the property come complete with full kitchens, charcoal grills, and fire pits. Some of the units have sublime views of the premises and the surrounding landscape of snow-capped mountains. There is also a children's playground, barbecue facilities, and a bar on the grounds.
Silver Gate is generally open in the warmer months only, from May through October. However, some cabins are open in winter too.
East Entrance
The East Entrance brings guests directly to Yellowstone Lake, one of the park's most treasured highlights. It also has a wide range of accommodation options available, many of them at lower prices.
Located in Cody, Wyoming, the Buffalo Bill Cabin Village offers 83 historic cabins that will make guests feel like they've been transported back to the days of the cowboys.
While the exterior of the cabins is made from a traditional hand-hewn logs, the insides are equipped with all the necessary modern amenities, including free Wi-Fi and flat-screen TVs.
One of the benefits of staying at Buffalo Bill is there's a free airport shuttle service traveling between the cabins and Cody airport. Also available on the premises is an on-site restaurant and outdoor pool.
Only a short distance from Yellowstone, the cabins are just five minutes away from the Buffalo Bill Center of the West, which features a complex of five museums. The Cody Nite Rodeo is also only a five-minute drive from the village.
The Pahaska Tepee Resort is only two miles away from the park, making it the closest lodging to the park's East Entrance.
Despite the resort's name, there are no canvas and pole tepees for guests to stay in—the moniker comes from the Sioux name for lodge, which is tepee.
Instead, guests stay in A-frame cabins, while the resort is also home to a restaurant and tavern, a gift shop, and a gas station. Guests can also enjoy recreational activities here, such as trail rides which are offered from late May through September.
The cabins all have comfortable heating systems and private bathroom facilities, however, there are no televisions. There are also hot tubs in the Honeymoon Cabins, along with king-size beds and spacious porches.
Elephant Head Lodge was originally opened in 1910, and while it has been renovated and refurbished over the years, it still carries its rustic charm. Many of the cabins and the lodge itself are listed on the National Register of Historic Places.
The lodge is located on the edge of Shoshone National Forest, less than 12 miles from the East Entrance to Yellowstone.
There is a restaurant dining room on the premises that serves breakfast and dinner, along with a packed lunch for guests to take into the park. They are also famous for their homemade cinnamon scrolls!
There is a lounge and bar at the lodge, along with a family room and office where guests can get help planning tours and recreational activities.
South Entrance
Located near Jackson, Wyoming, the park's South Entrance is popular among guests.
If you choose to base yourself near this entrance, you have close access to, not one, but two national treasures: Yellowstone National Park and Grand Teton National Park.
Headwaters Lodge & Cabins at Flagg Ranch is just minutes away from the South Entrance of Yellowstone and Grand Teton National Park.
It is home to the Western saloon Sheffield's Restaurant and Bar, where guests can enjoy hearty dishes and a range of beverages.
Staying at the lodge gives guests a chance to disconnect from the modern world and get in touch with nature.
The premises has limited Wi-Fi and cell phone service but does offer a range of fun recreational activities such as hiking, fishing, and horseback riding.
Cabins are in standard, deluxe, or premium varieties and come complete with front porches and rocking chairs, where guests can relax and take in the natural scenery.
There is also a campground with tent and RV sites on the grounds.
Antler Inn is one of four Town Square Inns. It is located just a block away from the western Town Square in Jackson, where guests have an array of restaurants, shops, art galleries, and nightlife at their fingertips.
The inn boasts several cabins, along with a hot tub, sauna, and fitness center. It is also located within driving distance of both Yellowstone and Grand Teton National Parks. During the winter months, a free ski shuttle service is provided to guests.
The cabins and rooms are spacious and come with several amenities, including cable TV, a coffee maker, a fridge, and a work desk.
Another one of the four Town Square Inns, the Cowboy Village Cabins offers 82 cabins and two spacious lodge rooms for guests to choose from. Cabins in the resort are dog friendly, and the premises also have their own pool and hot tub.
The Western-style cabins have a country feel and are nestled within a forest, allowing guests a slice of peace and solitude. There is a large outdoor deck on the grounds that has a barbecue and picnic area, offering plenty of recreational activities.
Guests typically love the Cowboy Village Cabins for their premium location, two miles from the National Elk Refuge, 10 miles from Grand Teton National Park, and 55 miles from Yellowstone.
It is also only a short drive from the Jackson Hole Airport.
Elk Country Inn has 25 modern log cabins and serves as another prestigious Town Square Inn.
Walking distance from Jackson's bustling downtown scene and the world-famous Cowboy Bar, the inn is also in close proximity to both national parks and the National Elk Refuge.
The cabins have extended kitchenettes and modern amenities, while the resort has a fitness center, laundry facilities, and an outdoor picnic and barbecue area.
The resort is part of Jackson's shuttle line, which offers guests access to all of the nearby ski resorts in the wintertime.
West Entrance
Many people visiting Yellowstone National Park choose to stay close to the West Entrance. Even though it's not open all year, this entrance brings guests directly to geyser paradise, where they'll get to see top-rated attractions such as Old Faithful.
The lodging options at Brook Trout come in a range of sizes and styles, featuring cabins and mountain homes that accommodate anywhere from 2-19 people.
The properties are all equipped with convenient amenities such as full kitchens, cable TV, bed linens, private yards, Wi-Fi, and private decks and patios.
The resort is located less than eight miles from the park's West Entrance and gives guests access to all the facilities in West Yellowstone, including dining and shopping outlets.
The owners also live close by the resort and are available for advice and guidance about what to see and do in West Yellowstone.
Offering magnificent mountain views, the cabins are pet friendly and are all distinct from one another. You won't get the feeling of staying in cookie-cutter cabins, but rather an individual property that perfectly suits your tastes and the size of your party.
There are 50 cabins in total in West Yellowstone's Explorer Cabins complex. Open throughout the year and sectioned into five areas, the cabins allow guests to develop a sense of community, meet new people, and reconnect with their travel companions.
Some of the cabins are pet friendly, and they come in a variety of styles to suit your individual needs. There are also community fire pits, and each guest is given a complimentary S'mores Kit, which encourages travelers to mingle with their neighbors.
The property is only two blocks away from the West Entrance to Yellowstone. It is also two blocks away from West Yellowstone's lively downtown area.
Inside Yellowstone
If you have your heart set on staying within Yellowstone itself, there are lots of highly rated accommodation choices at your fingertips.
While lodging in the park tends to be more expensive than resorts and hotels outside Yellowstone, some guests feel that the only way to truly experience the park is to stay on the grounds.
It's a good idea to book your accommodation inside the park well in advance, as this tends to fill up the quickest. As a rule of thumb, start booking a year in advance if you plan on traveling in the popular summer months, and eight months ahead of time for less popular travel periods.
The lodging options at Mammoth Hot Springs Hotel & Cabins range from elegant hotel rooms to charming Frontier Cabins.
The cabins come complete with two queen beds and a shower, sink, and toilet. There are also Hot Tub Cabins, which feature an outdoor hot tub large enough for six people.
The hotel has several public spaces, including a ski shop and lounge area, and the renowned Terrace Grill. Guests enjoy the convenient location along with the wildlife that tends to pass the surrounding area at dawn and dusk.
Lake Yellowstone is one of the most popular destinations within Yellowstone National Park, and staying nearby gives you immediate access to the lake before hordes of other travelers arrive.
The oldest hotel in the park, Lake Yellowstone Hotel & Cabins has been standing since 1981 and offers guests a charming and unique experience.
As the hotel has no televisions or radios, guests are encouraged to pass time in the common areas where they can meet other travelers and make new friends.
The Frontier Cabins were built in the 1920s but were remodeled between 2003 and 2004. They are open from mid-May through late September when much of the park closes for the winter season.
Canyon Lodge & Cabins – Grand Canyon of the Yellowstone River – $$$
The Grand Canyon of the Yellowstone River is one of the park's most treasured gems, located close to the eastern boundary.
Canyon Lodge & Cabins is not only a great base point from which to explore this side of the park, but it's also one of Yellowstone's most eco-friendly hotels.
Canyon Lodge & Cabins is the park's largest lodging property and underwent major renovations in 2016, with the construction sourcing recycled materials such as bottles from park visitors and wood from local trees killed by the pine beetle.
More than 500 rooms and cabins are available at the lodge, with the cabins featuring two queen beds, a full bathroom, and a shared front porch. In the main public building, there is a gift shop and a selection of eateries where guests can socialize.
There are two types of cabins available at the Roosevelt Lodge Cabins, which is located in the northern central area of Yellowstone National Park, close to the Lamar Valley and Mammoth Hot Springs. The first type of cabin is the Frontier Cabin, which has two double beds and bathroom facilities.
There are also the Roughrider Cabins, which as the name suggests, are more rustic. These contain a wood-burning stove but there are no bathroom facilities. Guests are welcome to use the communal shower and bathroom facility nearby.
Roosevelt Lodge itself is a restaurant and is only a few minutes away from the cabins. One of the park's most intimate and charming restaurants, the lodge boasts a porch with rocking chairs where guests can wait for a table, admiring the rolling hills in peace.
Cabins to Rent in Yellowstone National Park – Conclusion
There is no shortage of Yellowstone National Park cabins to choose from, whether you'd prefer to stay inside the park or in the communities surrounding the entrances. We've rounded up the highest-rated options, and summed up the very best of each category below:
Related Articles