Montana's largest city isn't really all that large – Billings has a population of 109,595, which helps it keep that friendly small-town Montanan feel while having some of the bustle and entertainment you can only find in a city.
Whether you're in Billings for one night or a little longer, make sure to get the most out of your trip by picking the neighborhood best suited to you.
The best areas to stay in Billings:
The best base for an overnight pit stop: The Southwest Corridor sits right off Interstate 90, so is the quickest area to access for people just looking for a break from the road. The accommodation is cheap and you won't be going far out of your way. Some of the views over Yellowstone River aren't half bad, either.
Best neighborhood for things to do: Downtown has the highest concentration of bars, shops, and museums in Billings. It is by far the most interesting neighborhood in terms of things to do – the Billings Brew Trail is downtown, as is the Yellowstone Art Museum and dozens of other fun activities to try.
Staying in Billings on a budget: Billings isn't an expensive city, but some areas are cheaper than others. For budget hotels, the Southwest Corridor is hard to beat, though downtown has some very reasonable prices as well.
The best area for families: Billings Heights, with its quiet residential streets and relaxed atmosphere, is ideal for families. There are dozens of parks and hiking trails that start in Billings Heights, making it a great choice for families that love the great outdoors!
The Top 3 Hotels in Billings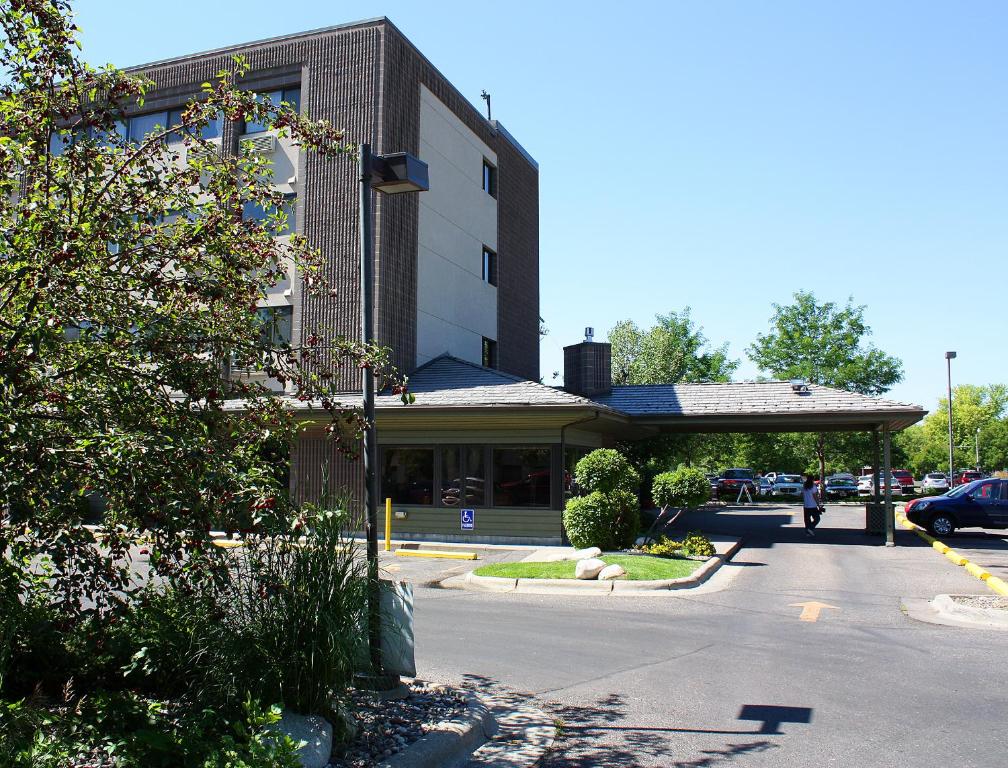 BEST BUDGET HOTEL
Tea/Coffee Maker in All Rooms
Fitness Center
Free WiFi
BEST OVERALL
Free WiFi
Spa
Fitness Center
BEST FOR FAMILIES
Free WiFi
Tea/Coffee Maker in All Rooms
Pets Allowed
1. Downtown

Downtown is where all the action happens. The busiest part of Billings has everything you would expect in a city center, with shops, museums, restaurants, and nightlife all concentrated into this district.
It's also one of the nicer parts of Billings in terms of architecture. There are plenty of historical buildings – particularly in the North Side area – ranging from the time Billings was first known as 'Magic City' in the late 1800s, to the 20th-century architecture that dominates the city today.
Downtown is the district leading Billings into a creative, trendier new era. Murals and street art give some of the more drab alleyways a fresh burst of life, the district is filled with new artist studios, and the Yellowstone Art Museum is dedicated to contemporary art. There are a few more traditional museums in the area as well, detailing local history: the Western Heritage Center is housed in an impressive building in historic downtown, and the 1903 Moss Mansion is arguably even better.
While the museums are fantastic, it's the craft beers and breweries that are really putting Billings on the map. The Billings Brew Trail is famous in Montana. Six breweries, two distilleries, and one cider house are all within easy walking distance of each other – and that doesn't include the four additional breweries in Billings a little further afield. They all have different atmospheres in addition to their original ales and spirits – the Thirsty Street At The Garage brewery often has live music performances on the weekends.
Downtown is also one of the best areas for shopping and eating out, as the neighborhood is home to most of Billings' boutiques and restaurants. Make sure to head to South Park at the weekend! It hosts a farmers market every Saturday from July until October. Sports fans will want to experience Dehler Park, the authentic home of minor league baseball team Billings Mustangs.
Some of the more practical necessities are on the west side of downtown, including the hospital. Montana State University and the pretty 'tree street' are also located in this area.
Best Hotels in Downtown:
($$$) • Home2 Suites By Hilton Billings • 2.1 miles from Billings Logan International Airport
($$) • Best Western Plus Clocktower Inn • Less than 7 minutes walk to Yellowstone Art Museum
($) • Riversage Billings Inn • A 4-minute walk from Dehler Park
Best Airbnbs in Downtown:
($$$) • Modern & Clean Getaway in the heart of Billings! • Breweries, museums, and shops in easy walking distance
($$) • Adorable Tiny House near hospitals & breweries • 1 mile from the brewery district
($) • Not A Typical Abnb – Large Private Suite & Theater • Very close to downtown's most popular attractions
2. Southwest Corridor
Billings is only 100 miles from the closest entrance to Yellowstone National Park. This makes it a popular stop for brief overnight stays on road trips traveling through Montana.
The Southwest Corridor is the area surrounding Interstate 90, so it's an ideal location for weary travelers needing a rest. For this reason, there are a number of hotels lining the route, ranging mostly from budget motels to the usual chain brands.
While the Southwest Corridor is a place people usually stay for sheer convenience, it does have a charm of its own. The Yellowstone River and lovely scenery of Riverfront Park sit just across the interstate – there are a number of Airbnbs in this quiet, scenic corner of Billings. You'll find many people out enjoying nature; fishing, following the trails, or just sitting outdoors for a picnic. It's a lovely escape from the city.
As is often the case in Billings, nothing is too far away. The Southwest Corridor is less than a 10-minute drive to downtown, so all the museums and restaurants are easily accessible. ZooMontana is roughly the same distance in the opposite direction, so if you plan to stay a little longer, there are plenty of things to do only a short trip away.
Best Hotels in the Southwest Corridor:
($$$) • SpringHill Suites by Marriott Billings • 9 miles from Eagle Rock Golf Course
($$) • My Place Hotel-Billings, MT  • 5-minute drive to Billings city center
($) • Howard Johnson by Wyndham Billings • Less than a 10-minute drive to ZooMontana
Best Airbnbs in the Southwest Corridor:
($$$) • *New* Family Bnb: Parent Oasis + Kid Dreamland • 10 minute drive to downtown
($$) • DanWalt Gardens Gem with 2 car garage and 3 bdrms • Close to the South Billings Boulevard exit.
($) • The Bonus Room • A few minutes drive from downtown
3. Central – Terry
One of the biggest benefits of staying in this neighborhood is right there in the name – it's central. Close enough to downtown that the bars and breweries are easily accessible, even on foot, and near to both the West End's quieter streets and Interstate 90.
Central – Terry has few restaurants and bars of its own but isn't completely empty. You will find a few shops, cafes, and the odd restaurant in the area, but downtown's more varied choice is within walking distance. You can enjoy the famous breweries of the city without worrying about driving.
There are also a few parks in Central if you want to relax away from the urban surroundings of the city. Central Park and Terry Park are small little patches of greenery, while larger parks can be found just a short walk out of the Central area. Central – Terry is ultimately a district that serves as a middle-ground for travelers. It has both residential and business developments, is relatively spaced out so doesn't feel over-crowded, and is close enough to Billings' main attractions to make a great base while still being in a more relaxed area.
Best Airbnbs in Central – Terry:
($$$) • Modern Central Cottage • A 5 minute drive away from downtown Billings
($$) • Howard's Hideaway Cottage – Unique Montana Retreat • Quiet neighborhood near downtown
($) • Bo's Old West Loft with Hot Tub and Sunrise Views • Central location, a few minutes walk to Terry and Central Park.
4. West End
Billings' West End is one of the quieter areas of the city.
You'll find parks around every corner, as the West End is marked with dozens of wide-open green spaces. Especially scenic is Zimmerman Park in the northern part of the West End, which offers panoramic views over the city.
It's a fairly relaxed part of town, with plenty of easy-going places to unwind and soak in the city. It has a few bars and restaurants – with cuisines ranging from Italian to Japanese, though most are American-style bar & grills. After downtown, the West End is the best place in Billings to shop – the Rimrock Mall has over 90 shops and restaurants.
For those wanting an activity for the whole day, ZooMontana is a popular attraction in Billings, and sits only a short distance from the West End, in the southwest corner of the city.
Best Hotels in the West End:
($$$) • TownePlace Suites by Marriott Billings • 4 minutes drive from the Interstate 90 motorway
($$) • Hampton Inn & Suites Billings West I-90 • 1.8 miles from the Yellowstone River
($) • SureStay Plus Hotel by Best Western Billings • 3 miles away from ZooMontana
Best Airbnbs in the West End:
($$$) • Beautiful west end home. Easy location for anywhere • In a family neighborhood close to shops
($$) • West End Comfort & Convenience • Shopping, parks & walking path within walking distance
($) • BILLINGS BEST ONE BED!! • Easy access to the Rims hiking trails
5. Billings Heights
Billings Heights is the perfect neighborhood for families needing a place to stay. It's one of the safest areas of the city, as it is largely residential, and is close to hiking trails, parks, and shops.
The Lake Elmo State Park is a lovely place for a picnic by the water, while the Lake Hills Golf Course offers a sophisticated afternoon of golfing under wide-open skies with fantastic views. The area has a number of families as permanent residents, so in places, it feels like a quiet suburb, with schools, grocery stores, and play parks for the kids.
The MetraPark Arena towards the south of Billings Heights is a fantastic indoor sports venue, which often hosts basketball games.
It's a great place to start one of Billings' famous trails. Whether you want to explore the Rims, see the Pictograph Cave State Park or hike one of the other numerous trails in the area, you're in for a treat. The city has a well-earned reputation as a phenomenal trailhead, and many of its best routes can be started in Billings Heights.
Best Hotels in Billings Heights:
($$$) • Country Inn & Suites by Radisson, Billings, MT • Little Big Horn Battlefield is a 10-minute drive from the hotel
Best Airbnbs in Billings Heights:
($$$) • Amazing Views , Hiking trail 50 feet away. • On The Rims, overlooking Alkali Creek
($$) • Home Away From Home • 4 miles away from Billings Logan International Airport
($) • Relaxing get-away. Private and inviting retreat. • A few minutes drive from downtown
A quick roundup of the best hotels and Airbnbs in Billings:
Related Articles