Featuring the unparalleled wilderness and scenic wonders of western America, Great Falls is considered one of the best-kept travel secrets of Montana. It offers a healthy dose of arts, entertainment, history, and recreation; and is a destination where you will most definitely find worthwhile and memorable things to do during your visit.
When looking for a place to stay on your trip to Montana, Great Falls can be your perfect base camp for exploring the state. Since no destination is more than three and a half hours away from here, it is hands down the most accessible and convenient place to stay in Montana.
To help you find the perfect lodging solution, we have compiled a list of seven top-rated Great Falls (Montana) Hotels.
BEST FOR GREATFALLS
Fitness Center
Swimming Pool
Beach Chairs/Loungers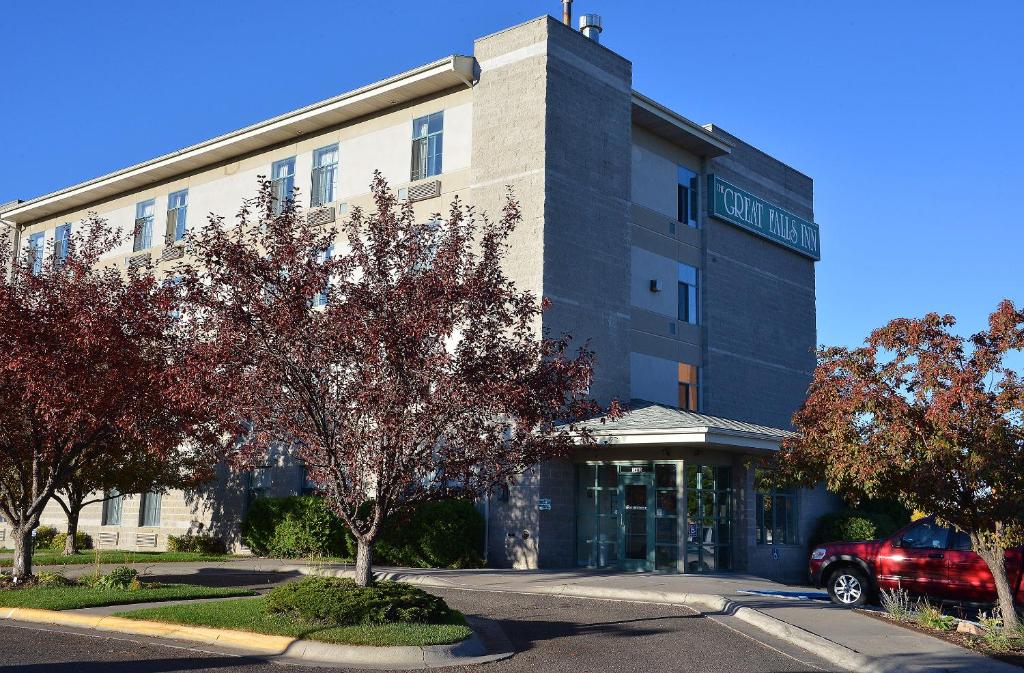 BEST FOR FAMILIES
Pets Allowed
Tea/Coffee Maker in All Rooms
Soundproof Rooms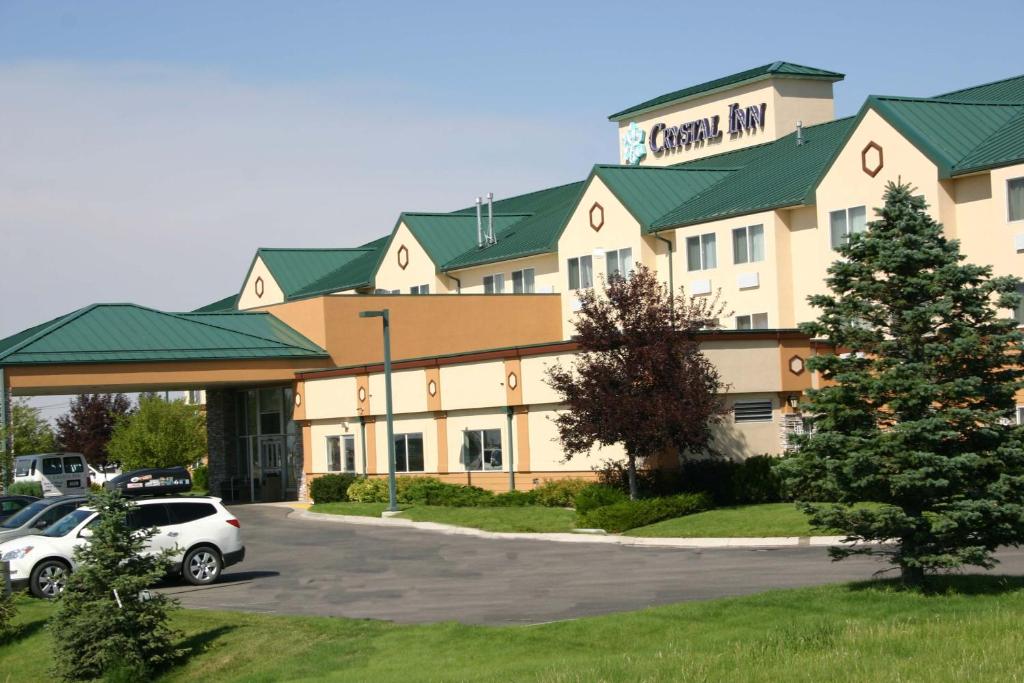 BEST BUDGET HOTEL
Free WiFi
Swimming Pool
Business Center
The 7 Best Hotels In Great Falls
If you are looking for a hotel that caters to your extended-stay needs, Staybridge Suite is one of the best Great Falls (Montana) Hotels that you can pick. The hotel offers stunning scenery and vibrant downtown, thanks to its prime location on the Missouri River with access to the beautiful River Edge Trail. With its friendly staff and homely decor, it is designed to meet your desires with its extraordinary services and amenities.
One of the most prominent features of these suites is that they come with fully furnished in-room kitchens. The backyard is surrounded by a magnificent landscape which brings attention to the natural beauty of the city. You can enjoy an indoor pool, Jacuzzi, and spas; along with a cozy great room and complimentary breakfasts.
Lodging rates of a suite for a single night start from $144.
Another excellent feature of this hotel is its accessibility. Montana Expo Park is one of the closest attractions near the hotel. Many restaurants and bars such as Kobe's Steakhouse and Seafood, La Sierra, Cowboys Bar, etc. are also present at a very short distance; in case you decide to dine out.
The Great Falls International Airport is just 5km away from the hotel, which is another perk of staying at Staybridge Suites.
This is a dual combo lodging brand – Sleep Inn / MainStay Suites, which are recommended by the Great Falls Airport management. The suites in Sleep Inn are well-known for their relaxing sanctuary designed to maximize a happy night's rest.
Their concept is inspired by the theme "Dream Better Here" – including such elements that are created to provide you with a refreshing and alleviating environment. From modern, stylish guest rooms and a fitness center, to an indoor swimming pool and a relaxing poolside patio, this Great Falls (Montana) hotel has everything you need to ease up after a long, tiring day.
On the other hand, MainStay Suites are inspired by the theme, "Live Like Home". These are recommended for those who plan to have an extended stay as these suites provide an apartment-like living and feature all comforts of home.
To ensure that you have a homely and hospitable experience; they offer spacious, residential-style suites with distinct areas of relaxing and working, fully equipped kitchens within the suites, free breakfast buffets, business and fitness center, onsite laundry, and housekeeping facilities.
They believe in making your stay as close to your lifestyle back at home as possible, in addition to providing the luxury benefits of staying at the hotel.
At Great Falls Inn, you can rest easy knowing you are getting a good value starting as low as $93. No wonder this Great Falls (Montana) hotel is one of the best places to stay in the city. The University of Great Falls is only a ten-minute walk and the Holiday Village Mall shopping center is a four-minute drive.
Guests can also enjoy the natural wonders of Missoula River just 4.5 km away from the main hotel site.
Just five minutes drive from the city center of Great Falls, this hotel offers an easy access point to the downtown. At reasonable rates, you can have a comfortable stay in their clean, nicely-appointed guest rooms.
It offers business king rooms and deluxe regular rooms, both of which are just right for families and business travelers alike. The rooms come with all sorts of facilities including private restrooms, indoor appliances, room services, etc.
The hotel also offers vending machines, luggage storage, and laundry services, and a 24-hour front desk to greet their customers at all times.
This is the one and only Marriot hotel of all the Great Fall (Montana) hotels. This is hands down the best hotel when it comes to making the most of the scenic views surrounding the site. Its suites are river-facing, which provides a magnificent view of the Missoula River.
In addition, the hotel's outdoor patio with the perfect fire pit overlooks the river banks as well. Besides a 60-mile River Edge Trail, the great location of this historic downtown is home to many local attractions including Giant Springs Park, Gibson Park, Electric City Waterpark, Malmstrom Museum, and Russell Museum.
Other than offering free Wi-Fi, a business center, an indoor pool, and complimentary breakfast; the sleek and luxurious design of the hotel also offers 24-hour market services for its guests.
There are many dining options near Springhill Suites including Big Mouth BBQ, Jaker's Restaurant, and RedHouse Diner. The rates range from $152-$219, promising a wonderfully luxurious experience to the visitors.
If you are looking for high-class, one-of-a-kind amenities in a Great Falls (Montana) hotel, Heritage Inn is where you need to head over to. This place has the most on-site facilities and you will rarely have to leave the hotel during your stay, for they have a solution to your every need.
Other than all the other standard utilities; including well-equipped luxury suites, an exercising zone, a business center, and an indoor swimming pool; this hotel is popular for its in-room mini-movie theatre, casino, bar, and sauna facilities.
It features Willow Creek Restaurant which is an onsite breakfast option serving À la carte menu to the guests. It also includes The Max Casino and Sports Bar, which is an onsite lounge featuring poker, keno, and line games for you to enjoy.
Along with serving your favorite beverages and cocktail specials at all times, the inn also serves complete lunch and dinner menus for the guests. Whether you want to grab a bite, have some drinks, or play a game or two – this amenity in the Heritage Inn is where all the fun is.
Their indoor heated pools, sauna, and hot tub are also fairly popular among those who stay here. They are designed to provide the maximum relaxing experience for their guests. Surrounded by a French courtyard underneath a naturally lit skylight, the pool area offers a perfect setting for an early morning swim or late afternoon relaxation.
Its convenient location brings it closer to many Great Falls attractions, both cultural and recreational, including Montana Park and Lewis and Clark Interpretive Center. You can learn more details regarding this on their website.
This is a completely smoking-free hotel, located next to the Great Falls Marketplace, and is close to both the airport and downtown. The suites in Hilton Garden Inn are extremely spacious, offering a separate living area in every room.
Apart from being equipped with all necessary appliances and laundry facilities, the hotel also features an on-site convenience store to meet the needs of its guests. It offers sundries, an assortment of beverages, and ready-to-cook meals bound for the in-room microwave and refrigerators.
The hotel has an on-site restaurant as well. At Garden Grille & Bar, you are served freshly prepared breakfast and dinner. It also provides room service in the evenings. Golden Corral is another restaurant located off-site at a short distance of half a kilometer. Besides indoor pools, fitness centers, and banquet zone; the guests can also enjoy the Jacuzzi facilities to relax after a long day.
Lodging rates are diverse, ranging from $150-$300 depending on the amenities you choose to include in your stay.
In case you need a high-class lodging solution with an excellent reputation, Crystal Inn Hotel and Suites is a popular brand. Its outstanding success and growth are evident by the fact that it currently operates at four distinct locations, and is further expanding business in additional locations across the country.
Other than offering a free shuttle service to the Great Falls Airport which is just 1.5km away from the hotel site, the hotel features an indoor pool, on-site business center, and fitness center. It is quite popular for its great food service, especially the daily Continental breakfast.
Crystal Inn Hotel and Suites is positively rated for its comfort level – the guest rooms are decorated with cozy, soft colors, featuring all sorts of daily-use appliances and even a small tea and coffee bar within the suites.
This is one of the best Great Falls (Montana) hotels highly solicited for a two-person trip, and if you are visiting the city as a couple, you can avail of their special offer which includes a romantic stay for you and your loved one.
They offer two packages; one values for $129 which along with a king-sized room also includes a romantic gift basket with sparkling cider, 2 long-stem flutes, a bubble bath, and assorted sweets. The second package values $179 which includes the latter but features a king executive jetted tub suite instead of a regular suite.
Final Thoughts
We hope this article helped you get all the information you need regarding the lodging facilities in Great Falls. Rest assured, each of these hotels offers every amenity to make your stay as pleasant as possible. All you have to do is pick your favorite!
Related Articles