On the Northern Cheyenne Indian Reservation, the bubbly Busby town earns many accolades as one of the best places to visit in the US- and for several reasons.
The community, which sits on an area of 36.78 km², is located on Rosebud Creek and US Route 212.
Unknown to some people, this census-designated place was named after a homesteader, Busby, who settled there in 1895.
A few years after the Roman Catholic missionaries had established Saint Mary's Mission near Stevensville and Sheridan, this area later came to the name of Busby. The first Busby post office was established in 1904.
US Highway 212 is an iconic landmark that passes through the town from east to west. It's commonly known as the Warriors Trail as it provides access to the historic battlefields where the Great Sioux War was fought.
Immediately south of the highway in Busby is a stone pyramid and grave of Two Moons, a great Northern Cheyenne warrior.
Two Moons fought in the three major battles – Rosebud, Little Big Horn, and the Wolf Mountains. The stone pyramid has a vault for keeping documents and artifacts of the Battle of Little Bighorn.
Unfortunately, the stone pyramid was vandalized, and unknown people removed its content. Near the monument are numerous other graves of the Cheyenne warriors who died in an attempt to escape confinement at Fort Robinson, Nebraska.
The Best Hotels in Busby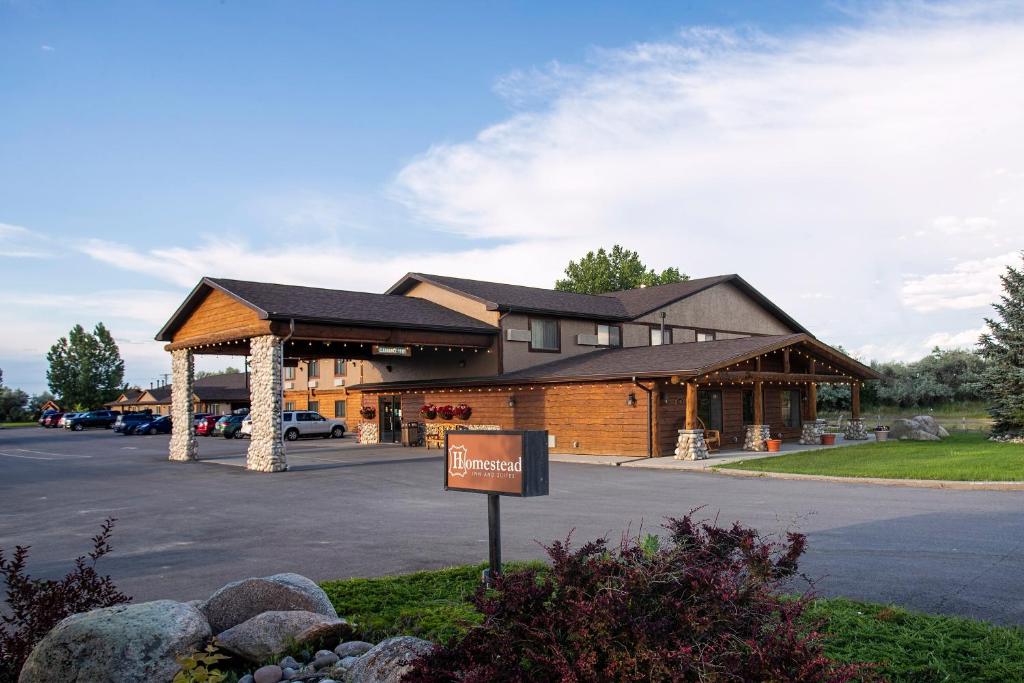 BEST BUDGET HOTEL
Fitness Center
Free WiFi
ATM On Site
BEST FOR COUPLES
Spa
Playground
Pool With View
Main Attractions
Historic Sites
History buffs will enjoy visiting Busby, Montana, thanks to the town's historical sites that help one relive the old 1870s Busby.
You can visit Rosebud Battlefield State Park, which today serves as a national historic site. At Rosebud Battlefield, you'll learn more about the Great Sioux War fought on the three battlefields in Montana.
You can also visit the Northern Cheyenne Ancestral Burial Site, where you'll find an iconic landmark with graves of Two Moons and Cheyenne warriors.
If you want to delve deeper into the history of Busby, Montana, head to the town's museums. Find history at Cheyenne Indian Museum, Rosebud County Pioneer Museum, or Macs Museum.
Don't miss the Little Bighorn Battlefield to learn about the 1876 battle between Cheyenne, Sioux, and Arapaho warriors.
Parks
Looking for more exciting attractions in Busby? Spend lovely times with your loved ones in Busby parks. You can visit Hollister Park, Cottonwood Park, or Rosebud Battlefield State Park.
These parks are family-friendly and economical to spend weekends with kids or friends. Weekends are more exciting for people who love local events and food.
Check the Busby Fair and Events program to discover what's available on weekends.
Bars and Restaurants
If you need some special treats and new flavors in Busby, Montana, you can sample various restaurants and bars for food, snacks, and drinks.
If you're visiting the town with kids, take them to Meadow Gold Dairy or Pixies to enjoy chocolates and ice creams.
Try local and exotic dishes in various restaurants in Busby, Montana. You can try Kirby Saloon, Champs Chicken, Cheyenne Ave Inn, or Bavaria Sausage Inc.
Wish to spend a weekend in a bar sampling various drinks and dishes? Visit 19th Hole Sports Bar & Gr, Club Buffet Bar Inc., or Miner House.
Recreation Activities
Hiking
Rosebud Battlefield State Park has numerous trails with interpretative signs to help you discover the battlefield from a different perspective.
The trails are family-friendly, helping you experience how the Great Sioux War was fought. Spend a day walking through the historic trails and taking pictures of the stunning terrain.
You can also enjoy a guided tour to learn more about the park's history.
Wildlife Viewing
If you love spotting birds, wild ponies, and other animals, Rosebud Battlefield State Park will keep you occupied throughout the day.
Ensure to carry a camera to capture pictures of different animal and plant species. Then, head to Kobold Buffalo Jump for stunning views.
You can also climb Crook's Hill or explore the grassy slopes to view birds, ponies, and squirrels.
Camping
Busby has several camping grounds within the town and nearby. Some camping spots include Crow Indian Park, Camp Carnelley's, Pee Wee North Campground, and Sand Point Campground.
Accommodation
Special Events
June – White River Cheyenne Indian Days – Held annually to celebrate the town's historic victory of the Cheyenne warriors. The celebrations occur at the "Battle Where Long Hair was Killed" and "Battle Where the Girl Saved Her Brother." Activities include dancing, drumming, and horseracing.
July – Northern Cheyenne Chiefs Powwow – The event involves activities such as Indian dancing contests, gourd dancing, drumming, singing, and grand entries.
May-September – Moon Phases – the events occur from May to September with different moon phases.
Activities Near Busby, Montana
Historical Sites
Museums
State Parks
Wildlife Areas
Landmarks
Casinos
Red Eagle Casino
Little Big Horn Casino
Bob's Place
Towns
Related Articles