The Teton Pass Ski area is an affordable family enjoyment area, which is located on Montana's majestic Rocky Mountain Front!
It's not a surprise that the Teton Pass is a ski destination that is rarely visited by tourists from outside of Montana, given the area's remote position along the Rocky Mountain Front.
Choteau, the closest town to Teton Pass, is not well recognized as a tourist ski town since it is located amid the plains, 15 miles east of the rugged but picturesque Rocky Mountain Front. Nonetheless, Teton Pass is one of the most pleasurable ski slopes in Montana and we're here to tell you all about it!
Teton Pass Ski Area – Mountain and Terrain
Located just east of the Bob Marshall Wilderness Area and west of Choteau in Montana, the Teton Pass Ski Area has some of the most magnificent views, in addition to diverse terrain.
Moreover, it spans over 400 acres and features 43 downhill slopes, as well as ample access to backcountry skiing and snowmobiling paths. The lack of crowds at lift lines and the pleasant employees provide excellent skiing and snowboarding experience.
Teton Pass offers a diverse range of terrain at a reasonable price. On a beautiful day, the views are spectacular, and the trip from Choteau up the mountain is breathtaking.
Despite its remote location, it is a fantastic destination to spend a day or a week skiing. Because of its vast trail system and affordable lift ticket pricing, it is an excellent family getaway; with 250 inches of snowfall every year on average.
Teton Pass is not a large ski area, but what it lacks in size, the area more than makes up for in diversity. Teton Pass has 43 trails scattered across 400 acres and 1000 vertical feet.
The ski area is situated on the sides of Mt. Lockhart, which has a height of 8488 feet at its peak. The lift-served terrain of Teton Pass does not go to the peak of Mt. Lockhart for good reason: severe winds and, to some degree, a lack of snow.
Because Teton Pass is located on the east side of the continental divide, the ski area may get rather windy at times, especially at the higher peaks!
As a result, it is not uncommon to see a snowdrift in the bowls under the summit while the exposed flanks (particularly the southern exposed flanks) of Mt. Lockhart is almost naked.
Having said that, for the daring skier, it is possible to hike up to the peak and ski down. While the whole summit region may not be covered in snow, enough snow accumulates on the mountain's flanks to provide some extremely exciting out-of-limits skiing opportunities.
The Best Hotels Near Teton Pass Ski Area

BEST OVERALL
Swimming Pool
Fitness Centre
Free WiFi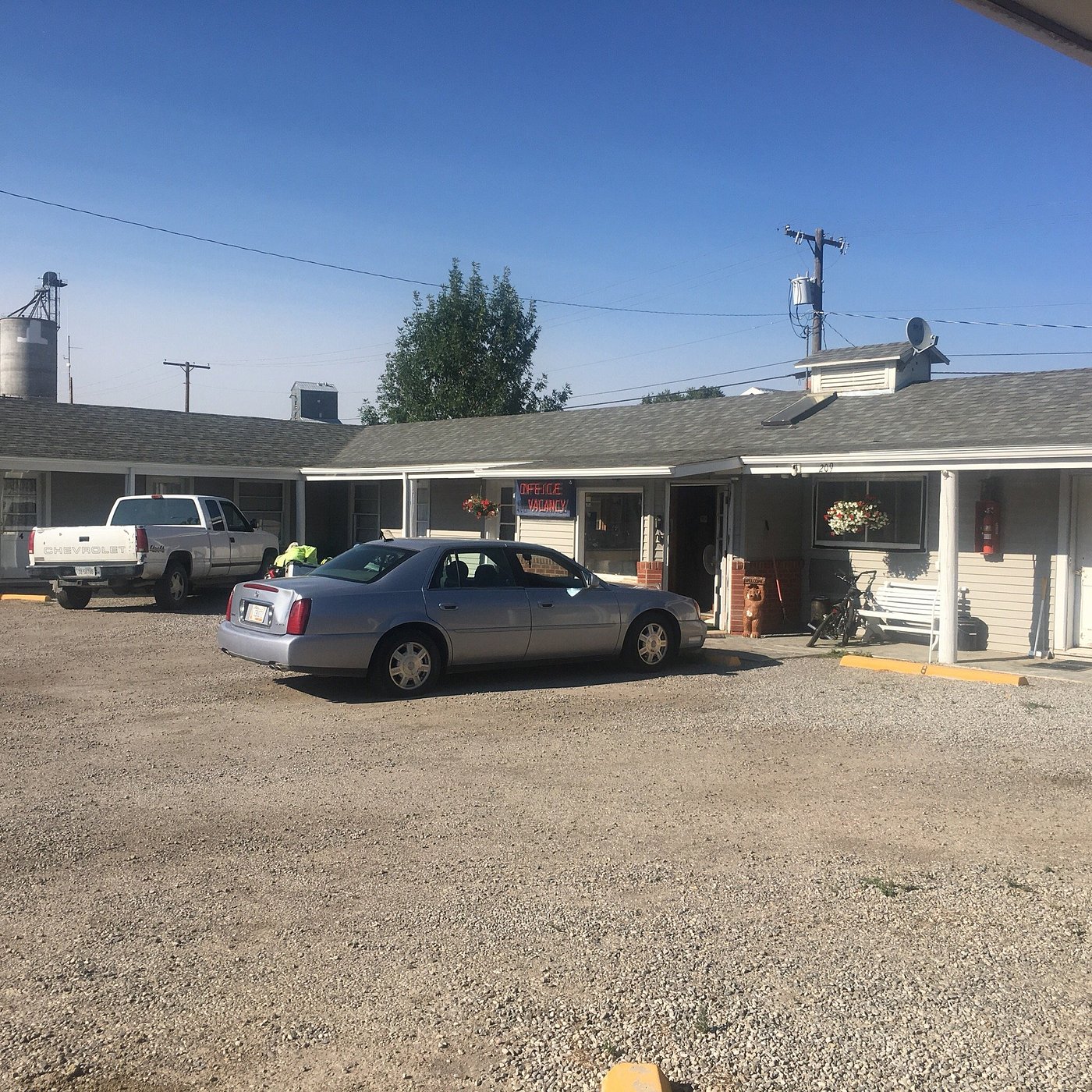 BEST BUDGET HOTEL
Children Activities
Pets Allowed
Nearby Restaurants
Teton Pass Lifts
Big Bear Chair – 1973 Ski Lift International – Double
1000′ vertical
Top elevation 7200′
No-Name Platter Lift (Not currently running)
150′ vertical
Top elevation 7000′
Closes at 3:30 pm
Sunkid Wondercarpet
Teton Pass has one major lift, the Big Bear Chair, which is the primary double chair that does double duty. Because there are no real beginner runs from the top of the chair, beginners should take the chair and exit at the mid-station. Intermediate and advanced skiers will want to stay on the chairlift all the way to the summit.
Ski at Teton Pass
Teton Pass features multiple well-prepared, mild slopes in a wonderful combination of terrain for novices. The novice runs are usually large and slope gently. However, speed control will not be an issue even for inexperienced skiers.
Teton Pass is also suitable for intermediate skiers. While just three intermediate runs connect the top of the mountain to the bottom, this is a bit deceiving. At least on the higher part of the mountain, these paths are pretty broad and open.
As a result, skiers are not restricted to the run, providing for some good wide terrain and glade skiing when circumstances permit. Because these tracks aren't too steep, any experienced intermediate skier should be able to find their way off-trail with ease.
Teton Pass offers some difficult terrain for experts, but none of it is life-threatening. The summit of the chairlift serves as the starting point for all expert terrain. Once at the peak, skiers have two options for accessing the expert terrain.
The greatest terrain can be discovered by turning left off the chairlift and following the South Star Trail. This path will lead you to a wide-open space. Experts may then descend on the Cherokee Trail or the Firewater Trail, both of which provide superb open terrain skiing.
Both of these paths are quite steep in the upper part of the mountain before flattening out to a more moderate gradient farther down. Regardless, these two routes offer some really great open terrain skiing.
Be cautious of rocks during low snow seasons, as these pathways have a southern exposure and can be bare in places.
Teton pass mountain statistics
Highest Elevation (ft/m): 7,200 ft
Number of Trails: 43
Number of Lifts: 3 – 1 Double Chair, 1 beginner carpet conveyor, 1 platter tow
Season: December – Mid-April
Trail Difficulty: 30% expert, 28% Intermediate, 28% Advanced, 14% beginner
Ticket & Passes
Teton Pass Ski Resort has a selection of tickets available for you to avail of. You may buy a season pass, lift tickets, hire skis and snowboards, and even take private lessons!
Season Passes
Adult (Ages 18-69): $450
Senior (Ages 70+): $350
Military & College (ID Required): $350
Junior (Ages 7 – 17) : $350
Kid Pass (Ages 6-10): $250
Kids Five & Under: free
Daily Lift Tickets
Adult All-Area (Ages 18-69): $45
Military Adult (Ages 18-69: ID required): $40
College Student (ID required): $35/$40
Senior All-Area (Ages 70+): $35/$40
Junior All-Area (Ages 7 – 17): $30
Kids All-Area (Ages 6-10): $25
Beginner Chair Only (Ages 6+): $15
Kids 5 & Under All Area: FREE
Corporate Pass (Transferable) $900
(You can avail of discounts if you go as a group of fifteen or more!)
Rental Rates
Ski/Snowboard rental rates:
Full-Day – $30
Half-Day – $25
Helmet or Poles Only – $5
Ski/Snowboard Lessons 2 hours • $30 starting at 10:30am or 1:30pm everyday
$40 – 1-hour private lesson, booked at your convenience
We'd suggest you call ahead if you or your child wants a ski or snowboard lesson.
Group Lesson Rates
Lodging Options
Choteau Stage Stop Inn
Choteau, Montana, and the Stage Stop Inn are nestled along Montana's Rocky Mountain Front, on the most spectacular road between Glacier and Yellowstone National Parks. The Choteau Stage Stop Inn welcomes tourists to their 77-room hotel in the shadow of the Rockies, which is locally owned and run.
Being situated close to the Glacier National Park, Crown of the Continent, the vast Rocky Mountain Front, and the Bob Marshall Wilderness, we prefer to think of Choteau as a small town that is close to everything!
Apart from offering 77 spectacular rooms, Stage stop inn also provides free Wi-Fi, a complimentary hot breakfast, and an on-site salon, plus special deals and discounts!
The Teton Cabin – 7 Lazy P Guest Ranch
Part of the 7 Lazy P Guest Ranch, The Teton Cabin is conveniently located in the Rockies 27 miles west of Choteau, Montana, and only 6 miles from Teton Pass Ski Resort.
Made in a stunning highland environment, a peaceful spot to unwind, this cabin includes amenities such as one queen bed on the main level and two lofts with two twin beds in each along with a complete bathroom.
It allows six guests at one time; pets are also allowed with pre-approval and minimal charges. The guests are allowed to use the main lodge along with full kitchen access!
The Big Sky Motel
The Big Sky Motel in Choteau is known for its cozy environment, hospitality, and cleanliness. You get to enjoy the rustic vibe of the motel with intimate accommodations offering bed sizes ranging from infant to king, along with fully furnished kitchen units. Wi-Fi, Air conditioning, and so much more are available to you along with plenty of hot coffee.
The big sky motel provides competitive pricing as well as senior, family, and business discounts. The rooms range in price from $50 – $75, depending on the number of guests planning to stay.
Another plus point is that the Motel is well within walking distance to restaurants, parks, shopping areas. Also, the Dinosaur Museum is only a few minutes away!
If you're wondering where you should eat don't worry, we've got that covered for you too!
Dupuyer's Buffalo Joe's Eatery & Saloon
Buffalo Joe's is located along the picturesque East Slope of the Rocky Mountain Front, about an hour's drive from Glacier National Park.
On Friday and Saturday nights, Dupuyers' Buffalo Joe's are applauded for their excellent prime rib, as well as rib steaks. Apart from the prime rib, they offer fresh hamburgers made from ground chuck.
The meat they serve is all Certified Angus and is never frozen. On the menu, they offer a variety of various foods to pick from such as mac and cheese bites, wings, nachos and so much more! Reservations for dinner are recommended. However, drop-ins are always welcome too!
We hope you found the information we gave on Teton Pass useful.