Founded in 1883, Belgrade has been a cornerstone of the travel industry in South Western Montana for over a century.
Located between the I-90 and the Yellowstone International Airport, Belgrade, Montana has primarily served as an important port city where international fliers and road trippers converge to explore the greater communities of Gallatin County, like the larger community of Bozeman.
But, with the many historical attractions and beautiful mountainous landscape, Belgrade has grown into a fantastic destination worthy of exploration in its own right.
Gallatin County offers a myriad of natural beauties and outdoor wonders. And there is no better way to immerse yourself in the region's many attractions than by leaving the big city behind and experiencing Belgrade's traditional small-town Montanan vibes.
Beyond its natural preservation sites, such as Missouri River Headwaters State Park and the Lewis and Clark Park, Belgrade attracts travelers from both in and out of State with the many high school sporting events hosted at Belgrade High School.
And of course, the city's convenient location in Southwest Montana is the perfect launching ground for visitors to venture out to the greater reaches of the county and explore such iconic destinations as Bozeman, Big Sky, and Manhattan.
Whether staying in the city for an upcoming sporting event or using the area as a base to explore the rest of Montana, these are the eight best hotels in Belgrade where you can begin and end your days with the awe-inspiring views of the surrounding Rocky Mountains.
The Top 3 Hotels To Stay in Belgrade
BEST FOR COUPLE
Free WiFi
Pets Allowed
Tea/coffee Maker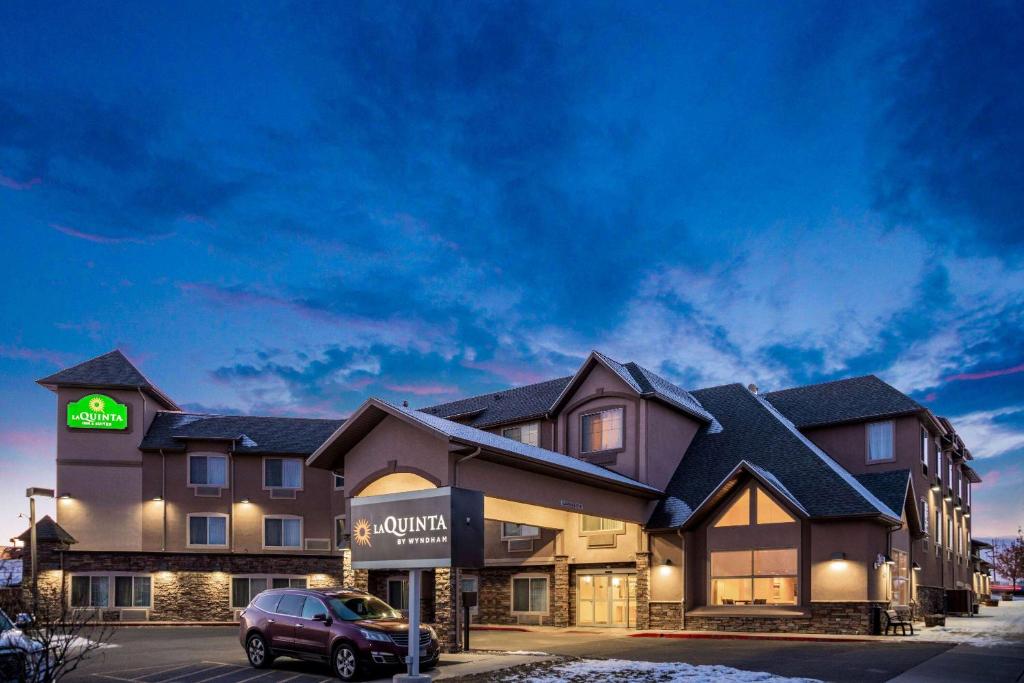 BEST FOR FAMILIES
Pets Allowed
Free WiFi
Fitness Centre
BEST BUDGET HOTEL
Laundry
Free Airport Shuttle
Free WiFi
7 of the Best Hotels in Belgrade
As the newest addition to the Belgrade Hotel selection, the Holiday Inn Express and Suites serves its guests with only the most modern and luxurious amenities.
Located in town, guests at the Holiday Inn start their day off with their choice of continental or buffet-style breakfasts. For those that prefer a lighter start to their day, the hotel also offers 24-hour coffee and tea available in the lobby.
The hotel's on-site services include complimentary high-speed internet, a heated indoor pool and whirlpool, and access to the on-site business center and a meeting room. In addition, daily housekeeping and on-site laundry services ensure guests remain fresh and comfortable throughout their stay.
The Holiday Inn is within walking distance of many of the town's top attractions, restaurants, and shopping centers for any additional amenities the hotel can't offer on-site.
The hotel features 97 rooms, each with basic amenities such as heating and air conditioning, private washrooms, a mini-fridge and microwave, a work desk, and a flat-screen TV serviced with cable and satellite.
The Holiday Inn prides itself on ensuring every guest is as comfortable as possible, and further amenities such as a rollaway cot and crib are available upon request.
The hotel features a diverse set of rooms that cater to travelers' unique needs. Nightly rates start at $179 per night for the hotel's standard queen-sized room. Be sure to book in advance for the best deals and accommodations.
La Quinta by Wyndham is a pet-friendly accommodation within driving distance of such attractions as the Bridger Bowl Ski Area and Montana State University.
Located in the heart of Belgrade, it is also within walking distance of many of the local sites, restaurants, and public services. However, its full-service accommodations also come with amenities guaranteed to provide a comfortable and relaxing experience as you explore the many wonders of Gallatin County.
Along with a continental breakfast of eggs, bacon, and oatmeal, the hotel provides its guests 24/7 access to the indoor pool, hot tub, sauna, fitness center, and business center.
When not exploring the town, guests can take advantage of the hotel's free WIFI to plan their next excursion, contact friends and family back home, or even stream their favorite shows and movies.
For guests who prefer to relax in their rooms as they escape from the road, each of the hotel's five accommodation options comes with comfort amenities that include free parking, a microwave, a coffee station, a desk, and a flat-screen HDTV.
The hotel features a room selection that includes a double queen accommodation, with or without mobility access, a single king standard room, and two studio suite rooms of either a single king or double king varieties.
All rooms at La Quinta are currently available for the same nightly rate of $189 per night and are first-come, first-serve. So book your space in advance to reserve the best accommodation for your travel needs.
With free long-term parking, and space for truck, bus, and RV parking, the Super 8 by Wyndham is a popular layover hotel for road trippers and late flight arrivals.
While the hotel is conveniently located directly next to the airport, the Super 8's full-service accommodations also make it a great viable option for long-term stays.
The hotel offers all of the expected comfort amenities, such as free WIFI, a coffee station, and a complimentary breakfast. In addition, the hotel also includes luxury amenities such as an indoor pool, hot tub, and fitness center.
There are currently seven varieties of rooms available at the Super 8 by Wyndham. The hotel's base rate is $159.99 per night for their standard Queen Deluxe Room, available with or without mobility-accessible features.
For an additional $10 per night, guests can book a standard room with two queen beds or a single king.
For even further comforts, guests should book the 2 Queen Bed Studio Suite or the Single King Bed Deluxe Room for $174.99 per night and $179.99 per night.
The Super 8 by Wyndham's premium accommodation option is their 2 King Bed Suite, which offers the maximum amount of room throughout a guest's stay, and is the ideal option for families and large groups.
This top-of-the-line Super 8 Suite runs a nightly rate starting at $184.99.
Of the full-service hotels in Belgrade, the Quality Inn offers one of the most cost-effective experiences for the value of the stay.
Situated in the southwestern corner of the city, the Quality Inn offers a quiet respite from the loud, disturbing noises of the frequent air traffic while offering convenient airport shuttle services for incoming guests.
While the many public services of Belgrade are within walking distance of the hotel, the Quality Inn offers its guests a myriad of amenities that provide a comfortable, relaxing experience throughout their stay.
Along with their nightly accommodation, guests receive free access to the hotel's Wifi, fitness center, laundry services, business center, and truck and RV parking.
The Quality Inn's wide selection of rooms comes with the standard comfort amenities that include a private bathroom, a mini-fridge, a coffee maker, and flat-screen television serviced with HBO access.
Guests to the Quality Inn will have their choice of the hotel's four-room options. For $125 per night, guests can stay in the hotel's Standard Queen Room with the option of mobility-accessible amenities.
The hotel's more comfortable King Bed Suite and Double Queen Room options come with an additional expense of $145 per night.
Since 2019, The Outpost has offered a unique accommodation experience in Montana as the only micro-hotel in the State.
By providing their guests with limited sleeping quarters, The Outpost can provide visitors with higher quality amenities while maintaining a budget-friendly rate.
The Outpost is the ideal hotel option for visitors that don't plan on spending a ton of time in their rooms. And when visiting the beautiful mountain encased city of Belgrade, why would you?
Located directly on Mainstreet, The Outpost is within walking distance of many favorite restaurants, pubs, shopping centers, and attractions.
The micro-hotel is only a short drive from popular attractions such as the Big Sky Bridger Bowl and Yellowstone National Park for further adventures exploring Gallatin County.
The Outpost offers four room options, all of which come with top-of-the-line mattresses, comfortable bedding, and hypoallergenic duvets.
The hotel's Signature Queen Room starts at $115.99 per night and sleeps up to two people. This option includes a personal sink and vanity, a TV, free Wifi, and a shared washroom. An ADA-accessible Signature Queen Room is available upon request for no additional expense.
The Outpost offers its Queen Budget Room for an even more affordable space. For $105.99 per night, this economical option comes with all the comfort amenities of the signature queen, while omitting the room's private sink and vanity to achieve its reduced rate.
For premium accommodation, the Outpost offers its Queen Room Deluxe for $120.99 per night. Along with the luxury amenities of the standard room, the Queen Deluxe features two queen-sized beds and is perfect for housing larger groups and families.
Located halfway between Belgrade and Bozeman, the Fox Hollow Inn is the perfect solution for experiencing the small-town wonderments of Belgrade while enjoying the easily accessible amenities of the big city.
Less than a 10-minute drive from Belgrade, the Fox Hollow is the ideal spot for exploring the region's countryside.
After a day of outdoor adventures, the hotel offers one of the most relaxing experiences as guests soak in the on-site hot tub while admiring the unfiltered beauty of the starlit sky.
The Fox Hollow Inn features a selection of river-styled suites that share a communal living area on the first floor.
The first of the two spacious accommodations is the Fall's Suite. With breathtaking views, this room option features a queen-sized bed, vaulted ceilings, and a private washroom with a large soaking tub. This luxury accommodation comes with a standard rate of $140 per night.
Alternatively, guests can book their stay in the hotel's River's Suite. Like the Fall's Suite, this accommodation features a quaint design, with such amenities as a king-sized bed, a full-service kitchen, and a private bathroom with an oversized shower.
However, with its additional amenities and private kitchen, the River's Suite comes with a premium rate of $150 per night.
Fox Hollow Inn's luxury suites are designed to accommodate up to two adults and a single child. However, further guests are welcome for an additional $15 per night per person.
Gallatin River Lodge offers the ultimate luxury accommodation for your stay in Gallatin County.
Only a 10-minute drive southwest of Belgrade, the Gallatin River Lodge features world-class cuisine, blue-ribbon waters, friendly, well-informed staff, and spectacular guide services for exploring the breathtaking trails and mountains of the county.
Offering a spectacular location for a private getaway, family vacation, wedding, or corporate retreat, the Gallatin River Lodge provides luxury amenities and facilities to meet any occasion.
Situated on 20 acres of the pristine countryside, the lodging features 12 boutique guest rooms, an on-site trout pond, and wide-open spaces ideal for reconnecting with nature.
In the main lodge, guests have their selection of six spacious King Suites with a Jacuzzi bathtub, a walk-in shower, and a gas fireplace. In addition, the Main Lodge features two pet-friendly rooms on the bottom floor that come with their own private entrances for additional privacy.
As the standard room selection of the Gallatin River Lodge, these luxury King Suite options all come with a nightly rate starting at $675 per night. At $625 per night, the Trout Lodge Rooms offer a slightly more affordable stay.
Occupying a separate building next to the main facilities, the Trout Lodge features four ground-floor rooms. These options are fitted with a king-sized bed, a large walk-in shower, radiant heat, and a private entrance with an outdoor seating area.
Also located in the Trout Lodge, on the building's second floor, is the hotel's premium Trout Lodge Suite option. This luxury suite features two separated queen-sized beds, each with a private washroom, and includes a shared living room.
The Suite also comes with its own wet bar and a large outdoor balcony overlooking the property's tranquil trout pond and rolling hills.
This luxury suite option comes with a premium rate of $1050 per night and is perfect for families and large groups.
Final Thoughts
Belgrade is the ideal location for exploring the beautiful Gallatin County away from the large city.
Its idyllic countryside location next to the airport makes it uniquely positioned to offer easy access to explore the region's historical cities while still maintaining Montana's small-town culture.
While the nearby Bozeman offers a broader selection of accommodations for guests to the area, Belgrade offers hotels much more grounded in the traditional Montanan experience.
Whether exploring the surrounding mountains or the region's rich mining history, the hotels in Belgrade provide the perfect accommodation for your stay in Gallatin County.
Related Articles