Which places qualify as unique in Great Falls? Providing a wide range of lodging properties, Great Falls is one of the best in Montana where you can find places to stay at affordable rates.
The guest houses located in this city give you the perfect opportunity to choose a place that best suits your ideal vacation idea. It could be either city excitement or mountain solitude. Hotel Arvon is a luxurious hotel with a pure cultural and historical vibe to it, whereas the cabins and camping sites in Great Falls offer an experience closest to Mother Nature.
When it comes to finding unique, comfy, and remote motels and guesthouses, Great Falls has it all. This is truly Big Sky country in the heart of Montana, blessed by nature's most magnificent waterways of Missouri River, holds an exciting community and a casually collaborative culture that leaves tourists and visitors beyond satisfied. Below is a comprehensive list of eight unique places to stay in Great Falls.
The Best Hotels in Great Falls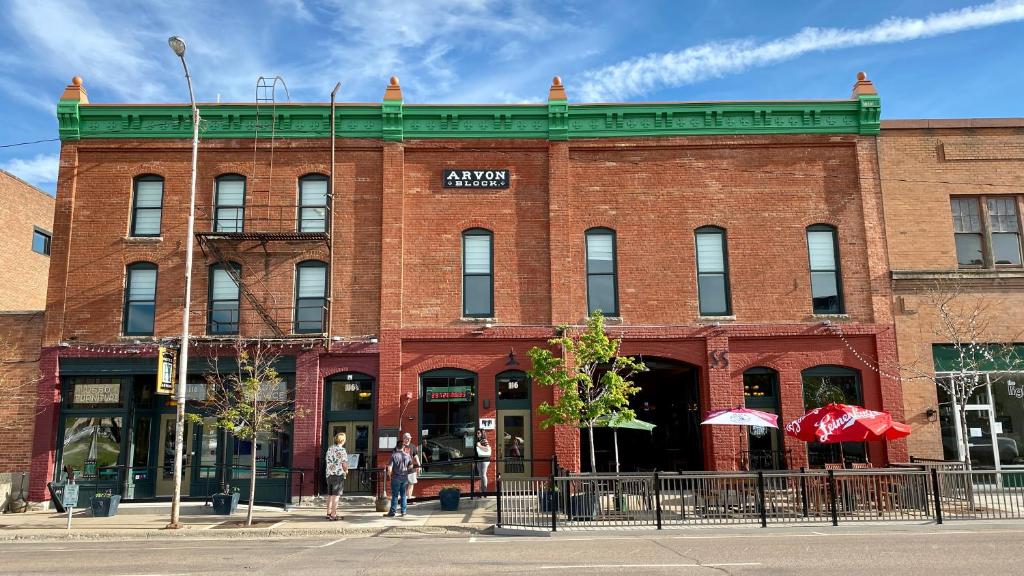 BEST FOR FAMILIES
Pool
Water Park
Children Activities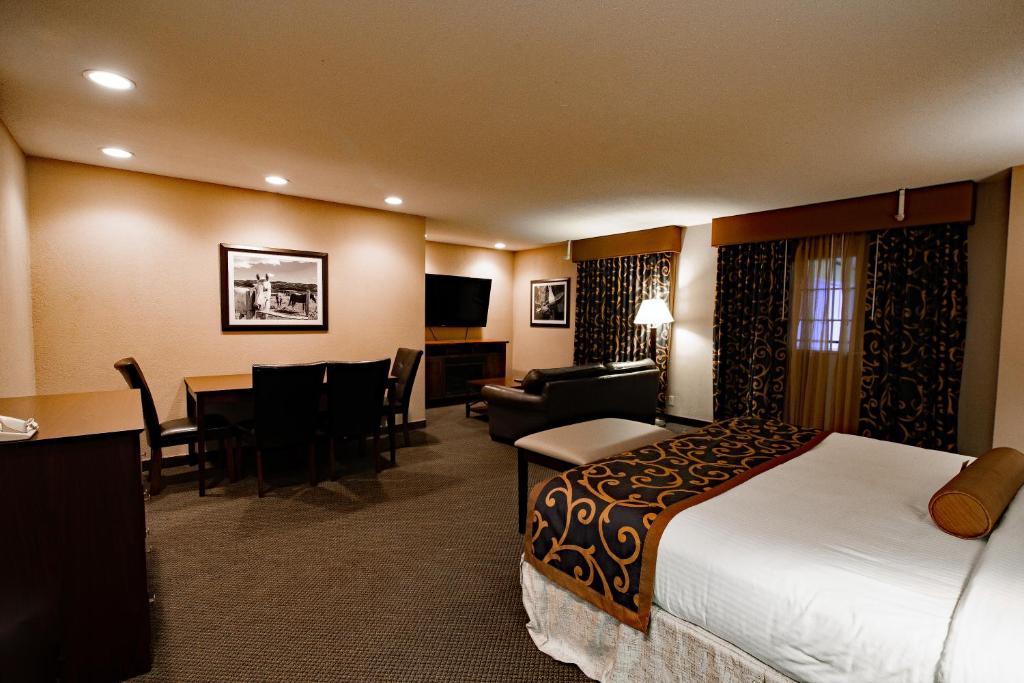 BEST BUDGET HOTEL
Tea/Coffee Maker in All Rooms
Fitness Center
Business Center
A Guide to Unique Places to Stay in Great Falls
The 33-room, luxury Hotel Arvon allows tourists to experience the best of both worlds with their contemporary art gallery and an in-house Irish Pub, during their stay. The historic interiors of the hotel are reminiscent of the late 19th-century architecture, contributing to a cozy, relaxed yet memorable stay.
Hotel Arvon is located at a distance of 5 miles from the Great Falls International Airport, which is a quick, 12-minutes car ride. Along with a complimentary airport shuttle service to accommodate their visitors, they offer an on-site fitness center and a non-smoking environment. The rooms are pet-friendly, which endorses the fact that they are invested in catering to not just their guests, but also their beloved pets.
Each room, whether it is a King or Queen Suite, has the option of external or internal frosted glass to let the guests enjoy their privacy. The Suite Lofts, however, have deluxe accommodations with open high ceilings and skylight, or exterior windows with street views.
2. Cabin on the Sun River
This artistically constructed 8-foot cabin on the Sun River promises a perfectly off-grid treehouse adventure, with a slight hint of Native-American rural life, to its guests. Each morning, you will find yourself greeted by the sounds of nature. This region – located 18 miles west of Great Falls – offers unique opportunities for wildlife watching of every water, air, and land creature that the Montana prairie has to offer, including hawks, beavers, deer, antelope, fox, and coyote.
At night, you are likely to hear the occasional growl of a bear or the distant hiss of a snake. This cabin accommodates up to 5 guests for a minimum 2-night stay and provides all the basic amenities, such as kitchen, toilets, and solar-heated showers.
3. Stone Lodge Pastures, Ulm
This perfect camping location of 20 acres is located at a 5-minutes drive from Great Falls, and a 1-minute drive to one of the best restaurants in Great Falls, the Beef-N-Bone Steakhouse. Here, you will never be bored as the Stone Lodge Pastures offer multiple recreational activities, such as horseback riding, biking, hiking, snow sports in winters, wildlife watching, fishing, paddling, and swimming in the warm waters of the Missouri River.
This campground has 10 tourist sites and can cater to 13 guests per site. You are required to bring your own tents, RVs, trailers, vans, or trucks. Campfires are also permitted, giving you a complete adventure of camping at Great Falls, Montana.
This location is open throughout the year to family-friendly recreational activities. The Great Falls KOA campground offers free firewood, bathrooms, and a gift shop. Guests have a variety of lodging properties to choose from, including the deluxe cabin, the tents, or an RV site.
Enjoy your getaway by indulging in campground recreations such as water parks, flower gardens, and playgrounds for children. Firework displays and campground amenities are yet another bonus for campers where they can enjoy a snack bar, free Wi-Fi, bike rentals, and much more.
5. Benton RV Park and Campground
If you like camping out in grasslands that are shaded with trees, you are bound to love the Benton Campground. Located within Fort Benton city limits, this tourist spot is only 42 miles away from Great Falls. The Missouri River running through this region offers various recreational activities, such as canoe trips, one-person kayak trips, and boat trips through the White Cliff area with tour guides.
Benton RV Park also serves as an attraction owing to the Historic Fort Benson Museum, and the well-renowned golf course. The Park is ideal for small group lodgings, complimenting their stay with a free wireless internet connection, restrooms with showers, horse shows, and 28 hookup spaces. This location is visited by tourists and locals throughout the summer and fall seasons, mostly from 1st April to 31st October, so plan your trip accordingly!
Unlike the usual guesthouse experience, the Jasper House is a full-blown mansion. The spacious residential home offers some spectacular views of Highwood and the Little Belt Mountains. Conveniently located in a quiet neighborhood of Great Falls, this is the perfect relaxation spot for you and your family, with only an hour's drive to both Missouri and Sun River.
You can rent the whole house to yourself and enjoy the fully-stocked kitchen, and the fully-furnished bedrooms, bathrooms, and living area. The Jasper House also offers a fireplace in the TV lounge, which you can cozy up to at night. This is a smoke and pet-free home, so make sure you keep that in mind before booking your rental space.
7. Crystal Mountain Hobby Farm
This location, although fairly secluded, is only 20 minutes away from town in Crystal City. A sweeping lodging property of 10 acres, Crystal Mountain Hobby Farm offers no less than 15 huge camping sites for travelers and tourists looking for some relaxation and adventure.
From your tents, you will be able to bathe in the beautiful sunsets overlooking the Tobacco Root Mountains and the Missouri River. About 2 miles from this location, guests can access some fishing and boating adventure spots. Many travelers who are eager to spend a camping night near Great Falls frequently recommend Crystal Mountain Hobby Farm because of its budget-friendly stay and the electric hook-ups that keep you comfortable throughout the night.
8. Missouri River Country Living
Located just 8 miles from the city, this river-front vacation home is able to accommodate up to 6 guests. Tourists will be in awe of the beautiful sunsets over the Missouri River. Since the place is secluded from the downtown city, the squawking of eagles and wild turkeys, and the occasional voices of horses and sheep make your experience peacefully closer to nature.
Once you have settled in your rental cabin, you will relish the treat of being away from the city's hustle and bustle and enjoy a few starry nights and the quiet of the river that surrounds this space. It provides all basic amenities, a boating service to fulfill your dreams of a river adventure, and exciting routes to both Yellowstone Park and Glacier National Park. The ever-changing view of sunsets from the river patio by the dock will make sure you are never tired of your getaway.
Although this seems like an ordinary hotel, it stands out among other hotels located in Great Falls for its breathtaking scenery, stunning views, and numerous opportunities for outdoor recreation activities.
Heritage Inn is located a 7-minutes' drive from the Great Falls International Airport and has long been a popular lodging property. This place not just offers convenient and comfortable accommodations to its guests but also to its ghost residents. Multiple staff members and guests claim to be witnesses to apparitions and eerie paranormal activity occurrences in this hotel. Some people have reported feeling another man's presence in the room when they were the only ones in the room.
However, the horror stories should not scare you away from having a comfortable and relaxed vacation time at the inn, because Heritage Inn provides the best hotel deals on not just larger standard guest bed sizes, but also on-suite rooms. Their entire hotel rooms are smoke-free and feature various amenities that will make sure your stay at Heritage Inn is nothing but pure bliss.
They offer the perfect relaxation spot with their cable TV and various movie choices, free high-speed Wi-Fi Internet, microwave oven, refrigerator, and more. The hotel also houses a casino and sports bar, gym facility, indoor heated pool, free local shuttle to and from the airport, and free continental breakfast on weekdays.
Final Thoughts
Great Falls offers cheap accommodation options for those running low on their budget, and a vast variety of places to visit, making it your perfect vacation choice. By staying in small cabins or spending a night in your personal tent on the campgrounds, you can find ways to save money and get to know this destination and everything it has to offer.
Great Falls is home to various tourist attraction spots, ranging from historical sites to places of art and adventure to spots teeming with wildlife. Some of these include the History Museum, Meadow Lark Country Club, and Holiday Village Mall. Whether you are looking for water recreation, adventure tours, shopping, or relaxation, there is plenty in the Great Falls to keep you busy during your stay!
Related Articles