Montana is a popular travel destination for outdoor enthusiasts as well as anyone wanting to see two of the nation's greatest national parks: Glacier and Yellowstone. But because Montana's vast natural cache is so popular, this can drive up the prices for everything related to tourism, including accommodation.
Even in a small town in Montana, a hotel room is usually at least $100+, which can break the bank for many travelers. Thankfully, there are plenty of ways to check out Montana on a budget, and staying in a hostel is one of them.
The Best Hostels in Montana
BEST OVERALL
Free Wifi
TV with Netflix
Piano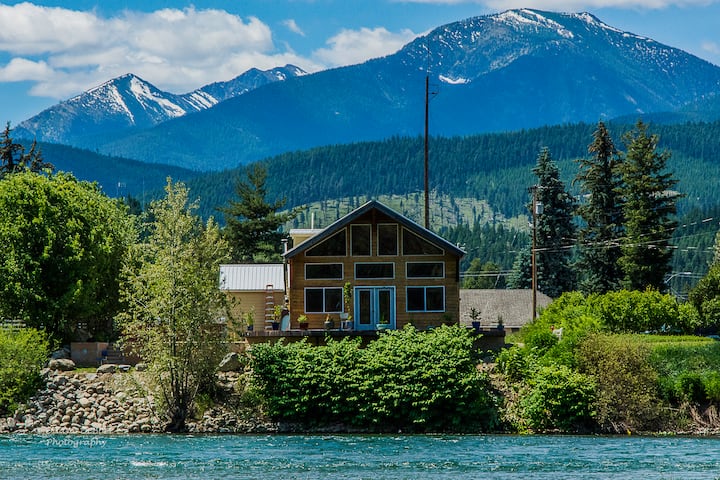 BEST FOR COUPLES
River View
Indoor Fireplace
Gym
5 Best Hostels in Montana: The Benefits
Instead of renting an entire room or apartment to yourself, you can opt for a comfortable bed in a dorm instead. You can save as much as half (or more) of the price of a hotel room. Plus, you'll be privy to amenities that hotels don't have; like full kitchens, lounge spaces, and the chance to build real camaraderie with other travelers.
As a bonus, hostel staff are always well versed in various ways you can save money in the region. They'll be able to direct you to all the best bars, restaurants, and tours in the area that present the best value, saving you even more money in the long run.
If you're planning a trip to Montana on a budget, here are some of the state's best hostels.
1. Best Hostel in Montana for Partying
Tucked right inside downtown, the Treasure State Hostel is with walking distance of all the best of Bozeman dining and nightlife. You'll find many bars and restaurants right within walking distance, and the staff frequently organizes outings like pub crawls and trips to the local hot springs.
If you'd like to go a bit farther, they can lend you a bike for free if you haven't brought your car. They offer a mix of accommodations, including different-sized dorms and private rooms for singles, doubles, and couples.
Bozeman is a great Montana city for all kinds of winter sports enthusiasts. If you're coming to enjoy ski season, Treasure State Hostel is only 30 minutes from Bridger Bowl and about an hour from Big Sky. If you don't want to drive, there are shuttle busses nearby that you can catch to and from the mountain for the day.
If you're coming to visit Yellowstone, the North Entrance at Gardiner is only an hour to the south.
2. Best Hostel in Montana for Solo Travelers
If you're coming to Montana to hike the Continental Divide Trail, Pintler's Portal Hostel is the perfect base camp. Located in Anaconda, the seat of Deer Lodge County, it's a great place to either recharge from your long thru-hike or gear up to begin one. Even if you're just "hiking" through, you'll want to take some time to check out the town.
Conveniently, Pintler's is within walking distance of all the best bakeries, breweries, and dining that Anaconda has to offer.
Overnight guests can choose from either two or three-bed dorms. If you're coming with a group, you can rent the whole room for added privacy. They have a huge kitchen and lounge where you can prepare a meal, use the free wifi, or just watch TV.
If you're just looking to shower, do laundry, or otherwise chill for a while before continuing along the trail, they also offer a day rate just for folks who are passing through.
3. Best Hostel in Montana for Budget Travelers
Just steps from the Libby Amtrak station on the banks of the Kootenai River is the lodge-like Libby Hostel. This is the perfect budget accommodation for those looking to explore the Kootenai National Forest and its eponymous falls.
It's only a 20-minute drive to Libby Dam and the Souse Gulch Recreation Area where you can bring a picnic, go fishing, swim, and even use their boat ramp to explore Lake Koocanusa.
The hostel has two bunk rooms and one private room, with a kitchen, bathroom, and lounge that are shared among all the guests. The large back patio is a favorite hang out in the summertime, as the river runs right below it.
If you've come by train, you'll easily be able to walk to many of Libby's shops and restaurants, as the hostel is only a block or two off of California Ave, which is Libby's main drag.
4. Best Hostel in Montana for Digital Nomads
Inside a real 19th-century Victorian house right by Downtown Missoula is Shady Spruce Hostel. Missoula is a great base to have in Montana if you're planning on visiting both Glacier and Yellowstone National Parks since it's fairly convenient to both of them.
The place has been completely remodeled with your every need in mind, so even if you're not used to hostelling, you're likely to find that you prefer it to a hotel. If you have some work to catch up on, you can use their free, high-speed wifi in their dedicated library. For those who need to stay connected, Shady Spruce is the perfect hostel you'll find in Montana.
They have several types of accommodations. The most budget option is a bed in their "Podormitories": sequestered bunk beds for singles or a pair traveling together. If you're looking for even more privacy, you can book a private, single or triple room.
Both of these options have access to several shared facilities, like huge bathrooms, two kitchens, and a back patio with a grill. If you're part of a couple or a small group traveling together, you may want to opt for the suite, which has its own bathroom and kitchenette.
5. The Best Hostel in Montana for Couples
A small hostel with just three rooms, the Kalispell Hostel is in a mid-century flat above a bike shop. Each room sleeps either one or two people, and all guests share the kitchen, bathroom, and living room which has a fireplace. They have one room available with a single queen bed instead of a bunk bed, perfect for a couple traveling together.
When shared, prices for rooms are very reasonable, so you can spend the extra dough exploring Flathead Lake and Glacier National Park.
For the days when you're not headed out into the wilds of Montana, staying at Kalispell Hostel puts you only a block from Main Street. There you'll find some of Montana's best coffee shops, breweries, diners, and bakeries where you can make a pit stop between browsing the downtown's many independent shops.