Sun Prairie, Montana, is in Cascade County and lies along I-15 near Sun River. This quiet town is at the foot of the Rockies and part of the Great Plains.
It is considered a census-designated place but part of the Great Falls metropolitan area.
The area is somewhat geographically isolated and does not see as much tourism as some of the other Montana cities. Sun Prairie is close to Buffalo Jump State Park, the world's largest buffalo kill site.
The area has immense Native American History. Archeologists have uncovered spearheads dating back 5,000 years. Thousands of years later, settlers from out East began to occupy the place, building railways and mining towns.
Because Sun Prairie is such a small town, most activities are in Great Falls, about a 15-minute drive from Sun Prairie.
The Top 3 Hotels in Sun Prairie
BEST FOR FAMILIES
Free WiFi
Freer Airport Shuttle
Spa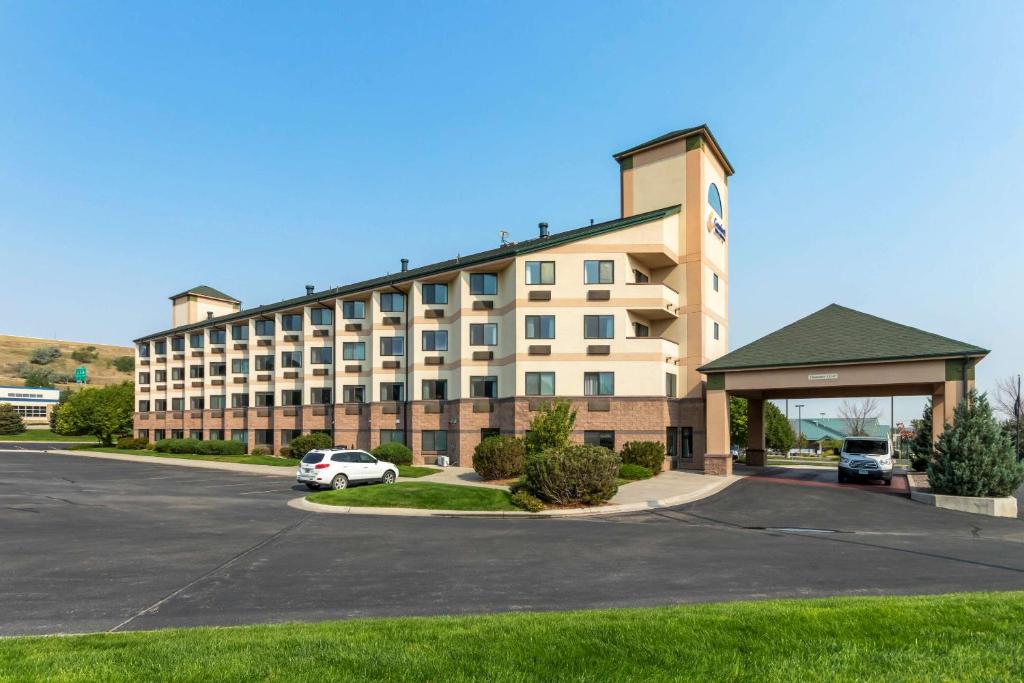 BEST OVERALL
Pets Allowed
Free WiFi
Fitness Center
BEST OVERALL
Bar
Freer Airport Shuttle
ATM on Site
Main Attractions
View this post on Instagram
Shopping
Bring home a souvenir from these small-town shops!
Quilts Galore & More – This small business in Sun Prairie is one of the best places in Montana to buy fabric for quilt making. The owner makes you feel like family and offers excellent recommendations!
Jack Club Antique Mall – If you love antiquing, you must try Jack Club Antique Mall. You will need at least a couple of hours to see everything they have! Pick up some fun treasures on your way out.
Smith's Great Falls Marketplace – Do you need a nice place to shop while you're in town? Check out Smith's Marketplace. Smith's has well-stocked shelves and a great deli selection!
Holiday Village Mall – This is a two-story shopping mall carrying all your favorite brands; Holiday Village is a great way to spend the afternoon. Take a break from shopping and have lunch at one of the restaurants at the mall.
Historical Sites & Landmarks
Visit some of these historical sites around Sun Prairie, Montana. Don't forget your camera!
JC Adams Stone Barn – This historic barn is a Romanesque revival in Sun River, Montana, just a short drive from Sun Prairie. Check out the late 1800s architecture and learn more about the history of this barn and the area.
Fort Shaw Marker – The Fort Shaw Marker was erected to memorialize Robert G. Shaw, killed during the Civil War in 1863. You can find the marker in Fort Shaw, MT, just 19 miles from Sun Prairie.
The History Museum – Learn about the history in Cascade County at The History Museum. The museum is in an old warehouse where it houses archival documents and artifacts of days gone by.
Statue of Liberty Replica – You can find this Statue of Liberty Replica in Gibson Park. The Boy Scouts of America erected it in 1950.
Paris Gibson Square Museum of Art – Originally a high school in 1896, this art museum sits on 4 acres and features Romanesque Revival architecture. Current and historical artwork is displayed, mainly from artists of the NorthWest.
Parks
Have some fun in the sun at these top-rated parks in the area.
First People's Buffalo Jump State Park – This state park is a historic landmark and archeological site. People come to Buffalo Jump for its scenery, history, and great hiking. The hike is 3 ½ miles and mainly uphill, so bring comfortable shoes and water!
Wadsworth Park – There are many activities to do at Wadsworth Park. Take a day and relax by the water with a fishing pole, or bring your canoe and glide through the water. There are also walking trails and places for archery.
Grand Vista Park – Bring the kids to play on the playground or join the little league team. There are walking paths and places for picnics as well!
Noah's Ark Park –  Noah's Ark is a nice little park with playground equipment and fields to let your dog run around.
Nightlife
Relax and unwind with friends at these small-town bars and casinos.
Silver Spur Saloon – Small-town bar serving delicious burgers and adult beverages. Sit out on the patio with your drink during the summer, or play pool with friends.
Horseshoe Saloon and Casino – This country bar is the hot spot in Sun Prairie. Stop by and play games, drink, and order delicious food.
Tuffy's Sunset Inn – Come by and unwind at this friendly biker bar. Have some drinks and great conversation, and try their delicious Philly cheesesteaks!
Bighorn Bar and Grill – Bighorn is a cozy country bar with excellent service and delicious food. Play some slots and order the loaded fries or nachos.
Frontier Inn – Frontier Inn is a casual bar and casino that hosts poker nights and live music. Order a cold beer and let loose on the dance floor!
Recreation Activities
Enjoy the great outdoors while getting some exercise!
Hiking/Walking
Whether you're looking for a challenging hike or a stroll, the Sun Prairie area has something for every level of hiker. Try the Buffalo Jump State Park for intermediate to challenging hikes, or venture out and hike the River's Edge Trail at Great Falls Park.
For novice hikers, stroll around Wadsworth Park and enjoy the lake views.
Paddleboarding & Canoeing
Wadsworth Park is a great place to take your canoe or paddleboard out on the water. Glide through the lake and enjoy the sounds and sights of Montana nature.
Fishing & Hunting
Benton Lake National Wildlife Refuge covers 12,000 miles of terrain in Northern Cascade County. It's known for bird-watching and is a great place to hunt and fish.
Fowl and big-game hunting are allowed on the refuge during certain times of the year.
Accommodation
While Sun Prairie doesn't have any lodging, there are some great hotels nearby.
Special Events
View this post on Instagram
Check out some of the fun events in the area while you're in town!
Activities Near Sun Prairie, Montana
Want to take a day trip and explore? Try out some of the best activities close to Sun Prairie.
Cities & Towns
Casinos
Museums
Family Fun
Related Articles