The community of Evergreen, MT is a small suburb of Kalispell. It sits along U.S. Route 2 and is just a short drive to Glacier National Park.
The community itself is fairly small. The total area of Evergreen is just 8.6 square miles. This charming community is bordered on the west by the Whitefish River, and to the east by the Flathead River.
Visitors to the Kalispell area will find that Evergreen is a nice break from the hustle and bustle of one of the state's largest cities. Evergreen has nice amenities and is a great place to visit if you're looking to spend some of your vacation time playing golf.
Evergreen sits in the Flathead Valley along with a number of other communities including Kalispell, Bigfork, and Whitefish.
All of these communities share a love of the outdoors, and you'll find plenty of things to do and see in and around Evergreen, MT.
Let's take a closer look at Evergreen, Montana, including activities, accommodations, and culture.
Your Guide to Evergreen, Montana
The Best Hotels in Evergreen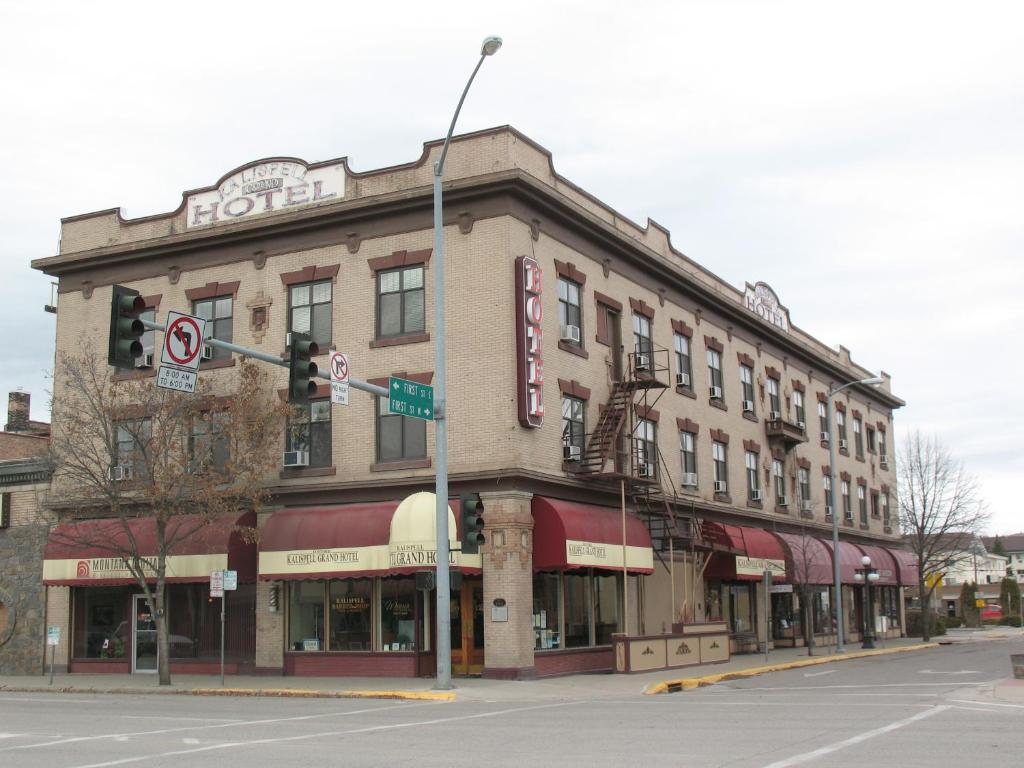 BEST OVERALL
Free WiFi
Pets Allowed
Golf Course
BEST FOR FAMILIES
Picnic Area
Business Center
Tea/Coffee Maker in All Rooms
Main Attractions
Lone Pine State Park
If you want to enjoy some peace and quiet while at the same time not venturing too far from the comforts of Evergreen, Lone Pine State Park is a great place to visit. This 270-acre state park is located southwest of Evergreen.
The land the park sits on was once owned by Ernest and Hazel White. They donated the land to the State in 1941 with the stipulation that the land would be used for educating the benefits of conservation.
Today, Lone Pine State Park is a popular place to visit if you're looking for a good hike, a spot to mountain bike or if you just want to enjoy some of the most spectacular views of the Flathead Valley.
Park access is $10 per day. While you're in the park, check out the visitor's center which has some great displays and information on the history of the area and the wildlife and plants found in the park.
Old Steel Bridge Fishing Access
If you are one of the many people that come to the Flathead Valley to enjoy some of the best trout fishing in the world, Old Steel Bridge fishing access is a spot you must check out.
There is easy wading into the Flathead River from this point, for fly fishing enthusiasts. If you want to put a small boat into the river, this point also has a gravel boat ramp.
Families will enjoy the area around Old Steel Bridge, as it is a great place to introduce kids to the joy of fishing. Visit the Shady Lane Kids Fishing Pond to give your children a great first fishing experience.
Conrad Mansion Museum
If you're a history buff and want to learn a bit of the area's history a visit to the Conrad Mansion Museum is a must. Dedicated to preserving the Conrad family estate, visitors to this museum will wander through the halls of the Conrad home, which was built in 1895.
Visitors to this museum can wander at their own leisure or try one of the guided tours of the home and grounds for a more in-depth look at the Conrad family and the Flathead Valley history.
Recreation Activities
Evergreen, MT is located in one of the most beautiful parts of Montana; the Flathead Valley. This area is home to some of the best fishing in the world, along with tons of other recreational opportunities.
Hiking
Evergreen's proximity to Glacier National Park, Flathead National Forest, Kootenai National Forest, and Lone Pine State Park gives visitors plenty of places to hike.
Many of the hiking trails in the state park and National Forests are accessible for hiking or mountain biking if you're looking for a faster-paced activity.
Golf
If you love to golf, you'll love staying in Evergreen. This community has two golf courses and is in close proximity to Kalispell, which also has some amazing golf courses.
Visitors to Evergreen who want to golf will enjoy Village Greens Golf Course. This course is well-established, first opening its links in 1969. It is a reasonably priced golf course, with plenty of amenities.
The other option for golf in Evergreen is Buffalo Hills Golf Club. This course has some great hills and some of the most lovely greens.
Fishing
Evergreen is something of an island between two of the most amazing fishing rivers in Montana. The community is bordered on the west by the Whitefish River, and to the east by the Flathead River.
Both are considered blue-ribbon trout fisheries. If you're looking for spots to cast fish, check out Flathead Lake which is just a short drive south of Evergreen along Montana Highway 35.
All visitors to Evergreen and Montana will need to have a current Montana fishing license. Fishing licenses can be purchased online from the Montana Department of Fish Wildlife and Parks.
You'll also find all of the state's fishing rules and regulations on this site as well.
What Is The Cost of Living in Evergreen Town?
With a cost of living index based on the U.S. national average of 100, Evergreen works out cheaper with a score of 89.9. This is around 8% lower than the national average.
Housing seems to be the main issue when it comes to living expenses, with Evergreen median real estate more expensive than other places in Montana by 58.2%, and 62.4% more expensive than other U.S. neighborhoods.
Is Evergreen Town Safe to Live in?
The rates of crime in Evergreen are relatively similar to the average US city. The rates show crime in Evergreen is at 25.63 per 1,000 residents during a standard year, and local residents generally consider the northwest part of the city to be the safest area where crime rates are recorded at 1 in 65 people.
The chances of being a victim of crime in Evergreen's eastern neighborhoods are reportedly somewhat higher, affecting something like 1 in 26 people.
The good news is that violent crime weighs in at less than 2 incidences per 1000 people, while property crime is much more of an issue and affects approximately 15 people per 1000.
What is Evergreen Town Known for?
Evergreen is in a prime position for many nearby attractions. It is less than an hour from Glacier National Park's West Entrance and is surrounded by recreation options both in the vicinity and further afield.
From a historic aspect, the famous Conrad Mansion showcases the period residence of the founder of nearby Kalispell, and the Hockaday Museum of Art is another nearby cultural attraction that draws in visitors to the area.
Accommodations
Evergreen itself doesn't have a ton of lodging options, however, its close proximity to Kalispell gives you plenty of additional options including Airbnb's, Bed and Breakfasts, and small inns and hotels.
Best Time To Visit Evergreen
The best time to visit Evergreen largely depends on your plans while you're there. For the large majority of tourists, who arrive in Evergreen to explore the most famous highlights and enjoy the outdoor activities, the best time to visit is during the short warm summer, from early July to mid-August. 
That said, a winter trip to Evergreen offers its own benefits. After all, the Flathead Valley lies in northwest Montana, otherwise known as a skier's paradise. 
A Summer Trip to Evergreen
Statistics show that summer is the most popular time to visit Evergreen, with the warmer months considered the high season right across Montana.
June through August are the warmest months to visit, though the weather starts warming up from mid to late May. The weather remains warm until the beginning of September, at which point the chilly fall temperatures emerge in preparation for winter.
Summer Weather in Evergreen
Temperatures in June in Evergreen range from mild to warm, with an average low of 41.9°F (5.5°C) and an average high of 66.9°F (19.4°C) (Weather U.S.). 
The average temperature increases in July, which is the hottest month of the year in Evergreen. Typically, temperatures range between a minimum of 46.2°F (7.9°C) and a maximum of 77.5°F (25.3°C). 
August in Evergreen, the final month of summer, is still warm, although slightly cooler than July. The average minimum is 46.4°F (8°C) while the average maximum is 77.4°F (25.2°C). 
What to Pack for a Summer Trip to Evergreen
Your summer packing list for Evergreen won't solely include bathing suits and beachwear. Temperatures can still drop to cold at night, which requires layering clothes.
Plus, you'll need the correct gear for summer outdoor activities, such as horseback riding. 
Summer essentials for your Evergreen packing list will be similar to your packing list for Kalispell. They include: 
T-shirts and long-sleeved t-shirts

Tank tops

Light sweaters

Sun hat/baseball cap

Shorts

Sandals

Hiking boots

Water shoes

Bathing suits/swimming trunks

SPF

Sunglasses

Closed-toe shoes and long pants (if horseback riding)
Things To Do in Evergreen During Summer
Hike in Lone Pine State Park
At 279 acres, Lone Pine State Park has 7.5 miles of trails available. In the summer months, you can hike these trails or even enjoy mountain biking or horseback riding.
While the park can get busy in the summer months, there are still quieter areas that offer pockets of solitude. 
Visitors particularly enjoy coming to Lone Pine State Park because of the stunning views of the Flathead Valley. The trails themselves are also aesthetically pleasing, lined with wildflowers and frequented by wildlife.  
The park is also home to a popular visitor center, which boasts its own gift shop. Open during all seasons, the visitor center offers tours of the park along with workshops for children and adults and interpretive programs. 
Play Golf at a Local Golf Course
Evergreen happens to be a premier destination for golfers, with two prominent courses in the area: Village Greens Golf Course and Buffalo Hill Golf Club. 
With the mild and warm temperatures of the summer months, this is the perfect activity for those looking to enjoy the Montana outdoors. Both golf courses are located in Kalispell, just minutes from Evergreen. 
Visitors can enjoy a few rounds before relaxing at the dining venues on both courses, where private events are also held. 
Discover Conrad Mansion
Kalispell has a fascinating history. Conrad Mansion was first constructed in 1895 and has been fully restored. The establishment runs guided tours of the impressive home, which are conducted by guides in period dress to truly immerse visitors in the era. 
The museum is open from May through October, seven days a week. And while the tours of the mansion offer a captivating insight into the history of the family and the building, many visitors find that the best part is visiting the Fairy Steps at the back of the property. 
The Fairy Steps are legendary among the children of Kalispell. Part of the Charles Conrad Memorial Cemetery, the enchanting steps start by the banks of the Stillwater River and lead up a very steep cliff. 
Originally constructed to provide a passage for Alicia Conrad to visit her husband's remains, which were scattered nearby, the stairs are now frequented by local children. 
Explore Glacier National Park
Evergreen is less than an hour away from Glacier National Park, making this one of the best destinations to incorporate into your summer trip.
The park is the busiest in summer, but this is also when the weather is the mildest and the majority of the park is open. 
Sometimes called the Crown of the Continent, the park features melting glaciers, sparkling lakes, and 700 miles of trails that are perfect for hiking and mountain biking in warmer weather.
Glacier National Park also boasts campsites, visitor centers that hold educational events and ranger-led activities, and famous sights like the Going-to-the-Sun Road and Avalanche Lake.
A Winter Trip to Evergreen
A winter trip to Evergreen is starkly different from a summer trip. But for those who enjoy snow sports and wintry wonderland views, December, January, and February might be the ideal time to visit. 
Winter Weather in Evergreen
Although winter officially begins in December, the wintry conditions begin in the fall in Evergreen.
Both October and November are chilly, with temperatures regularly falling below 30 degrees Fahrenheit. In December, temperatures tend to range between 14.7°F (-9.6°C) and 25.9°F (-3.4°C).
January is similarly cold in Evergreen, with an average range of 14.7°F (-9.6°C) to 27.3°F (-2.6°C). February is the last month of winter in Evergreen and is also freezing with an average low of 14.4°F (-9.8°C) and an average high of 28°F (-2.2°C).
The cold weather persists well into spring, with March and April both being cold and frosty on average. Temperatures finally start to rise significantly in May, with an average low of 35.6°F (2°C) and an average high of 59.5°F (15.3°C). 
What to Pack for a Winter Trip to Evergreen
If you plan on visiting Evergreen during the winter and partaking in snow sports, the correct gear is a must. Winter essentials include:
Snow boots

Snow pants

Thick wool socks

Winter coat/jacket

Sweaters

Beanies

Gloves

Scarves

Chapstick

Sunglasses (yes, even in winter!)
Things to Do in Evergreen During Winter
Snowshoe in Lone Pine State Park
Lone Pine State Park is one of the best destinations to visit near Evergreen on a summer trip, but it's also great to include on your winter itinerary.
The hiking trails turn into fantastic opportunities for snowshoeing, with snowshoe rentals available for $5 per person or $10 per family. 
The views over the Flathead Valley might possibly be even more mesmerizing in winter, as a blanket of snow carpets the landscape. Of course, there are fewer opportunities to spot wildflowers and certain species of wildlife during the winter months, but the snow-covered vistas more than make up for it.
The visitor center and gift shop remain open in winter too, so Lone Pine State Park is an equally great highlight to visit in Evergreen whether you travel during the summer or winter. 
Enjoy Snow Sports at Glacier National Park
In Glacier National park, many roads close due to weather during the winter months.
However, the famous Going-to-the-Sun Road remains open from West Glacier to Lake McDonald Lodge and is conveniently plowed, weather permitting.  
Many park guests actually choose to visit in winter to enjoy snow sports, including guided snowshoe trips. There is an unplowed section of the Going-to-the-Sun Road which is also a beloved winter ski and snowshoe route in the park. 
Guests may also continue to see wildlife in winter, with white-tailed deer frequenting trails and areas around the park. 
Visit a Museum
When the weather is cold and the snow is falling, there's no better way to pass an afternoon than indoors at a museum.
Many museums close seasonally during the winter months, but while visiting Evergreen, you can experience the inspiring Hockaday Museum of Art during winter. 
The museum currently stands in a heritage building first constructed in 1903 as the town library. It offers rotating exhibits as well as a permanent collection by both renowned and emerging artists. There is also a permanent exhibition of Glacier National Park art and culture on the grounds. 
The Northwest Montana History Museum is another establishment open during the winter months, although it is only open on Saturdays seasonally.
Located in East Kalispell, the museum displays permanent and temporary exhibits that detail the rich history of the area. 
Special Events
Evergreen, though a small community does have a few of its own community events each year. However, if you are looking for more events to experience in the Flathead Valley, Evergreen's larger neighbor, Kalispell, has plenty of options for entertaining the whole family.
Activities Near Evergreen
Recreation Activities
Pine Grove Pond
Kings Loop Park
Evergreen Lions Park
Sunrise Terrace Park
Stebbins Field
Woodland Water Park
National Parks and Forests
County and State Parks
Old Steel Bridge Fishing Access
Museums
Related Articles
Latest in Evergreen
A quiet suburb of Kalispell, Evergreen is a small community in Montana's Flathead County that offers…