Do you ever find yourself wanting to just get away from it all? Maybe visit a small town that's off the beaten path and filled with character? If so, then you should check out Ennis, Montana.
This charming little community is home to some of the most beautiful scenery in the country. Whether you're a nature lover or just looking for a peaceful place to relax, Ennis is definitely worth a visit.
So if you're looking for an escape from the hustle and bustle of city life, be sure to add Ennis to your travel list! You won't regret it!
Ennis is a town in Montana that has a rich history dating back to the 1863 gold rush. William Ennis was one of the first settlers in the area, homesteading a site along the Madison River. The town grew rapidly as more and more people came to strike it rich in the goldfields.
Today, the town is a popular tourist destination for those who love the outdoors. The area is renowned for its fishing, hiking, and camping opportunities. And, of course, visitors can still pan for gold in the same river where Ennis got its start.
Whether you're looking for history or adventure, Ennis is the perfect place to explore.
The Top 3 Hotels in Ennis
BEST OVERALL
Pets Allowed
Fishing
Free WiFi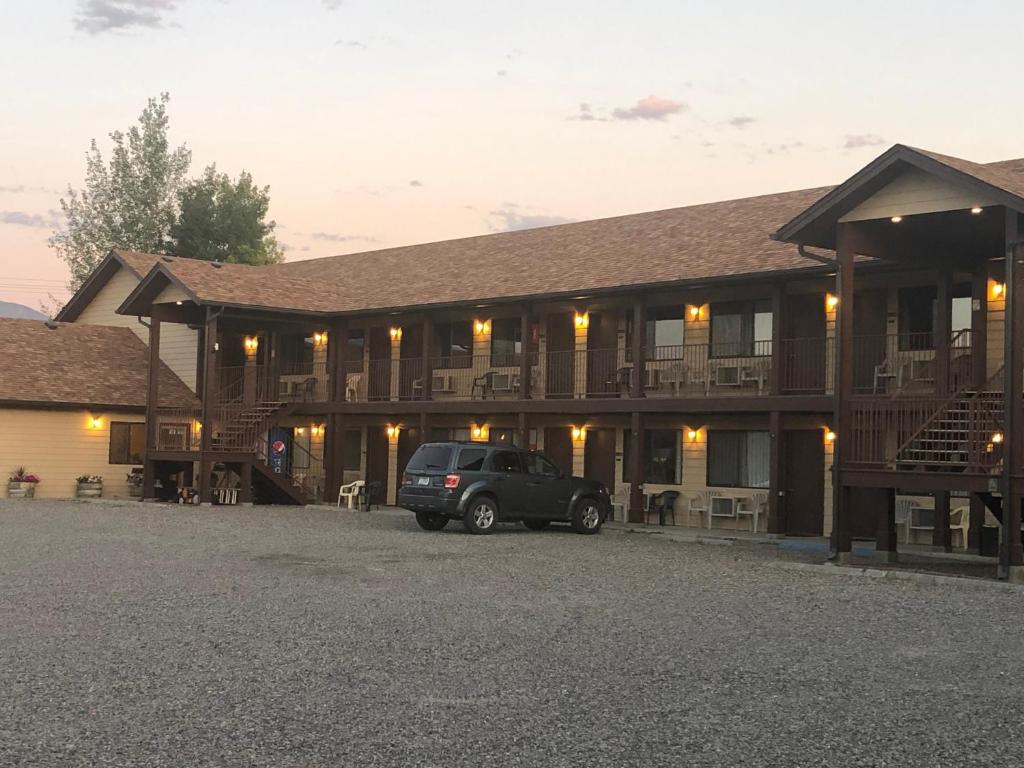 BEST FOR FAMILIES
Picnic Area
Board Games/Puzzles
Mountain Views
BEST OVERALL LODGE
Live Sports Events
Madison River
Karaoke
Main Attractions in Ennis, Montana
If you're looking for a quaint and charming town to visit in the United States, look no further than Ennis, Montana.
This small town is located in the heart of the Rocky Mountains and is packed with historic sites and beautiful scenery. Here are some of the top attractions in Ennis that you won't want to miss!
Madison Valley History Museum
The Madison Valley History Museum in Ennis, Montana is a must-visit for anyone interested in the history of the American West.
The museum houses an impressive collection of artifacts, tapes, photographs, and stories of historical importance to the Madison Valley. Visitors can explore the museum's exhibits on their own or participate in one of the many guided tours offered.
Whether you're a history buff or just looking for a unique tourist destination, the Madison Valley History Museum is sure to educate and entertain.
Burnt Tree Brewing
Burnt Tree Brewing is the perfect place to relax and enjoy a great drink and some delicious food.
The atmosphere is warm and inviting, and the staff is always happy to help you find the perfect drink to suit your taste. The brewing process is done right on-site, so you can watch as your favorite beer or cider is made.
In addition to its great selection of drinks, Burnt Tree Brewing also offers a menu of mouth-watering food. Their sandwiches and burgers are all made with locally sourced ingredients, and they offer a variety of salads and sides to choose from.
Whether you're looking for a place to watch the game or just want to enjoy a great meal, Burnt Tree Brewing is the perfect spot.
RiverStone Gallery
RiverStone Gallery is a great place to find wonderful fly fishing art. The world-famous Madison River is only a couple of blocks away from the gallery, so fly fishing is close to the heart of all local artists!
In addition to fly fishing art, you can also find wildlife art, paintings, traditional oils, pottery, and other wonderful sights to behold.
When you visit the RiverStone Gallery, you will be able to see the beautiful artwork and experience the friendly atmosphere.
Recreation Activities
Nestled in the heart of the Madison Range, the Gravelly Range, and the Tobacco Root Mountains, Ennis is an outdoor lover's paradise.
With miles of hiking and biking trails, along with some of the best skiing and camping in the state, there is no shortage of recreation activities to enjoy. For those looking to cast off, Ennis is also home to some of the best fly fishing in the country.
Whether you're looking for an adrenaline-powered adventure or a relaxing day spent surrounded by natural beauty, you'll find it all in Ennis.
Fishing
If you're looking for some of the best fly fishing in the country, look no further than Ennis, Montana.
Perched on the banks of the Madison River, Ennis is a mecca for anglers from all over the world. The river is home to a variety of fish, including brown trout, rainbow trout, and cutthroat trout. And with miles of scenic waterways to explore, you're sure to find the perfect spot to drop your line.
Whether you're a seasoned fisherman or just getting started, Ennis is the perfect place to cast your line.
Hiking
If you're looking for a hiking destination that has something for everyone, look no further than Ennis.
With numerous trails to choose from, ranging from easy to challenging, there's sure to be a perfect hike for you. One particularly scenic trail is the Trail Creek Trailhead, which is recommended for hikers of all skill levels.
The trail takes you through forests and meadows, offering stunning views of the surrounding mountains. And if you're lucky, you might even catch a glimpse of some local wildlife.
So whether you're a seasoned hiker or just starting out, Ennis is the perfect place to explore the great outdoors.
Camping
Ennis is a camper's paradise. With its beautiful landscape and proximity to Yellowstone National Park, it's no wonder that Ennis is one of the most popular camping destinations in the state.
The Madison Valley Campground and Valley Garden Campground are two of the most popular campgrounds in Ennis and for good reason. Both campgrounds offer stunning views of the surrounding mountains, as well as access to hiking trails and other outdoor activities.
Whether you're looking for a quiet place to relax or an adventure-filled weekend getaway, Ennis has something for everyone.
Accommodations
When planning a trip to Ennis, Montana, there are many accommodation options to choose from.
For those who enjoy camping, there are numerous scenic campsites located throughout the area. There are also several hotels in town, as well as RV Parks for those traveling with larger vehicles.
Regardless of your preferred style of travel, there is sure to be an accommodation option that meets your needs. Whether you're looking for a rustic camping experience or a more luxurious hotel room, you will be spoiled by options.
Special Events
Ennis is a small town with a lot to offer in terms of special events. Throughout the year, the town hosts art festivals, brew and spirit festivals, and more.
The art festivals are a great way to check out local talent, and the brew and spirit festivals are a perfect way to sample some of the best that Montana has to offer.
No matter what time of year you visit, there's sure to be an event that appeals to you.
Activities Near Ennis
There are plenty of activities to keep you busy in the area. If you're interested in history, be sure to visit some of the local museums.
For a taste of nature, go hiking or fishing. And if you're just looking to relax, there are plenty of beautiful parks to enjoy. No matter what you're interested in, you'll find something to do near Ennis.
So come on down and enjoy all that this town has to offer.
Recreation
Parks
Museums and Galleries
Related Articles
Latest in Ennis
The small town of Ennis in southwestern Madison County is one of those places in Montana…