Carlton, Montana, is a small town outside of Missoula. National forests surround Carlton, offering residents and visitors abundant hiking and camping opportunities.
While the town doesn't offer many amenities, it is a natural, mountainous oasis away from the big city. Visit historic sites and tour nearby museums. Or, spend the day at a national park and grab a drink with friends at a local bar as the sun goes down.
The Top 3 Hotels in Carlton
BEST OVERALL
Pets Allowed
Mountain View
Free WiFi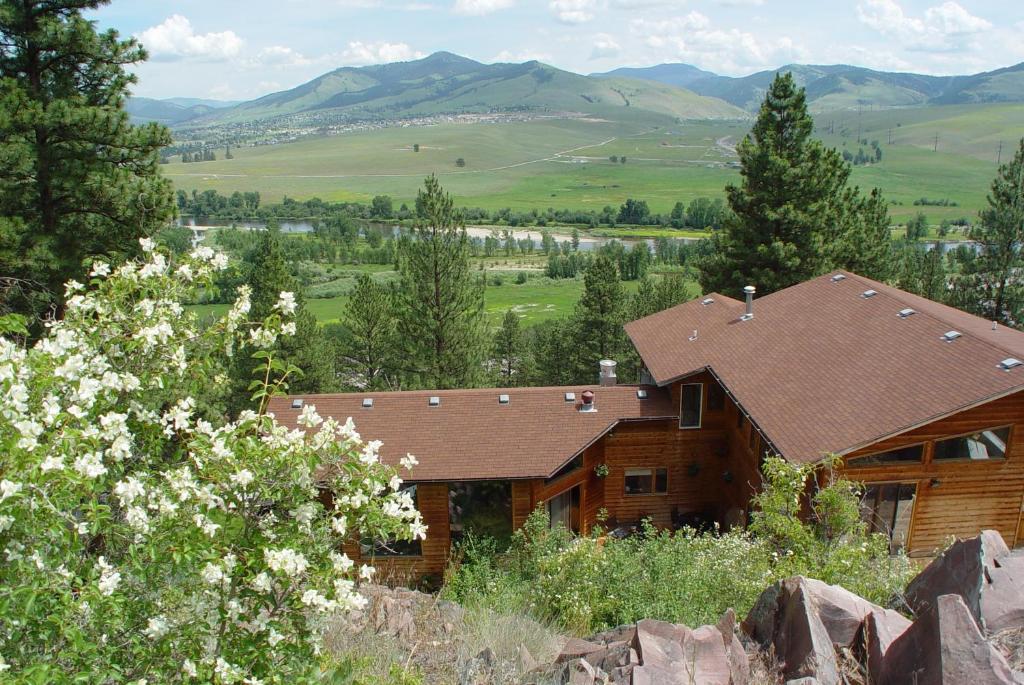 Main Attractions in Carlton, Montana
Have fun on your trip and visit the best Carlton, Montana, has to offer!
Historical Sites & Landmarks
Bitterroot Valley, Homeland of the Selis Historical Marker, honors the Selis people. The area is spiritually and materially crucial for the natives of Montana. The Bitterroot Valley is home to many native ancestors, and the historical marker was erected to remember these great people.
Fort Fizzle Historic Site is a nice picnic area where you can relax with family and learn about the history of Fort Fizzle. There is also a replica of a 19th-century military entrenchment. The site features tables and public restrooms; follow the trails leading to nearby Lolo Creek.
Pack a lunch and enjoy the day at Lewis and Clark Picnic Area. Walk the historic Lewis & Clark and Nez Perce trails, view wildlife, and pitch a tent at the campground.
Museums
Visit St. Mary's Mission and Museum in nearby Stevensville and tour the well-preserved buildings with priceless artifacts. A Jesuit priest founded the mission in 1841, and it has been beloved by the Bitterroot Valley for many years.
Explore the museum, art gallery, and gift shop before touring the grounds (including a still-standing tree planted in 1869).
Stevensville Historical Museum preserves the area's history and educates the public on Salish Native Americans, the Catholic church, and the first white settlement in Montana. They are open from Wednesday through Saturday, 11 AM to 4 PM.
Enjoy the remnants of the old west at Holt Heritage Museum. Their motto is "Cowboys and Indians – Rodeos & Pow Wows," they have an extension collection of artifacts and stories from the wild west. Stop by for a cowboy chuckwagon dinner!
Parks
Hang out at Hideout Mountain Park and bring your family! The park provides well-maintained baseball fields, walking trails, and a playground area for the kids. There is a small water feature during the summer where you can cool off.
Travelers' Rest State Park rests along the banks of Lolo Creek, where Natives used to live, and Lewis & Clark passed by several times on their journey. Explore cultural and natural history at this beautiful state park; visit for an event or a guided tour.
River Park is an open space park perfect for recreational activities like frisbee, football, and other sports. Pack supplies for a family BBQ and use the charcoal grills on site. Take a leisurely walk on the river trails and explore nature.
Lewis & Clark Park has everything for your family outing. This park features two playgrounds, swing sets, a basketball court, eating pavilions with grills, a swimming pool, a skate park, and open space for other activities.
Nightlife
Backyard Tap House is a bar and restaurant with a cozy atmosphere and special events. Stop by for beer and cocktails and grab a burger or BBQ chicken.
The tap house features an outdoor patio with fire pits and games for the whole family. Watch the latest game and play corn hole toss!
Are you looking for a full-service bar with excellent service, casino games, and a fun atmosphere? Check out Bum Steer Bar & Casino! Enjoy live music, great drinks, and delicious food. Come for karaoke night and grab drinks with friends and family.
Stop by the Rustic Hut for food, drinks, dancing, and live music. This country bar provides karaoke nights, trivia events, and open mic. It's a lively bar where you can have a good time with friends and an excellent place to make new friends!
Wildwood Brewery is a taproom and pizza kitchen. Sip on craft beer by a roaring fire and enjoy the cozy atmosphere.
Recreation Activities
Montana is an outdoor lover's dream. Check out these favorite activities in Carlton!
Camping
Chief Looking Glass Campground is a clean, quiet campground open from May through November. There are restrooms but no hookups with easy access to the Bitterroot River. Spend the day fishing and hiking before heading back to your campsite.
Located in the Bass Creek Recreation Area, Larry Creek Group Campground is a heavily-used campsite open from April to September.
For $75 a night, you can enjoy paved paths, restrooms, picnic shelters, fire rings, and a water pump. The area offers hiking, biking, fishing, and wildlife viewing.
Charles Waters Campground provides 26 campsites for tents and RV trailers. Enjoy amenities like restrooms, water, electric hook-up, hiking trails, and an open meadow for activities. The site opens in May for $15 a night.
Lolo Creek Campground is adjacent to Lolo Creek and the Lewis & Clark historic trails. This lightly used campsite is RV accessible and offers picnic tables and fire rings. Spend the day hiking and experiencing outdoor learning.
Hiking
Sweeney Trailhead is a hiking area in the Selway-Bitterroot Wilderness. This trail is lightly-used and is best for a daytime hike. Be mindful that there are no restroom facilities or water sources, so plan accordingly.
Bass Creek Trail is a moderately challenging hike. It is a 15-mile out-and-back hike that takes approximately 15-hours total to complete.
People use the area for hiking, birding, and snowshoeing. Dogs are also allowed as long as they are leashed.
If you are looking for a challenging hike, try Carlton Lake Trail. This strenuous hike is 9-miles and takes about 5-hours to complete. Be sure to bring plenty of water and nutritious snacks.  Dogs can be off-leash in specific areas.
Lolo Peak is another challenging hike. It's 11-miles and takes over 6-hours to finish. Lolo Peak is a popular trail mainly used for hiking and backpacking. Dogs must be on leashes at all times.
Fishing
Chief Looking Glass is a campsite with fishing access to the nearby river. You will also find a hand boat launch, picnic tables, and fire rings. Also, check out Lolo Creek near the campground.
Accommodation
Are you looking to stay the night close to Carlton? Check out these nearby lodgings.
Special Events
Unfortunately, there are no major events in Carlton, Montana, but check for fun concerts, races, and holiday events happening close by.
Activities Near Carlton, Montana
Carlton, Montana, is a short drive to bigger towns and cities where you will find more activities.
Cities & Towns
Casinos
Family Fun
Shopping Malls
Museums
State Parks
Related Articles