Located in Custer County right along the North Dakota border, Ismay, Montana is well-known as the least-populated incorporated city in the entirety of Big Sky Country – only 17 people at the time of the 2020 census.
While that's certainly a source of pride for some, Ismay is lucky to be surrounded by state parks, natural landscapes, and fiercely loyal communities.
Once home to the Crow Indians, this tiny town's name followed the same suit as several other Old West towns: an amalgamation of two names – in this case, Isabella and May, the daughters of the superintendent of the Chicago, Milwaukee, and St. Paul railroad.
Ismay came to fruition in 1907 with the building of the inter-state Milwaukee Railroad, and unlike other Montana towns, it never had a thriving population.
But that doesn't mean it hasn't had its share of attention. In 1993, the town was contacted by a radio station in Kansas City, Missouri requesting that Ismay change its name to Joe, Montana, in honor of their beloved quarterback, Joe Montana.
Sensing an opportunity to raise funds for their volunteer firefighter crew, the Ismay population of 22 accepted the offer, and on July 3, 1993, the town made it official by hosting a stupendous celebration including a rodeo, parade, and night show.
Their intuitive sense proved correct, with the event drawing 2,000 spectators and raising enough money to support their firefighter squad. We think that's pretty creative!
While Ismay has quietly reverted back to its original name (shh!), it still has that small town sensibility and a few quirky down-home characters, however small.
With so many state parks and recreation sites around, it's easy to spend time in Ismay on your way through the Treasure State (We recommend stopping in at the nearby Plevna Bar for a cold one!).
Read on for some of our favorite spots near charming little Ismay. Here's to you, Joe Montana!
The Top 3 Hotels in Ismay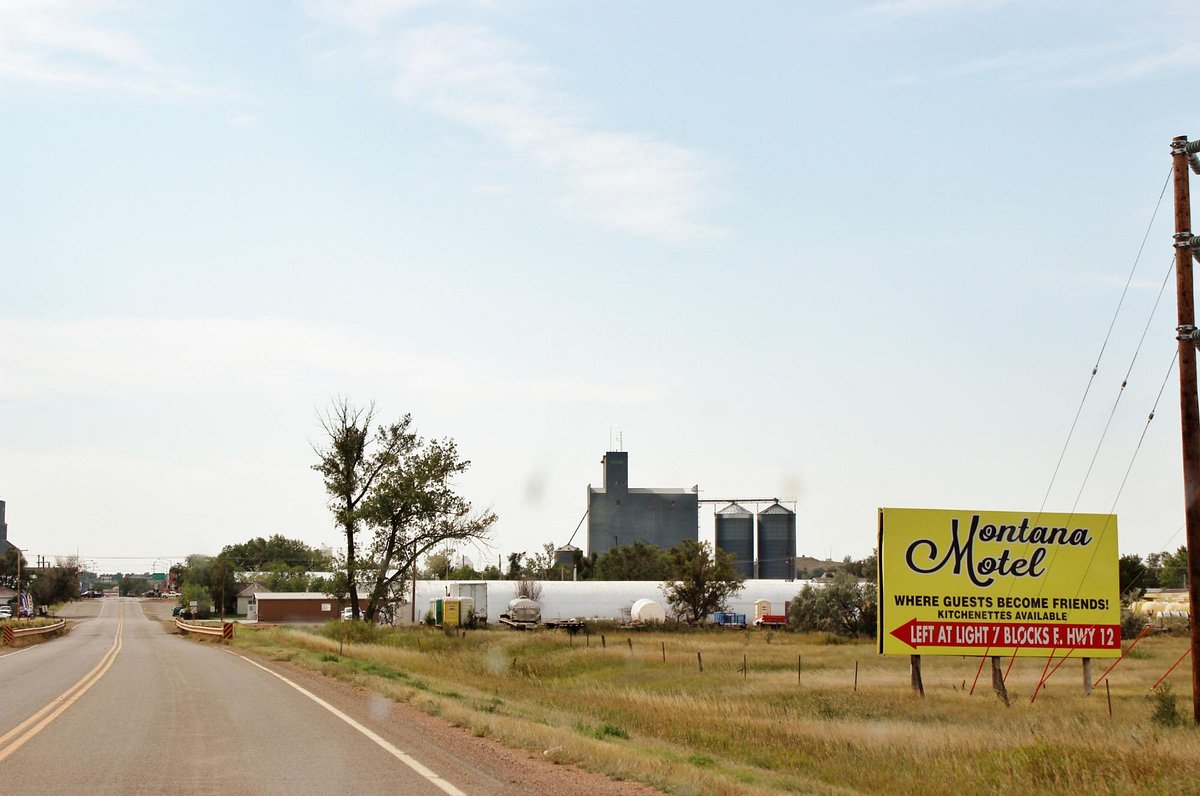 BEST FOR FAMILIES
Free WiFi
Pets Allowed
Family Rooms
Main Attractions
Medicine Rocks State Park
Indulge us at Discovering Montana for a moment. Imagine a spacious landscape filled with rocky formations and ponderosa pines, a place filled with ritual and "big medicine".
While indigeneous tribes consider much of Montana to be sacred, they utilized the power of these rocky hoodoo-like formations to conjure rites important to their spiritual and hunting practices.
Medicine Rocks State Park in neighboring Ekalaka has that root word, medicine, because the Native Americans of the area clearly considered this a great place of healing, or "big medicine."
It's easy to understand when you look around this remote pocket of Montana; even a young Teddy Roosevelt called it "as fantastically beautiful a place I have ever seen".
Medicine Rocks offers 330 acres of jagged, eroded rocks that match its mystical landscape, as well as a family-friendly .75 mile hiking trail and 12 campsites with fully serviced restrooms, picnic areas, and water pumps.
Makoshika State Park
Take a look at some photos of Makoshika State Park – do you notice anything unusual about the unique rock formations? Up in neighboring Glendive, Makoshika's numerous rock faces lend a stately air to the largest state park in Montana.
Named Makoshika from the Lakota word meaning "bad land" or "land of bad spirits," the beauty of Makoshika lies in its rich natural spiritual and fossilized history.
Full of nature trails as well as dinosaur fossil remains – T-Rex, Triceratops, and more! – this stunning state park also offers 28 camping sites, a group picnic area, and an outdoor amphitheater for seasonal concerts and programs.
And if the welcoming pine and juniper trees weren't enough to get you excited, this park has over 11,000 acres to explore, as well as numerous interpretive displays along scenic drives.
Standing where so many dinosaurs once stood, Makoshika State Park is a once-in-a-lifetime opportunity that we wouldn't recommend missing.
O'Fallon Historical Museum
For something a bit closer to home, we heartily recommend the O'Fallon Historical Museum in neighboring Baker, a town Ismay locals often congregate to and celebrate in Special Events.
Built-in 1916, this free museum offers a peek into homesteading life in the rural Old West at the turn of the century, from a traditional one-room schoolhouse to displays from local businesses.
And to add a few more layers, the O'Fallon originally housed the county's jail, acting as sheriff's quarters, but the museum now operates six buildings in one, from a homestead to their prized possession, Steer.
For the largest steer in the world born in 1923, this local animal sure moved around a lot, touring 60 cattle shows in his lifetime before reaching his final resting place at this historical museum. He truly is a piece of local history, immortalized through his momentous size and care of his owners.
This museum is a must-see if you're in the Baker area!
Recreation Activities
Lake Baker and South Sandstone Reservoir
Into fishing? Nearby Lake Baker is incredibly popular with fishermen, offering the opportunity to catch bullhead, bass, northern pike, and yellow perch.
It's also just a beautiful lake to walk around or picnic with friends after visiting the O'Fallon Historical Museum.
Looking to head out a bit further? There's also the nearby Deep Creek, Red Butte Creek, and Cottonwood Creek. Fishermen rave about the larger 108 acre South Sandstone Reservoir below Plevna, where they catch bass, walleye, sunfish, and more.
Strawberry Hill Recreation Area
With over 4,000 acres of recreational space filled with gorgeous pines, sage, and picture-worthy rock formations, Strawberry Hill Recreation Area is a bit further west in Miles City – but worth the drive if you're heading in that direction.
There are also a few available spots for primitive camping, and it completely follows the "pack-in, pack-out" rule – so leave everything better than you found it! One of our favorite rustic spots to camp, Strawberry Hill is a beautiful place to wake up.
Lamesteer National Wildlife Refuge
Heading east from Ismay, check out the Lamesteer National Wildlife Refuge, 800 acres set aside for migratory birds and other Montana critters.
As an unstaffed, day-use recreation area, we like to come to this public-private hybrid spot to enjoy nature during the springtime right as nature is waking up from a long Montana winter.
Accommodation
You won't find any hotels, motels, or inns in sweet little Ismay, but thankfully, Baker is just a hop, skip, and jump away for a good night's sleep.
If you're up for driving further, we do adore the historic Horton House Bed & Breakfast in Miles City, but let's focus on our favorite Baker spots below:
This full-service hotel prides itself in offering the cleanest and comfiest king and queen-sized beds, an on-site restaurant, and a relaxing pool and hot tub.
We love all of the vintage turn-of-the-century photography lining the Red River Inn walls – a nice hometown personal touch, thanks to the O'Fallon Historical Museum. All 28 rooms are great, but our favorite is the Jacuzzi Double Kitchenette Suite!
Even more than the Red River, we recommend this cozy hotel for group trips, whether it be hunting, fishing, or exploring national and state parks.
All rooms come with a refrigerator and offer free parking, as well as fresh coffee in the morning and crisp linens to tuck into after a long day with friends, family, or in a meeting.
We recommend choosing a room with a kitchenette to make your stay even better, and don't hesitate to reach out to the friendly staff if you forget a toothbrush or need a dinner recommendation!
These ten personal cabins are centrally located and within walking distance of downtown Baker, and we love that they've got patios for BBQ grill and chill.
They've got full kitchens and can easily transform into your home away from home, whether you're hunting or playing at the golf course.
As an added bonus, Jackson Village is across from one of our favorite go-to's, Lucky Chinese Cafe – try their Singapore Noodles and say hi to their friendly owner for us!
Last but not least, there are a few places to camp around Ismay, but one of our favorites is Roy's Motel & Campground, which is a full-service campground with water, sewer, and electricity hook-ups.
The campgrounds open at the end of April and stay as late into the winter as possible, but that's where the motel comes in!
We love that Roy's offers complimentary cookies and coffee all day, as well as being pet friendly.
Special Events
As the smallest town in Montana (say it loud and proud!), Ismay doesn't have its own special events – beyond, of course, that epic 1993 Joe Montana party! Locals like to turn to nearby Baker for most of their festivals, races, and county fairs, but they can also be found in southern Ekalaka for dinosaur and summertime fun for all ages.
Activities Near Ismay
Cities
Recreation Activities
Lake Baker (Baker, MT)
Honkers Mallard Backwater (Great for hunting!)
J&J Guide Service (Ekalaka, MT – Another fantastic hunting outfit!)
Macnab Campground (Ekalaka, MT)
South Sandstone Reservoir
Homestead Reservoir
Beach City Pond Fishing Access (Beach, ND)
Prairie Dog Metropolis (Medora, ND)
City Parks & Pools
Terry Pool (Terry, MT)
Glendive, MT (Glendive, MT)
Oasis Natural Pool (Miles City, MT)
Baker Recreation Center (Baker, MT)
Triangle Park (Baker, MT)
Whipkey Park (Glendive, MT)
National and State Parks
Local & Nearby Favorites
Plevna Bar (Plevna, MT)
Box (Baker, MT – Great burgers!)
Corner Bar (Baker, MT)
Lucky Chinese Cafe (Baker, MT)
Wagon Wheel Cafe (Ekalaka, MT)
TSO Cantina (Ekalaka, MT)
Dizzy Diner (Terry, MT)
Black Iron Grill Rotisserie (Miles City, MT)
Pastime Club & Steakhouse (Marmarth, ND)
Related Articles