Great Falls, Montana sits where the prairie meets the mountains and is Montana's hub for western art. With the Missouri River passing through the city, Great Falls is a perfect stop for outdoor recreation enthusiasts and art or history buffs, alike.
There are many things to do in and around Great Falls, MT that you may find it hard to see and do everything in just one stay.
Great Falls is named for five waterfalls on the Missouri River just to the north of the city. The Lewis and Clark Expedition spent 31 days in the area of Great Falls making preparations to portage around the five waterfalls. Today, three of the five falls are used to generate hydroelectric power and give the city's its nickname, "The Electric City"
Annually, around 1-million people visit Great Falls, making it one of the most popular tourist destinations in Montana. The draw for many visitors includes the 10 museums, the historical sites, and of course the outdoor activities.
In this article, we will take a closer look at Great Falls, Montana, and the many activities in and around the area.
Your Guide to Great Falls, Montana
The Top 3 Hotels in Great Falls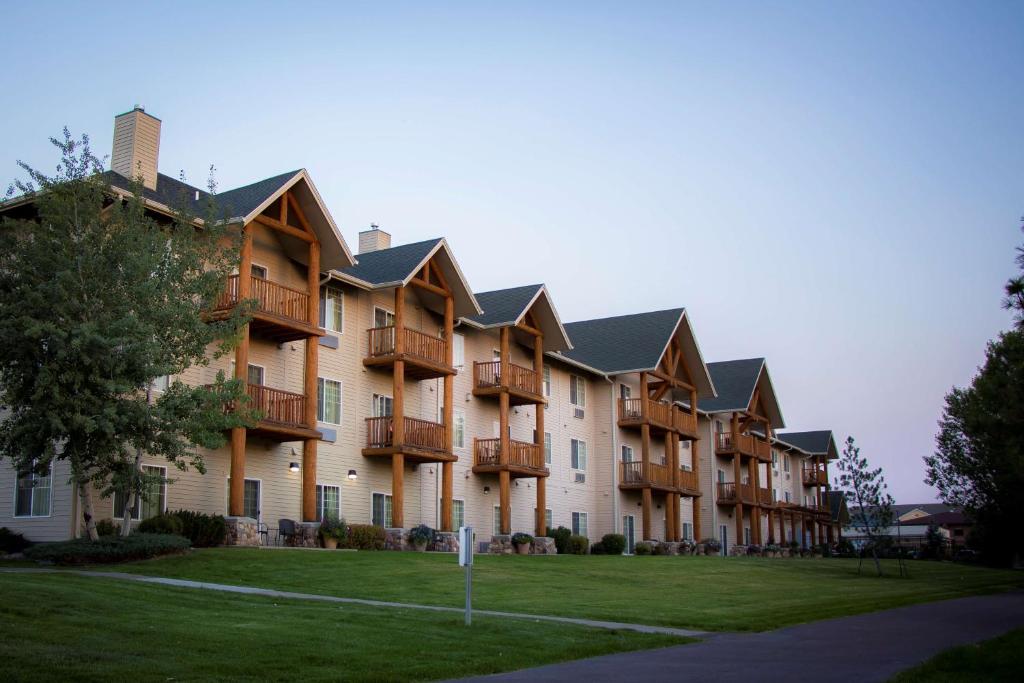 BEST FOR GREATFALLS
Sun Deck
Canoeing
BBQ Facilities
BEST FOR COUPLES
Outdoor Fireplace
Swimming Pool
Fitness Center
BEST BUDGET HOTEL
Pets Allowed
Business Center
Tea/Coffee Maker in All Rooms
Great Falls Main Attractions
Great Falls, MT is steeped in history, and many of the sites you'll want to make sure to visit revolve around that history. If you aren't a history buff, don't worry, there are great things for you to see and do as well.
River's Edge Trail
The main pedestrian corridor of the city, the River's Edge Trail is a great way to see all of Great Falls on foot or on bike. The trail connects many of the places you'll want to visit while in Great Falls including the historic downtown, Gibson Park, the Lewis and Clark Interpretive Center, Giant Springs State Park, and the city's namesake The Great Falls of Missouri.
The trail has picnic tables, benches for resting or enjoying the views of the Missouri. For the more adventurous, there are a number of well-marked single-track mountain biking trails that can be accessed from the River's Edge Trail.
Lewis and Clark Interpretive Center
Since the Great Falls area was home to the Discovery Corps for more than 30 days, it makes sense that this would be a great place to learn about the Expedition. The Lewis and Clark Interpretive Center is one of the largest museums in the west, dedicated to the Lewis and Clark Expedition.
The Center is run by the United States Forest Service and is located within Giant Springs State Park. Along with galleries and educational displays, the Interpretive center also has hands-on activities and interpretive trails that allow you to follow in Lewis and Clark's footsteps.
Giant Springs State Park
Giant Springs State Park is one of the most visited State Parks in Montana. Besides being located so close to downtown Great Falls, and right along the River's Edge Trail, this state park is home to one of the largest freshwater springs in the United States.
The Giant Springs was first described In 1805 by the Lewis and Clark Expedition. Today, at Giant Springs State Park you can enjoy the spring's warm waters or take advantage of numerous opportunities within the 4,500-acre park for fishing, hiking, biking and hunting.
M. Russell Museum
For western art enthusiasts, the C.M. Russell Museum is a must-do when visiting Great Falls. This museum is named after and features the works of Charles Marion Russell, one of the most well-known western artists from Montana.
The museum is a really interesting combination of art, C.M. Russell artifacts, and Native American artifacts. The museum even includes Russell's log cabin and studio.
First People's Buffalo Jump State Park
A great place for a hike and to learn more about the history and culture of Native Americans is the First People's Buffalo Jump State Park. This Park has some of the best archeological finds that show how Native Americans used the area's cliffs as a way to hunt Bison.
There are two ways to experience the Buffalo Jump. The best way is to walk the three-mile interpretive trail from the bottom of the cliffs to the top. Pick up a trail guide at the trailhead before you start your hike.
If walking isn't your thing or if you're pressed for time. Follow the dirt road to the top of the cliffs. There's a nice parking lot and interpretive signs.
Recreation Activities in Great Falls, MT
There are plenty of ways to recreate in Great Falls depending on what kind of activities you enjoy. The city has a busy Parks and Recreation department with plenty of indoor activity spaces and parks. Here are some of our favorite activities and where you can go for the best experiences.
Biking
You'll not have to go far to find great biking in Great Falls. There are plenty of miles of trails around the city for both road biking and mountain biking. Rent a bike in the historic downtown and cruise the River's Edge Trail. From here you can pick up single-track trails within Giant Springs State Park.
Fishing
The Missouri River that runs through the middle of Great Falls is a great place to try your hand at fly-fishing. Check out one of the many local outfitters who can set you up with rental gear or guide you to the best spots on the Missouri.
If you'd rather find a pier or a piece of shoreline to cast your line from, Giant Springs State Park has great fishing spots or just find a quiet spot along the River's Edge Trail.
Remember to check out the Montana Fish Wildlife and Parks website for information on fishing rules and regulations, and to buy your Montana fishing license, before you start to fish.
Hiking
There are miles and miles of hiking trails around Great Falls. Besides the trails accessible from the River's Edge Trail and those in Giant Springs State Park, you'll find great hiking in the Benton Lake National Wildlife Refuge and in Sluice Boxes State Park.
If you want a more robust hiking opportunity, check out the trail to the top of Crown Butte. From here you'll get to see the same view that Lewis and Clark had on their first visit to the Great Falls area.
River Sports
Much of the Missouri River through Great Falls has been dammed for hydroelectric power, so the section of the river through town isn't a great place for water sports.
However, head out of town a bit and enjoy rafting, canoeing, and kayaking on the Missouri. For a quieter spot, head to Sluice Boxes State Park. Belt Creek is a great place to raft or kayak. However, this area is best for experienced rafters and kayakers who can self-rescue.
Rock Climbing
Less than an hour from Great Falls is Blackleaf Canyon and Memorial Falls. Both of these areas have great walls and well-established climbing routes.
What Is The Cost of Living in Great Falls?
Compared to the rest of Montana, the overall cost of living in Great Falls is much cheaper. It compares even more favorably to the national average and is close to 10% lower.
Housing prices are by far one of the main benefits of living in the area. Great Falls Southwest appears to be the most expensive area to live in and Great Falls Northwest is one of the cheapest by comparison as far as house prices and living costs go.
Is Great Falls Safe to Live in?
As far as crime goes, Great Falls has somewhat high crime rates with a score of just 3 out of 100 (100 being the best and safest).
That's a crime incident involving something close to 5 in every 1000 residents, and an annual crime number of over 3,000.
It's definitely not one of the best there is, and it leaves Great Falls ranked as safer than just 3% of other cities in the U.S. The good news if any is that violent crimes account for just 266 of that number.
What is Great Falls Known for?
Great Falls is in the region of the wilderness belonging to the Lewis and Clark National Forest, which is slight to the west.
The area is thus peaceful and scenic, and although recreation is popular in the area it is quite isolated geographically. This restricts the level of tourism that filters through to some degree but there is plenty of opportunity.
Downtown Great Falls is attractive and stretches along the Missouri River and a partially-redeveloped waterfront. The town is located in a valley surrounded by plateaus and hills aside from the northeastern region which is encircled by mountain ranges.
Accommodations
Though a bit smaller than some other communities in Montana, Great Falls has plenty of options for places to stay. You'll find a range of accommodations including chain hotels, bed and breakfasts, and vacation homes.
Best Time to Visit Great Falls
Like many cities in Montana, the wild swing of the seasons renders many activities in Great Falls seasonal. Visitors should take note of what they can participate in during different times of the year when planning a trip there.
If you're unsure what's the best time of year to visit Great Falls, here's a brief rundown of the various tourist seasons.
Best Time to Book Hotels in Great Falls
The month with the highest vacancies and lowest prices in October. Thankfully, the weather in October is still fairly mild, making this an ideal time to plan a trip to Great Falls for bargain hunters and last-minute vacationers looking for hotels.
Best Time for Sightseeing in Great Falls
Toward the end of summer, the beginning of September is the best time to enjoy the many spoils of the region around Great Falls. With warm weather and very little rain, September is the best time to experience the great outdoors with fewer crowds.
Best Time for Shopping in Great Falls
The holiday season is the best time to shop in Great Falls. In addition to the many national retailers that maintain an outpost there, one of the state's longest-running holiday markets takes place annually in November.
Best Time for Festivals & Events in Great Falls
August typically has the most festivals and events. With live music, beer gardens, and even auto shows, Great Falls puts on a myriad of outdoor events in the summer to take advantage of the prime weather.
Great Falls Travel Seasons
Like most of Montana, Great Falls enjoys a summer high season. Generally, this is June through August, but note that of them, July is the busiest month of the year for tourism.
This is going to be the most expensive time to book rental cars, hotels, and resort stays, though most attractions in town don't suffer from much of a "tourist tax": meaning attractions and dining will largely remain at their standard prices.
The shoulder seasons, meaning spring and fall, aren't exactly equal. While spring temperatures are certainly higher than in the winter, it is the rainiest time of year.
In May, it can rain as much as a third of the month. Fall is considerably drier and balmier. If you're looking for the best combination of comfortable weather and low accommodation prices, October is the most ideal.
The low season is during Montana's long winter. Generally, winter in Montana lasts from November until April. Though it snows less in Great Falls than in some other Montanan cities, it can still be bitterly cold, especially at night.
The snowiest month is December, so if you prefer your cold days with clear skies, it's best to aim for February.
Great Falls Weather by Month
January
Average High: 38º | Average Low: 19º
With cold, windy days and rarely a night above freezing, January in Great Falls can be a shock to the uninitiated.
While major thoroughfares and interstates are plowed regularly in the winter, you may still need snow tires to feel more comfortable driving, and do take a set of chains if you plan on going skiing in the Rockies.
You'll have to bundle up completely both at night and during the day, so be sure to pack enough winter gear.
February
Average High: 36º | Average Low: 16º
Despite the cold, February in Great Falls is often one of the sunniest months of the year. Be prepared for some beautiful – but frozen – bluebird days, showcasing those famous big skies.
You'll still need the winter gear, a rain slicker might be overkill this time of year. Nights dip below freezing, so watch for black ice on the roads, especially first thing in the morning.
March
Average High: 49º | Average Low: 26º
March is when the temperature rises considerably, especially toward the end of the month. Though it's still cold, you may be able to get away with a couple of layers and a rain jacket during the day.
The roads can still freeze at night, so continue to take care when driving.
April
Average High: 58º | Average Low: 33º
The winter chill subsides in Great Falls in April, though this is the beginning of the rainy season. Any rain gear you care to bring would likely be helpful, an umbrella or a hood might be necessary at the least.
In town, roads should be clear this time of year, though any forays into the mountains may still be fraught with road closures and icy conditions.
May
Average High: 67º | Average Low: 42º
Warm, humid, and rainy, May in Great Falls comes with a welcome increase in temperature though not without the occasional downpour. Generally the rainiest month of the year, May has some miserable stretches of rain punctuated by balmy, sunny days.
Nights can still be cold enough to warrant a proper coat, so be sure to pack one just in case.
June
Average High: 76º | Average Low: 50º
The first month of the summer high season, June brings warmer temperatures to Great Falls. Though the rains begin to subside somewhat, rain showers still occur and the humidity remains much higher.
The temperature can fluctuate wildly from day to night, so pack plenty of layers. Driving conditions are ideal this time of year, though you may encounter road maintenance or construction along stretches that were damaged over the winter.
July
Average High: 87º | Average Low: 56º
July is the hottest month of the year in Great Falls, with clear blue skies and hot days. While you still may need a jacket at night, you'll want to have some legitimately summery clothes on hand for exploring during the day.
Driving conditions are ideal in July, so no extraordinary precautions need to be taken.
August
Average High: 84º | Average Low: 53º
Fully in the swing of Summer, August in Great Falls has hot, clear days perfect for lounging outdoors and swimming in the lake.
This is the busiest month of the festival season, so be sure to pack summer clothes, layers for after nightfall, and plenty of sunscreen.
September
Average High: 73º | Average Low: 45º
While September temperatures begin to dip, September in Great Falls is still a great time for outdoor activities. Hikers, backpackers, and mountain climbers will find the slightly lower temperatures appealing for strenuous activities.
October
Average High: 59º | Average Low: 37º
The beginning of the shoulder season in Montana, October in Great Falls can be a bit chilly, though most days are still clear and bright.
With plenty of sunshine and cool, crisp air, this is a great month to spend time in the city exploring. You could find some snow flurries if you're driving through the mountains, so be prepared for delays.
November
Average High: 46º | Average Low: 27º
The first snows reach Great Falls in November as the temperature drops. This is when the city begins to feel wintery, and demands that the coats, gloves, and scarves come out of storage.
Driving can become difficult as the roads begin to freeze at night again, and mountain passes could see considerable snowfall.
December
Average High: 34º | Average Low: 17º
Generally the coldest month of the year, December in Great Falls comes with frigid temperatures and the occasional snowfall. Be sure to pack proper winter gear and plenty of layers to keep warm if you're planning a visit during this time, especially because holiday season activities may draw you outdoors frequently.
Driving on main roads and the interstate is generally fine, but smaller roads and highways may be easier to navigate with snow tires and four-wheel drive.
Annual Events and Festivals
Summer
Fall
Winter
Spring
Activities Near Great Falls
Recreation Activities
National Parks and Forests
State Parks
City and County Parks
Museums
Performing Arts
Related Articles
Latest in Great Falls
Do you enjoy gambling? Well, if you are heading in the direction of Montana your chances…