One of the most magical experiences one can have in Montana is gliding past snow-capped mountains with surrounding pine trees glistening in the sun.
The state is famous for its well-established skiing resorts, where the world comes to visit to catch a bit of those cozy winters with northern lights in full display.
The Yellowstone Club Ski resort is an experience of a lifetime. Nestled in the wilderness of Madison Country just west of Big Sky Montana, it is a private residential club as well as a ski and golf resort.
The club covers around 2,900 acres of ski trails and an 18-hole mountain golf course designed by renowned course architect, and former PGA champion, Tom Weiskopf.
Tim Blixseth purchased the Yellowstone Club Ski resort with 100,000 acres of timberland to its name. It was used as collateral for a $375 million syndicated loan. All the proceeds went into business expansion like building an exclusive luxury vacation club that acquired resort properties worldwide.
The ski and golf resort, north of Yellowstone National Park has been known to host important members like Bill Gates, Jessica Biel, and Justin Timberlake.
It also became popular for using its wastewater for snowmaking operations on ski slopes, being one of the first in Montana to reuse wastewater.
Best Hotels Near Yellowstone Club Ski Resort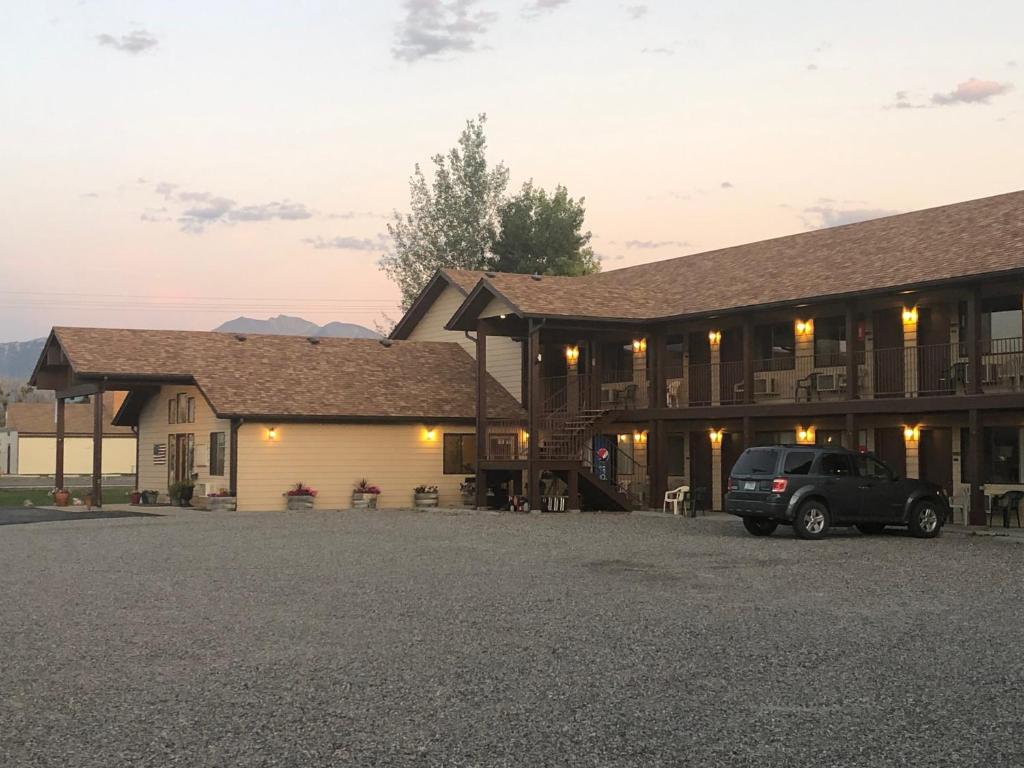 BEST OVERALL
Free WiFi
Picnic Area
Board Games/Puzzles
Why Yellowstone?
Whether you visit the Yellowstone club in summer or winter, you will find interesting activities to take part in. Not only will you thoroughly enjoy the experience but also make valuable memories.
The club's ski slopes span 2,900 acres of powdery snow and receive more than 300 inches of snowfall every year, thus, creating a better environment for runs, i.e., more than 100 runs, gullies, expert chutes, trees, and a stunning playground that is a snow enthusiast's dream come true.
The good thing about Yellowstone's skiing scene is that the terrains are perfect for anyone, be it professional skiers or newbies who are new to this sport. To accommodate and popularize skiing, the club has an in-house snow sports team at hand to train people of all ages and develop their skills to help them enjoy their time on the slopes.
The snow sports team also ensures that people take the right precautions and adopt safety measures as they learn to ski. The goal is enjoyment but within a safe environment.
If you are not a fan of skiing or haven't booked the resort for that purpose, this doesn't limit your avenues for entertainment.
At the Yellowstone Club, there are powdery trails that you can walk through on foot, enjoying the peace and quiet as you do. All you need are some snowshoes from the rental shop, warm clothes, and the determination to see the Alps.
The club offers guided snowshoe hikes that give you a great opportunity to explore the area further and enjoy the fresh, crisp air of the mountains.
Mountain Stats
The Yellowstone Club area is strategically divided for its various activities. Here is an overview of everything the club has to offer.
The total skiable acreage is 2,900 acres. It is divided into Pioneer and Andesite that is 2,200 acres, and Eglise, 700 acres.
The highest peak you will find here is 9,860 feet above the ground.
The base village elevation is 7,160 feet.
The annual average snowfall is 300 inches per year.
There are 21 lifts out of which 4-5 are circulating ropeways, 13 are chairlifts, and 3 are T-bar lift/button lift.
Lifts accommodate 21,052 passengers in an hour.
The total lift length is 19.6 kilometers.
There are 100+ runs, the longest run being 3.26 miles long.
The Nordic Trails (Sunnyside Trails)
Do you like looking for adventures that throw you out of your comfort zone? The Sunnyside Nordic Trail on Andesite Mountain is a tough and challenging terrain that is built for intermediate to skilled skiers.
You can park at the trailhead on the downhill side of Andesite Ridge Road and ski away for at least 5 kilometers. These trails have been carefully created and groomed for skating or any other traditional skiing techniques.
The views are breathtaking as you whiz past the pine trees down to the stunning Cedar Mountains. Pair this view with challenging terrain and you will have the experience of a lifetime.
Keep in mind that the trails are packed in, marked by signage and posts, and there are snowshoe rentals available in the club's golf shop. All you have to do is show up! The terrain might be tough, but Yellowstone Ski resort has outdone itself to make everything else more comfortable for skiers.
If you are thinking about the Uphill Use of the ski area by skinning and snowshoeing, then there are certain restrictions you will have to consider.
You must follow the YC policies and the Montana Code, including the Skier Responsibility Code.
Be mindful of the trail closure times, and follow them diligently.
Be attentive to other skiers and riders who might be approaching from above or below when you are on the mountain, and be cautious when crossing a ski run.
Dogs are not allowed.
Andesite
Andesite, Pine Ridge, and Big Sky Ridge can only be accessed after 4:30 pm and during ski season, i.e. when the temperatures are favorable, and the terrain is open for skiing.
You cannot use the Uphill Use on Andesite, Big Sky Ridge, or Pine Ridge before or during operating hours. Make sure to keep a source of light with you as it can help mountain operations personnel spot you in the dark.
Eglise
The Eglise Uphill route is only accessible during normal operating hours, i.e., 9:00 am to 3:30 pm, and only during the ski season. As the route crosses a number of runs, Uphill Users are requested to look uphill and wait until the skiers are gone before they cross.
Accommodation Options
Whether you are coming for a long stay at the resort, or a short, sweet weekend getaway, here are a few accommodation options to consider. Whether you opt for a breakfast in bed, a holiday apartment, or a 4-5 star luxury hotel, you can book your stay easily from these websites:
Accommodations that are 0.2 km away from the resort:
Events
The Yellowstone Club offers a variety of on-snow programs for outdoorsy people of all ages and skill levels. The club's main focus is to ensure that their guests have an enjoyable stay, so YC has events happening day in day out, so much so that you will always have something to do should you choose so.
Some mountain activities to look forward to are discussed next.
Terrain Parks
If you haven't been to a terrain park before, you should give it a try at YC. The park is safely accessible to everyone including people with disabilities. You can visit the Eglise Terrain Park at Queen B's Gem, which has rails, boxes, and other facilities for entertainment. There are signs and instructions posted throughout to guide you to your destination and caution you to potential dangers in the park.
Race Course
Are you a race junkie? The YC racecourse is set every Thursday to Sunday and has everything you will need, like a self-timer and quick gates for a race. You can join the Member Race series, which is an affair that includes multiple races scheduled throughout the season.
Learn more about the racecourse and the events through the Outdoor Pursuits Team at the YC. (It is just a part of their organization committee; they don't have a separate business)
Archery
If you are visiting the Yellowstone Club in the summers, be ready to sharpen your archery skills or learn archery as a sport. This is a perfect opportunity to do so.
The YC has a 3D archery course located near the top of the Eglise Gondola on Eglise Mountain. You can also hone your archery skills at the archery range with 3D animal targets as you move along the trail.
The club can accommodate up to eight people per session. For individual two-hour sessions, you will be charged $95.00 per person, and for a private archery session, it is $760.00 per group (up to 8 people).
Moreover, you can also participate in a family-friendly combat archery sport-archery tag ($650.00 per group of up to 12 people).
Golfing
Golfing is one of the most popular activities you can enjoy at the resort. There are 18 picture-perfect dress-code-free holes to challenge golfers of any skill level. Plus, you will never be short on golf amenities at the Yellowstone Club.
If you are a newbie, you can practice on the golf simulator or practice at the facility while you grab a bite to eat. The landscape is stunning and is sure to make your golfing experience all the better.
Activities in Winter and Summer
You can be smart about the months you choose to visit Montana. If you are hopping on a plane in the winters, the YC will offer skiing, snowshoeing, OP kids, and Nordic Skiing.
As for the warmer months, you should get excited for fly fishing at the rivers and lakes of Yellowstone National Park, mountain biking, hiking, horseback riding, and several watersports.
No matter what month you choose to visit the Yellowstone Club Ski Resort, you are bound to have a grand time and create memories that you will cherish for a lifetime!
More Great Ski Areas in Montana to Check-Out: