For many travelers, the cookie-cutter hotel room is a relic of the past. As years go on, folks are seeking more unique experiences, and accommodations are an integral part of this new millennia vacation aesthetic.
Still, the number one site for folks looking to stay somewhere special is Airbnb, where hosts from all over the world can list their interesting spaces for would-be travelers to book for their vacations.
Montana, a state that heavily encourages individuality, has some of the coolest, most unbelievable short-term rental properties available on the market. From log cabins to travel trailers to lofts, there's a wide variety of impeccable places to stay in Montana without ever stepping foot in a hotel.
BEST BUDGET HOTEL
Pets Allowed
Indoor Fireplace
Backyard
BEST FOR COUPLES
Free WiFi
Dedicated Workspace
Washing Machine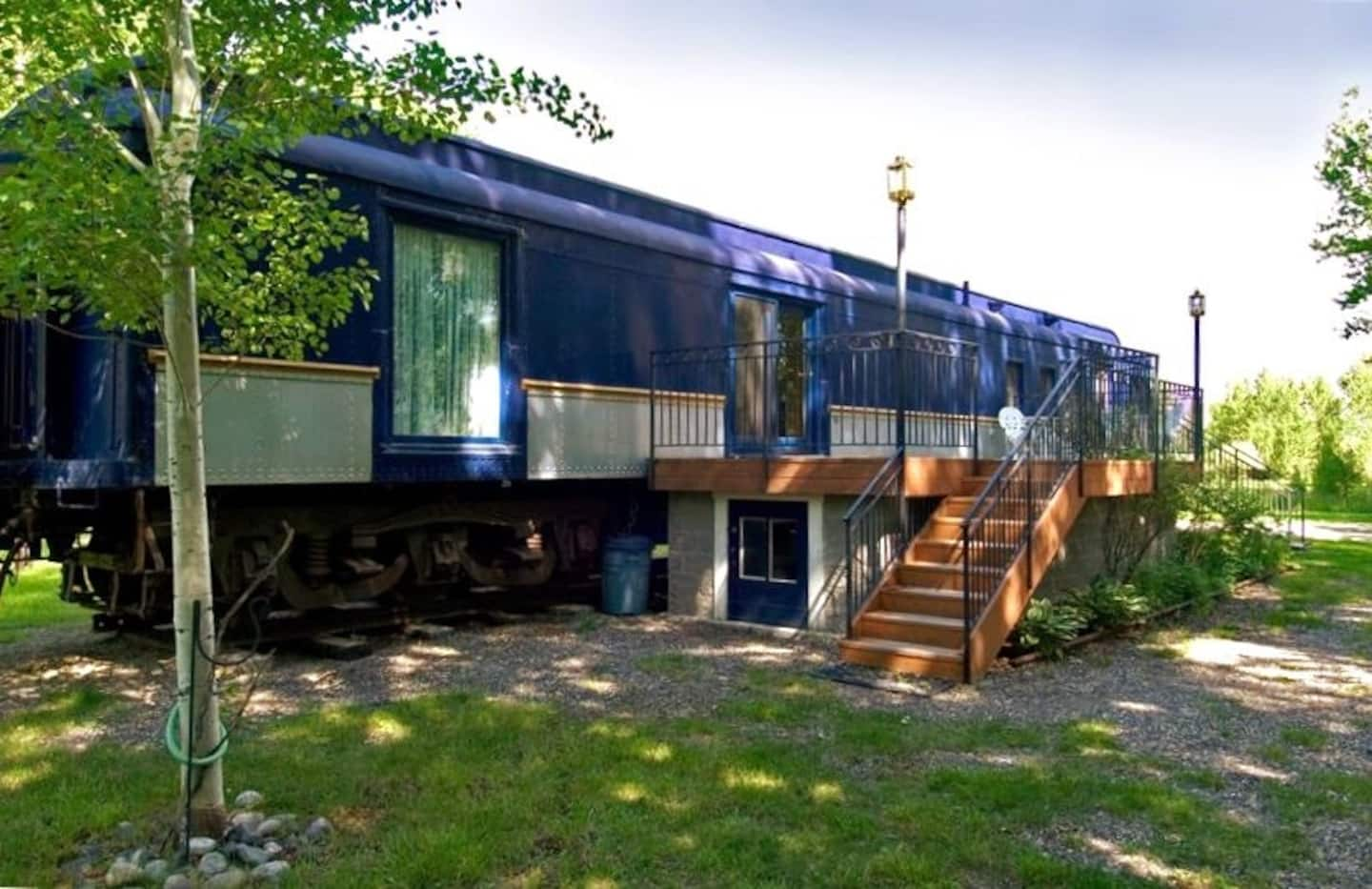 BEST OVERALL
Private Patio or Balcony
Outdoor Dining Area
BBQ Grill
The Best Airbnbs in Montana by Area
Montana can be roughly divided into six distinct regions. While its most famous cities are mostly in Western Montana, east of the divide has some of its best ski areas and natural attractions. Montana is a huge state – the fourth largest by area in the nation – and it is home to all different climates, topographies, and landscapes.
If you want to visit the mountains of the west or the plains of the east – or both – you're bound to find the perfect, one-of-a-kind property to host you for your travels. If you're flexible on location or are still undecided where exactly you'd like to travel to, here are some of the best Airbnb's in Montana to inspire your plans.
Glacier Country
Lush meadows, swift rivers, and vast lakes, and some of the United States' most massive deep blue glaciers.
Composed of five separate, completely redesigned grain silos, this massive mountain complex is set on a 20-acre farm. On the property, you can enjoy a stroll on their groomed hiking trails or simply enjoy the scores of stars that you can see after the sun sets. When you're ready to take a look around the area, the Clark Farm Silos are right near Flathead Lake and the Hungry Horse Reservoir.
Total, this farm villa can accommodate a whopping 15 guests, so it's the perfect spot for a large family or a work retreat. Each individual silo has one lofted bedroom equipped with a king-sized bed and a sofa bed in the living room. Each silo has a small front porch, the perfect place to enjoy your morning coffee.
Built on five acres only a ten-minute drive from Downtown Missoula, this slick cabin offers a large family or a group unparalleled privacy and luxury during your trip. It's located only 100 yards down a trail from the banks of the Blackfoot River where the hosts have added a fire pit and a hammock for lounging and socializing. Wade fishers especially will love the location, as the Blackfoot is known for its incredible trout fishing.
Inside you'll find two bedrooms and elegantly designed common areas, including a full kitchen. When the weather is nice, there's an outdoor murphy bed if you'd like to sleep under the stars. And whether you're visiting in the summer or the dead of winter, the outdoor sauna and hot tub offer a welcome way to relax.
This classic, cozy cabin sits in a forest overlooking Whitefish Lake but is still only 15 minutes from the nearest ski area and 10 minutes from Downtown Whitefish. Even if you don't feel like going on an adventure nearby, everything you need to enjoy the outdoors is included: two decks, hammocks, a gas grill, and a fire pit with firewood. You can even relax in the hot tub if you like.
Though the cabin looks rustic, it was remodeled and refurbished to include every comfort, even wifi. And if you're visiting during ski season, the wood-burning fireplace is perfect to return to in the evenings.
Southwest
A haven for artists and nature-lovers, this is a region that rewards the independent spirit.
As the former home of William C. Crum, this historic Victorian home is listed on the National Register of Historic Places. The current owners have carefully updated the interior by adding some modern conveniences and mid-century design touches. And despite the home's age, it comes replete with a Smart TV, fast wifi, and even a small office space if you've brought work with you.
It's located only 10 minutes from Downtown, but you'll still be able to find public green spaces and hiking trails within walking distance of your door. Though it's just a small home, it sleeps up to six people so you can bring the entire family.
This log cabin retreat comes replete with everything you could ask for when you're visiting Dillon: a fireplace, a sauna, a hot tub, and maybe most remarkably, a bar. Total, it sleeps six, so it's ideal for a family getaway or for a few couples to share.
It's only a short drive from Downtown Dillon where you can pick up any supplies you might need. But if you're in town to see the TK of Bannack State Park or enjoy the world-class trout fishing in the Beaverhead River, you'll be pleased to find out that both are only a few miles away as well.
The perfect mountain chalet should be cozy, and with its huge, comfy bed and lounge sofa this property has that in spades. But the real stunner of this quaint but lovely retreat is the massive stone fireplace right in the middle of the house. Your host will stock it with unlimited firewood during your visit, perfect if you're coming in the winter.
The chalet is very near to Colorado Creek and Black Mountain Lodge; the latter sits on an impressive piece of property that guests are welcome to use when it is unoccupied. You'll also be just a stone's throw from the Aspens, Downtown Helena, and the incredible Broadwater Hot Springs.
Central Montana
Where wild rivers meet vast, rolling plains.
If you're looking for solitude, this cozy cabin on a working ranch has that in spades. You'll be staying right within Central Montana's vast plains, and the exceptionally starry nights that they offer. Freezeout Lake is only five miles away, known for its excellent bird watching.
Inside you'll find a simple bedroom, bathroom and, kitchen. It's a great place to stay if you want to unwind, but you should also be prepared to unplug. The property lacks a television and wifi, so you'll be assured to have a more authentic experience.
This fully restored brick loft is one of the best hidden gems of Great Falls. It comes furnished with a plush, luxury-style queen bed and mattress, a fully stocked kitchen, and a washer and dryer. If you're planning a summer getaway, the unit has air conditioning to keep you completely comfortable.
It's located right in Downtown Great Falls, right above a brewery with an excellent taproom. Within just a few blocks you'll find all sorts of bars, restaurants, and independent boutiques that you'll want to peruse before you leave.
Nested within the Highwood Mountains, this bunkhouse is on a working cattle ranch, right behind the main ranch house. It's the perfect gateway to the natural bounty of Central Montana as Lewis and Clark National Forest is only three miles away.
Inside you'll find a hunter's dream: it's been outfitted with a myriad of different pieces of taxidermy, almost like a trophy room. If you're a hunter yourself, there are plenty of locations within just a short drive to indulge during hunting season.
Yellowstone Country
The spirit of the Wild West and nature conservation come together in this rugged region.
This inviting condo is dripping with mid-century charm, though it's outfitted with every modern amenity. You'll find everything you need to enjoy your time in Big Sky: fast wifi, a washer and dryer, and a fully stocked kitchen, and some of Montana's best Nordic skiing trails right outside your door.
The bungalow has two bedrooms – one of which is lofted – and a massive den with a wood-burning stove. The host provides unlimited firewood for your stay, perfect for winter mornings spent staring out the front picture windows at Lone Peak in the distance.
Set on 13 acres of land right on the banks of the Yellowstone River, this former Northern Pacific Railway Parlor Car can be your home for a night or more. Completely redesigned inside to create the perfect riverbank retreat, it has a full kitchen and bathroom, two bedrooms, and even a washer and dryer.
For anglers, the 1000 feet of private access to the Yellowstone River is ideal. And luckily, Sweetwater Fishing Shop is just 400 yards down the road where you can buy fishing gear as well as fishing permits by the day, or week.
This completely updated loft condo in Northwest Bozeman has 20 ft. ceilings, a private balcony, and sleeps six. The open-concept design features huge, south-facing windows, flooding the living space, kitchen, and work area with daylight. Just in case you'd like to sleep in, the bedroom has blackout curtains.
Situated only five minutes from Downtown Bozeman and 30 minutes from Bridger Bowl Ski Area, you're perfectly located to enjoy the best of the outdoors as well as enjoy city attractions. Even the North Entrance to Yellowstone National Park is only 90 minutes south.
Missouri River
Grasslands, small-town vibes, and real, working ranches dominate in this sparse part of the state.
Set out in the countryside on a cattle ranch, this isolated cabin offers plenty of solitude alongside those gorgeous Montana skies. This place is ideal for those who truly want to get away, as modern comforts like television and cell service won't be found here. While there is satellite wifi available, this two-room cabin is far more about getting away than staying connected.
Though it's only two rooms, the cabin has everything you truly need. The kitchen comes stocked with pots, pans, and utensils, and the love seat folds out into a bed if you need it.
This Downtown Glendive loft is situated in the heart of the city, though it's still only a short distance away from Makoshika State Park and the Yellowstone River. Within walking distance, you'll find everything you need, like shopping, restaurants, and bars.
The open-concept, light-flooded space is minimally decorated, but still has a large bedroom with a king-sized bed, a breakfast bar, and separate work and living spaces. There's a flat-screen television with Netflix and Disney+, and fast wifi to ensure it runs seamlessly. Just in case you need it, the host has left some items for kids, like a stroller and a highchair.
This schoolhouse turned vacation rental has many of the original early-20th century details, like the original fir floors. It was moved to the Kirkland Ranch Estates from its original location near the Fort Peck Dam so it now has even easier access to the Missouri River.
It's certainly large enough to bring the whole family. With a whopping five bedrooms and two bathrooms, it sleeps a total of 12. And kids will be especially excited to find out that the schoolhouse has one amazing surprise in store: the original gym. Inside there's a basketball court, weight training equipment, and a treadmill.
Southeast Montana
From skiing to hiking to fishing, this is a true adventurer's paradise.
If you're seeking a true Montana experience, this three-bedroom guest house is on a real ranch. The hosts live on site and are always ready to help with anything you might need, you'll still be able to enjoy as much privacy as you'd like as the suite is entirely separate.
The house sits on a vast piece of property, so you'll be able to enjoy plenty of peace and quiet. If you've brought the kids, the hosts have provided plenty of things to entertain them, like toys and an outdoor playset.
This real Basque shepherd's wagon, though sparse, is dripping with charm and has been outfitted with a few modern comforts. Your host has replaced the former woodburning stove with an easy to manage propane one and installed electricity to operate the lamps and charge your phone.
On the property, you'll find an outdoor eating area and an outhouse that's at your disposal. Inside, the two single beds convert into benches you can use during the day.
This classic Craftsman home is full of vintage details. Many of the original fixtures – down to even some of the smallest things like cabinet handles and tiles – have been carefully preserved so you can enjoy them today.
This quaint two-bedroom home is outfitted with four beds across two bedrooms, so every guest is ensured a comfortable sleep. And despite the vintage vibes, you'll find every comfort inside: wifi, television, and even a washer and dryer.
The Best Airbnbs in Montana by Type
If you're more invested in the individual property than where it's located, there are some excellent and unique stays in Montana that you simply can't find the likes of elsewhere. Every property has its own specific charms, though some stand out as better suiting a certain type of guest. Whether you're looking to book a stay for your honeymoon or your spring break, here are a handful of fantastic properties to keep on your radar.
This two-story log cabin has everything you could possibly want in a vacation right on the property, making it perfect for a romantic getaway. Despite the rustic feel and decor, the cabin has every possible comfort, including a hot tub, fireplace, and even a porch swing on the upstairs deck.
This huge four-bedroom, four-bathroom house in Miles City is plenty large enough for the whole family. There's room for up to 10 guests and plenty of space inside and out so the kids have their own places to hang out.
This cool camper is dripping in vintage charm and is designed in a mix of updated original fixtures, and new vintage-inspired accents. Inside is a small kitchen and spaces for dining and sleeping, while the bathroom is in the adjacent main house.
This stunning chalet with ski-in/ski-out access to Cinnabar Run represents the ultimate in Montanan luxury. Every single detail is meticulously curated, and anything that might make your ski vacation more comfortable has been anticipated.
Best Boutique Airbnb in Montana: Creekside Hideaway • Clancy
This wildly unique property looks like something straight out of the Shire. This collection of underground homes, despite how they might look on the outside, have actually been carefully designed to provide extreme comfort. The best part is that the retreat sleeps up to 12 people, and sits on a gorgeous and generous property.
Related Articles