Livingston, Montana is located in the southern part of the state, approximately 60-miles from the Wyoming border.
The area was developed as a railroad town and ranching settlement, officially formed as a central point in the Rocky Mountains for the North Pacific Railway.
These days, the thrill of hiking and mountain biking trails attracts adrenaline junkies in the summer while skiing and snowshoeing opportunities present themselves in the winter. 
This has made Livingston an idyllic tourist spot with plenty of options to stay in town or nearby Bozeman.  So, to help you plan your visit accordingly we have provided an easy-to-follow look at the best Hotels In Livingston.
Livingston Hotels – Tips & Advice
Traveling To Livingston: The nearest airport to Livingston is Bozeman, located a little over 25-miles away.
Airport Shuttle:

Unfortunately, there is no Airport shuttle service from Bozeman to Livingston, so you will have to explore alternative options before planning your trip.

Getting to Livingston:

  If you are flying into Bozeman, you have 2 options. You can rent a car or catch a cab. We recommend hiring a car, as it is the best way to get around and enjoy the attractions on offer in the area.

Cab Price:

A cab ride from Bozeman is approximately $200.

Car Hire Price:

  You can hire a 5-seater sedan for approximately

$135

  per day. It will be ready for pickup at the Bozeman airport.

Getting Around Livingston:

  The town is relatively small, and many activities are in the surrounding areas. Therefore, the best way to get around is via car. If you intend to fly in from Bozeman, you should rent a vehicle. 

Sales Tax:

Montana does not apply state sales tax. However, cities and towns are entitled to implement their own. This is especially common in tourist hotspots. Fortunately, Livingston is exempt from this tax.

Breakfast:

Most Livingston hotels and Inns include breakfast in their room rate.

Hotel Incidental Fee:

As is the norm across the United States, some hotels may request an incidental fee. This is usually around a $50 deposit, that the hotel returns after checkout. Properties require a credit card to hold the charge. 

On-Site Restaurants:

Although breakfast is offered, several hotels do not feature a full-service restaurant on site. If this is a deal-breaker, The historic Murray Hotel is your best bet. It includes a bar and several eating establishments. Alternatively, you can venture out and enjoy one of the establishments that the town has to offer.

Activities Around The Area:

  Livingston is the ideal destination for outdoor enthusiasts. In the summer, hiking, mountain biking, fishing, and golf are on offer. Conversely, skiing and snowshoeing are the winter activities you can enjoy.
The Top 9 Hotels in Livingston
The Best 3 Hotels in Livingston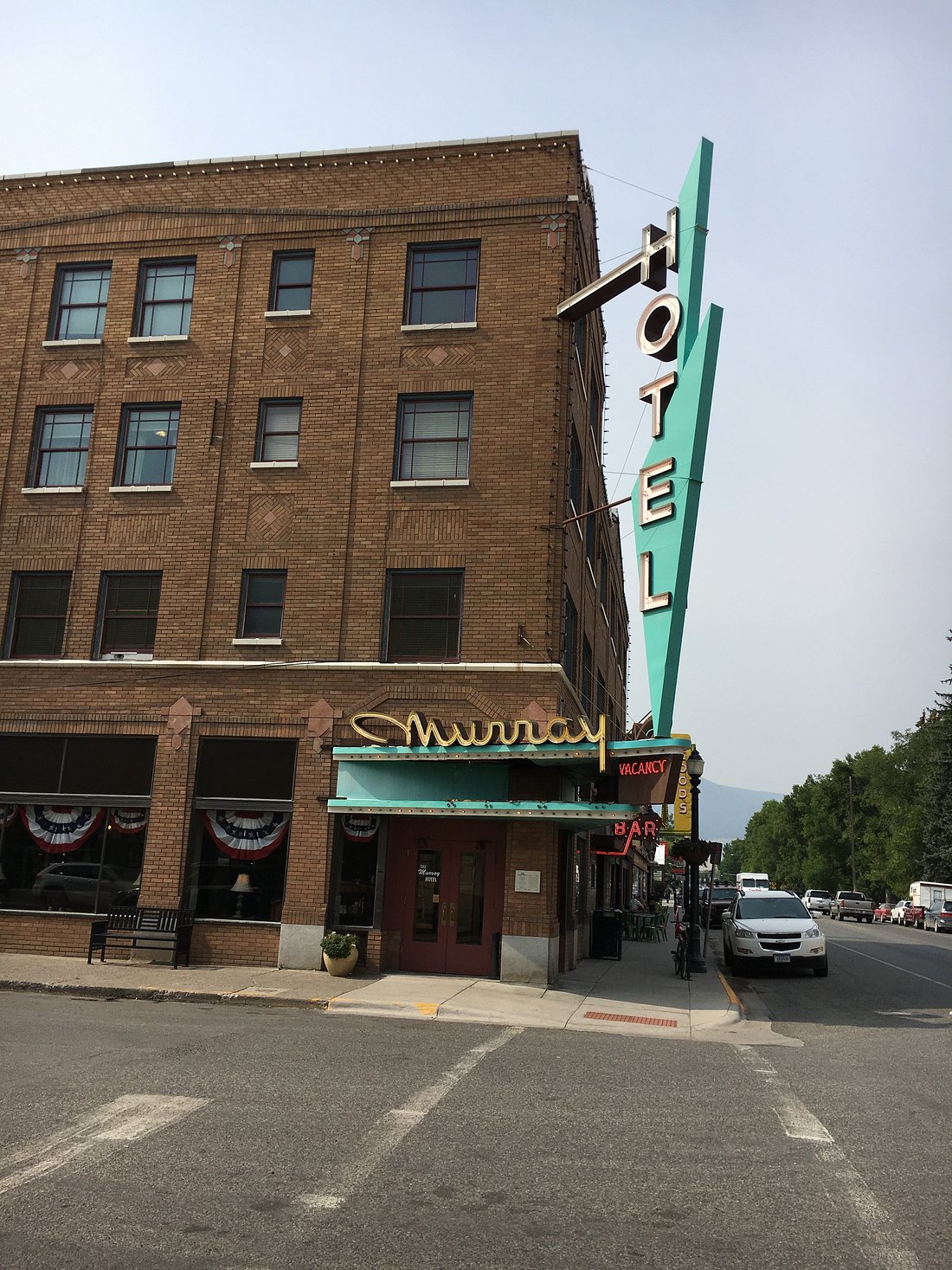 BEST FOR FAMILIES
Pets Allowed
Sun Terrace
Free WiFi
BEST OVERALL
Swimming Pool
Tea/Coffee Maker in All Rooms
Business Center
BEST BUDGET HOTEL
Soundproof Rooms
Laundry
Spa
1. The Murray Hotel
The best hotel in Livingston is The Historic Murray Hotel. It was opened in 1904 as a Railway Hotel and has welcomed individuals such as Calamity Jane and Buffalo Bill. It is noted that the Queen Of Denmark even spent a night.
This facility is located downtown, within walking distance from everything a visitor needs. Shops, restaurants, and breweries are all within walking distance. 
It features 25 rooms and suites, each with its unique interior decoration. Plus, the majority of rooms welcome your furry friends. Make sure you request one when you book, should you intend to travel with your pet.
Besides the history and class of this establishment, it offers more eating options than any other hotel in the area. 2nd Street Bistro, Gil's Gods, and The Murray Bar all feature on the premises. 
If you are going to stay at the Murray Hotel, you have to do it right. Book the exclusive Peckinpah Suite. It is named after Sam Peckinpah, the director of the iconic 1969 Western film, The Wild Bunch. In order to preserve the room as much as possible, pets are not allowed.
2. Fairfield Inn And Suites By Marriott Livingston 
Fairfield Inn and Suites is your best hotel chain option in Livingston. Located in the southern part of town, it is a stone's throw from the Yellowstone River. It also enables easy access west to Bozeman and south to the Wyoming border.
The property offers a fitness center, pool, and food and beverage service. Modern travelers have the basic necessities to enjoy their stay. In addition, it provides an easy base to commute to outdoor activities in the surrounding areas.
Foodies looking for a taste of the local scene will need to make the mile trip into town. You can expect an array of restaurants and bars. Plus, there is a museum for the cultural buff at your party.
The closest restaurant off-site is Big Sky Thai, 100-yards from the hotel. In addition, the rooms are modern, with flat-screen televisions and wifi access in every room.
3. Yellowstone River Inn And Suites 
Our best recommendation for Livingston Inns is the Yellowstone River Inn and Suites. The property is situated across the I-90 and Highway 89 junction from Fairfield Inn and Suites.
The Inn offers your standard level of accommodation with a flat-screen TV and queen size bed. Suites are available for families or travelers seeking maximum space on their trip. A microwave, coffee maker, and wifi connection are available in every room, while a guest computer is also on site. 
In addition, the property contains an indoor heated pool and a hot tub. Perfect for relaxing after a day of adventurous outdoor activities.
While the Yellowstone River Inn is an affordable option, it is light on the dining front. They offer a substantial breakfast which will fuel you up for a morning in the Rockies. However, you need to venture north into town for a hearty lunch or dinner.
Book a Room • Hotel website • 406-222-4400
4. Country Motor Inn 
Country Motor Inn is a low-budget property situated on the north end of town, about half a mile from the central district.
Every room on the premises contains a television, air conditioning, and complimentary toiletries. While the interior may not seem glamourous when compared to others on the list, the beds are comfortable and adequately sized for a peaceful night's rest.
Snacks, tea, and coffee are available on site. However, you will need to make the short trek downtown for more substantial meals. A 10-minute walk is all you need to reach a host of restaurants, coffee shops, bakeries, and bars. 
Alternatively, you could venture 500-yards northeast to Neptune's brewery. They feature six brews on their menu and rotate with seasonal favorites.
Keep in mind that this establishment does not welcome pets. If you intend on traveling with your animals, there are alternative hotels that will welcome your reservation. 
5. Yellowstone Valley Lodge
Another option for those hoping to escape urban life is the Yellowstone Valley Lodge. Situated 16-miles south of Livingston, this is a suitable place for the outdoor lovers to set up camp, figuratively speaking.
Guests are housed in log cabins which are decorated with antique furniture. Plus, each cabin contains a terrace, allowing you to look out and admire the Absaroka mountains.
Despite its out-of-town location, you won't go hungry at this lodge. The Yellowstone Valley Grill serves upscale American food using local, organic ingredients. It is open every day of the week bar Monday, should you plan to start your week on the property.
Keep yourself entertained in the daytime with hiking, horseback riding, and fishing, all within a stone's throw from the property. The Northern entrance to Yellowstone National Park is also an option and lies less than 40-miles south of the lodge.
6. Livingston Inn 
The Livingston Inn features a motel set up with basic amenities for the no-frills traveler. Each room is equipped with a bathtub, air conditioning, and a flat tv screen.
The property is located in the southern part of the town, a mile from the center. Although breakfast is offered, you will need to seek your lunch or dinner in town.
The Livingston outcompetes rival properties thanks to its paid airport shuttle. It may not be complimentary, but it is more than others offer.
Its location allows for a quick exit west to Bozeman or south down to Yellowstone National Park. It is well-positioned for you to reach surrounding fishing spots, hiking, and mountain bike trails.
Lastly, if you intend on bringing your four-legged buddies with you, the Inn allows it for an additional fee.
7. Econo Lodge Livingston
Econo Lodge as the name suggests is your best budget spot in Livingston. It is situated in the south of town, just near Highway 191. Fishing enthusiasts will love to hear that the Yellowstone River is a short walk from the premises.
The rooms are comfortable with modern designs. Furthermore, the property boasts pet-friendly facilities and an indoor heated pool. There is also fitness equipment for those seeking a quick workout.
Breakfast is served onsite, but your first stop for dinner and lunch is the town's central district, which has an abundance of eating and drinking options.
8. Travel Lodge By Wyndham 
The Travel Lodge By Wyndham is a budget option for those hoping to save some pennies on their vacation. This is a basic property with limited luxuries compared to other hotels or motels on this list.
The lodge is situated in the southern part of Livingston, close to Highway 191. This makes for an escape out to surrounding activities. Whether you are after fishing, horseback riding, or hiking, you can reach it with ease from this property.
Cable satellite tv is in every room, and some are equipped with spa baths.
Unlike most hotels in the town, this facility features two onsite restaurants. Mexican or Thai anybody? 
Big Sky Thai and Pinos Mexican are your two options at the lodge. There is also a cocktail bar and casino on the property for those not opposed to vice.
If these food and beverage options do not suit, you can always venture into town. There you shall encounter a variety of establishments to quench your thirst and feed your belly.
Book a Room • Hotel website • 406-303-5144
9. Super 8 By Wyndham Livingston 
The Super 8 By Wyndham closes out our top ten best hotels in Livingston, Montana. It is situated in the south of the town, along the banks of the Yellowstone River.
These bright, modern rooms offer pet-friendly living quarters, allowing your furry friend to tag along with you. Rooms are equipped with air conditioning and a television.
Breakfast is offered to guests. However, like many properties, this is the only meal of the day provided. It is advisable to head to the central for lunch or dinner.
Finally, its proximity to major highway routes makes it a convenient point to access attractions in the surrounding areas.
Our Favorites
Bozeman, Montana
Bozeman is a larger settlement 26 miles to the West of Livingston. It is almost five times the population of Livingston. In addition, it offers more culinary and accommodation options than its neighbor to the east.
The town is located in the famed Rocky Mountains and attracts visitors from across the globe every year. Its geographic location makes it an ideal destination to ski, hike, or bike around the area.
For added convenience, we have provided a few of our favorite restaurants and accommodation options in Bozeman, located to the west of Livingston.
The Best Hotels in Bozeman
The Best Restaurants in the City
Related Articles