A quiet community in Kalispell, Evergreen is a gateway to Glacier National Park and the outstanding beauty of the Flathead Valley.
With Downtown Kalispell less than 10 minutes away, Evergreen boasts a tranquil setting that is still close to the bustle of the city. 
Evergreen is comfortably nestled between the Whitefish River and the Flathead River. With its close proximity to major tourist landmarks like Glacier National Park and Flathead Lake, it's a great location in which to base yourself if you're looking for a slower and quieter destination than the historic Downtown Kalispell. 
The community is also a short distance from other highlights of the Flathead Valley, including Bigfork and Whitefish. Visitors to the region can bask in the glorious mountainous scenery and enjoy several outdoor activities, from horseback riding to golf to skiing. 
Given its smaller size, Evergreen itself doesn't have a large variety of accommodations. But if you wish to explore the community, you'll have a wide choice of lodging options elsewhere in Kalispell, just minutes away. 
There's a variety of hotels for travelers of all styles in the area that provide the perfect bases from which to discover the region. To save you time and effort, we've done the research for you and come up with a list of the best hotels in Evergreen, Montana, (and its surrounding areas).
The Top 3 Hotels in Evergreen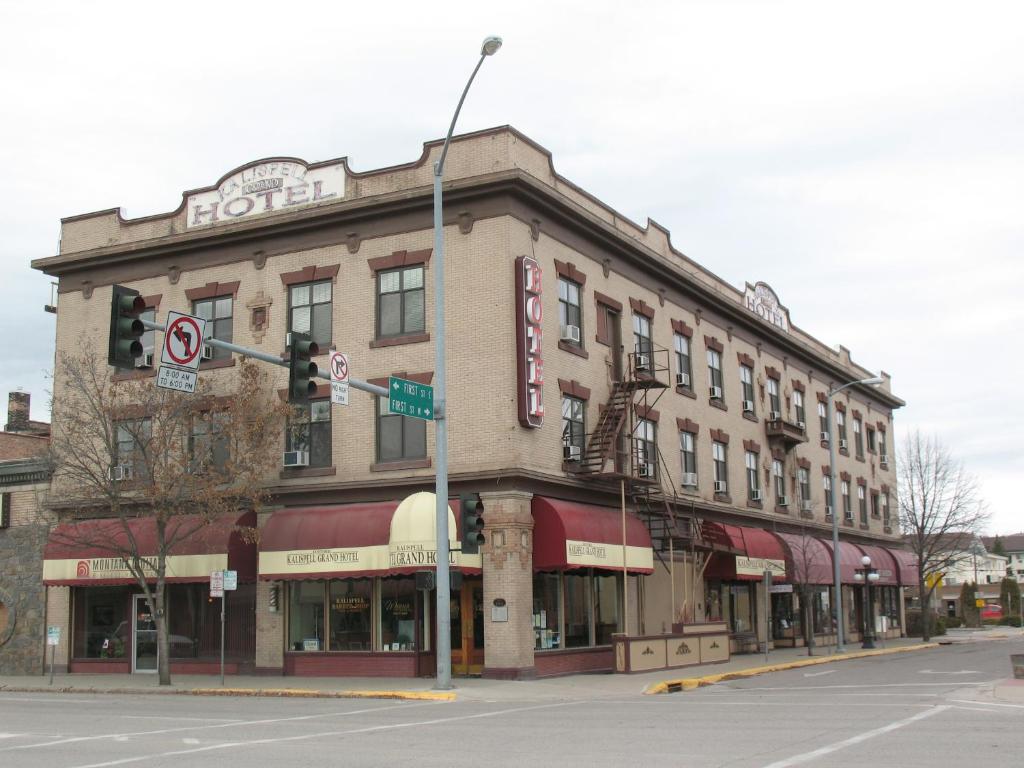 BEST OVERALL
Free WiFi
Pets Allowed
Golf Course
BEST FOR FAMILIES
Picnic Area
Business Center
Tea/Coffee Maker in All Rooms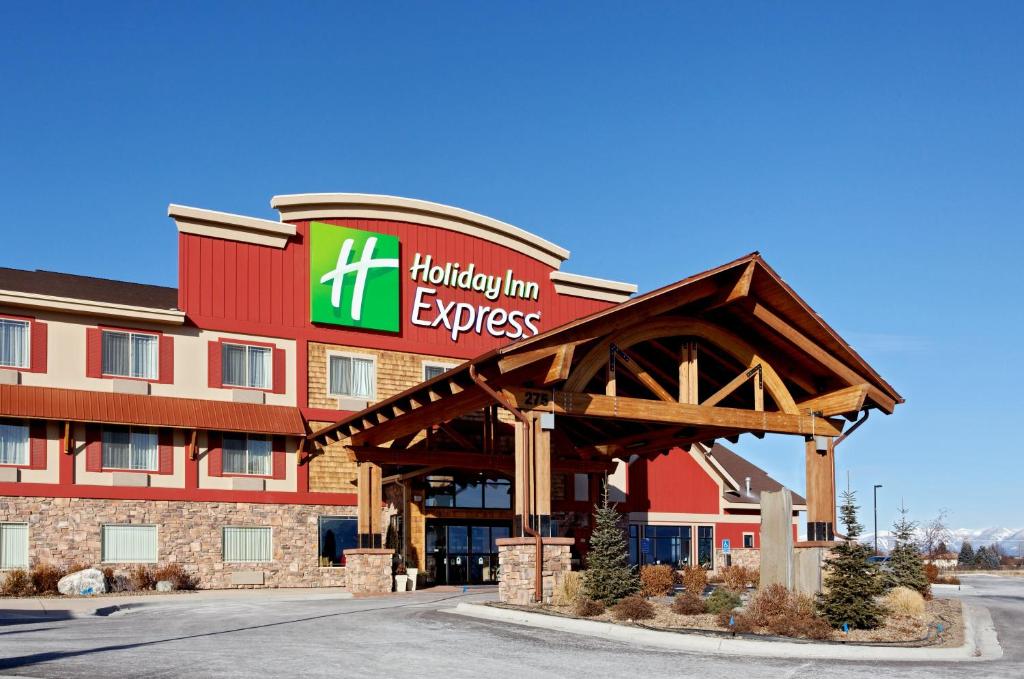 BEST FOR COUPLES
Sun Deck
Beach Chairs/Loungers
Outdoor Fireplace
Travel Tips for Staying in Evergreen
The closest airport to Evergreen is Glacier Park International Airport, which is located in Kalispell, six miles away. Alaska, Allegiant, American, Delta, Frontier, JetBlue, Sun Country, and United Airlines all connect to the airport, and the list of cities served by the airport is constantly growing. 
The nearest rail is AMTRAK's Chicago to Seattle/Portland Empire Builder trans-American train, which makes daily stops in nearby Whitefish. 
There is a Greyhound bus station in Evergreen, along with a variety of shuttle services that are either based in Kalispell or elsewhere in Montana. The shuttle services for travel within Kalispell include Arrow Shuttle, Mountain Shuttle, Wild Horse Limousine, and Montana Adventure Shuttle, which is located in Missoula.
The Mountain Climber bus also travels within Kalispell and between Kalispell and Whitefish on weekdays. 
Along with Glacier National Park, some of the closest state attractions nearby include Flathead Lake and the city of Missoula. Beyond the Montana state borders, Washington's Spokane is 237 miles away while Calgary, in Alberta, Canada, is 263 miles away. 
Evergreen itself is walkable, but as you'll likely want to explore Kalispell and the other gems of the Flathead Valley, hiring a rental car is recommended. You can pick up a rental car from the airport and several other off-site locations.
There are also a few mobility service providers active in the area, including Uber, Turo, and Lyft.
When it comes to preparing for your trip to Evergreen, it's important to keep the season and weather in mind. If you're coming in the winter, ensure you're ready for the snow and freezing temperatures. Packing essentials include snow clothing and shoes, chapstick, scarves, beanies, and gloves. 
The Best Hotels in Evergreen
There are hotels in Evergreen, MT, for every kind of traveler. Whether you're seeking affordable accommodation with the bare essentials or are looking to splurge at a hotel with all the trimmings, our list has you covered. 
Only three minutes from central Kalispell and a little further to Evergreen, the Super 8 by Wyndham puts guests close to some of the best local highlights, including the Hockaday Art Museum. The rooms feature a rich color scheme and are furnished with cable TV and a separate seating area. 
Hotel guests will have access to facilities like laundry, free parking, and free fax and copy services. Plus, the hotel has free Wi-Fi, a necessity for the modern traveler. There is also a daily continental breakfast on offer. 
The hotel also allows pets, and the desk is attended to 24 hours a day, making guests feel more safe and secure with staff present through the night. 
Located on Treeline Road, My Place Hotel is only minutes from Evergreen. It's also only 6 miles from Glacier Park International Airport, making it a convenient stay for guests traveling by plane. The hotel has a shared lounge and free Wi-Fi, plus amenities such as a microwave and wardrobe.
The hotel is suitable for both long-term and short-term travelers and provides pillow-top mattresses with comfortable microfiber bedding.
There are also kitchen facilities in every room, including a refrigerator, a two-burner cooktop, a coffee maker, and a microwave. 
There's free parking on-site, as well as a business center and 24-hour front desk to assist travelers at all times. The hotel runs a Breakfast in Bed service, along with minibars stocked with food and beverage items. 
The Red Lion Hotel is attached to the Kalispell Center Mall. Only a short distance from Evergreen, it's close to dining and shopping outlets and is ideal for those who'd like to explore Downtown Kalispell during their stay. 
Glacier National Park, Big Mountain Ski and Summer Resort, Whitefish Mountain Resort, and Flathead Lake are all under an hour away. 
All the rooms are equipped with free Wi-Fi and cable TV, along with a microwave and small refrigerator. There are also free toiletries provided, along with ironing facilities and a hair dryer.
The hotel is home to the Magic Diamond Casino, where guests can play a variety of casino-style games, along with a fitness center and seasonal indoor pool. Foodies, in particular, will love the breakfast buffet, which is offered every day.
A stone's throw from Evergreen, the Best Western Plus Kalispell is an idyllic place to relax after a day of exploring the Flathead Valley. The hotel is home to a 24-hour heated indoor pool and hot tub, where guests can unwind and rejuvenate. 
The Best Western is a 20-minute drive from Flathead Lake and is also under an hour's drive from Glacier National Park and Whitefish Mountain Ski Resort. But guests don't even need to travel that far for the basics, as a convenience store is located on-site. 
There's free Wi-Fi at the hotel, plus free parking, cable TV, coffee-making facilities, and a microwave in every room.
Pets are also allowed and there are barbecue facilities on the premises, making it ideal lodging for those who want to enjoy the outdoors. Finally, daily continental breakfast is included!
The Greenwood Village Inn & Suites are located on Kalispell's East Oregon Street. The hotel shows classic Montana hospitality to every guest by offering a free welcome package of West Valley Buffalo and Elk Meats jerky and pepper sticks—a local Kalispell specialty. 
The hotel offers guests free parking, free Wi-Fi, and free toiletries. There is also a shared billiards table on the site where guests can enjoy family time or meet new friends. 
Greenwood Village is family owned and operated, and is only minutes from downtown Kalispell, where guests can discover shops, restaurants, galleries, and more.
After a long day of fun in the Flathead Valley, guests can relax by the fireplace or purchase snacks at the snack shop. 
The Kalispell Grand Hotel is walking distance from downtown Kalispell and a short drive to Evergreen.
One of the most historic buildings in the city, the hotel has been running since 1912 and offers guests a touch of luxury and the chance to feel like they've landed in a bygone era. 
The drawing point of the Kalispell Grand Hotel might be the lavish on-site spa that offers guests a selection of pampering treatments.
The hotel prides itself on going the extra mile for its guests, offering continental breakfast with home-baked goods along with cookies, popcorn, and treats for pets that are staying too. 
Every room is spacious and fitted with modern amenities, including a private bathroom and free Wi-Fi. The hotel is decked in old-world furniture and features warm woody tones that bring a sense of comfort and hospitality.
Clean, modern, and convenient, the Homewood Suites by Hilton are just a short distance from Downtown Kalispell and the community of Evergreen.
Hot breakfast is offered every day for free, but each room is also equipped with kitchen facilities so guests are welcome to whip up their own meals. 
The suites are air-conditioned and come complete with cable TV, a work desk, a separate seating area, and ironing facilities. Plus, there's an indoor pool and fitness center on-site.
The business center offers fax and photocopy services, making it a great option for those who are traveling on business. 
The hotel also offers connecting rooms for larger groups and families, and pets are welcome! 
Conveniently located on Treeline Road just minutes from Evergreen, the Holiday Inn Express offers guests a touch of luxury with an indoor pool and hot tub. There is also an on-site fitness center where guests can break a sweat and unwind. 
Each room is equipped with a cable TV and air-conditioning, along with amenities such as a work desk, microwave and refrigerator, and ironing facilities. The 24-hour reception also means that guests feel secure at all times. 
There are barbecue facilities on the premises, but guests are also welcome to enjoy the breakfast buffet, which is served daily. 
The Country Inn & Suites by Radisson offers the best of two-star accommodation with several useful amenities, including air-conditioned guest rooms complete with cable TV, a private bathroom, free toiletries, and kitchen facilities. 
The grounds feature a shared lounge and tranquil garden plus a terrace, an indoor pool, a hot tub, and a fitness center. Guests will also have access to luggage storage space, an ATM, free Wi-Fi, and assistance from the 24-hour front desk.
A buffet breakfast is served daily at the hotel, which is less than half a mile from Glacier Park International Airport. There is also a free shuttle service that transports guests to and from the airport. 
Best Hotels in Evergreen – Conclusion
Evergreen is surrounded by wonderful accommodation options, from historic hotels offering opulence and charming décor to budget lodging where your pets are invited to. 
The best hotels in Evergreen boil down to what you're looking for in your accommodation, and who you are as a traveler. Here's our list of the best hotels for every kind of vacation experience: 
Related Articles