As the seat of Powell County, Deer Lodge city is a hidden gem of South Western Montana. With fewer than 3,000 year-round residents, Deer Lodge is an important ranching community in a region otherwise dominated by the mining industry.
Unlike surrounding counties founded during the Montana Gold Rush, Powell County was settled thanks to its pristine fields perfect for raising cattle. As a result, Deer Lodge has become a beacon for tourists to the region seeking out the traditional frontier ranching experience.
Travelers to the region flock to the city to visit such historical attractions as Deer Lodge's 1,500-acre Grant-Kohrs Ranch National Historic Site. At this monumental attraction, guests learn the history of the Northern Plain's cattle industry, starting in the 1850s and growing to where it is today.
Deer Lodge's small-town setting is the ideal location to witness the region's rural development while enjoying the idealized lifestyle of a traditional Montanan ranching community.
However, despite the region's increasing popularity amongst visitors in recent years, the city's infrastructure remains underdeveloped for tourists compared to other cities in the area.
While only a small handful of accommodation options are currently available to visitors to the city, new hotels, motels, and inns are opening each year. And, despite there being a limited selection, the hotel options that are currently available do offer an array of diverse experiences that caters to various needs.
From small-town full-service hotels to traditionally styled inns and even a B&B located in a historic townhome, these are the six best hotels in Deer Lodge, Montana.
The Top 3 Hotels In Deer Lodge
BEST FOR COUPLES
Swimming Pools
Private Beach Area
Spa & Wellness Centre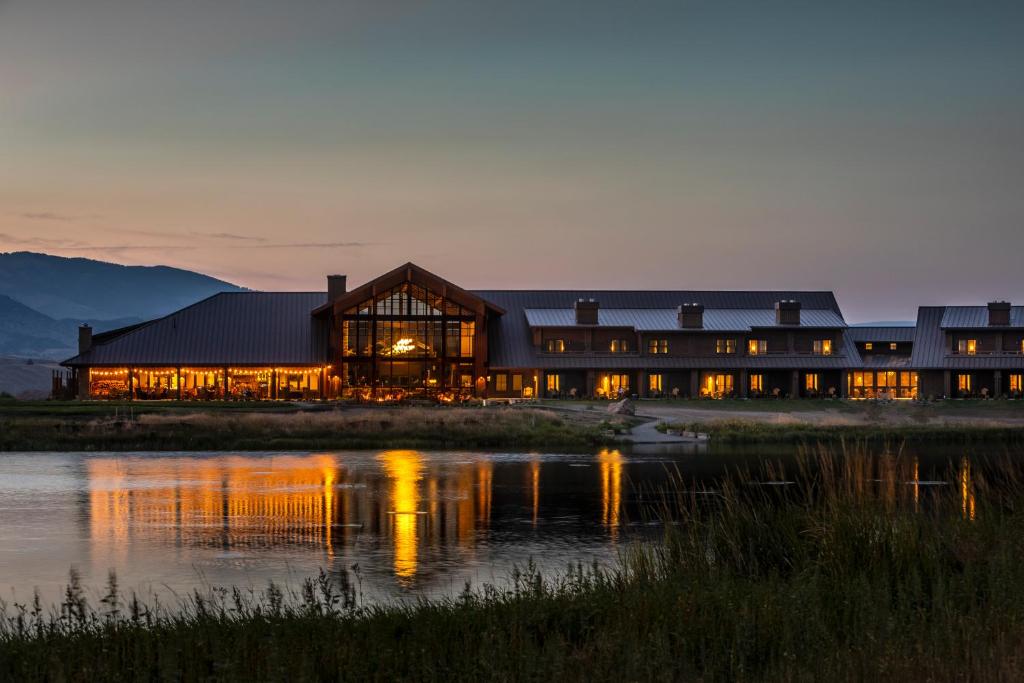 BEST FOR YELLOWSTONE
Full-Service Spa
Outdoor Hot Tub
Firepits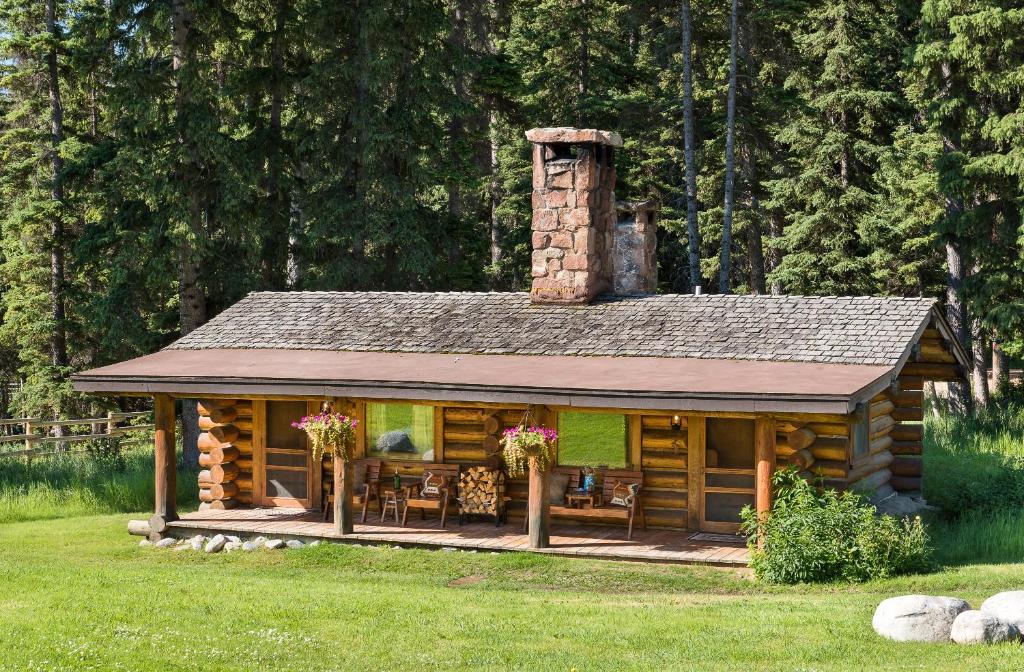 10 of the Best Hotels in Deer Lodge
Situated in Deer Lodge's northern outskirts along the I-90 highway, the Travel Lodge by Wyndham hotel offers a quiet respite away from the city noise while remaining close enough for guests to take advantage of the conveniently located restaurants, shopping centers, and attractions.
The Travelodge by Wyndham Deer Lodge features five varieties of pet-friendly rooms, all serviced with comfort amenities. Each room has free internet access, air conditioning, a continental breakfast, and free parking for trucks, RVs, and trailers.
Travelodge's base room features a queen-sized bed and comes with a nightly rate starting at $72 per night. For an additional $10 per night, the hotel offers a single queen room with mobility accessible additions that include a large bathtub with grab bars.
Guests looking to share a room should opt-in for the hotel's double queen- or king-sized options. The nightly rate for a room with two queen-sized beds starts at only $82 per night, while the nightly rate for a King-sized bed will run couples a charge of $89 per night.
Finally, the hotel's three queen bed Studio Suite is the Travelodge's premium accommodation room. Well suited for hosting large groups and families, this top-of-the-line, full-serviced luxury room comes with a price tag of $102 per night to be divided up by your group.
Whether staying by yourself or as a group, the Travelodge offers its guests the comforts of home while providing a convenient location perfect for exploring the greater reaches of Deer Lodge and Powell County.
With only a select few hotels in Deer Lodge offering full-service amenities, rooms at the Travelodge by Wyndham can fill up fast. So be sure to reserve your space in advance to ensure you receive the accommodation you need throughout your stay.
For guests looking to stay in the heart of the historic city, the Western big Sky Inn offers a selection of 20 fully serviced and budget-friendly rooms.
Located near Rock Creek Lake and the Grant-Kohrs Historic Site, the Western Big Sky Inn is within walking distance of the Broken Arrow Steakhouse and Casino. Additionally, a further selection of many other restaurants and services are available in the town.
The Big Sky inn features five varieties of rooms, all of which are serviced with basic amenities that include cable tv, wireless internet connections, a fridge, a microwave, a coffee maker, and maid service.
Also included in their nightly rates is a continental breakfast that features waffles, danishes, eggs, muffins, fruits, yogurt, granola bars, and coffee. The Big Sky Inn's breakfasts are best enjoyed from the comforts of the private outdoor balconies accessible from each room.
The Western Big Sky Inn's primary service is a single queen room starting at only $65 per night. For an additional $5 per night, the motel offers their more extensive single queen suite with a beautiful expanded bathroom for guests that require more room in the facilities.
Alternatively, guests can splurge for a little more comfort by staying in one of the hotel's Single King Rooms, which comes with a nightly rate starting at $75 per night.
For guests traveling with a larger party, the motel offers a variety of group accommodation options that include a Double Queen Room and a Three Queen Bed Suite.
Double Queen rooms start at $80 per night. Pet-friendly double queen rooms are available at the motel for an additional $5 per night for guests traveling with a furry companion.
The Three Queen Bed Suite is the motel's premium accommodation option and is the ideal choice for guests traveling with their little ones. This luxury suite comes with a nightly rate of $100 per night.
Be sure to book your room in advance to ensure you receive the comforts you require throughout your trip.
The Vonnie Louise Inn boasts one of the most historically intriguing backstories out of all the hotels in Deer Lodge.
Built-in 1892, the building the inn occupies served as the family home of the very prominent Zosel family for decades. However, the house was sold out of the family in 1939 and passed from owner to owner for many years.
It wasn't until 1997 that a direct descendant of the Zosel family repurchased the home and dedicated over two decades to restore the house to its original floor plan.
During the renovations, the new owner managed to bring the building into modernity with many comfort amenities while preserving the home's historical integrity and representation.
Today, the home is a beautiful reminder of the past and serves visitors to Deer Lodge as a cozy and romantic Bed and Breakfast.
Named after the daughter and wife of the man that initially commissioned the construction of the house, The Vonnie Louise Inn features four beautiful and historically designed rooms and a shared family quarter on the home's bottom floor.
Each room has unique luxury accommodations and includes air conditioning, coffee stations, microwaves, mini-fridges, and TVs.
The Vonnie Louise Inn's premium suite option features a king-sized bed and comes with a nightly rate of $125 per night.
However, while this option does provide guests the most room, the inn's other less spacious options are just as beautiful and come with the choice of double queen beds, a full bed, or a queen-sized bed. Regardless of their bed size, these three rooms all come with the same nightly rate of $110 per night.
Be sure to contact The Vonnie Louise Inn's friendly staff in advance to reserve the room that best fits your needs and pleasures.
The Warden Inn is the newest addition to Deer Lodge's full-service hotel options. It is conveniently located within walking distance of the Old Montanan Prison and Auto Museum Complex, Cottonwood City Park, and several restaurants, shopping centers, and grocery stores.
The Warden Inn features three room options, all newly renovated with décor that depicts the rustic stylings of a traditional Montana inn. In addition, each room comes with brand new amenities that include free WIFI, smart TVs, coffee stations, microwaves, and air conditioning.
The hotel's basic accommodation is the Queen Standard Room. Perfect for solo travelers and couples, this option features a single queen-sized bed and a nightly rate starting at $119 per night.
Alternatively, the Warden Inn's King Standard Room offers slightly more room and more comfortable sleep for its occupants. Guests staying in this full-serviced room can expect to pay $129 per night.
Finally, their Queen Double Standard option is the hotel's largest and most accommodating room. With two queen-sized beds, this room is perfect for guests traveling with a group and has a nightly rate of $139 per night to be split between the occupants.
While not technically a hotel, the Mountain View Retreat is a spectacular accommodation for large groups looking to escape the city life on the beautiful countryside premises.
Situated just off the I-90 in Deer Lodge's southern outskirts, the Mountain View Retreat gets its name thanks to the awe-inspiring Mount Powell and the Pintlar Mountain Range that dominates the surrounding horizons.
Guests to the Mountain View Retreat are only minutes away from the top historical attraction of Deer Lodge city. Still, there are also some beautiful natural attractions to be found right out their front door.
Located across the street from the Clark Fork River, the Mountain View Retreat is a large luxury house with a full-sized kitchen and dining room for family-style home-cooked meals and six bedrooms, each with plenty of space to accommodate up to two guests.
While the Mountain View Retreat is a fantastic accommodation choice for any group, the accommodation's amenities are tailored explicitly with quilters in mind. Among their services, the retreat features a large quilting room with 12 sewing stations, each with its own swivel chairs and individual lights.
For those less inclined for sewing, the retreat also offers a nice living space that the retreat officially has monikered as the "quiet room." Here guests have access to a large TV with a diverse selection of movies and books available.
The Mountain View Retreat comes with a nightly rate of $325/night for up to 12 guests, with an additional $75 cleaning fee tacked on regardless of the duration of your stay. The retreat can accommodate additional party members for $30 per person per night.
Overall, when divided among party members, this nightly rate can be a very cost-effective way for large groups to explore the many historical and natural attractions Deer Lodge and Powell County offers.
Again, the Indian Creek Campground is not a traditional hotel. Still, with the few accommodation options available, camping does offer its own unique way of experiencing the outdoor beauties of Deer Lodge throughout the Summer.
Located in the city's northern outskirts, the Indian Creek Campgrounds combines the relaxing ambiance of the outdoor setting with easy-to-access the historic town and all of its famous attractions.
And there is perhaps no better way to begin and end your days in Powell County than by waking up to the breathtaking views of Mount Powell and the Rocky Mountain Peaks that Dominate the outward landscapes.
The campgrounds offer a diverse set of camping experiences with over 60 pull-through sites and 11 back-in sites for RVs, and two large tent camping areas for the traditional campers.
The pet-friendly services featured on-site include shared public spaces with free WIFI, cable tv, restrooms, and laundry facilities. Guests staying on the campgrounds will also have access to propane and firewood should they require it.
For entertainment, the campgrounds are within walking distance of the Golden Spike Casino and Liquor Store and many restaurants, shopping centers, and grocery stores to make your stay as comfortable as possible.
The base rate for guests staying in a tent at the campgrounds is $27.36 per night. Guests staying in their RV can expect to pay $44.75 per night. Still, any additional amenities will come with their own price tag.
Check out the Indian Creek Campgrounds rates before visiting for any additional expenses you should expect.
Final Thoughts
While there isn't a large selection of hotels available in Deer Lodge, the area has seen the opening of several luxury hotels in recent years as the city has grown in popularity.
Nevertheless, the few accommodation options currently available to visitors offer diverse experiences tailored to different kinds of travelers. These are the best hotels in Deer Lodge, depending on the type of accommodation you require.
Best Luxury Hotel: As the newest hotel in Deer Lodge, the Warden Inn is the best accommodation option for luxury services. The newly renovated rooms feature brand new amenities and provide their guests with all the creature comforts of home in a rustic Montana ranch design.
Best Hotel for Couples: The Vonnie Louise Inn offers the ultimate romantic getaway for couples visiting Deer Lodge. The historical building offers four elegantly designed rooms perfect for making memories with your loved one.
Best Hotel for Families: The Three Queen Bed Suite at the Travelodge Hotel offers the maximum space for guests visiting in a large group. It is far and away from the best hotel in Deer Lodge for a family vacation.
Best Hotel on a Budget: Staying at the Indian Creek Campground is the best way to visit Deer Lodge on a budget. However, those less inclined to "roughing it" should book a room at the Western Big Sky Inn. At $65 per night for their base room, it is the city's most affordable full-service hotel.
Best Hotel for Large Groups: The Mountain View Retreat offers the best accommodation option for large groups and multi-family vacations. The large house provides an ideal location for quiet country living while remaining within walking distance of many of the city's popular attractions.
Related Articles