Butte is ripe with activities and lined with boutique shops and quaint Irish pubs. Known as "The richest hill on earth," Butte is a tourist hotspot, that offers plenty of museums, recreation, and food.
Whether you're flying in for the epic St. Patrick's Day festival or road-tripping your way through Montana in the summer, check out this guide for a helpful list of the best hotels in Butte.
Travel Tips for Staying in Butte, Montana
If you want to be centrally located to all the events and fun things to do, choose a hotel in Uptown or the Flatts off Harrison Ave. You can easily walk from your hotel to plenty of shopping and dining.
Some hotels provide ski rentals if you're here for winter activities. Check with the front desk to be sure.
The city mainly has chain hotels with a few bed and breakfasts. Try the larger hotels with good Wi-Fi and business centers if you need to use the internet or need a dedicated place to work.
You may see a charge on your bill called a bed tax, which is mandatory in Montana. Lodging and campground facilities impose a 4% tax, not included in the room price.
While you can find shopping and dining close to most hotels, you may need to find other means of transportation to get around. The city offers a public bus system, taxis, and rideshare. It may be best to rent a car if you plan on doing a lot of sightseeing.
There are no elevators in the more historic buildings, like the bed and breakfasts, and you will need to walk up flights of stairs to get to your room. Although, most will assist with carrying luggage.
The Top 3 Hotels Butte
BEST OVERALL
Movie Nights
Horse Riding
Golf Course
BEST FOR FAMILIES
Free WiFi
Laundry
Swimming Pool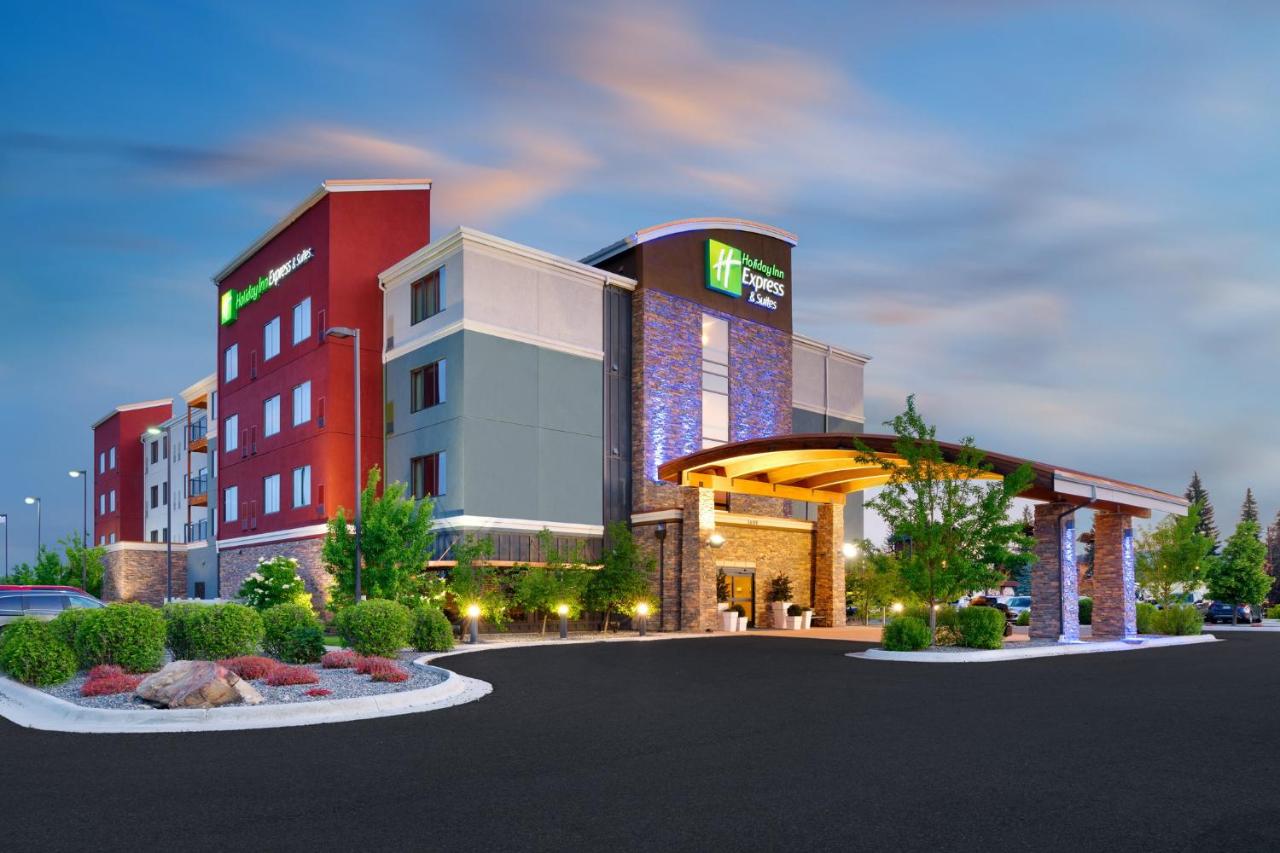 BEST BUDGET HOTEL
Non-Smoking Rooms
Spa
Wellness Centre
The 10 Best Hotels in Butte
Stay in the heart of Butte at Fairfield Inn and enjoy all the amenities it offers, like the indoor pool, jacuzzi, and fitness center.
It also provides a 24-hour front desk, free parking, and Wi-Fi. The rooms come with comfortable beds, private bathrooms, a workspace, and a flat-screen TV. Fairfield Inn provides a business center for you to work, ski equipment you can rent, and an excellent complimentary breakfast every morning.
The room rates for one night range from $250 to $300.
Hotel website・Check prices on Booking.com・406-494-3000
2. The Copper King Mansion・219 W Granite St
View this post on Instagram
Have you ever wanted to spend the night in an elegant Victorian mansion? Book a night at The Copper King Mansion.
This impressive home was completed in 1884 and belonged to the millionaire Andrew Clark, who amassed his wealth during the gold rush. Today, the mansion is a remarkable and polished bed and breakfast in the downtown area, minutes from Montana Tech University.
The rooms are in pristine condition and come with vintage and authentic furniture and decor, complete with stately bedframes and clawfoot tubs.
The rates for one night range between $125 and $250, depending on the room you choose.
View this post on Instagram
Spend the night in a bank building from 1913 at The Miner's Boutique. This converted hotel is in a great location, close to shopping, restaurants, museums, and parks.
Book your stay in advance if you want a choice of rooms. You can choose a standard room or spend the night in the bank vault or President's suit.
After a long day of touring and sightseeing, go down to the speakeasy in the hotel basement. You will find a complete 1920s lounge with drinks, music, and entertainment.
The room rates range from $119 to $189.
4. Hampton Inn – 3499 Harrison Ave
The Hampton Inn in Butte is five minutes from the airport and features an indoor pool, jacuzzi, and fitness center. You will also have access to Wi-Fi and a business center.
The rooms come with 32-inch flat-screen TVs, microwave, refrigerator, coffee maker, and work area. Enjoy endless TV channels and a delicious complimentary breakfast.
The room rates range from $170 to $215 per night.
Hotel Website・Check prices on Booking.com・406-494-2250
5. Homestake Lodge – 530 Upper Rader Creek Rd, Whitehall, MT
View this post on Instagram
Although not technically in Butte, Homestake Lodge is the best place to stay if you plan on enjoying the slopes. This cozy lodge is nestled in the mountains and provides direct access to your favorite winter sports.
All the rentals units come with a patio and mountain views, a kitchen, and a private bathroom. You can choose to stay at the lodge, in a remote cabin, or a yurt. Even though it's in the Rocky Mountains, this lodge is only 11 miles from Butte.
The rates are between $185 and $265 per night.
Hotel Website・Check prices on Booking.com・406-284-1725
Holiday Inn is conveniently located near the airport, shopping, and restaurants.
This well-known chain offers an indoor pool, hot tub, and 24-hour front desk support. You can expect Wi-Fi in every room, and access to the business center, fitness center, and laundromat.
The standard rooms have a 42-inch TV with satellite, comfortable beds, and a coffee maker. The suites feature a microwave, refrigerator, and separate dining area.
The room rates range between $210 and $240 per night.
Hotel Website・Check prices on Booking.com
Stay in this elegant bed and breakfast straight out of a children's novel. Toad Hall Manor is perfect for a romantic getaway with private suites featuring couples' massage and gourmet breakfast in bed.
Your patio has views of the glorious Rocky Mountains and is slightly outside the hustle and bustle of downtown but close enough to enjoy what the city offers. Your mornings will begin with hot roasted coffee, and freshly-baked scones, followed by a full course breakfast served on fine china and crystal.
Room rates start at $135 and go up to $190 per night.
The Finlen Hotel is in a great location, next to shopping, restaurants, and nightlife. Spend the night in this straightforward hotel from 1923 and be a part of history.
Enjoy walking the halls of this historic building and grab a drink at the lobby bar. The hotel features 24-hour reception, free parking, vending machines, and Wi-Fi. The rooms come with comfortable beds, linens, a private bathroom, workspace, and cable TV.
Room rates range between $160 and $260 per night.
Hotel Website・Check Prices on Booking.com・406-723-5461
Located on Harrison Ave, the Best Western in Butte offers a shuttle service to the airport, Wi-Fi, and a complimentary delicious breakfast.
Enjoy their amenities like the indoor pool and room service. The rooms come with a 42-inch TV, coffee maker, a small fridge, and a microwave. The breakfast includes freshly-made eggs, meats, fresh fruits, and baked goods.
The nightly rates are between $150 and $180.
Hotel Website・Check Prices on Booking.com・406-494-3500
10. Comfort Inn – 2777 Harrison Ave
The Comfort Inn sits along the convenient Harrison Ave in Butte and is close to shopping, dining, and other entertainment.
The Comfort Inn is newly renovated and one of the only hotels that allow pets. Enjoy amenities like Wi-Fi, an indoor heated pool, jacuzzi, spa, sauna, and hot complimentary breakfast. You can upgrade your room to a family or business suite with kitchenettes and whirlpool bathtubs.
Nightly room rates vary between $170 and $230.
Hotel Website・Check prices on Booking.com・406-494-8850
Conclusion
Butte offers many great options for lodging close to the best events and activities the city has to offer. Most of the accommodations are blocks away from the best restaurants, shopping, museums, and nightlife.
Book your stay in advance at the best hotels in Butte, Montana! You can choose between charming bed and breakfasts, historic boutique hotels, and premium suites at chain hotels. Each choice offers something unique and will suit any preference.
Related Articles