Bozeman is a Montana town that has found its way onto the radars of more and more travelers in recent years. It's not just the impressive and expansive natural surroundings of the area, although the mountain ranges do seem to invite almost endless hiking, skiing, and other exploring opportunities.  Bozeman has also been enjoying a growing reputation among food buffs, and as a college town, it has a healthy and vibrant local music scene going on.
If you are planning a stay in this interesting and welcoming Montana town you'll find that the best hotels in Bozeman have something to suit anyone. There is a broad range of options to choose from, and many of them carry a few subtle hints as to the town's historic Old West to inspire your travels.
It wasn't so easy in the past to find a place to stay within walking distance of the downtown area, but his situation has improved. So if you want to make the most of your Bozeman experience and stay in one of the best hotels in the popular downtown area, this guide will hopefully make the decision on a hotel an easier one.
Staying in Bozeman – Travel Tips and Advice
Which areas in Bozeman are best: Everyone seems to agree on the charm and appeal of downtown Bozeman! Main Street is one of the focal points of some of the best cafes and food joints on offer, and the historic-looking homes and other surrounding buildings are inspiring.
Staying downtown means you can easily walk to restaurants, go shopping, and witness all kinds of community events that often happen here. Downtown Bozeman is walker-friendly, and it has seen a few changes recently, with more choices of accommodation springing up closer to the central region.
Here you can work your way through the locally-owned stores and restaurants, take in the historic neighborhoods, and just generally drink in the charm of downtown Bozeman. This is also the place in the town to find several of the best city parks, and there are a few trails that can be accessed from here like Peets Hill.
Getting Around: On foot! The best way to get around Bozeman is walking, unless you are heading off into the Yellowstone terrain to explore the local surroundings. Another popular option for getting around if you fancy a quick whizz rather than a leisurely stroll is by one of the Blink Rides electric scooters that are located all over town.
There is also something called a Streamline Bus service that actually offers fare-free rides around the main areas of the town if you've had enough of walking. Car rentals are available from both the airport and various locations around the town if you are thinking of venturing out a bit further.
Attractions: Main Street in downtown Bozeman is one of the main focal points, and the 'M' college hiking trail is a popular and easily accessible short hike up from the town to some great views.
If you want to take your hiking up a few levels though, the surrounding Gallatin National Forest has some of the best local hikes, and the town also has its share of museums such as the American Computer & Robotics Museum and the dinosaur-tinged Museum of the Rockies.
Bozeman is also within driving distance of Yellowstone Park which is possible to do on a day trip if you don't mind the return drive.
Read more: The best things to do in Bozeman.
The Top 3 Hotels in Bozeman
BEST OVERALL
ATM on Site
Restaurant
BBQ Facilities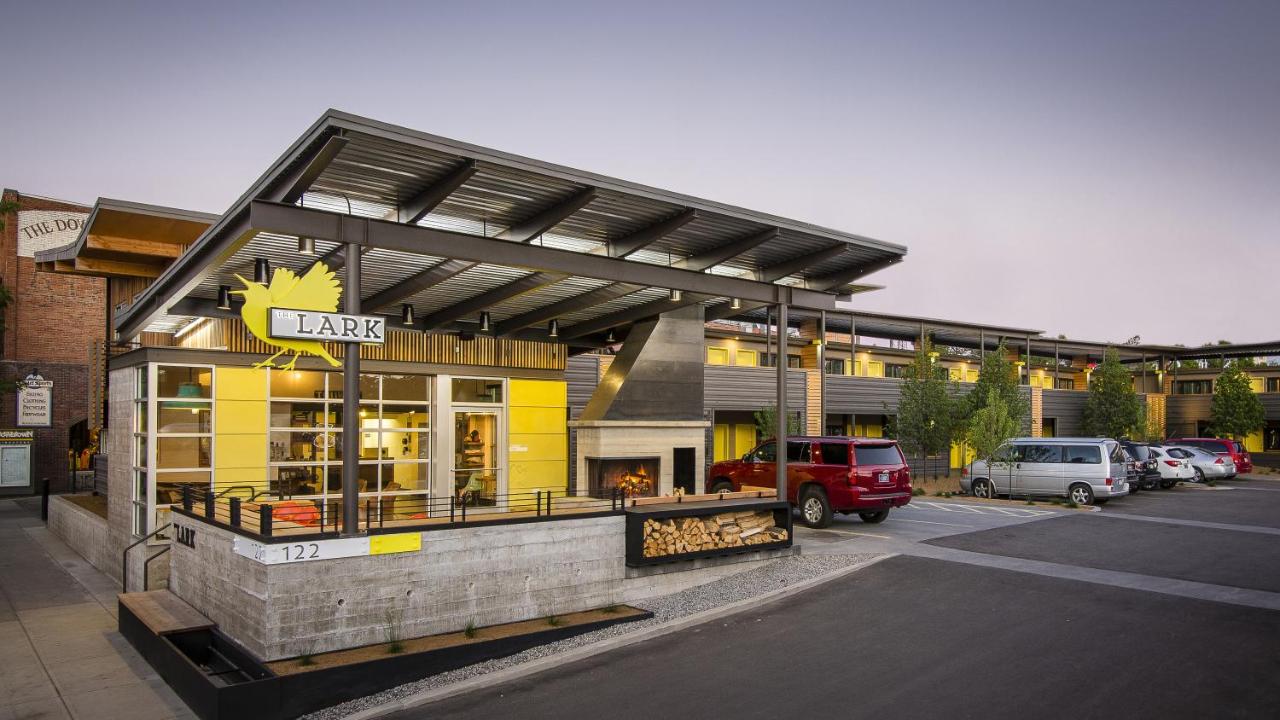 BEST FOR FAMILIES
Coffee House
Hiking
Pets Allowed
BEST FOR COUPLES
Dining Area
Free WiFi
Air Conditioning
The Best 10 Hotels in Bozeman
The independently owned Western Heritage Inn in Bozeman, Montana is located in a prime spot 4 blocks from the main downtown district, and close to the Museum of the Rockies, as well as the university.
Western Heritage Inn features almost 40 rooms which include free Wi-Fi, a flat-screen TV, a microwave, a refrigerator, and coffee-making facilities. The hotel also has a hot tub and steam room, as well as a Business Center, a fireplace, and a free breakfast.
The sleek and modern Element Bozeman is located one block from the main stretch of Main Street, making it easy to explore all the best local restaurants and shops. It is also a mile from Montana State University and 16 miles from the popular Bridger Bowl Ski Area.
The rooms are fitted out in a modern, eco-friendly design with a fully-equipped kitchen and comfortable beds. With free Wi-Fi and spa-tinged bathrooms, comfort is the name of the game at the Marriott-owned Element. With a Business Center, A Fitness Suite, a back patio, and an indoor saltwater pool, Element has everything to make your stay comfortable and convenient, including free bicycle rentals.
The Lark is located right in the city center of Bozeman and is a modern hotel with almost 70 rooms and a distinctly Montana feel to it. It serves as the perfect basecamp for many a Bozeman adventure due to its central location, which is close to the Gallatin Valley Mall and just 17km from the airport.
You'll find large areas for lounging in the hotel as well as outdoor wood-burning fireplaces and a patio overlooking Main Street. The air-conditioned rooms include a flat-screen TV, private bathrooms and free toiletries.
The Residence is set against a Rocky Mountain backdrop, and features 115 suites and studios, with one and two bedrooms. It is a pet-friendly hotel in Bozeman, located just over 7 km from the Museum of the Rockies, and has that welcoming Montana feel with its lounge, fireplace, and complimentary coffee.
The hotel is also around 3 km from Bridger Bowl Ski Resort and about a one-hour drive from Yellowstone National Park. The amenities include an indoor pool, a heated spa, and a 24-hour fitness center, and the rooms comprise fully-equipped kitchens with stoves, refrigerators, microwaves, and dishwashers.
There is free internet access throughout the hotel, which also provides self-catering accommodation, and along with a hot breakfast buffet, a free light dinner is offered 3 times a week.
Baymont is actually classified as a motel and is located off Interstate 90, just a 10-minute drive from downtown Bozeman and Montana State University. Just a bit further out is Bridger Bowl Ski Mountain about 25 km away, and Yellowstone National Park is just over a 2-hour drive from here.
The accommodation comprises an indoor hot tub and a pool with an impressive 90-foot water slide ideal for kids. Rooms come with mountain views, free Wi-Fi, cable TV, a microwave and a refrigerator, and a work space.
The amenities include an on-site Fitness Center, a Business Center, and a launderette, and the motel serves a daily continental breakfast.
The Lewis & Clark Motel is in the heart of Downtown Bozeman, about a mile from the university and 15 minutes drive from Bozeman Yellowstone International Airport.
It is something of a classic roadside motel with its own landmark neon sign, within walking distance of the vibrant downtown area. Here you are within range of a plethora of restaurants, breweries, and shopping opportunities.
Guest rooms are spacious and comfortable with impressive views of the Bridger Mountain Range and cable TV, refrigerator, microwave, and coffee-making facilities.
The motel serves a daily continental breakfast and offers free Wi-Fi and guest parking.
Amenities include a heated indoor swimming pool and various spa facilities such as a rejuvenating hot tub, a eucalyptus steam room, an infrared wellness sauna, and a 24-hour fitness center.
The Homewood Suites are close to the base of the Bridger Mountains off Interstate 90. It is on the northern side of Bozeman 20 minutes from the Gallatin Pioneer Museum and Yellowstone National Park is about an hour away, as are the Chino Hot Springs.
There is a complimentary airport shuttle service, and you may notice the accommodation has the typical Montana 'Hunter's Lodge' vibe as soon as you enter the lobby.
Homewood has one and two-roomed suites which include free Wi-Fi, flat-screen TVs, a workspace, and fully-equipped kitchens. The hotel's amenities include complimentary Wi-Fi, complimentary breakfast, an indoor pool, a fitness room, a business center, a convenience store, and an outdoor patio and fire pit.
The Kimpton Armory Hotel is Bozeman's only 4-star hotel, and stylishly symbolizes the region's rich heritage. The landmark Armory building comprises a mix of historic and contemporary refinement and comfort in Downtown Bozeman.
The hotel includes a restaurant, a fitness center, and a bar, and is set in the center of Bozeman, just over a mile from the Montana State University and 30 minutes from the Bozeman Yellowstone International Airport.
Rooms at the hotel are large and feature bathrooms, spacious work areas, and custom mattresses, and either a continental or American breakfast are available.
The Comfort Suites hotel in Bozeman is literally minutes from the Bozeman Yellowstone International Airport, as well as attractions near to the town such as the Bridger Bowl ski area, Big Sky ski area, and Yellowstone National Park, which is just a short drive away. In central Bozeman terms, the hotel is located less than five miles from the Museum of the Rockies and Montana State University.
All the hotel's rooms include a flat-screen cable TV, equipped kitchen, and coffee maker, and hotel amenities include an indoor heated pool and an on-site Business Center.
The Hilton Garden Inn Bozeman is a locally owned establishment close to the Bridger Bowl Ski Area and not too far out from the town center. It is within a short driving distance of the Museum of the Rockies and the university.
The modern and comfortable guest rooms include microwaves, mini-refrigerators, and free Wi-Fi, and the amenities include an indoor swimming pool and a modern, fully-equipped fitness center, as well as a 24-hour convenience store. The hotel's renowned, on-site Garden Grille Restaurant is open 7 days a week for Breakfast & Dinner and includes a good selection of Beer & Wine.
Final Thoughts
Bozeman is a vibrant and friendly town with much to offer and a wide range of accommodation options that are still expanding.
As long as you have some idea of certain particulars like the length of your stay, the time of your visit, and your preferred budget, you shouldn't find it too difficult to find the best Bozeman hotel to suit your requirements.
Wherever you choose to stay in this typical Montana town, you'll be impressed with the welcoming and lively vibrancy that comes from a modern-style town surrounded by vast, open natural spaces and impressive mountain ranges.